Steal His Look: Jean-Michel Basquiat
Because fashion is our favorite form of art.
Living in New York, I love learning about the creatives that sought out the city before me. From Dylan to Patti Smith, I'm lucky to have inspiration at every turn. The late Jean-Michel Basquiat is another artist who continually inspires me. Basquiat gained notoriety from his work in the graffiti group SAMO in the Lower East Side of Manhattan during the 1970's.
By the 1980's he was exhibiting his own paintings in galleries and museums internationally. His art was described as "suggestive dichotomies" focusing on powerful topics such as wealth vs. poverty, integration vs. segregation, and inner vs. outer experience. Coming from poverty, (seemingly) catapulted suddenly into fame, hanging out with stars (Madonna and Andy Warhol were pals), you can understand why artists today like Jay Z feel such a kinship with Basquiat.  
Although Basquiat died in 1988, both his work and his personal style remain legendary.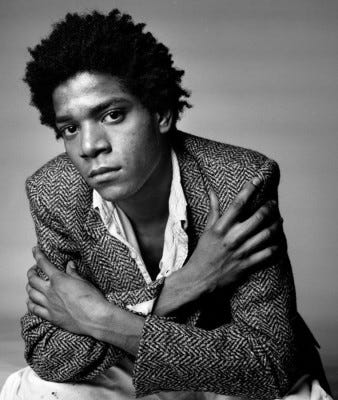 Basquiat's style was a great reflection of his work: loud and unique. He always made a statement with what he wore – mixing patterns, prints, and textures, and also the high together with the low. We take it for granted today that a guy can get away with sneakers and a suit, but Basquiat really brought to prominence the notion of combining street wear with shirts and ties. It's why he's remembered today not just for his art, but as a style pioneer.
What We Like:
The notion that pretty much anything goes. Whatever you wear, and however you wear it, you can make every single look different and completely your own.
The high-low. Adding sneakers with a bow tie and dress shirt makes this look edgy and comfortable, yet still put together.
It's a unique look that definitely veers from the norm, and is still current.  Bring out your inner artist and express yourself! Want to pull it off? Try these pieces:
Sunglasses: Ray-Ban, $150 | Sweater: Lord & Taylor, $60 |Check Shirt: Gant, $56
Short-Sleeve Shirt: Pacsun, $35 | Pants: Carhartt, $48 | Tweed blazer: Boglioli, $527
Bow tie: The Tie Bar, $15 | Shoes: Vans, $65 | Belt: Dillards, $40 
TELL US:
What do you think of Basquiat's eclectic style? Which pieces would you try?
Like what you see? Don't miss a post! Subscribe to the Style Girlfriend newsletter!