Steal His Look: MTV Video Music Awards
Translate past red carpet looks into your current closet
As you may have noticed from the outlandish Miley Cyrus ads, the 2015 MTV Video Music Awards are coming up this Sunday. Who's watching? I'll be honest… I'm not usually one to watch the live show, but the red carpet style is always noteworthy. Whether it's shirtless Lenny Kravitz in the 90's or Macklemore donning a mint green suit, music video award show style is notoriously outrageous. Since these wild styles aren't necessarily wearable in *real* life, let's breakdown a few top looks into looks you can actually wear.
The past looks of the MTV Video Music Awards to wear today:
JUSTIN TIMBERLAKE/Riff Raff (2014/2001)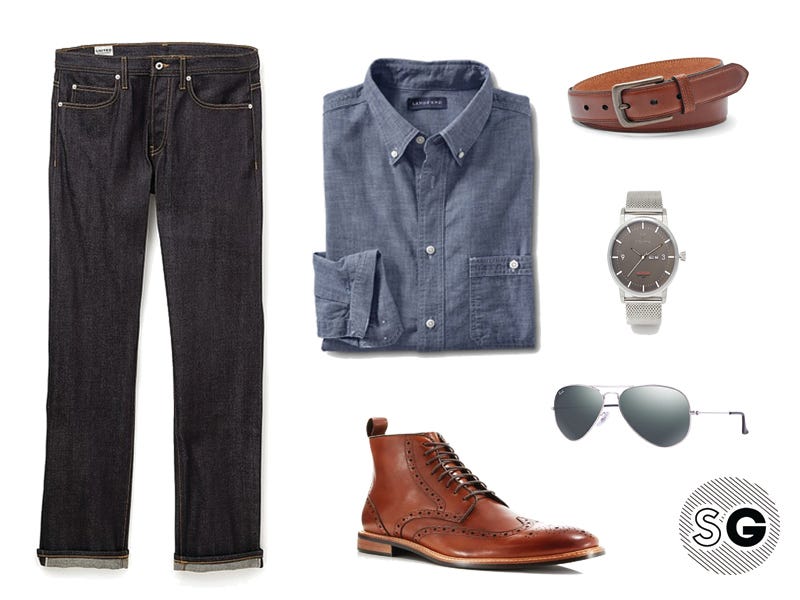 Shirt: Land's End, $40 | Jeans: United Stock Dry Goods, $145 | Sunglasses: Ray Ban, $170
Watch: Triwa, $267 | Shoes: Gordon Rush, $265 | Belt: Fossil, $35
Wear it well: OK, technically Justin and Britney weren't at the MTV VMAs, but Katy and Riff Raff were..so it still works. Say it with me, guys – a Canadian tuxedo can be done. These power duos had the right idea with different shades of denim, but all-over patchwork isn't the best tactic. Instead, an easy win is dark jean paired with a true blue lightweight chambray shirt. Finish the look with a pair of wingtip boots and non-gradient aviators.
WILL SMITH (1988)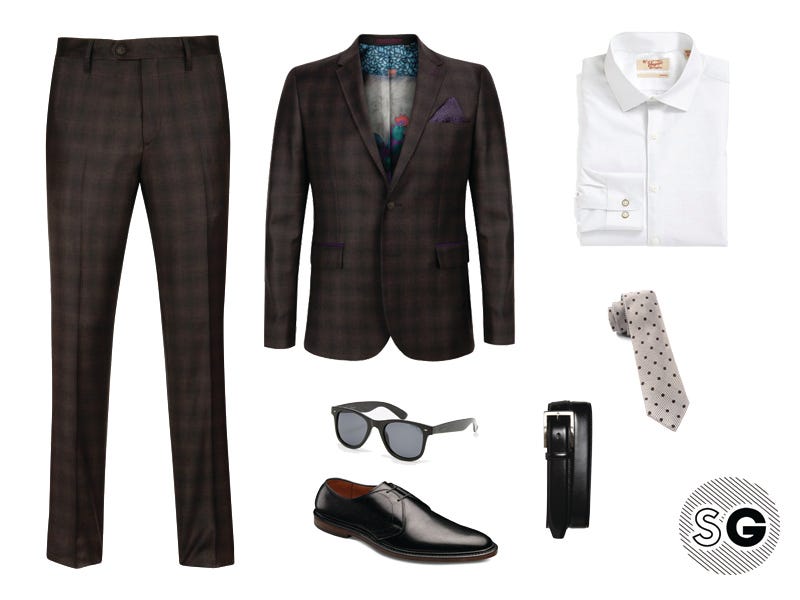 Jacket: Ted Baker, $549 | Pants: Ted Baker, $219 | Shirt: Original Penguin, $75
Tie: Tie Bar, $19 | Shoes: Allen Edmonds, $385 | Sunglasses: Polaroid, $90
Belt: Johnston & Murphy, $70
Wear it well: 1988 in general knew how to rock a pattern…and Will Smith was no exception. Update this check pattern with brown notes by choosing a slightly larger pattern and tailoring the fit closer to your body. Skip the sheen when it comes to your tie and reach for your classic dress shoes.
KENDRICK LAMAR (2013)
Jeans: Citizen of Humanity, $178 | Shirt: Reiss, $50 | Shoes: Nike, $65
Hat: New Era, $30 | Bracelet: Cause and Effect, $50
Wear it well: In his verse in Control, Kendrick called it…"and I ain't rockin' no more designer s***, white T's and Nike Cortez, this is red Corvettes anonymous." Did you get that? Let my rap prowess enlighten you: he's done with fancy designers and is staying simple with a can't-miss classic combo – and you guys should try it too.
JON STEWART (1994)
Jacket: River Island, $130 | Pants: River Island, $70 | Shirt: Scotch & Soda, $49
Shoes: Base London, $125 | Bracelet: Giles & Brother, $80 |Socks: Richer Poorer, $12
Wear it well: Our favorite funny guy (who else is missing the Daily Show?) was going the right direction in this all-black ensemble…but, three separate pieces isn't the easiest way to achieve a suit and t-shirt combination. Feel as good as any guy arm-in-arm with a supermodel by pairing a tailored suit with a melange crew neck t-shirt to show off your effortless style.
Tell me:
What would you wear for your ultimate red carpet look?
Brittany Hammonds is a former Floridian, full-time editor at Style Girlfriend, and occasional artist living in NYC. Follow her random creations and big city musings on Instagram. 
Want some more style profiles? Check out SG pals Tommy Dewey, Barron Cuadro, and CB Rucker for some off-the-red-carpet style inspiration.