Steal His Look: Ryan Reynolds at the Deadpool Premiere
Anti-super hero (red carpet) style
After perusing what I can assume was every inch of the interweb to watch all available Deadpool trailers, saying I'm excited to skip my way into the premiere this week and witness this anti-super hero, wildly inappropriate action is an understatement. You can't go wrong with comedy and Ryan Reynolds' style…am I right or am I right? While we can't send you guys out in red-spandex with katana accessories (much to society's general dismay), we can keep it badass by stealing Ryan Reynold's seriously sharp sartorial look.
Below, dress like Ryan Reynolds at the Deadpool premiere: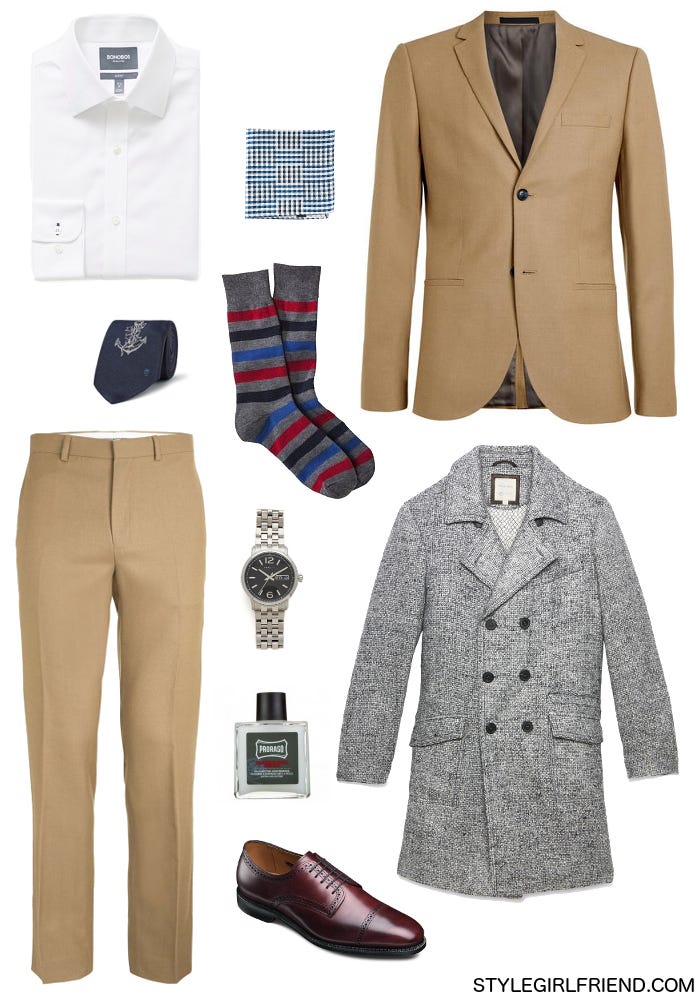 Blazer: Topman, $300  | Pants: Topman, $130 | Shirt: Bonobos, $98
Pocket square: Tie Bar, $10 | Tie: Alexander McQueen, $165 | Socks: Merona, $5 
Shoes: Allen Edmonds, $385 | Watch: Marc by Marc Jacobs, $225 | Coat: Billy Reid, $460 
Beard balm: Prosaro, $18
Wear it well:
If you're working with a neutral color like camel or tan, make sure your suit is fitted, then pump up the look the sharp color contrasts and interesting textures.
Make sure it's wool – thin cotton and linen are quite summery fabrics and will leave you chilly and looking a tad out of place in cooler temperatures.
Take advantage of winter hues like burgundy, navy, and forest greens when adding color to your look. Even better: choose an oxblood shoe versus a traditional chocolate brown for an extra punch of color.
TELL ME:
HOW DO YOU WEAR LIGHT COLORS IN WINTER?
Want to see more style in real life? Check out SG pals Tommy Dewey, Barron Cuadro, and CB Rucker