Steal His Look: Jeff Goldblum and Liam Hemsworth
Promoting Independence Day: Resurgence with (World Saving) Style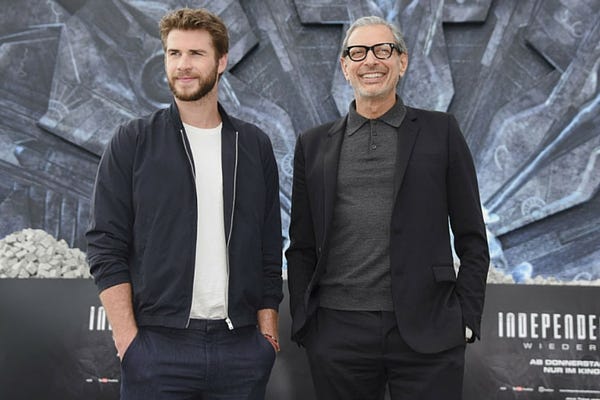 A cool twenty years after the first Independence Day demolished the box office, we're staring head-on into a highly anticipated David Levinson (Jeff Goldblum) and alien-filled sequel. Also Liam Hemsworth. He'll be piloting around planets (and presumably taking names) to join in on the world-saving fun.
If you've glanced at any red carpet coverage – or our Twitter account – in the past month, you've gotten a glimpse of our new favorite power duo promoting Independence Day: Resurgence.
The two have been making the press rounds dressed to the nines in outfits that are very true to their personal style – and we're loving it. Jeff Goldblum is really leaning into Goldblum style with perfect tailoring, penny loafer and sock combos, all topped with dapper details. In the same muted hues, Hemsworth has been sticking to his effortless coastal "oh, I just threw this on" wardrobe.
---
See how far Hemsworth and Goldblum made it in 2015 and 2016's SG Madness competition
---
Both looks just work. Partly because of the confidence each guy exudes, partly because of their understated yet intentional combinations. Meaning: these looks are nothing but accessible.
How to channel the style of Jeff Goldblum and Liam Hemsworth:
Steal Jeff Goldblum's style
Nail the vibe:
Going untucked? A banded hem is the way to go because it sits right at the band of your trousers and looks far more like an intentional style choice. Added bonus: A contrasting hem will be even more visually interesting.
Don't count out a boot during the summer months too. A classic Chelsea boot can be styled throughout any season to add a more rock n' roll edge to your suited looks.
Tapered trousers will make your black trousers look less like a deconstructed suit and more flattering to your frame.
Steal Liam Hemsworth's Style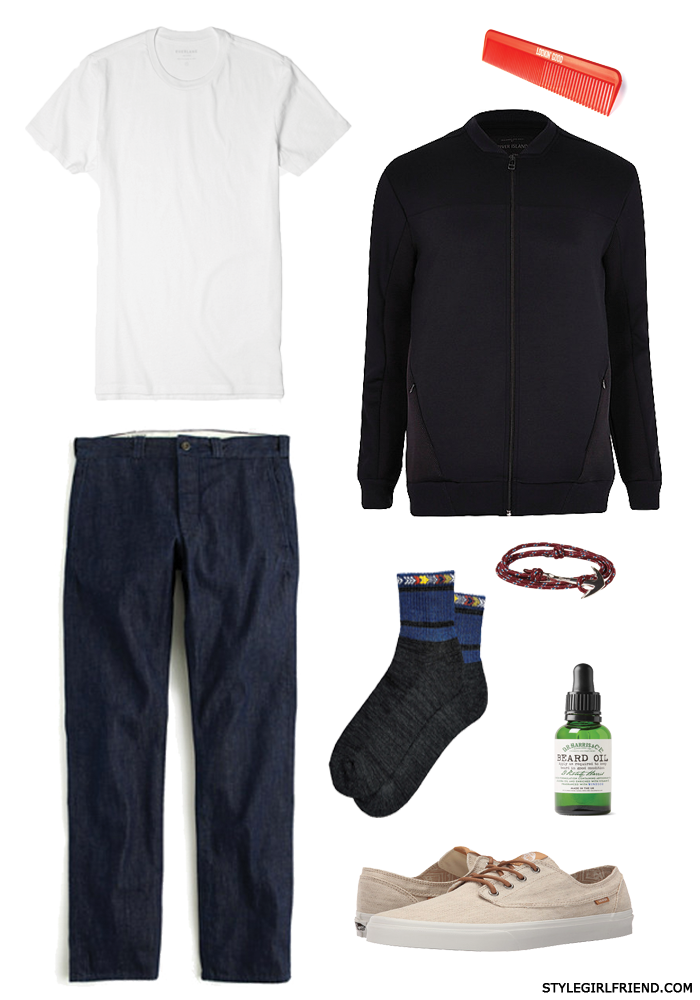 Nail the vibe:
Try a pair of twill pants for a relaxed yet refined take on casual Friday favorites. They'll fit like a chino, but with a softer feel that won't wrinkle throughout the day.
Keep the laid back look going by pushing up your jacket sleeves at a 3/4 length versus rolling them.
Make the most of monochrome with varied hues and textures. Opt for either textured chinos like these denim stunners with a simple bomber or grab a cool suede bomber to pair with your staple chinos.
A white t-shirt looks great contrasting the navy look. Pair it with light sneakers that pull the whole thing together.
---
>Five ways to wear a white tee
---
Want to know what women really want to see you wearing? Follow Style Girlfriend on Pinterest to see all the latest from Team SG.