Steal His Look: Steve McQueen at the Beach
Get your McQueen on
How many Steve McQueen looks could we write about from The Thomas Crown Affair (1968)? All of them, of course, but who has the time? The entire film, not to mention McQueen's entire life, could be a study in menswear. McQueen plays Thomas Crown, a wealthy businessman who robs banks on the side because he gets bored. He pulls off "the perfect crime" by successfully stealing  $2,660,527.62 from a Boston bank FOR FUN. In other words, he's a total badass (though of course, we don't condone criminal behavior here at SG HQ…even when you look so good doing it).
McQueen's on-screen lady is the Academy Award-winning beauty Faye Dunaway AKA the OG Bonnie from the 1967 classic Bonnie and Clyde. This time around, however, Dunaway is on the other side of the law. She plays an independent insurance investigator whose goal is to catch Crown in order to collect a percentage of the stolen sum.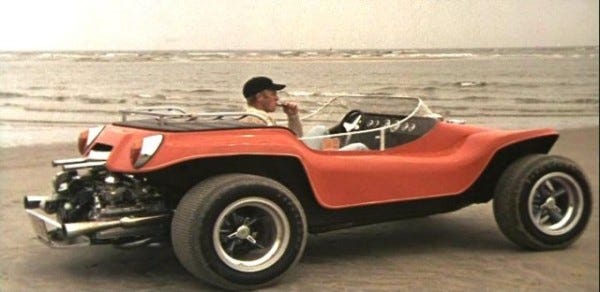 While Crown's clothes take center stage, we also can't help but mention his ride – a dune buggy that McQueen himself helped design. We can't tell you where to get one, but if you find out, let us know.
What We Like
The dune buggy
Who wears short shorts? You do. Starting now. Show us some leg! If McQueen can pull it off and still look cool, you can too. We're not asking for a Speedo, just an inch up or two will do.
This look is uber-easy to pull together. Nobody wants to look like they are trying too hard at the beach. In fact, nobody wants to try when they are going to the beach at all. Basically, us ladies would be impressed by a guy swapping out his t-shirt for a light button-down. Really, we're not asking much.
Orange can be a tough color to incorporate into your wardrobe, but this look makes it easy because it's paired with navy and neutrals. If a true orange is too much for you, try a peach or rust.
Did we mention the dune buggy?
Want to pull it off? Try these pieces:
Shirt: eBay | Board Shorts: Oiler & Boiler | Boat Shoes: Sperry (similar: eBay)
Towel: JCPenny | Watch: Timex (similar: eBay) | Sunglasses: Persol (similar: eBay)
Cigars: Davidoff | Sweater: Pendleton | Pendant: Danbury Mint
Want to get more Vitamin C into your wardrobe? We're on board with that idea, which is why we've updated our Orange is the New Black collection on eBay, full of lots of great citrus-hued clothes, shoes, and accessories.
Tell Us:
How much thought do you put into a day at the beach (or pool!)?
The Style Girlfriend eBay Collections were curated as part of a collaboration with eBay. #FOLLOWITFINDIT