The Style Girlfriend Guide to: Madison, Wisconsin
where to stay, what to eat, when to go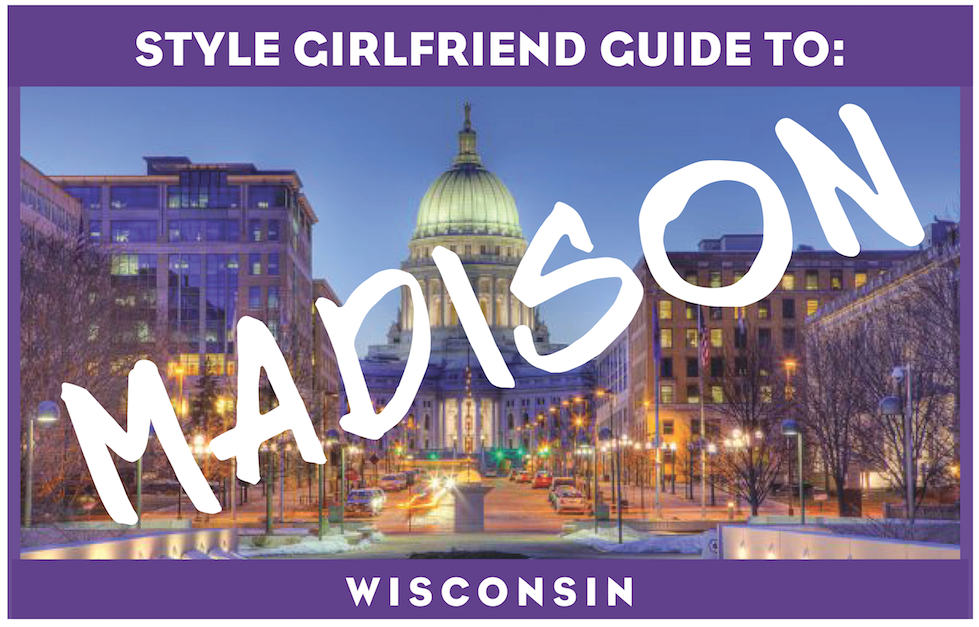 Visiting Madison, Wisconsin sometime soon? Lucky you! Born and raised in the dairy state's capitol, I've got you covered on all the best shopping, food, and fun.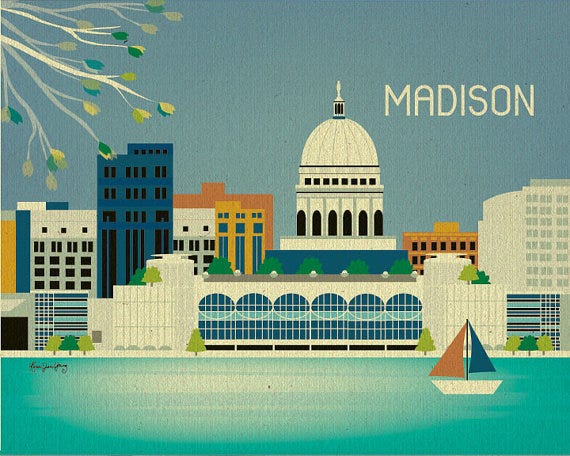 EATS
Breakfast
My brother works in state politics and his office is downtown, so whenever I'm back, I try to convince him to start his day with me at Short Stack or Marigold Kitchen. Both are great, affordable sit-down options, with friendly service (it's the Midwest, after all).
Looking to eat your weight in pancakes before 9am? Head to Mickies Dairy Bar. Still downtown, but closer to the football stadium, this greasy spoon-type diner has been curing weary co-eds' hangovers since my parents' blackout days on campus. Mickies always felt to me like it belonged in a smaller city, which is, I think, what people love about it.
If you want to get your morning started on a lighter, liquid-only note, stop at Colectivo Coffee for a pick-me-up. (If you were a subscriber to the SG Quarterly box, you'll remember receiving beans from this Milwaukee-based roaster in the #SGF03 package!). Homegrown shops like this one taught me to always check out the neighborhood joint in a new city – if you can skip Starbucks, do it. You'll learn about your new city that much faster by doing as the locals do.
Lunch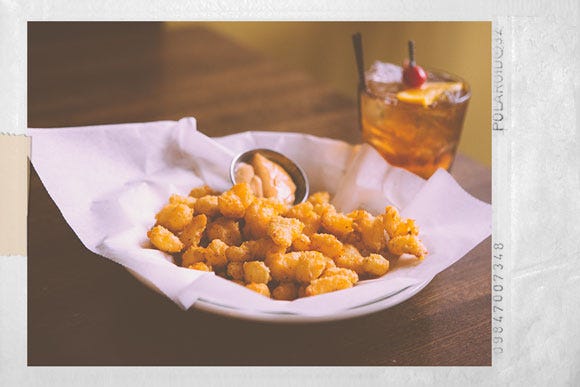 Cheese curds are a must when visiting Wisconsin, and the Old Fashioned on the square serves some of the best around. They're terrible for you, obviously, but so, so delicious. Order yours with the no. 21 salad (a delicious mix of mixed greens, gorgonzola, and pickled beets) to restore some semblance of healthy living to your belly. I like doing lunch there, because this place gets packed for dinner early – like, 5 o'clock early – and they don't take reservations.
Dinner
We do "hearty" very well, so if you're craving steak, you're in a good place. Try Tornado Room for old-school, diner's club vibes, or Rare for a more modern, upscale steakhouse experience.
Graze helped kick off the farm-to-table movement in Madison, and boasts a view of the Capitol that doesn't hurt its popularity, either. Try the Graze Burger..oh, and their fried cheese curds, if you haven't had your fill yet. No time for a meal? Stop in during the day and order one of their amazing "Magic" iced coffees from the bar. I don't know what they put in it, but whatever it is, it's..well, magical.
The Hilldale neighborhood connects the downtown area with the more suburban west side of town, making it a great option for a centrally-located meal. Bartaco makes easily the best margarita I've ever had (truly), while Muramoto will have you totally rethinking your skepticism about eating sushi in a land-locked state.
Looking for more high brow fare? A Pig in a Fur Coat has got you covered. With a focus on all things pork, you'll leave sated but not stuffed thanks to an inventive menu featuring mostly small plates.
Drinks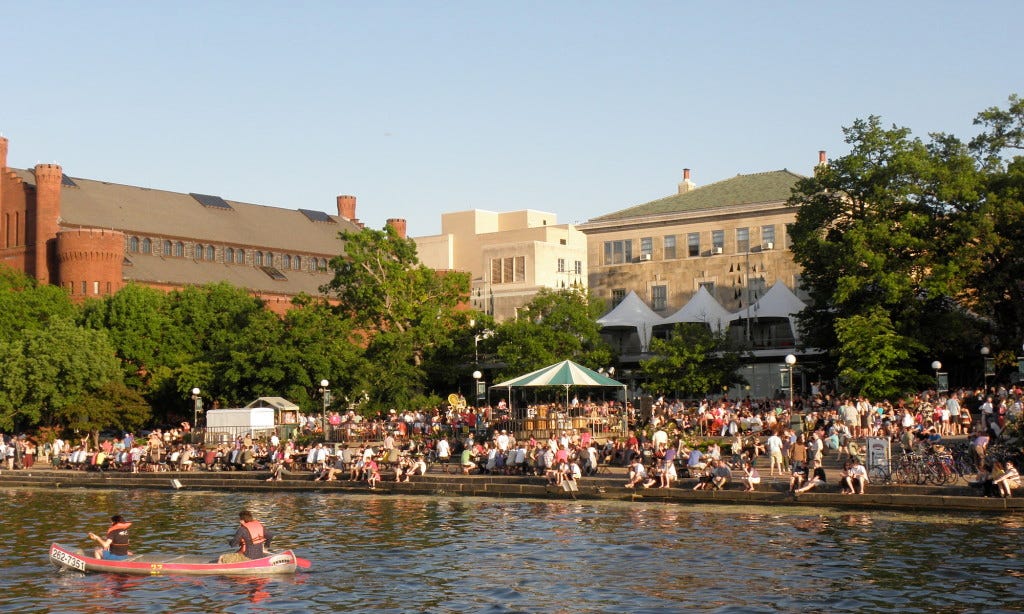 Weather permitting, a night out in Madison should either begin or end at the Memorial Union. Find a table facing the water and watch local bands, movies, or just the sunset over plastic pitchers of beer. If being surrounded by students isn't totally your scene, you can head across the lake to patio seating at the Edgewater. I also like Genna's and Tipsy Cow for gathering with friends and knocking a few back. Order a Spotted Cow or a Hopalicious, a very tasty IPA from local brewery Ale Asylum. If you're looking to get a little more posh, try Gib's. I'm biased because a friend from high school started it, but the bartenders are super well-informed and can make you a drink you'll love based on "I'm in the mood for something [fresh/smoky/sweet/etc]" direction.
Shop
Hit State Street to get your shop on. It's the main drag for college kids, but it's also got plenty of shops and restaurants to pop in and out of. Jazzman is a Madison institution with great men's clothing (former UW Badger and current Seahawk Russell Wilson was a frequent patron while still a student). If you're looking for Badger gear, you'll want to check out Tailgate, Todd Snyder's collegiate-focused line with a store right downtown. Think 'university book store apparel' with surprisingly stylish fits.
If you want to really get your menswear bro on, Context can deliver. Not a lot of people know that Shopbop, the online women's site, started as a brick and mortar store in downtown Madison. We like to say it's where the "Coasties"—East Coast college girls with daddy's money—found their favorite designer labels. As it turned out, there were plenty of guys who also had access to their parents' Amex, so Context popped up to serve that market. It's definitely a boon to the menswear scene because you can find your Red Wings, your Filsons, and your Barber jackets in one place.
Stay
If my childhood bedroom isn't available, the Concourse Hotel is right downtown and has a great bar to boot. I also love Hotel Red, a boutique hotel that's a red solo cup's throw from the stadium and has a pretty solid tailgate on football Saturdays.
Move
The city's bus system is actually pretty accessible. Madison was also one of the first US cities with a bike share program, another great option to take advantage of in warm weather.
See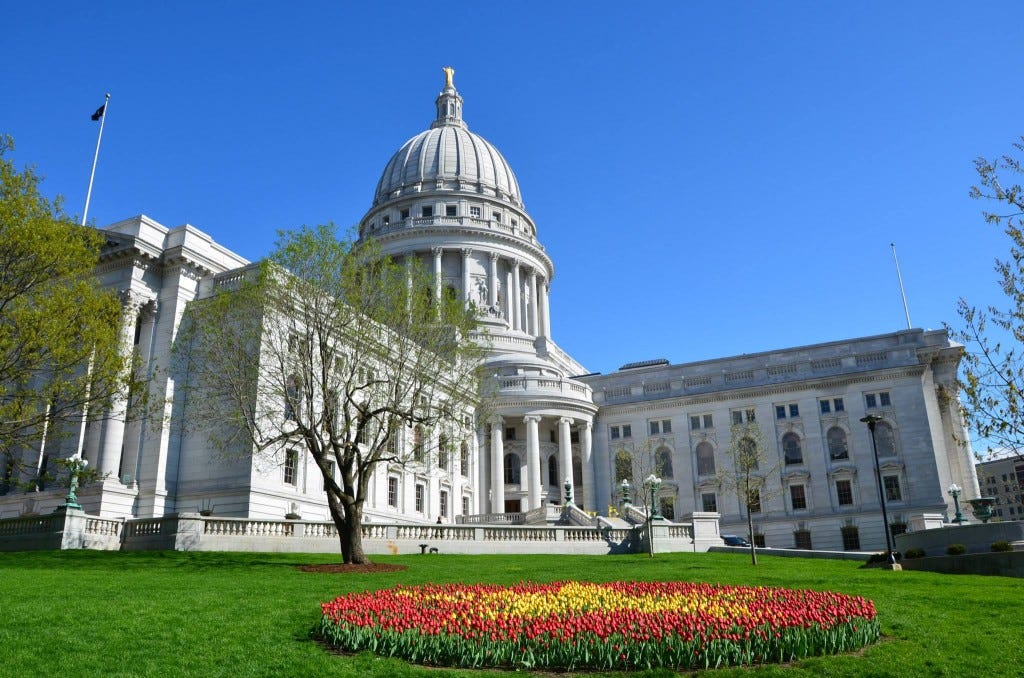 The Wisconsin State Capitol is is always the first place I take visitors because I just have to show it off. It's the centerpiece of the city, and it's also pretty important to my family. When my dad was younger, he served as a page there, and now my brother works for a state representative. Despite what may (or may not) go on in the chambers, it's a beautiful building and seeing it always makes me feel really proud to be from Wisconsin.
If it's college football or basketball season, go to a game. The basketball team plays at the Kohl Center, a beautiful building with gorgeous blown glass art. Actually, go see that even if you're not headed to a game.
Since basketball gets played in the winter, though, and I doubt many folks willingly head to Wisconsin from November through, ohh, March? you'r emore likely to wind up at a football game. Cheering on the team at Camp Randall always takes me way, way back. My family's had season tickets since forever, and I grew up thinking the sixth day of the week was actually called "Football Saturday."
Even if you're not a football fan, singing "Varsity" with your arms linked with a bunch of strangers will be a highlight of a trip here in the fall.
Summer? Take in a Madison Mallards game, our local farm league team. Spring for the "Duck Blind" seats for unlimited food and drinks.
Tell me:
Have you been to Madison? Tell me your can't-miss spots in the comments!