The SG Guide to: San Diego
where to stay, what to eat, when to go
Visiting San Diego? Skip the hotel by the airport and pass on the restaurant recommended by the concierge (trust, he's definitely getting a kickback from that terrible "pan-Asian" joint down the street).
Style Girlfriend's got you covered with the best of the SoCal oceanside city.

eat + drink
I generally stick to the "savory" side of a breakfast menu – what's the fun in a Dunkin' Donuts calorie bomb or oily street cart muffin when you'll just crash an hour later and you know it's loaded with preservatives anyway?
I make the exception for places like Donut Bar, that take a small thing seriously, and do it really (really) well. Closing time? Whenever they sell out of that day's offerings, so you know they're fresh, making this indulgence a little less guilty.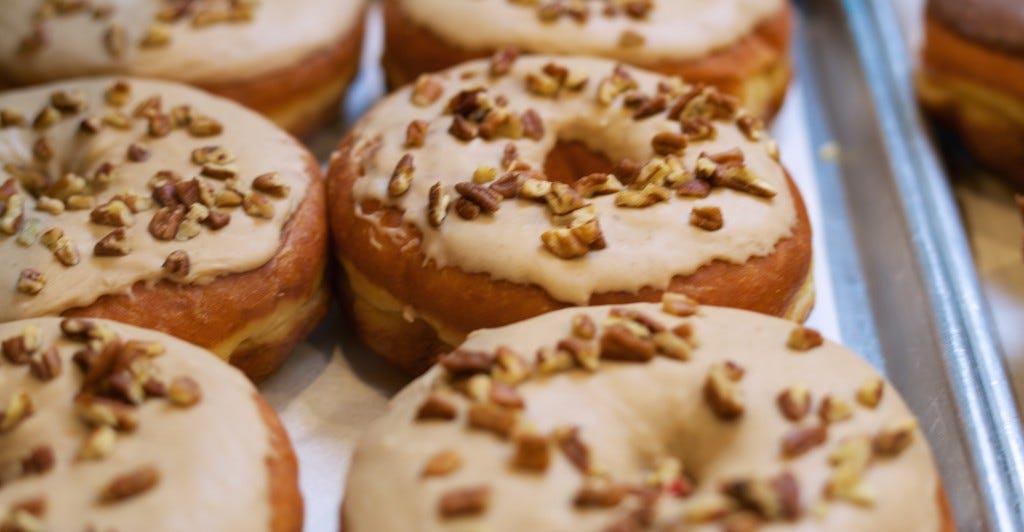 With locations in Del Mar, La Jolla, and downtown, Prep Kitchen is an easy spot to hit on a trip to San Diego. We ate downtown, in Little Italy (though to call it that is generous – San Diego's Little Italy is truly the Olive Garden of Little Italy's).
To start, my friend and I split one of the daily, rotating flatbread pizzas – ours came topped with thinly sliced cucumbers and root vegetables – which was full of flavor but didn't sit heavy, thanks to its thin crust and barely-there layer of sauce. Then we shared the not-to-be-missed beet salad and the mussels, served in a buttery, garlicy broth that required not one but two bread baskets to sop it all up.
The booze is also a highlight. Get your drank on with beer list full of local breweries offerings and inventive cocktail concoctions. The "London's Burning" (above) features avocado of all things, and a jalapeño garnish you ought to take care handling.
Literally any burrito place
My best friend in the entire world lives in San Diego, so I'm lucky to have a reason to visit often. And as she put it, "You don't really need *a* burrito place. You just go where ever's closest. They're all good." In my dedicated research, I've found that to be true.
I don't usually get all gushy over a meal, so when I say dinner at Cucina Enoteca in Del Mar was easily the best meal I had not just in San Diego, or my recent west coast swing, but in recent memory? Well, that means something.
The mini mason jars (below) full of spreadables like chicken liver pate and burrata with roasted garlic, lobster gnocchi, and pasta made in-house were all highlights. As was the friendly service – which, yes, does make a difference.
And don't skip dessert. You'll need it to wait out the bottle of wine or three you'll have consumed by the end of the meal. My suggestion, put yourself at the chef's discretion and do a tasting menu for the ages.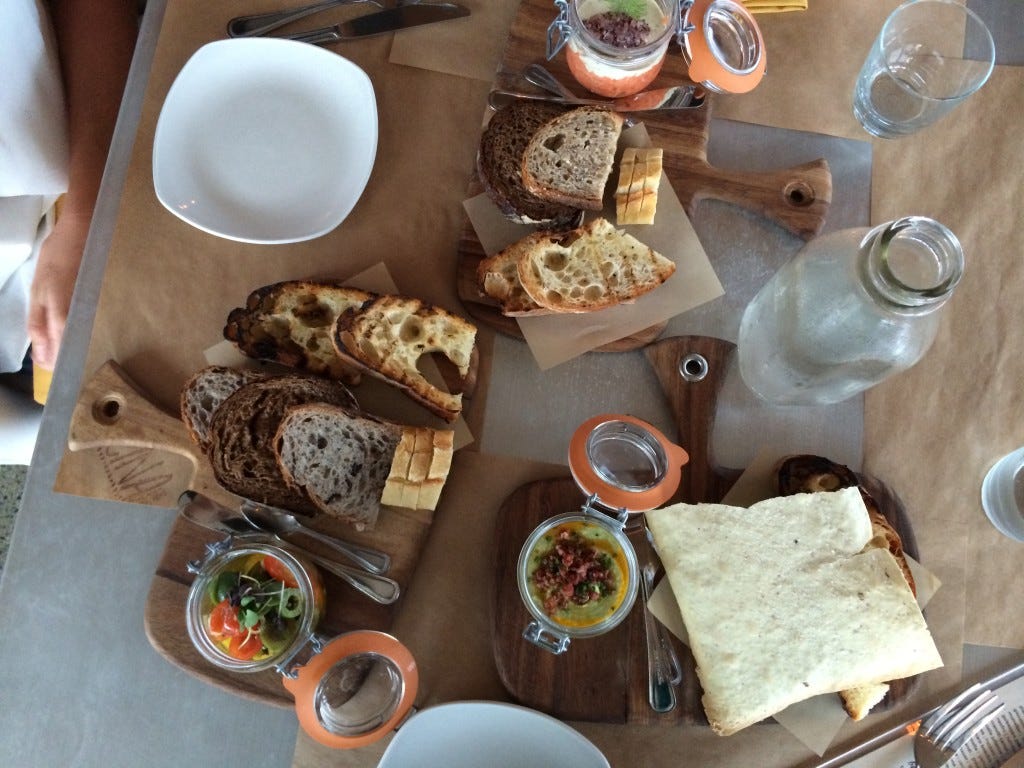 While there's plenty of serviceable bars (especially in PB and OB) to whet your whistle at, sometimes you just want to get a drink not surrounded by guys in board shorts and Von Zipper sunglasses perched behind their ears and girls still in damp swimsuits from the day's beach outing. In this event, there's Whisk & Ladle. From the same restaurant group that runs Prep Kitchen, it's a great pre-date spot.
shop
Real talk: San Diego is not much of a shopping town.
I don't think I'm blowing any minds here, and for those socal SG readers, I'd just say, you're probably the best dressed guy at work and among your friends, and you know it. Those board shorts and backwards shades mentioned above? That's pretty much the dress code in SD.
If you want to get on that level, hit up the Patagonia Surf Store, in Cardiff-by-the-Sea for your beach essentials. And of course, if you're going to spend any time at all in San Diego, you're gonna need a bike. Pacific Beach Bikes is the best I've found for both rentals and taking the plunge with wheels to call your own.
stay
I knew I wanted to stay in the La Jolla neighborhood of San Diego on my most recent visit, so I used Expedia Rewards VIP Access to book a room at the  Estancia, a gorgeous hotel and spa in the luxe 'hood. Boasting grounds you can get lost in, a pool with an especially accommodating bar, and top-notch guest service, I'd recommend it to both my friends and enemies. It was that good.
About Expedia Rewards, it's Expedia.com's free customer loyalty program. Members earn points when booking on Expedia.com. Points can be redeemed for hotels and flights with no blackout dates. After booking a certain number of hotel nights or reach a spend threshold, you reach Expedia "Elite Plus" Status. At this level, members receive perks at more than 1,400 VIP Access hotels worldwide. I like that you're not tied to a certain chain or airline with this program – it allows for a lot more flexibility when booking interesting and unique hotels, especially.
move
Rent a beach cruiser. If you're staying close to the ocean, it's great to rent a big ol' bike and pedal off all those burritos you've been gobbling up.
Run. Start at the Scripps Institute of Oceanography and run up the coast towards the Torrey Pines State Reserve. After that, you'll be ready for a fish taco or seven.
see
The San Diego Zoo is one of the best in the country. I still don't totally believe in the concept of zoos, but this is the best I've seen in terms of space and care provided for animals and the education doled out to park goers. My friend and I spent about 25 minutes listening – along with a third grade class on a field trip – as a zoo keeper explained the differences between African and Asian elephants.
listen
Musically, San Diego is about on par with its fashion – that is to say, it's most comfortable settled in the 90s or bellied up at the bar. I made a playlist that captures the surf/skater vibe with a dash of terrible pop hits that no one will remember in a year. Did I not sell that well? Just give it a listen; I think you'll be surprised to find yourself singing along to nearly every track.
Tell me:
What are your must-see/eat/do's in San Diego?
Want more SG travel tips? Check out the lifestyle section of the site for lots more good stuff. And come back tomorrow as we travel up the coast for the SG guide to LA!