Style Girlfriend June 2015 Picks
All the Latest and Greatest in June
It's officially summer and nearly July (getting excited for the holiday weekend yet?)…before you break out your BBQ gear and festive sparklers, check out my greatest hits from this past month. 
Below, Style Girlfriend picks for June 2015. Share your latest and greatest finds in the comments below:
Wisconsin-bred grooming goods
If you follow me on Twitter, you saw that, after a weekend spent in Wisconsin, my father sent me back to NYC with some reading materials. He's great about clipping articles he thinks I'll like – and by extension, you guys will like – and this batch was no exception.
It's how I discovered American Provenance. Started in Mt. Horeb, Wisconsin, the company makes small batch men's grooming products using all natural ingredients inspired by the forests and rivers running through Northern Wisconsin. Founder and Wisconsin native Kyle Lafond's products are free of metals, sulfates, parabens, artificial ingredients, colors, and fragrances – and come with fun names like Horseshoes & Hand Grenades. Who doesn't want that in their shower?
Summer shades
I know I talk a lot about incorporating bright pops of color into your wardrobe, but there's something so cool about this deep blue shade. Like, Tom Cruise in Top Gun-cool. An icy IPA on a hot day-cool. Wear it as shorts, a short-sleeve button-up, or a harrington jacket that pops without drawing too much attention to yourself. You can't go wrong however you style it, since it's basically a neutral.
Healthy(ish) Drinks
It's time guys. It's time to drink margaritas. Did you think I was going to say rose? Too bad. I'm trying to consume less flour and sugar, so I've started making my margaritas skinny (nope, not with Skinny Girl, I'm not that basic guys, GOoooooddddddd). Here's a recipe.
ingredients
5 ounces tequila
5 ounces freshly squeezed citrus juice (orange, blood orange, tangerine, grapefruit..get creative)
3 ounces lime juice
2 teaspoons agave nectar
splash of sparkling water
directions
Run a wedge of lime across the top of 2 cocktail glasses. Once damp, coat the rim in salt.
Add all the ingredients except the sparkling water into a cocktail shaker with a few cubes of ice.
Shake for 30 seconds until chilled and then strain the margaritas into serving glasses with new ice.
Top with a splash of sparkling water in each glass and serve immediately.
Until margarita-o-clock starts hitting at 10am, I've become quite fond of coconut water during the day. I drink Vita Coco at the gym, usually cutting it with water to keep the sugar down. In Chicago recently, I also fell in love with the #59 at Owen + Alchemy, a new juice shop in the very cool Logan Square neighborhood. Young raw coconut juice and meat made for a surprisingly filling drink, with zero added ingredients. If you live in the windy city, I highly recommend checking them out.
Tunes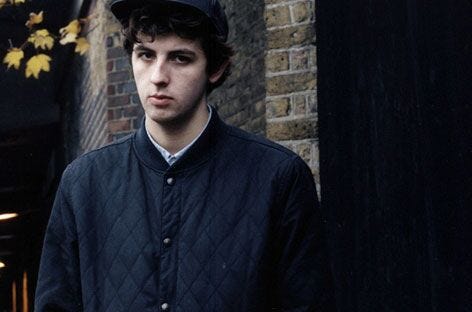 I have a confession; I dropped the ball on my song of the "song of the summer" predictions, because I didn't include Jamie XX. Man, this song is a jam. Sorry, a Jam. A jaaam. A  J-A-M.
And I don't even have a good excuse. When rounding up ideas for songs to include, several friends were all, "You should include that new Jamie XX tune," and I was all, "I've never even heard that song, get outta here." And yet! Here we are. It still doesn't seem to be getting much radio airplay (one of the requisites for a SoS), but it's certainly got the necessary buzz.
Hear my updated list of contenders for song of the summer here:

Must-see (style) tv
You guys wore me down. I'm officially watching Archer.
Are you happy now?
On a recent "Ehh" weather weekend here in New York, I mostly stayed inside and worked my way through the first season on Netflix (along with a few episodes of Grace and Frankie, which was good…not great, but good).
Why did I not start this show sooner? The tactleneck? Making fun of Lana's huge hands? Literally anything with Arrested Development's Jessica Walter, so good as Archer's mom and boss? I'm in. I'm so in.
(I also can't get over how they all work for ISIS, which I know they change that in later seasons, but wow, what an unfortunate acronym to pick..)
Good-looking golf apparel
As golf season gets in…full swing (thank you, I'll be here all week!), it's great to see brands like J.Lindeberg and Bonobos releasing their own collections of stylish golf apparel for the discerning duffer. It certainly beats the pleated khakis and billowy polo shirts that make you look like your dad on the links.
Staffing up
If you've been paying attention, you've noticed some new faces – or at least, voices – on the site lately. Lizzie is tackling relationship tips and tricks, long overdue on a site about helping guys live with more style. What could be more stylish than knowing how to talk to a woman without putting your foot in your mouth?
I also hired a new editor Brittany, who I'm already completely obsessed with and dependent on; you guys are going to love her (she's responsible for this, this, and this). And, of course, I'm taking (former) Intern Gabi with me on this ride as far as I can, so you'll still see a good amount of outfit inspiration coming your way from her.
Working with these talented ladies lets me bring more good stuff to you, without sacrificing quality for quantity. Because as much as I want to be all things for you guys, I really don't want to DO all things, and I have this thing for sleeping and seeing friends and family from time to time that I just can't seem to quit. Be sure to welcome them in the comments, k?
I'm hoping freeing up my time will also give me the space to write more things like this, that I love to do but has taken a back seat to things like necessary but administrative busy work like putting together newsletters in Mailchimp and sending invoices.
Tell Me:
What were your favorite finds from this month?
Want more SG? Follow us on Twitter!