Style Girlfriend May 2015 Picks
The most-loved things of the month of May
Guys, June starts Monday – can you believe it? Getting ready to turn the calendar page can only mean one thing: it's time for SG's picks of the month!
See my favorite finds for May, and chime in with yours in the comments below..
NBA Style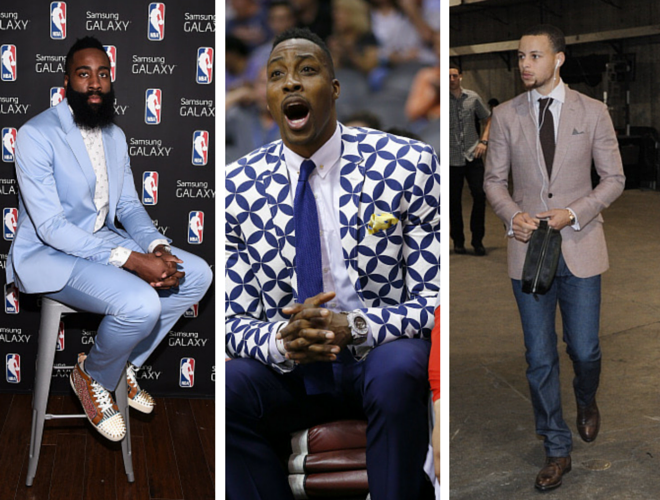 You know I love me some NFL style, but it's hard to compete with the NBA Finals when it comes to post-game press conference swagger.
While Stephen Curry is the favored pick for "best accessory," I know I've gotta keep my head in the game and my ovaries out of it until the conference face-offs are behind us. So far, the style assessments have pretty much centered on players' on-the-court style, but I don't see that lasting for long.
Urbio Branches Out
I first fell in love with Urbio when they came to the rescue during my home office redesign. I've since moved, and the prospect of unbolting them from the wall meant I wound up leaving a few behind.
That's why I was so psyched to hear the brand had branched off with Perch. It's the same great wall units, but held in place with 3M adhesive, rather than drilled in with a drill that I don't have anyway. If you're looking for stylish and easy-to-install small storage, Perch is it.
Cannes style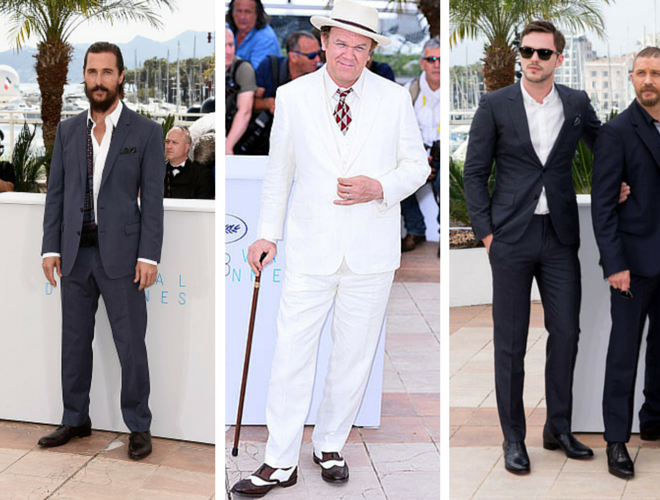 Not to be outdone by professional athletes, this month professional actors were also bringing the big guns out in force, in France. As expected, the iconic film festival's red carpet drew the big guns. Seasoned red carpet vets like Tom Hardy, Colin Farrell, Jake Gyllenhaal, and Matthew McConoughey killed it (even if their movies didn't).
But it was the "whoa where'd they come from" style newbies like Nicholas Hoult and ..wait for it, John C. Reilly whose looks really slayed me.
While Reilly could be faulted for pushing a little into costume territory, it felt instead more like a, "Who knows when I'll be in the south of France next, so might as well go full Gatsby." Hoult (who I'll forever know as the star of the UK's Skins…and then secondarily as J.Law's boyfriend before she hooked up with the Coldplay guy) went classic in perfectly-fitting suits and tuxes.
So I say hurrah guys, all of the kudos for your French Riviera fashion.
Unexpected summer suiting
Sure, you're going to want to go lighter in your suit weight, but you also don't want to invest in a closet full of seersucker just to get you through the summer months.
For guys who wear suits on the reg, certainly a khaki or chino suit in a fine gauge is a good option to add to your rotation. But there's more you can do with the suits you already own. I love unexpected pairings for your year-round suits, to really take them into the summer months. Up top: polos, "fancy" t-shirts, and popovers. Down below, sharp sneakers, slip-ons, and – of course – no socks.
Whether you're a guy for whom suits are still a must in the summer, or you  just like to push the style envelope, no matter the season – consider remixing this staple, that doesn't have to be nearly as conservative as we usually think of it.
Nailing down the song of the summer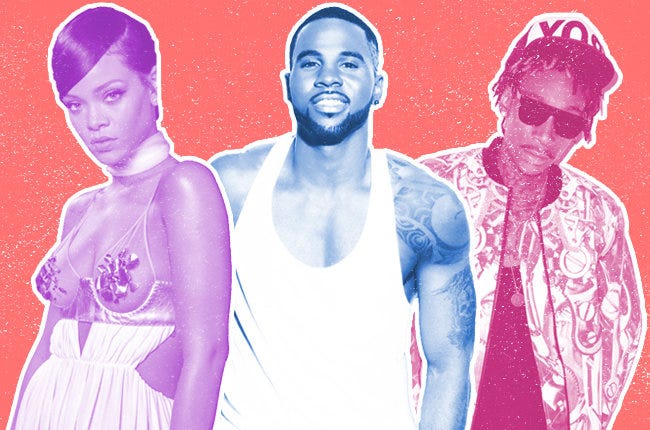 (image via Billboard)
According to those who know and love me, I am a big fan of terrible music. I say this with no shame or regret. I don't believe in "guilty pleasures" when it comes to music, so I'll sing along with abandon to T.Swift the same as I will to Kendrick.
So it should come as no surprise that I looooove a good "song of the summer" jam. Last year it was Iggy Azaleia's "Fancy" , the summer before that, the DJ played "Call Me Maybe" at my friend's wedding no less than four times..and we got on the dance floor and boogied down every. damn. time.
But – and I hate saying this – it doesn't feel like there's a strong contender for 2015, does it?!
Carly Rae Jepsen's "I Really Like You" has not yet left my head since it came out this winter, but it doesn't have the same world domination factor as "Call Me Maybe." Rihanna has a few in the running – say what you will about the title, but "B*tch Better Have My Money" definitely gets me going. I love "Four Five Seconds" and the Paul Walker memorial ode/Furious 7 anthem "See You Again," but a song of summer by definition must be upbeat – these are pool party jams, club hits.
"Where Are Ü Now" loses the summer's (flower) crown to for the same reason, though it'd already been rendered ineligible in my book for a) featuring Justin Bieber and b) boasting an unnecessary umlaut. "Cheerleader" by OMI, Major Lazer's "Lean On" and the Nicki Minaj and Afrojack-fronted David Guetta track "Hey Mama" are three more perfectly passable candidates I can get behind, but not with my whole heart. And lest we forget "Trap Queen" by Fetty Wap, know that's in the mix too.
Click your pick below
[socialpoll id="2274145″]
Feeling Fresh
Every time it warms back up in NYC, I feel like it came out of NOWHERE. Where did this heat come from? It's nearly June, you say? Who knew!
So it's about this time I start sticking face wipes in every bag I own. You guys are lucky; you don't wear makeup (usually?), so you don't have to worry about ruining your "look" when using these summer skin life savers. I've talked before about my love of Ursa Major Men's individually-wrapped cloths, but you can find great options at the drugstore too.
shop face wipes

Tell Me:
What were your favorite discoveries this month?
Want more SG? Follow us on Twitter!