Guys, Here's How to Wear White Jeans in Fall and Winter
"Winter white" to the rescue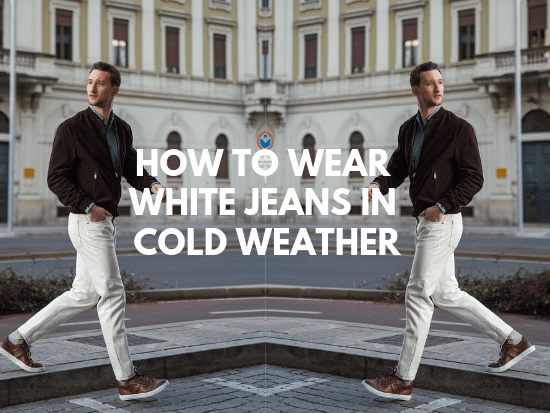 Figuring out how to wear white jeans in winter and fall? It seems like it's more confusing than it needs to be for guys. Thankfully, we've got a super-secret tip we're ready to share exclusively with Style Girlfriend readers. Ready?
Pretend white jeans are just…regular jeans.
Now try to keep it quiet, or all the guys are going to start wearing white jeans in the cold weather months and looking as good as you will! Now buckle up, because we're about to show you exactly how to achieve that "winter white" look in the colder months. And if you don't have them already, shop our picks at the bottom of this post, because white jeans are about to become your go-to denim.
And look, have I been working hard to get you guys to wear white jeans all year round for awhile now?
She's trying, guys!! cc: @gabi_meyers pic.twitter.com/Gw9FGsdU14

— Megan Collins (@megancollins) September 9, 2019
So…yes. But I can feel it in my bones! THIS is the year you finally give in.
Below, how to wear white jeans in winter (and fall!) five ways:
Monday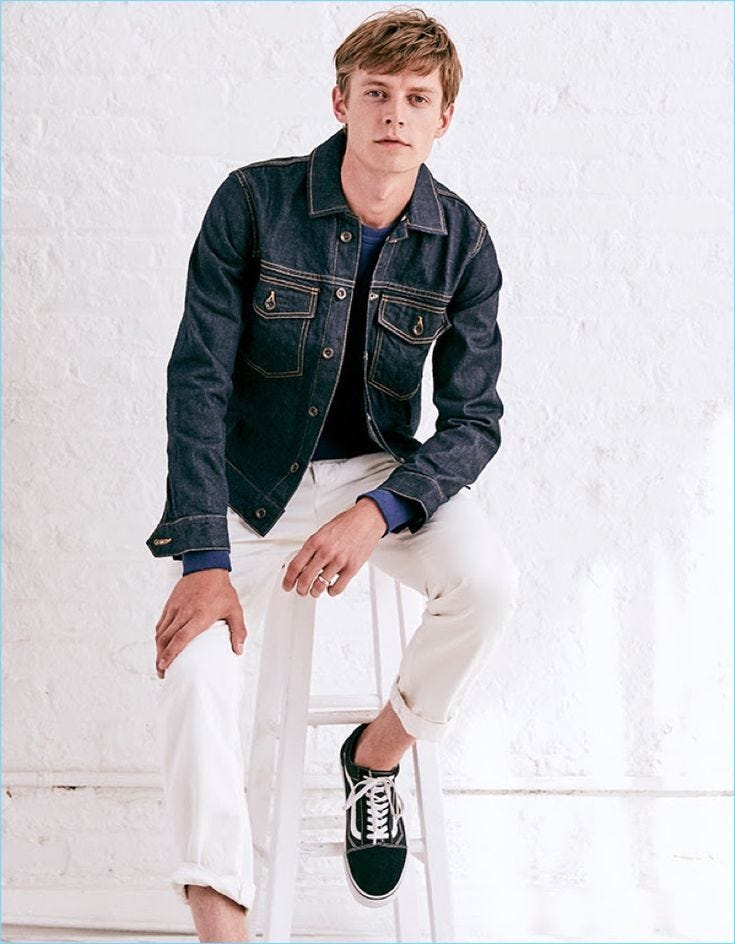 Wear white jeans with a denim jacket
SG Says: Don't overthink it! That all-important jean jacket grounds the look in cool weather. It says, "I'll take a Pumpkin Spice Latte, and step on it!"
Keep the rest of the outfit simple (dark sweatshirt or sweater underneath, your favorite sneaker), and you're all set.
// Shop the look //
Tuesday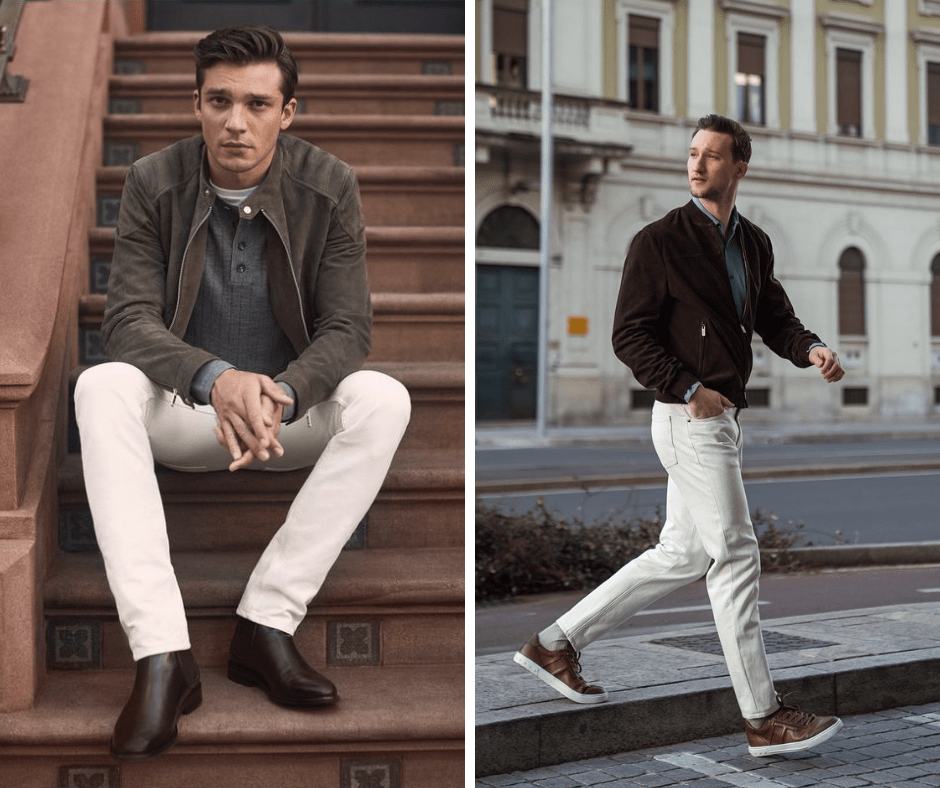 Dress white jeans up with a suede jacket
SG Says: Yes, this dressy-but-still-comfortable outfit works with chinos, too. But if you've got the white (or off-white) jeans, why not wear 'em?!
// Shop the look //
Wednesday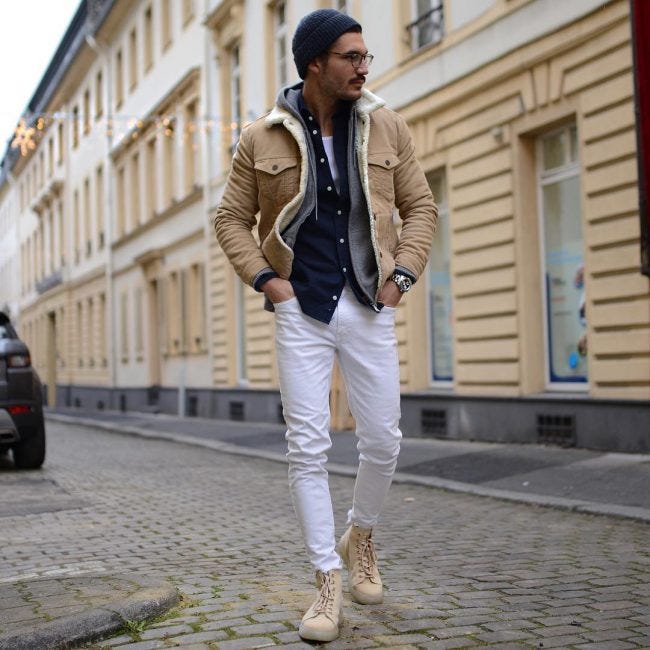 Wear white jeans with a lace-up boot
SG Says: This well-layered fellow, German style blogger Justus F. Hansen, understands that what makes white jeans feel appropriate for cooler temps is what you wear with the jeans. See how he's got an undershirt base layer, and a button-up, and a hoodie, and a shearling-lined trucker jacket?
Oh, and the boots that look ready for combat? Yeah, you're not wearing all that in the summer.
// Shop the look //
Thursday
Wear white jeans with a sport coat
SG Says: Think only style bloggers can pull off white jeans in a work outfit? Au contraire, ma frere.
All you need to pull off this "business on top, still summer in my mind on the bottom" outfit vibes are a perfectly-fitted sport coat, and dress shoes polished to perfection.
Socks, obviously, optional.
// Shop the look //
Friday
Wear white jeans with a chunky sweater and statement coat
SG Says: Okay, you caught us. These are women. Kat Tanita of With Love From Kat, Arielle Charnas of Something Navy and Aimee Song of Song of Style, to be precise. But we think they do just as good a job as a man in showing the power of a chunky knit sweater and statement jacket when it comes to transitioning your white jeans to winter weather.
And you don't even need to wear heels to make the lewk work. Guys are so lucky…
// Shop the look //
***
A few more tips on how to wear white jeans in cold weather:
A slim-fit, straight-leg style creates a sleek, put-together look. Anything too loose or billowy gives off the vibe of being headed to happy hour for two-for-one mai tai's on the boardwalk.
Choose a dark shirt or jacket that contrasts with the light color of your pants to "ground" your look if you're not ready for a whole monochrome situation.
Incorporate interesting textures and cozy, thick knits like suede, tweed, suede, corduroy, or leather to make your white jeans feel more "weighty" for winter and fall.
White jeans just feel too dang bright? Opt for a pair in off-white (look for color descriptors like "cream" or "eggshell") instead.
Save the pastel colors and lightweight fabrics until the spring and summer months.
Below, #SGapproved outfit ideas you can wear with white jeans this fall and winter:
While dark denim is obviously a guys' wardrobe essential, guys shouldn't sleep on adding white jeans to their wardrobes in the colder months.
Its clean color can elevate denim to chino status, but it's still a totally appropriate stand in for your standard light denim, natch. It's easy to think these are for summer only, but you can totally wear them well past Labor Day!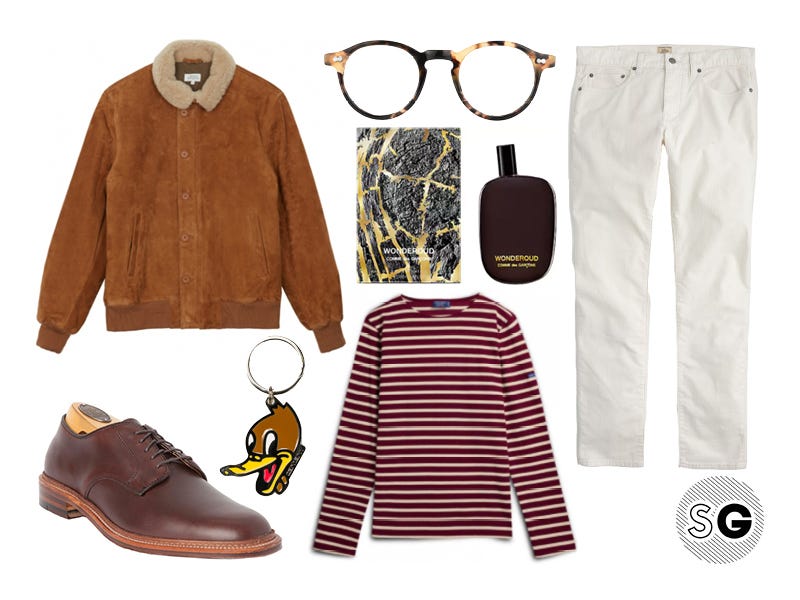 glasses: Moscot, $260 | keychain: Carhartt WIP, $28
SG Says: Double down on coziness by pairing your winter white pants with a suede jacket.
BTW, a lot of brands call jeans and 5-pocket twill or corduroy pants like this 'winter white.' So creative, I know!
All you need to know is that this shade is softer than the crisp, clean white of summer, closer to ivory. But! It works just as well as a neutral base for fall and winter as white does. #themoreyouknow

jacket: Pop Trading Company, $104 | tee: Bridge & Burn, $36
SG Says: Brighten up a rainy day with your winter white pants and a classic yellow rain slicker.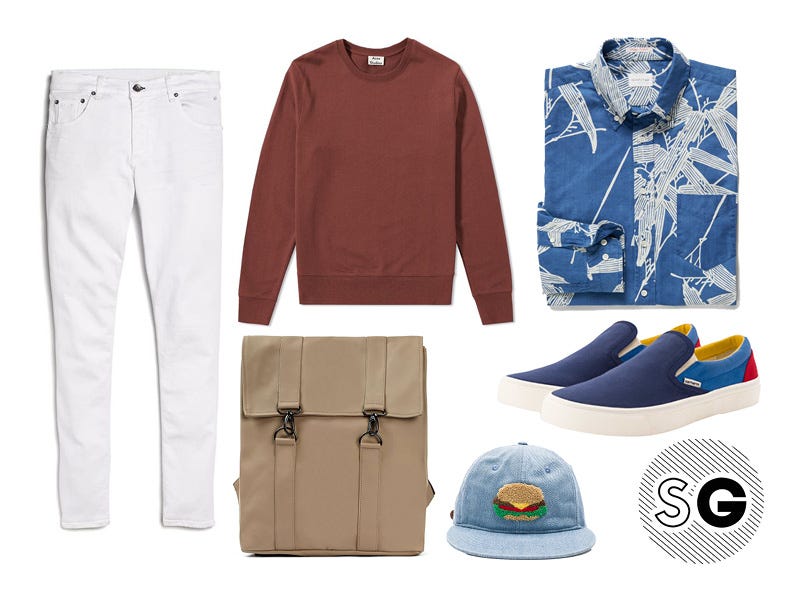 Wear it well: Find a small accessory with a lot of color, then, find a way to work all of them into the outfit.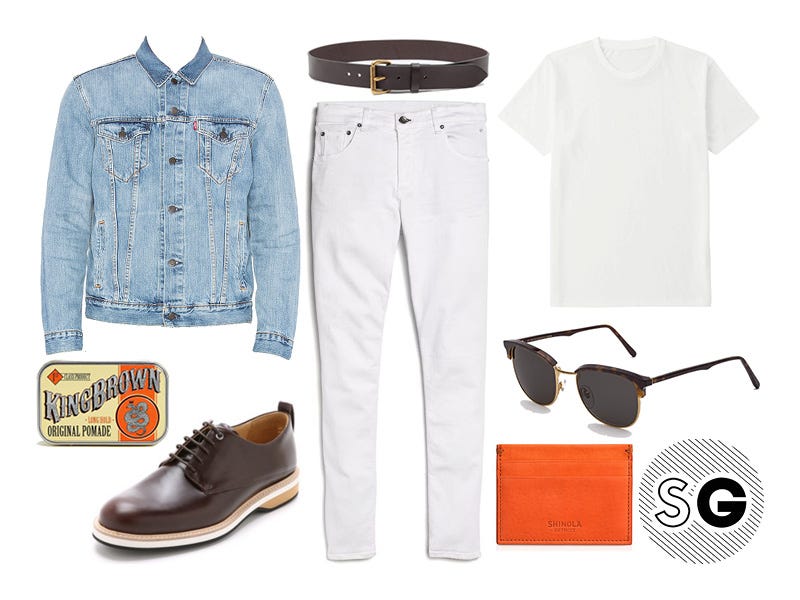 Wear it well: Button the middle two buttons of the jacket, and roll up the ankles of the jeans.
shacket: J.Crew, $88 | sweatshirt: Levi's, $60 | sneakers: Converse, $50
SG Says: Dress your white 5-pocket pants down with a sweatshirt, shacket and sneaks.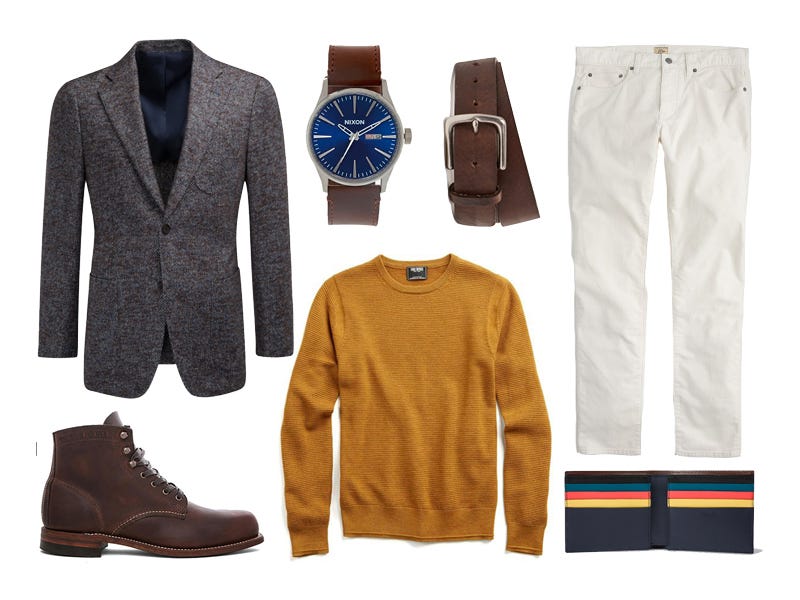 blazer: Altea, $440 | sweater: Todd Snyder, $59 | boots: Wolverine, $360
SG Says: Dress up your winter whites with a colorful sweater and blazer combo…
Wear it well: Leave the shirt untucked, but lace the sneaker as shown to keep it neat.
cardigan: (sold out) Similar | shirt: Express, $70
SG Says: Let your winter white pants be a blank canvas for a mix of patterns in the rest of your outfit.
// Shop #SGapproved white jeans for winter and fall //

Like a phoenix rising from the ashes, Gabi Meyers went from Team SG's first-ever intern to a trusted fashion editor and stylist. She currently lives in Chicago with a very cute dog.