Style in Real Life: EFM Designer Donrad Duncan
Combining performance and fashion in streetwear you'll wear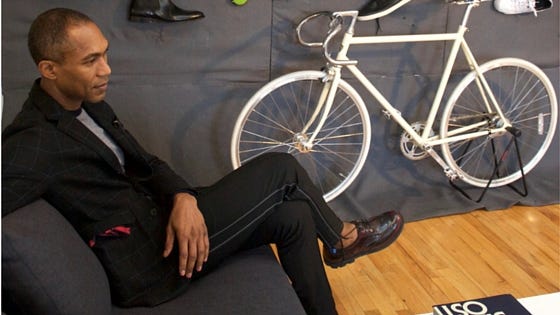 While it can be fun looking to celebs for sartorial inspiration, it's often more useful to simply look around you–to stylish friends, co-workers, even strangers on the street. That's why we like to document the personal style of our own well­­-dressed pals right here on SG. Real guys we know with killer style.
Checking in with designer Donrad Duncan
One look at EFM designer Donrad Duncan's shoelaces—jauntily tied around his ankles rather than laced the traditional way—told me that this is a guy knows what he likes and we should all pay attention.
You would expect a designer whose collection initials stand for "Engineered in Motion" would be focused exclusively on sporty athleisure or activewear. Yet somehow, Duncan has managed to create clothing that feels just as suited for a business meeting as it does for the bike ride to get there.
I met Duncan at his bright and modern downtown Manhattan studio. He's tall, handsome and a little shy, but when talking about his craft, his eyes light up and you see the passion that's gotten him to where he is today. He told me about his goal: to create comfortable yet stylish men's clothing that can carry its wearer through a long day filled with a myriad of activities. He does so by carefully crafting each tiny detail to be streamlined and comfortable but also look sharp. Smart touches abound, like a blazer with a translucent inner cell phone pocket so you can see who's calling without picking up your phone.
But design isn't where Duncan stops.
Thanks to his partnership with a Chinese company specializing in developing performance fabrics, Duncan is even involved with the development of each fabric he uses in his designs.
But the performance aspects of EFM never takes precedence over the classic, refined silhouettes and masterful tailoring. His designs – like the perfect plaid blazer and tuxedo striped wool pants Duncan was sporting during our interview – look ready for any posh party or business meeting. It's not until you put them on that you'll discover those engineered extras that make them truly unique.
It makes perfect sense that Duncan would create such thoughtful investment pieces. His entire outlook is geared towards having fewer things, but making them the right things. That sensibility seems to flow through his entire day, from his wardrobe must-haves, to his grooming product picks, to the food he eats. He's always mindful of making choices that are sustainable, healthy, and socially conscious.
In fact, I left our interview ready to re-think my meal schedule after he told me how he only eats when he's truly hungry rather than mindlessly downing three squares a day. Getting me to even consider forgoing food? That's how convincing it was to watch him be authentically and undeniably himself.  

On his artistic background:
I grew up in the tropics, in Jamaica. My family was very creative. They were tailors and furniture builders, so growing up I built most of my own toys. I was sculpting at a very young age; then I started painting. I learned a lot of my tailoring and architecture skills from my Grandfather. I grew up with this connection to shape and form and structure so I see things three-dimensionally. It was a very good foundation.
Then I moved to the United States and went to Parsons. One of my influences is Massimo Osti. His approach- it's basically taking architecture and creating apparel from it. I was very heavily influenced by that. And when I went to Italy I was able to work out of his studio and understand the fundamentals of how he approached things, which was very similar to the way I did.That actually created the foundation for where I am today.
Why he calls his clothes are engineered rather than designed:
We don't necessarily just make something and hope it works. We step back and figure out the elements that need to be present so that it functions the way we want it to.
The objective is to make it comfortable.  We use this phrase "advanced luxury."  The advanced is the function and the luxury is the comfort.  It transitions from one environment to the next and has this elevated comfort and functionality.
How technology informs his designs:
I'm technologically driven if it serves a function.
You don't want something to scream "tech." You want it to be subtle, but still convey the message. We develop the fabric so it has movement — it stretches a little, it has a double face so when the garment is open you can see the texture and color inside. 
We reduce as much bulk as possible; the seam allowance, for example, is almost non-existent. It's laser cut and ultrasonically welded together but you don't see that. So we apply some technology that's very discrete and some technology that's very visible.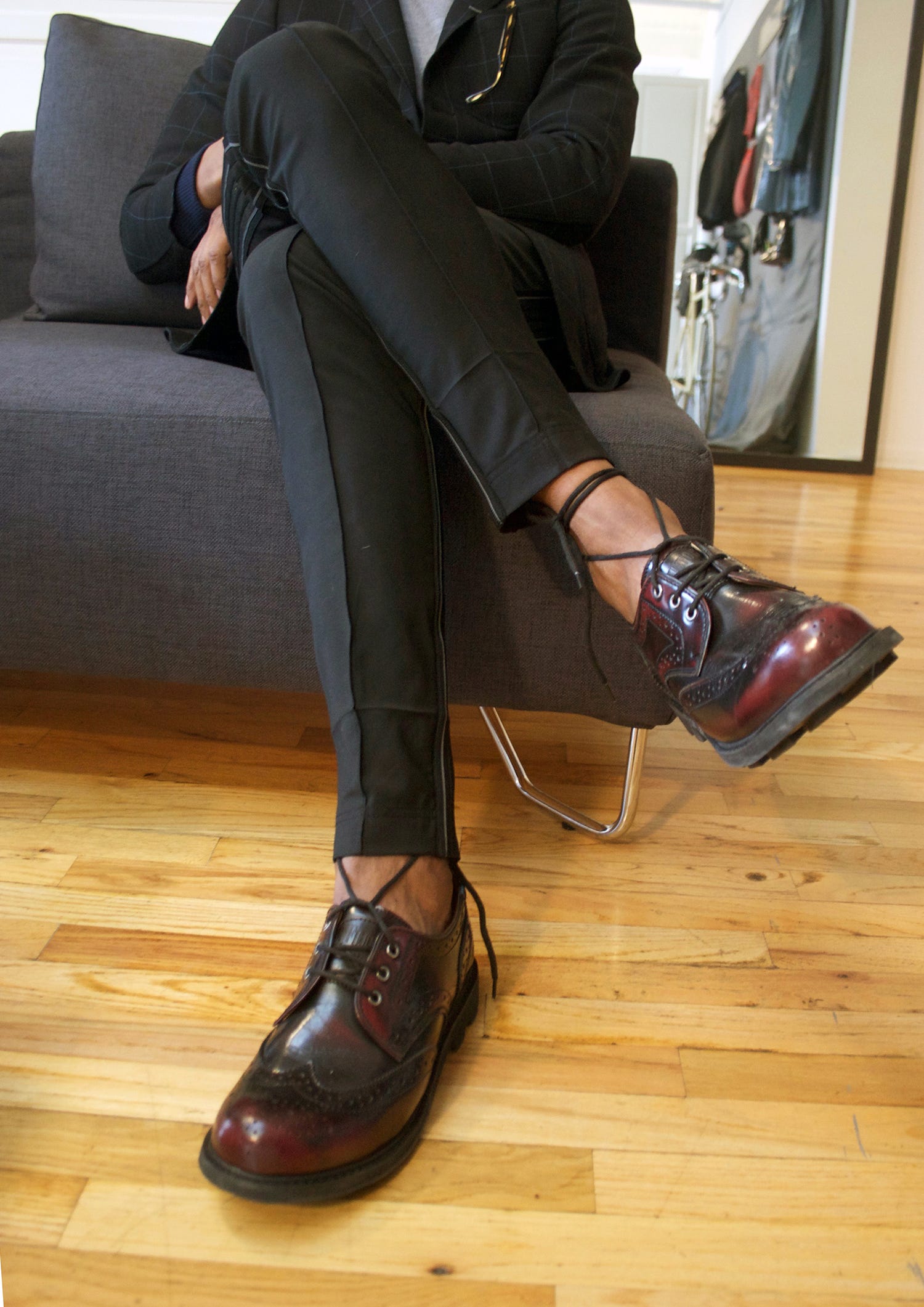 His fashion essentials:
Definitely a collared white shirt. You should always have that. In the trousers arena, I always go to tropical or very lightweight wool. And I don't think there should be a guy who doesn't have a sport jacket or a blazer, whether it's cut in a woven fabric or a sweater yarn. You can actually take the silhouette of a blazer and let it become very casual or very formal.
I'm one of those people who always has a t-shirt and a lightweight crewneck.
And then the shoes. I do support the shoe industry. [laughs] I have a lot of Church's shoes.
How he sees the future of men's fashion:
Health and lifestyle translate into so many areas of our awareness and environment. When it comes to apparel, it's going to be something that offers a function. I don't necessarily want to think too much, but I want to look good when I put it on. I want to be able to travel easily and I don't want to carry too much weight. And I feel like this movement will carry on for a while and will also filter into other industries and other segments of the apparel market.
On his grooming routine:
I use very little. I have a castile soap that I also use to shave. The moisturizer I use is something you can actually ingest called Moringa oil. Basically that's it.
On healthy living:
Except for water, grass-fed milk and coffee, I don't drink a lot of things. I eat fruits and vegetables but they have to be organic, as much as I can get. I eat meat and grains but I consume it differently.
Your body starts speaking to you, then you try to follow suit. You realize, "Okay, I don't necessarily need to have breakfast. If I'm not hungry I'm not going to force myself." I eat the next meal when I'm hungry. If it's lunch or dinner, I eat enough so I'm satisfied. I try to eat it slowly, too. I feel like it's a form of respect. Just like how we respect each other, you also have to respect yourself.  
Donrad's Style Profile
Your style in three words (or less)
Comfortable, clean lines, engaging.
Party outfit go-to
Whatever I wear to the studio that day.
Favorite "splurge" clothing brand
Church's shoes.
Favorite "steal" clothing brand
Muji.
A man's personal style is important because…
The important word here is personal. You will always feel most positive wearing what you are most comfortable in.  If a guy prefers to wear a nice, clean pair of running shoes with dress trousers and a blazer, that's his style.  When you try to wear someone else's style, you are never your best.
My best fashion moment
Being selected by the CFDA to debut my Spring/Summer 2016 collection at the inaugural NYFW: Men's in July 2015.
***
Want some help with your wardrobe?
Let us rescue you from shopping fatigue and sartorial apathy. With our online personal shopping service, we can promise the kind of dedicated attention that will make you feel like the best, most stylish version of the awesome guy you already are! We'll also help you figure out how to wear your new clothes with the things you already own.

Ready to seriously improve your closet and your confidence? Give us a shout.
***
Originally published December 2015. Want more Real Guy Style on SG? Let us know! And check out other features here, here and here!