Style Roundup: Men's Clothing Brands to Fit Your Body Type
Accentuate your frame with brands built for you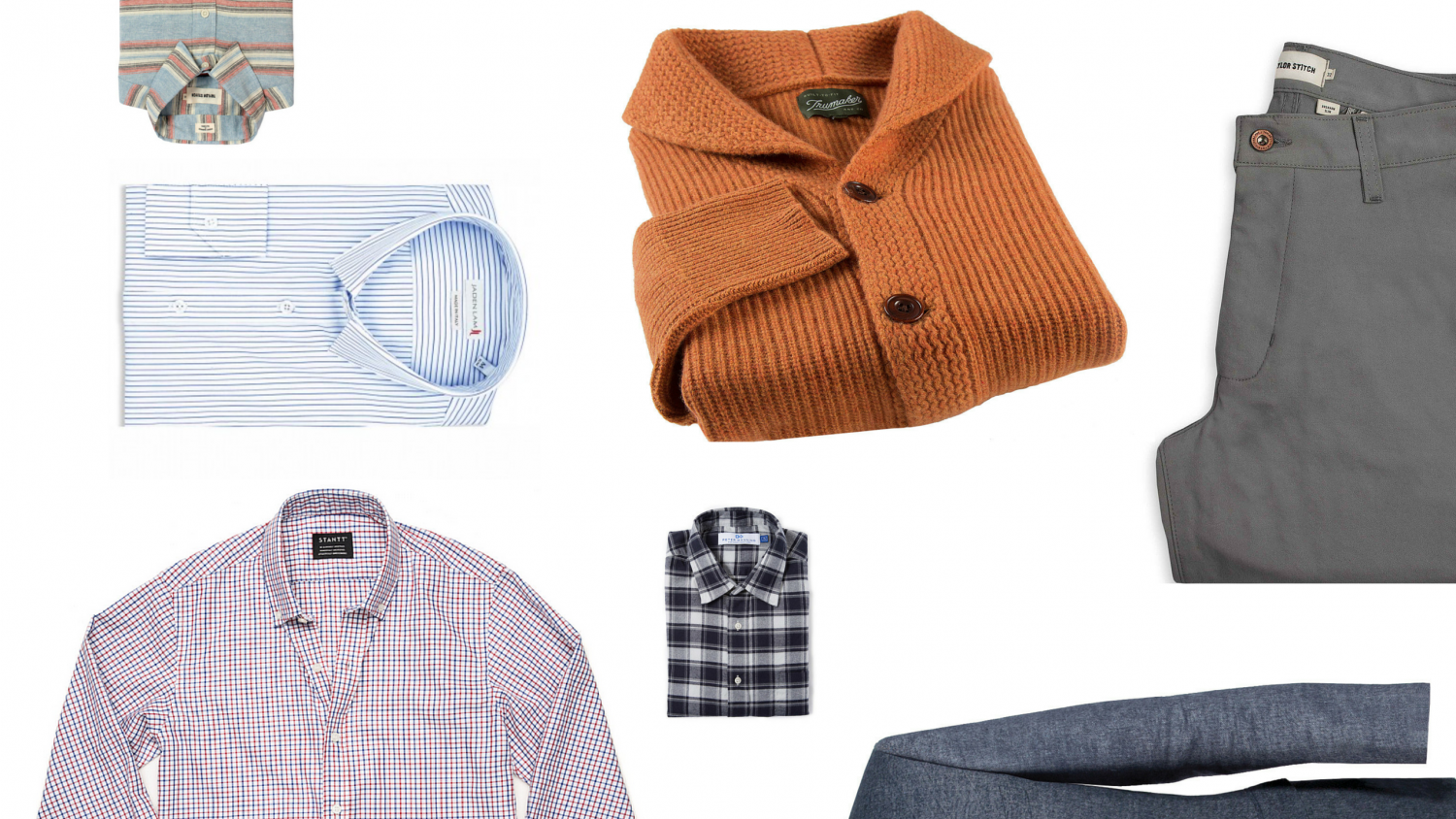 Fit is king, guys. It's the most simple style concept with the largest (and most immediate) reward. A well-fitting shirt and jeans far surpasses an outfit of high-end designer pieces if a proper fit isn't top priority. But here's the catch – you don't have to equate a tailored fit with a skin tight feel. When a slim or tailored cut is done correctly, you'll look like your clothes were made for you. Can't find a fit off-the-rack? No excuses here! It's now easier than ever to get custom clothing online at stores specifically created with your body type in mind.
Below, new clothing brands designed for each body type:
Short
Weekend Flannel Shirt | Essex Dress Pants
Created for a guys 5'8″ and under, proper fit and impeccably scaled details are paramount for in all Peter Manning NYC pieces. From shorter inseams to body length, the goal is to skip the tailor all together with off-the-rack line.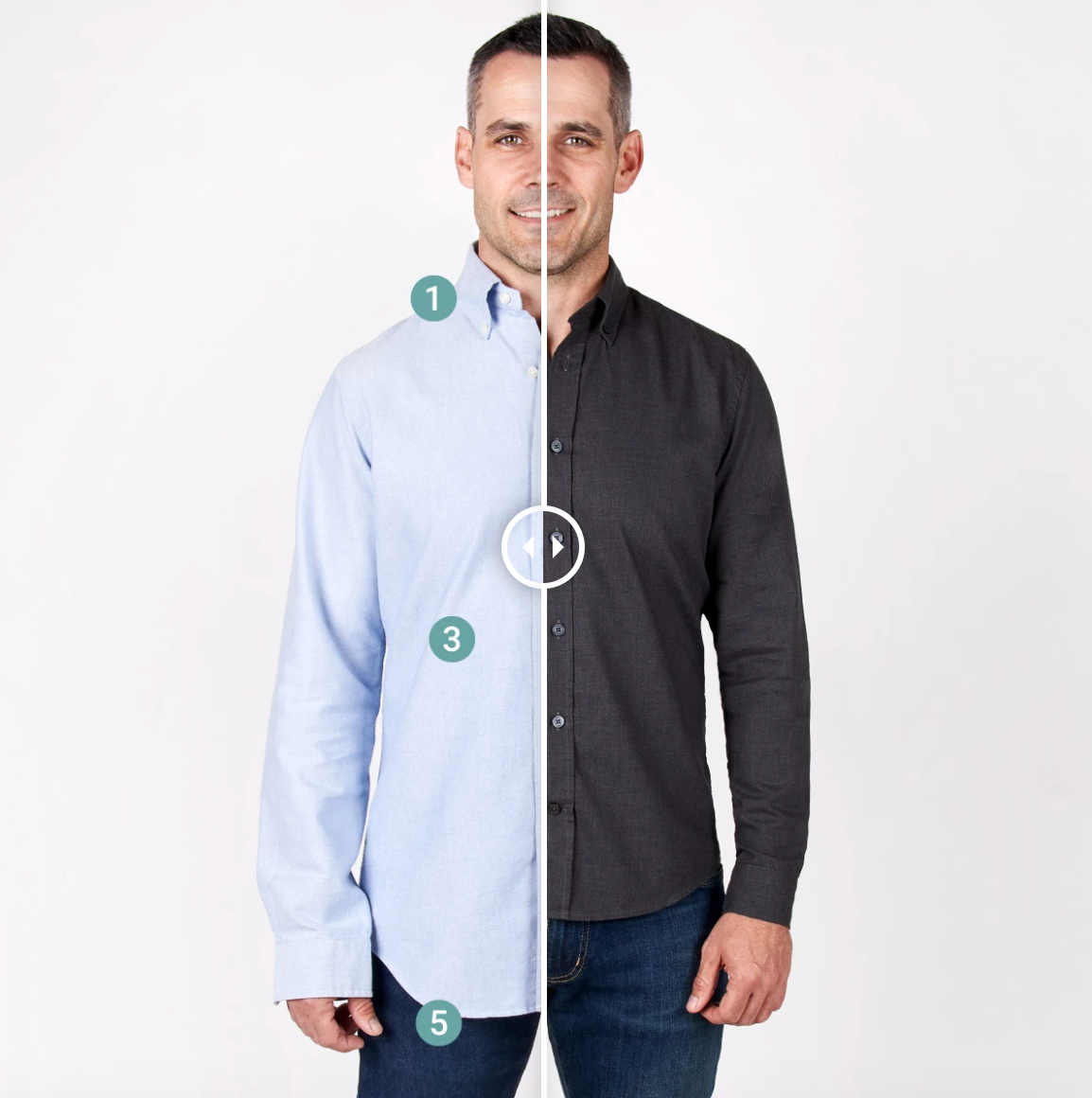 Gingham Shirt | Maroon Flecked Shirt
Proudly designed in Detroit, Ash & Erie aims to build clothes from the ground up specifically for men 5'8″ and below.
And what's better – their sizing chart is built from scratch as well to ensure their shirt fits your frame.
Charcoal City Cardigan | Striped Shirt
Lam oversees every aspect of his luxury clothing line aimed at men 5'9″ and under. This master tailor turned designer created his special short rise pants and proportional pieces so guys wouldn't have to compromise style for the right fit.
Tips for your build:
Don't shy away from tailored fits that sit close to your body. It may feel "snug," but a proper fit is better than baggy any day.
Proportions are everything. Make sure your shirts and outerwear hit on your hips correctly.
Make sure your pants and shirts fit correctly around your arms, torso, and legs – then have your tailor fix the lengths.
Tall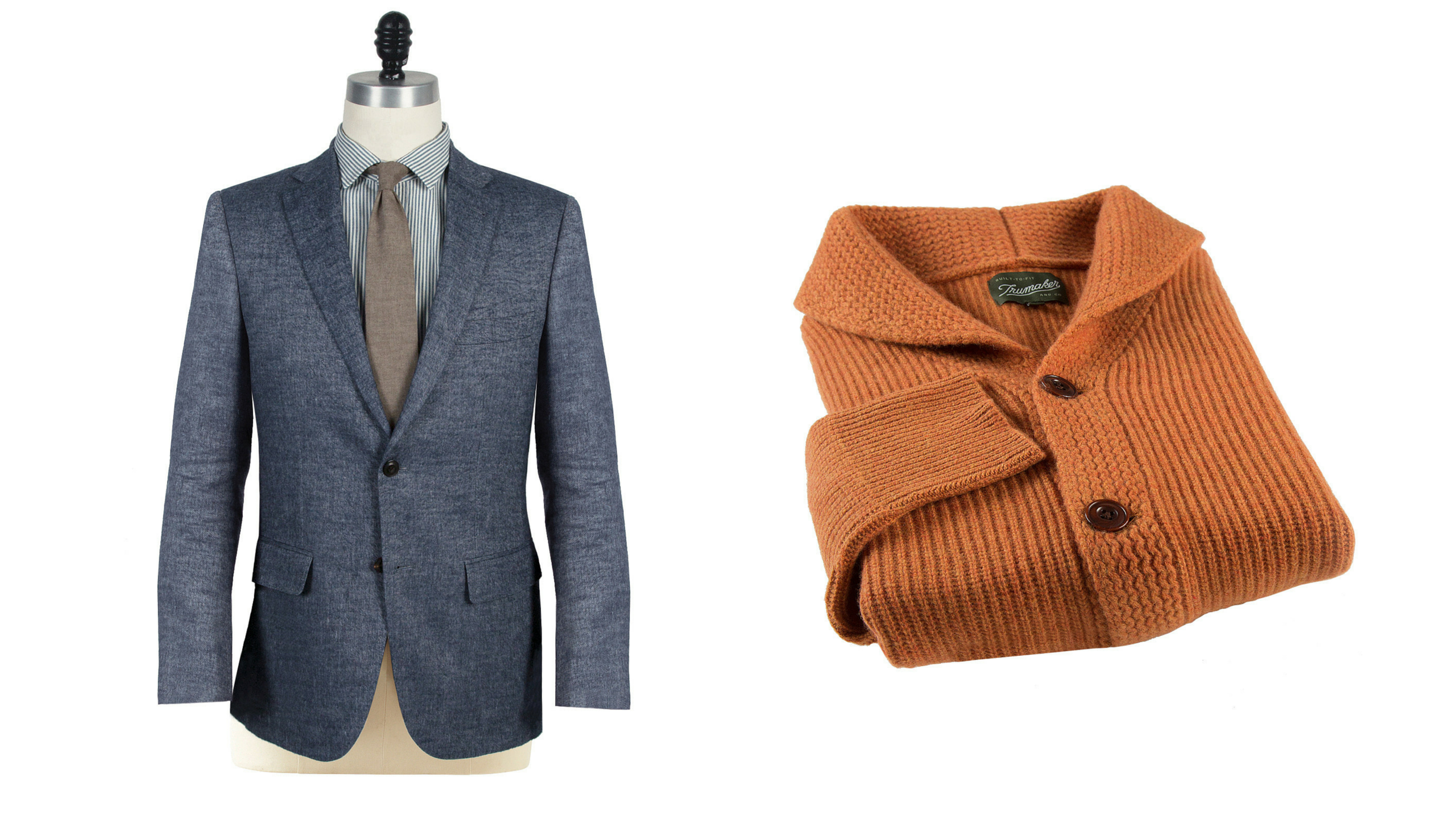 Clyde Blazer | Shawl Collar Cardigan
Trumaker boasts built-to-fit clothing for men that's easier than custom tailoring. With a tall build, it can be easy to find something that fits length-wise and then look like you're swimming in it.
This is where Trumaker and their Outfitters (read: tailors) come in to personally measure you in the comfort of your home for your perfect size to use when ordering directly off the site.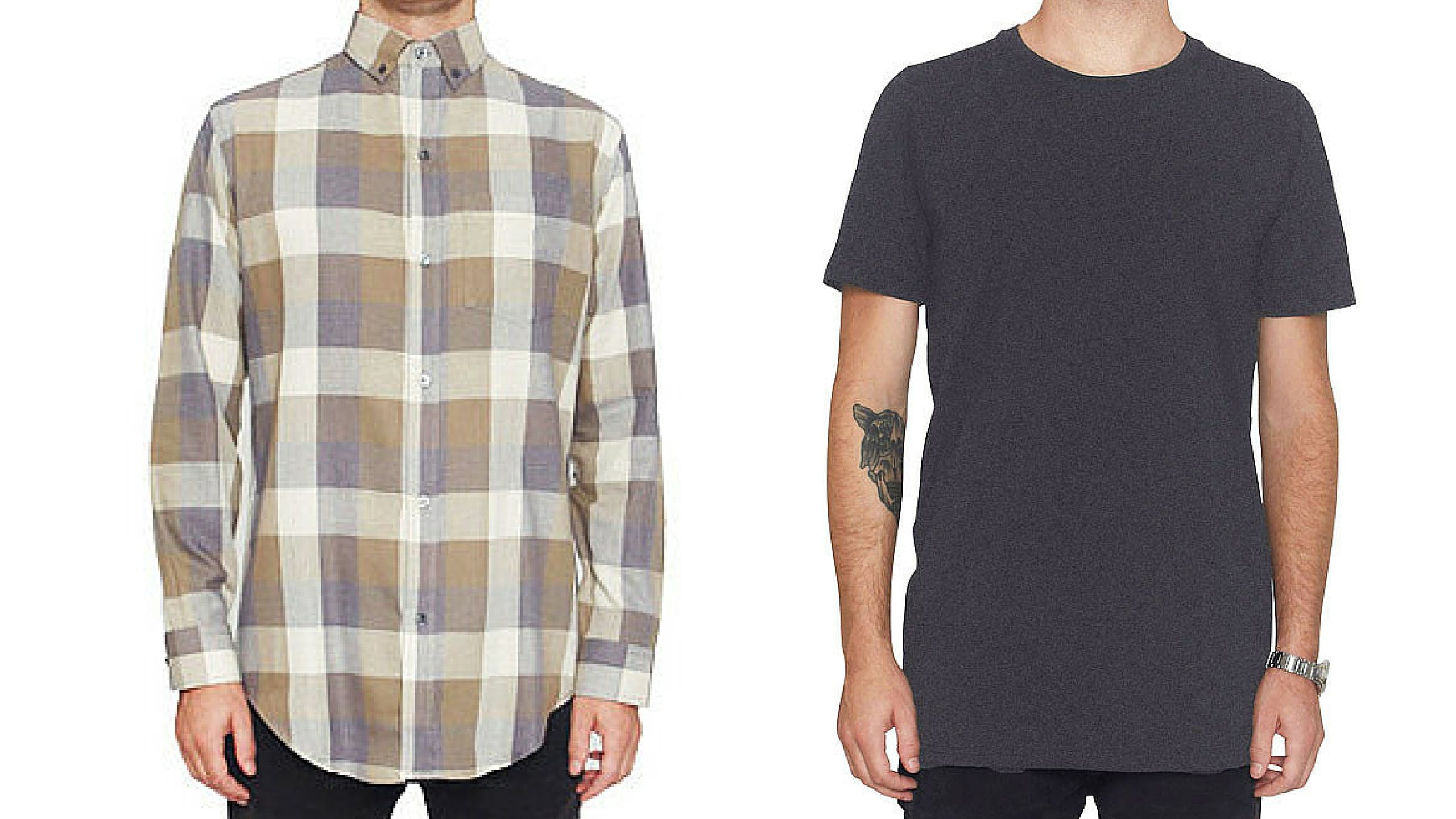 Marron Button Down | Charcoal Crew Neck Tee
Make way for a whole new meaning of the "tall tee." The brains behind Tallboys Apparel, Nick Tann, wanted to solve the problems that vertically gifted guys tend to face: too-short tees, baggy fits, and sleeves that just aren't quite long enough – and that he did. Tallboys Apparel's t-shirts and sharp button downs offer increased torso and sleeve length as well as proportionate collars to ensure a fit that feels as great as it looks.
Tips for your build:
With a narrow frame, keep your fits slim but not too form-fitting to avoid looking lanky. Conversely, choosing an oversized fit will emphasize a narrow frame versus bulking it.

Don't be afraid to opt for a break in your pants when at the tailor, it'll balance your long proportions.

Go custom wherever possible! It's harder for sleeves and hems to hit correctly on your limbs, so save yourself a trip to the tailor with every purchase by getting your exact measurements up front.
Athletic
You may be used to hard work in the gym, but an athletic build often requires a little hard work in finding clothes that fit everywhere. This is why Taylor Stitch's cuts account for the athletic guy who requires a little extra room in the thigh and arm department. Scoop up a pair of their chinos or shirts with double stitched buttons for tailored cuts that aren't too slim.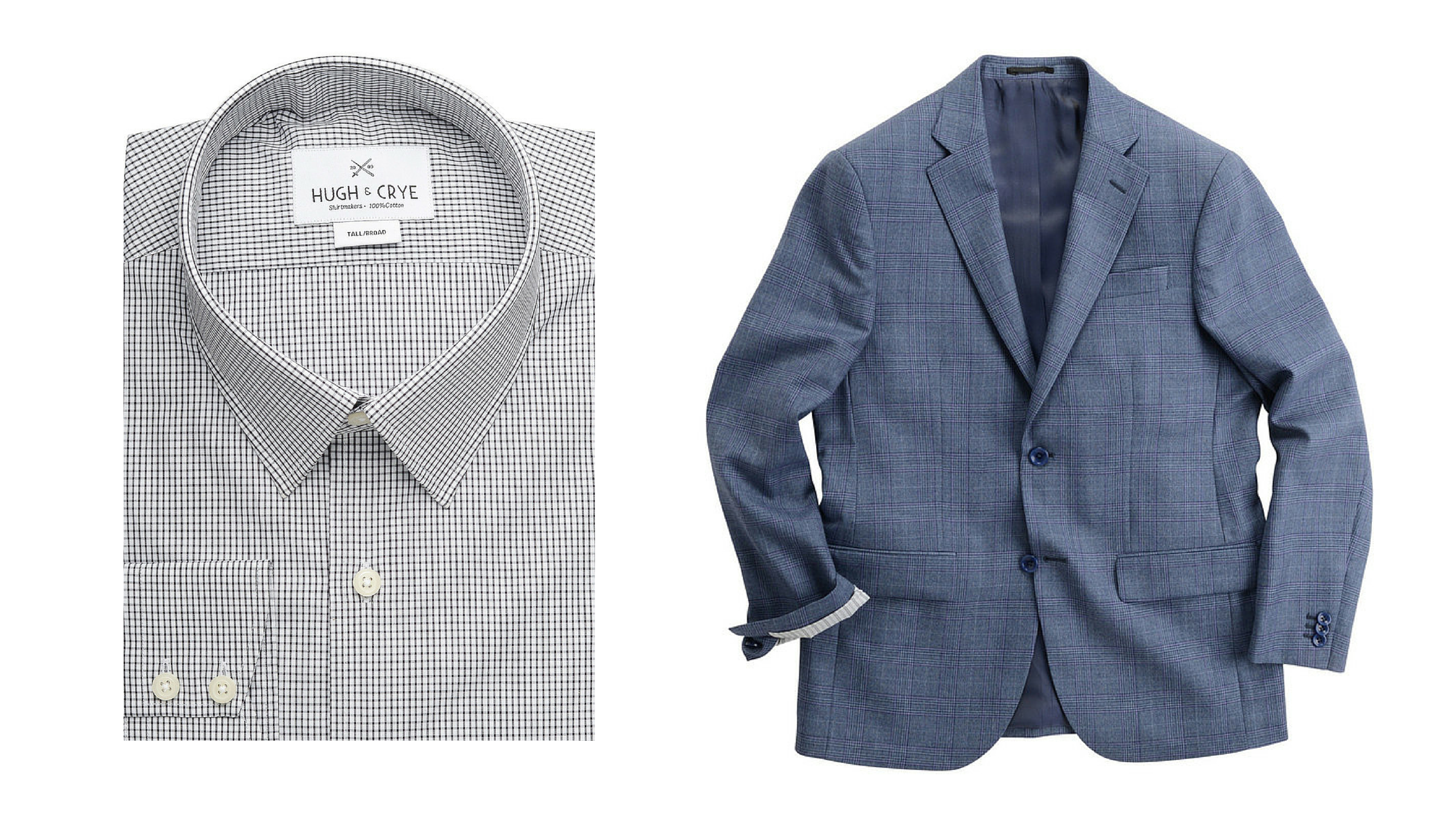 Diplomat Shirt | McComb Blazer
What started as a solution to their own difficulty in finding dress shirts that actually fit a lean, athletically built guy, Hugh & Crye has created a line specific to the height of your torso and shape of your upper body. Once you select your build from those two components, it's easier than ever to get a custom fit shirt without a measuring tape.
Tips for your build:
Don't mistake extra fabric for a comfortable fit, too much room will make your frame boxed versus accentuated.

To emphasize your build, make sure your jackets and shirts are properly taken in at the sides and ensure a proper armhole positioning to avoid ripping your shirts.

You can absolutely wear a slim fit – just think tapered versus skinny. This way, your tailoring will make room for movement without being prohibited by a muscular build.

When it comes to jackets, both tall and athletic builds are broken up nicely with a 2-button jacket that isn't too long.
Plus-Size
Red and Navy Tattersall Shirt | Windowpane Shirt
Offering a whopping 75 sizes and three inputs, Stantt can effectively guarantee a perfect fit for any frame. After taking only three measurements at home, Stantt's Datafit software will match you to one of their 75 sizes and ship you a shirt that fits in all the right places.
Tips for your build:
Chest to waist to sleeve ratio is most important with a plus-sized fit. While "big & tall" options are readily available at most brands, a custom cut will save you a trip to tailor and won't sacrifice style for proper fit.

Comfortable pants aren't synonymous with pleats! Flat-front pants are designed with movement in mind, so you'll be able to find a flattering fit that isn't stifling.

As with all builds, proportions keep each outfit balanced. Avoid super slim details in your ties, lapels, and tapered cuts.

You are pinned down to solid colors and vertical stripes. As long as your fit is taken into account, you can don a small check, plaid, gingham, and bold colored shirt.
Tell me:
How do you dress for your body type?
Guys! You don't have to buy a whole new wardrobe,  just a few pieces. Download the #SGapproved Style Guide and see what should be on your list.