The College Sports Fan Apparel Brands Every Guy Should Know
Graduate from the student section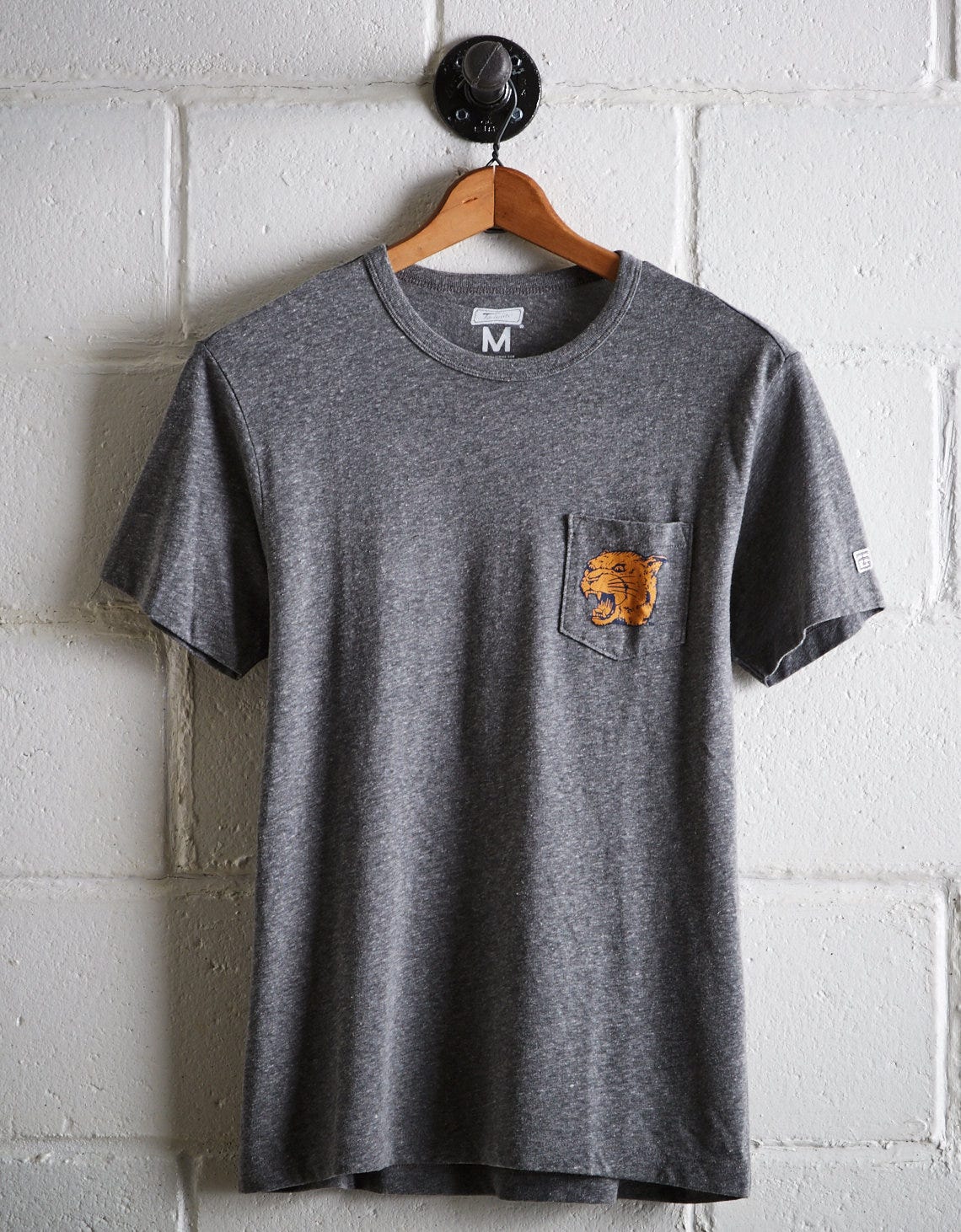 The eternal conundrum. You love college sports and want to show your fandom, but you would rather not look like the face painted, scratchy t-shirt from the school book store-wearing kids in the student section.
I get it. This weekend I'm in Wisconsin to meet up with girlfriends and go to a UW-Madison football game. I will spare you the text chain about finding "something cute" to wear for tailgating, but suffice it to say, attending a college game without looking like you're thinking about rushing next semester can be a challenge.
Thankfully, there's options that weren't around when I was in school. So I made a list of the companies doing God's work, helping you cheer on your school or alma mater in style.
Below, the three brands you need to know for stylish college sports fan apparel:

Tailgate Clothing
You can hear the full origin story of designer Todd Snyder starting Tailgate with his brother and dad in their garage in Iowa when I interviewed him on our podcast, Undressed, awhile back. Rest easy that the Midwest-bred designer, who cut his teeth at J.Crew (he helped create the Ludlow suit!) before starting his own label, knows what "regular" guys want for their wardrobes, and how to help them be their most stylish selves without paying through the nose for it.
Tailgate makes t-shirts, sweatshirts, thermal shirts, hoodies, and more for both men and women. Every piece fits like a dream and feels like you've had it forever. Truly peak college sports apparel.
// Shop Tailgate picks //

University of Wisconsin half-zip fleece popover, $70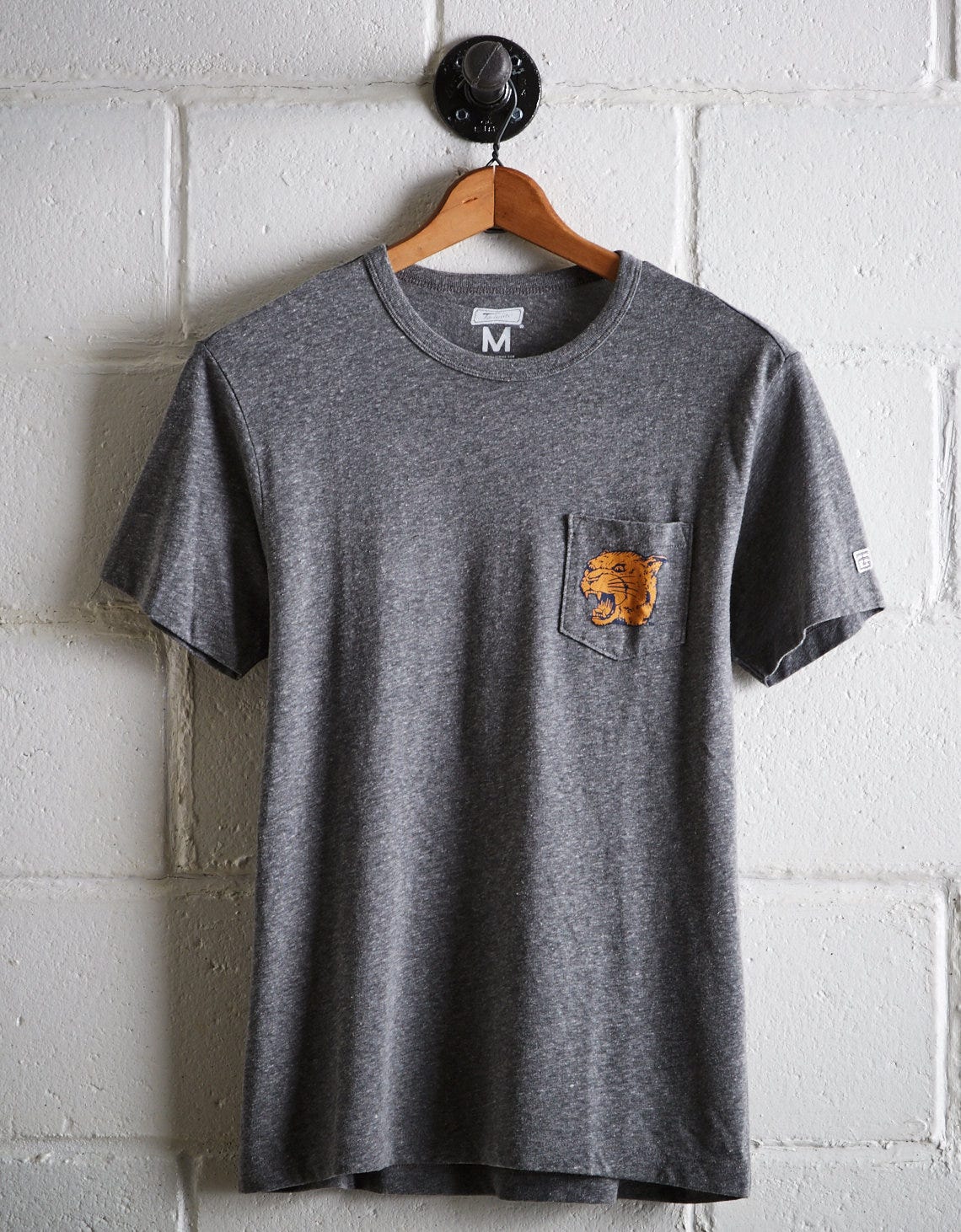 Hillflint
I'm usually wary of Kickstarter-started fashion projects, but Hillflint breaks the mold.
Most of us will complain about the crappy options at our alma mater's campus bookstore, but when Dartmouth alum John Shi visited the school for Homecoming a few years ago, he decided he'd design his own stylish school-supporting wardrobe instead. He showed his creation, a wool sweater that read "Dartmouth College 2012" knit across the chest, to Woody Hines, a Princeton guy, and a business was born.
// Shop Hillflint picks //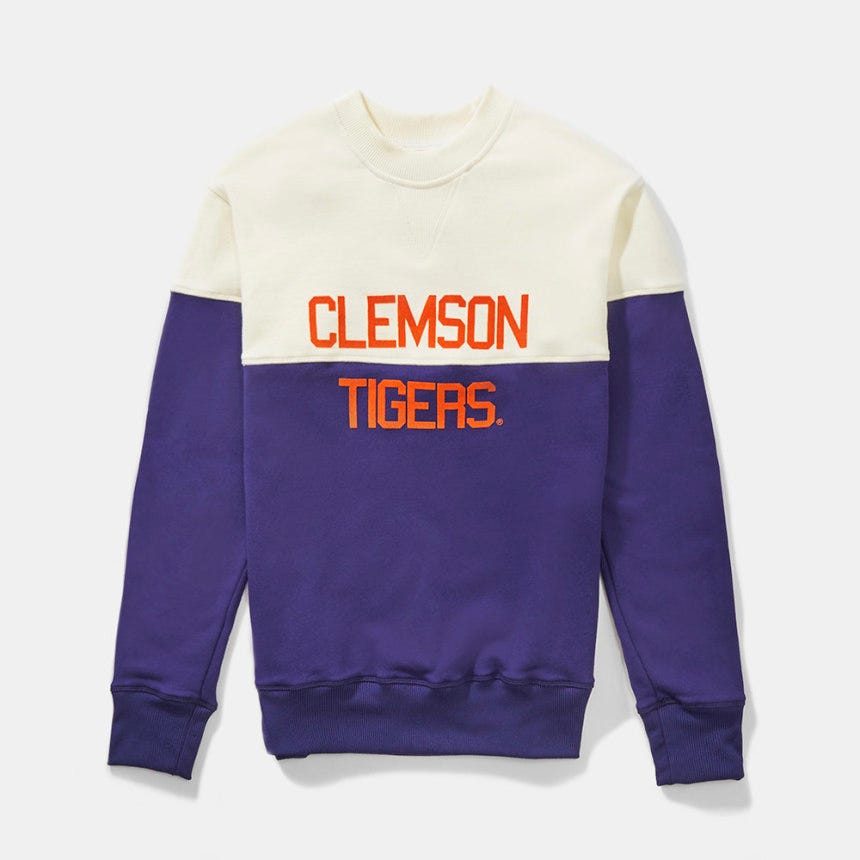 Clemson colorfield sweatshirt, $70 
Old Navy
Yep, good ol' Old Navy. If you live in the city whose school you're a fan of, you might get lucky and there'll be a dedicated table set up during football and basketball season with your team's gear. If not, the website is super easy to shop by team.
// Shop Old Navy picks //
University of Kansas raglan-sleeve tee, $30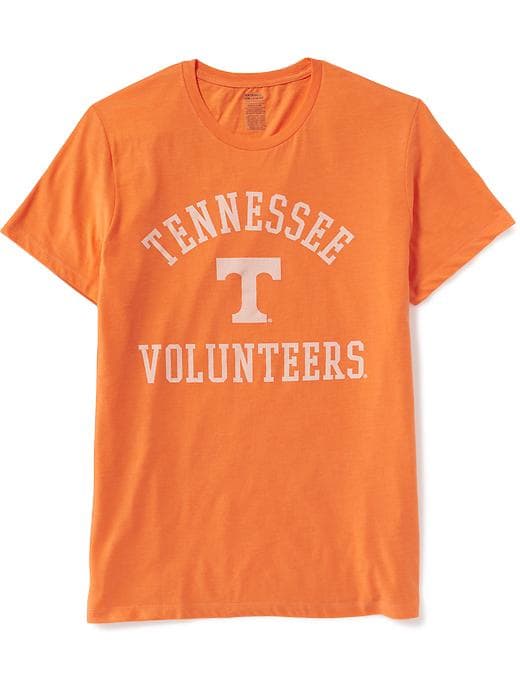 Tips on wearing college sports fan apparel well
1. Fit is key. 
Anything baggy, billowy, or down to your knees doesn't make the cut for weekday wear.
2. Go for stylish over sporty.
Sorry, but wearing your oversize Brady jersey underneath a suit doesn't make it office-appropriate. Stick to vintage-inspired tees and structured henleys under a sport coat or blazer for a creative work look. If your office is truly lax on a dress code, you could even try a clean, well-fitted hoodie or long-sleeve shirt with dark-rinse denim or khakis in a neutral color.
3. Keep the rest of your look on-point. 
It helps, in fact, to dress up a little more than you otherwise would. That white blazer above? I'm terrified of getting it dirty, so you know I mean business when wearing it.
4. Be cool. 
When incorporating sports gear into your daytime look, think "easy breezy" not "Uh oh, am I pulling this off?" It may feel like you're getting away with something by wearing a t-shirt or other fan apparel, so don't draw extra attention to your game gear by walking into work and yelling, "Whoo! Go Bears!!!!"
Now, if HR hunts you down on their own to discuss the boundaries of fandom at work, fine. It's always better to ask for forgiveness than to ask for permission. But if you don't give them a reason to give you a talk on "appropriate" office dress code, you're probably in the clear.
A few more final tips to help you look good while you cheer on your chosen team:
Hang up the jersey. Opt for a subtle sweater like one from Hillflint, or simply opt for a bright colored sweater in your team colors and layer another shirt or henley underneath.
Choose chinos over your trusty jeans. Bonus points: a bright-colored pair that aligns with your school's colors but in a more subdued hue. (ie. dark eggplant for LSU).
Swap worn-in sneakers for classic leather chukkas that will withstand the wear and tear all season long.
Grab a sharp blazer, bomber, or anorak instead of that oversized hoodie you've had for years.
Seize the season with plenty of layers. A great thing about guys' style is how much visual interest can easily be added with one simple addition like a button down or even a denim jacket.
Go vintage…or at least vintage-inspired.  For a cap you can wear in the stands or on the street, look for one that's minimal with a retro design a la Ebbets Field Flannels.
And any brands we should add to the list? Let us know in the comments!