How to Wear Bright, Bluebird Blue: The Guy's Guide to Color
Singing praise for this spring shade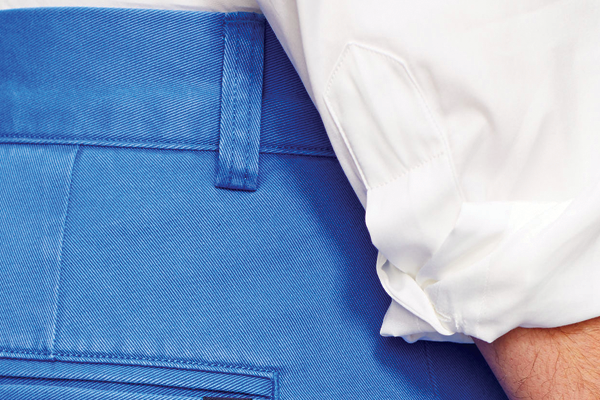 Prime your closet for more color with this series of guides for bold shades. SG HQ is breaking down how to wear stylish hues (like how to wear bluebird blue!) with easy color combinations and outfit ideas for guys.
---
See how to wear amber orange, lavender, army green, salmon, slate, orange, sharkskin, gold, teal, khaki, merlot, red, evergreen, white, cobalt blue, mint green, orange sorbet and navy.
---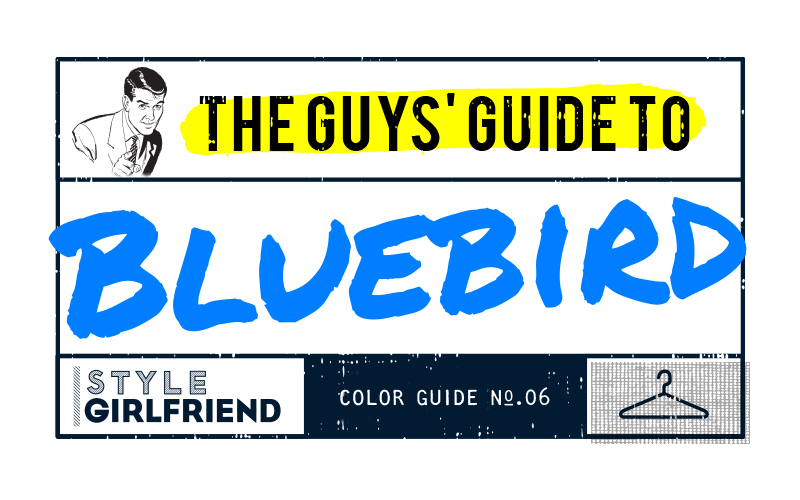 What color is bluebird blue?
People say the sight of a robin is the first sign of spring, but we're more interested in bluebirds putting in an appearance because of their gorgeous hue. Like many of our feathered friends, the males have gorgeous and distinctive markings—and we think your wardrobe could stand to take a cue from their coloring.
Bluebird-the-color walks a fine line between periwinkle and purple. It doesn't have quite as much of a pink undertone and, like its avian namesake, it can come off pretty vibrant. Because of its brightness, it looks terrific across all skin tones—which means you have no excuse not to start adding it into ensembles pretty much immediately.
Below, how to wear bluebird blue in your wardrobe: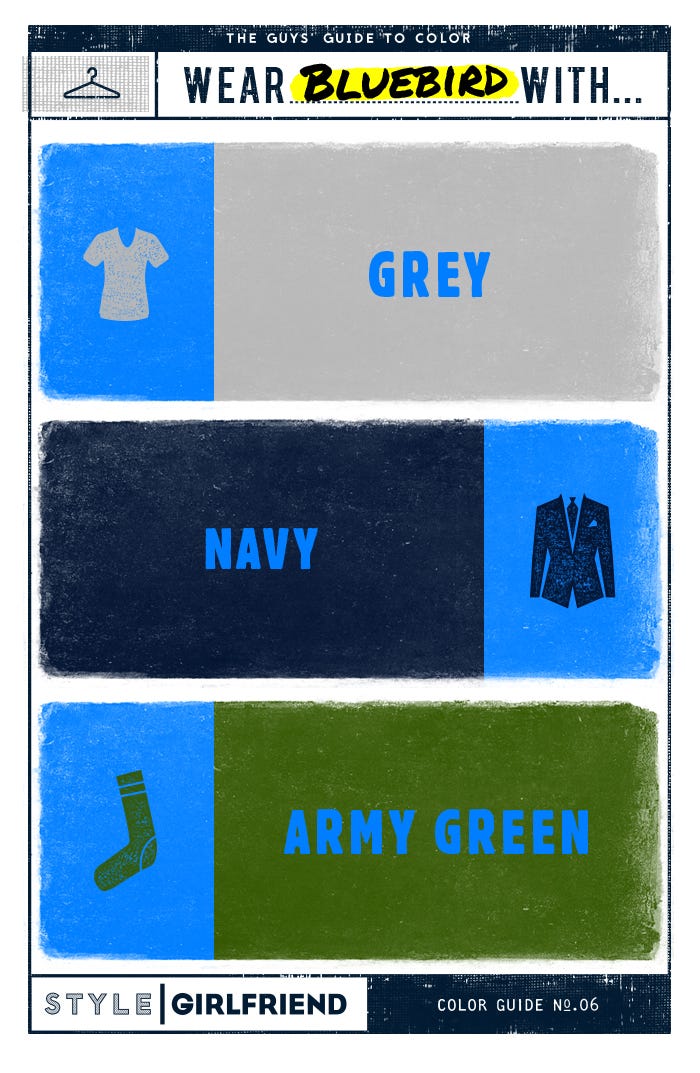 What colors go with bluebird blue
Because bluebird is a pretty saturated shade, you might want to start small. Think accessories, or swim trunks in the summer.
Bluebird blue is a 'pop' kind of color.
Look for pocket squares and ties that show off a punch of color or even a jacket with interesting details. If you're feeling bold with your casual wear, buy a warm weather staple—like a pair of chinos (shorts too) or a lightweight cotton button up—in bluebird, and combine it with more subdued color. Sweet sneakers that
feature the shade (or shoelaces!) can skyrocket any weekend look to new stylish heights.
Ready to rock this hue at work? Invest in a luxe narrow knit tie in this shade. You can wear it with a grey or navy suit this spring: Top the look off with a pair of blue mirrored shades for extra oomph.
For a more casual vibe, throw on bright chinos with a classic army green field jacket, grey button down, and staple black boots. You can't go wrong with incorporating bluebird into your socks and keeping the rest of your accessories simple.
---
Oxford Shirts: The Owner's Manual
---
// Outfit Ideas with Bluebird Blue //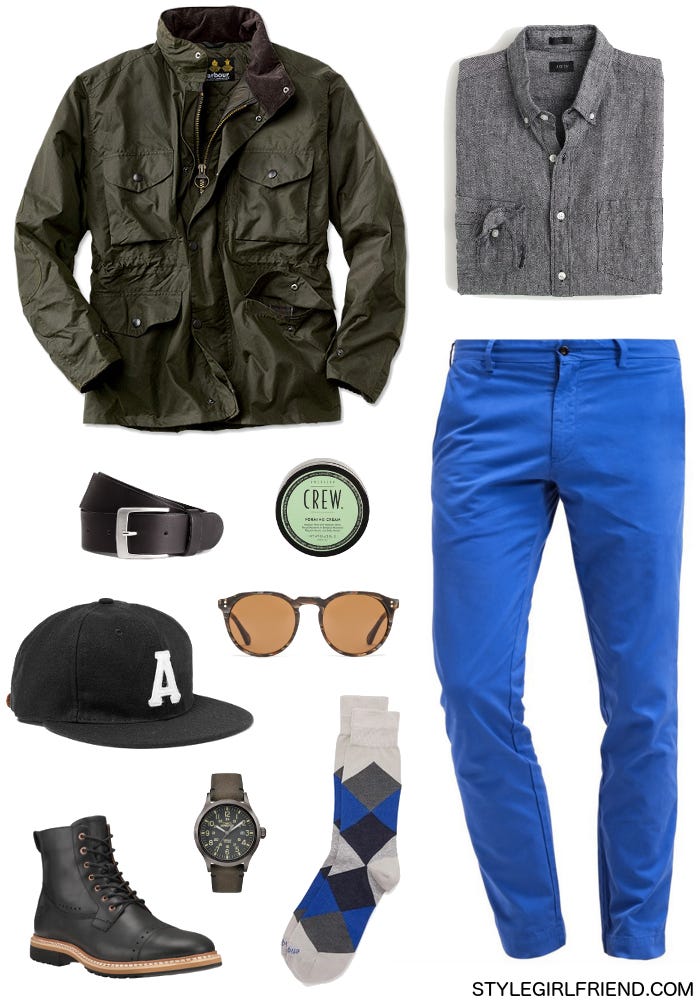 ---
> Everything you need to know about chinos
---
SG Says: Bright blue looks great against a darker blue, like in this navy-striped sweater.
SG Says: This blue is slightly darker and shows how you can wear more than just navy to work. With patterned trousers and a black Chelsea boot, this outfit is anything but "loud."
SG Says: Don't be afraid to punch up your outerwear with some color, like this bright blue coach's jacket.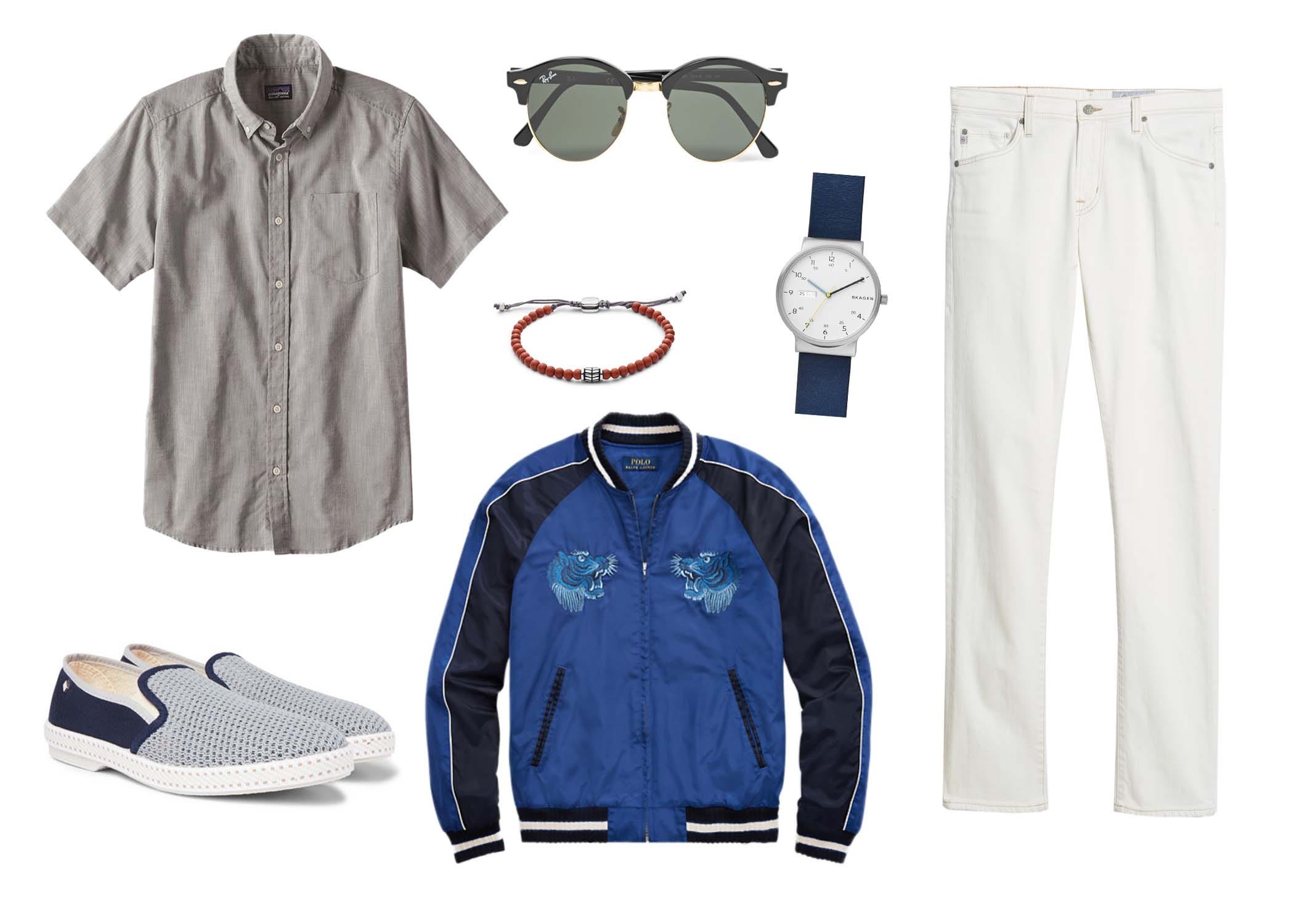 SG Says: Another statement coat! We love this embroidered souvenir jacket with white jeans, grey short-sleeve button-up, and slides for an outfit that's stylish and sophisticated all at once.
Lucky for you, this shade of blue is an every-wear—as in, you can where it wherever you go so long as you're sticking with appropriate dress code considerations.  If you want a sartorial challenge though, work it into semi-formal outfits. Just remember… a little bluebird goes a long way when dressed up.
***
Ready to add more color to your closet?
Let us rescue you from shopping fatigue and sartorial apathy. With our online personal shopping service, we can promise the kind of dedicated attention that will make you feel like the best, most stylish version of the awesome guy you already are! We'll also help you figure out how to wear your new clothes with the things you already own.

If you're ready for a shopping plan that'll save you time, energy, and your sanity, give us a shout.
***
> Follow Style Girlfriend on Pinterest to see more outfit ideas and wardrobe must-haves.