What Should a Slim Fit Dress Shirt Look Like?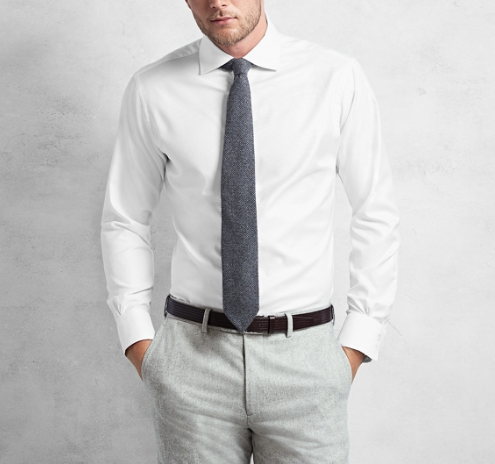 After many, many years, American menswear has been released from a hostage situation by its captor, the "relaxed fit." And I'm not talking, Levi's "roomy in the seat and thigh but tapered through the leg" kind of relaxed. I'm talking, "Sure, we'll put yet another set of pleats in your suit pants so you can eat every pastry on that conference table in comfort" relaxed.
In the eighties and nineties, billowy draping (think Miami Vice) and bulky power suits (think American Psycho) were to blame, with unnecessary heft added to a guy's frame. Then of course, in the Aughts (is that what we've decided to call them? That's what I'm going with), we boomeranged back to skinny, skinny, skinny…with hipsters across the world daring retailers to go tighter. From jeans to jackets, the goal was "Make it look like it's painted on."
Now we've found a balance somewhere in between, and the best outcome is that dress shirts and suits have followed, well, suit.
So, what should a slim fit dress shirt look like?
Consider it a renaissance of Savile Row tailoring. Men's suiting isn't skintight, but it's certainly slimmer. Accommodating a love of Earl Grey tea rather than mocha frappucinos, this style of tailoring embraces a cut that's closer (but not skintight) to a man's frame for a change.
Even so, the attempts of many American brands at "slim" or "tailored" fit are not always a roaring a success. Take, for instance, the case of my friend Anthony and his first custom shirt experience.
Looks good, right?
Ignore the basketball shorts; this fashion show was just for my benefit (and now, of course, yours too). The shirt is nipped close to the body through the torso, sleeves hit just beyond the break in the wrist. That's a well-made, good-fitting shirt. A whopping sixteen measurements went into it, ensuring a cut made just for his body.
Now check out the "slim fit" dress shirt that replaced:
Look at that king-size duvet cover masquerading as a collared shirt. And no, he didn't buy the "50-year-old CEO with a belly full of lobster and caviar spilling over his belt" special…this was the brand's (which shall remain nameless) Slim Fit cut!
I think we can all agree that there's nothing slim about this "slim fit" shirt.
Watching the transformation to "I'm pretty sure this fits?" to "Oh wow, that absolutely did not fit. Please burn it with fire" is always really fun to watch with guys.
> Learn about all different fits for guys' suiting and dress shirts
Of course, there's an adjustment period. I've seen countless guys stretch their arms out in an invisible bear hug as they wonder if their new slim fit dress shirt is too tight. After a few tentative trots around the office, though, they're hooked – galloping in their new, better-fitting clothes.

Ready to turn up the style on your shirt 'fits?
If you're interested in dropping the phantom pounds from your own frame, it might be time to update your shirts and suits. And who knows, maybe more! But if the idea of shopping for a new wardrobe sounds exhausting…why not let Team SG shop for you?
Let us rescue you from shopping fatigue and sartorial apathy. With our online personal shopping service, we can promise the kind of dedicated attention that will make you feel like the best, most stylish version of the awesome guy you already are! We'll also help you figure out how to wear your new clothes with the things you already own.
If you're ready for a shopping plan that'll save you time, energy, and your sanity, give us a shout