Travel in Style: How To Pack for Cold Weather
On the move, snug and in style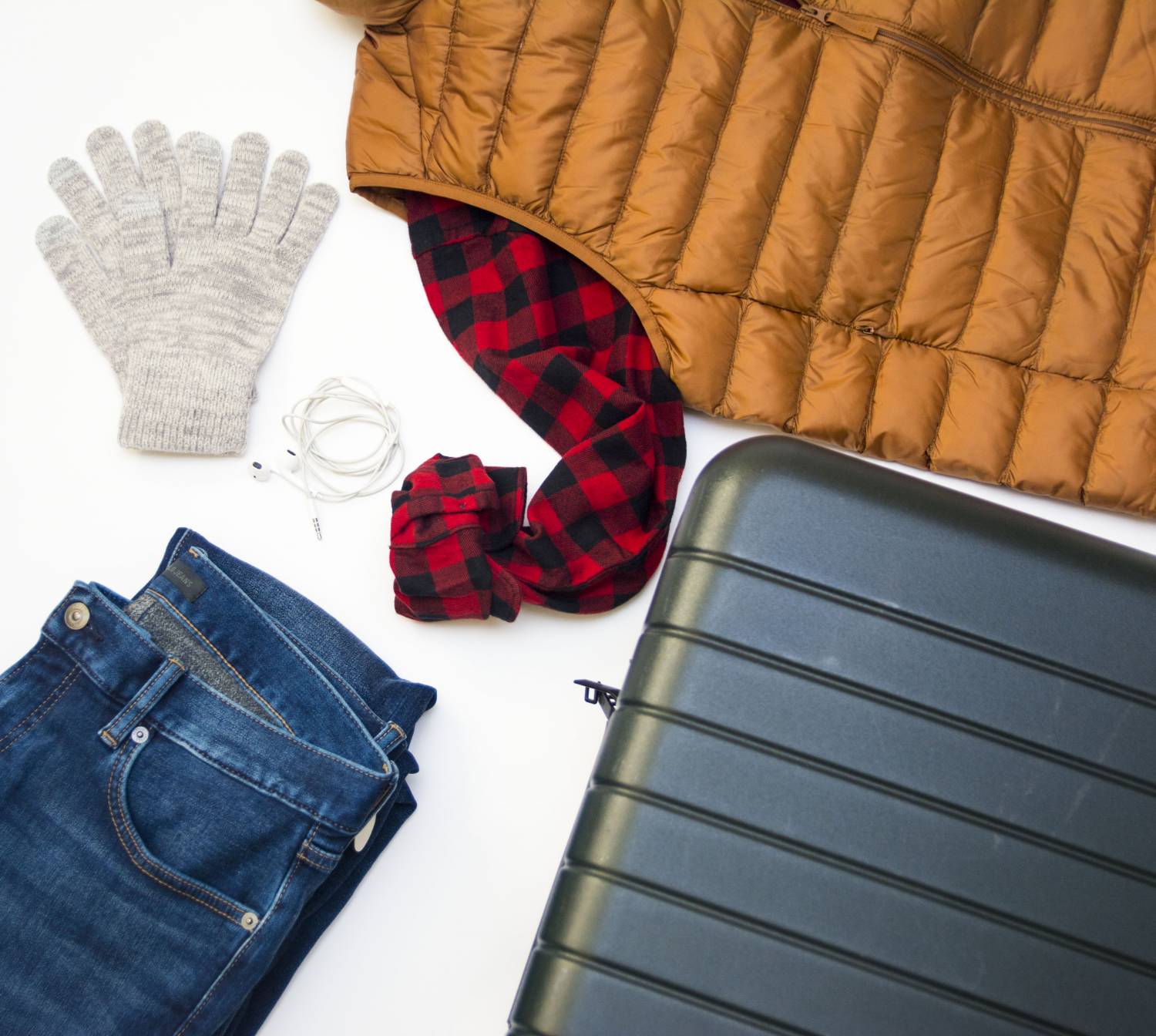 Flight delays and cancellations. Crowded airports. Sick people. When Dante wrote Inferno, the guy must have just gotten off a cross-country redeye in February. But the worst part about traveling in winter? Figuring out how to pack for cold weather.
While I can't do anything about the delays, sick passengers, and the lack of power outlets in airports, I can give you a step-by-step guide to packing your winter gear the best possible way.
Just follow these steps on how to pack for cold weather:
Make sure your luggage is weather-resistant
Let's start with luggage, since it's what you're putting everything else into. Check your existing luggage (suitcase, duffel, laptop bags, backpacks) to see if they have water-resistant lining – most already do. If not? Time to upgrade.
You'll also want to pack your clothing and shoes inside closed, water-resistant bags to guarantee your items will remain dry no matter what.
Be strategic with your shoes
Packing a pair of winter boots is unnecessary, unless you're headed somewhere you'll be tromping through snow (like on a ski weekend!). For business trips and casual weekend getaways, leather shoes with rubber soles should be enough to keep you dry and stylish.
Treat your shoes with a weatherproofing agent a day or two before your trip to protect them from the salt, slush, and general winter filth. Avoid packing shoes constructed with lighter materials (like sneakers) – your feet WILL freeze, no matter how thick your socks are.
FYI: Preventative maintenance and ongoing repair will help your shoes survive not just one trip but the whole winter. Make sure your go-to shoes (work, casual slip ons, etc) have rubber soles in excellent condition. If the soles are looking worn, visit your cobbler to have them replaced.
When treating your shoes, first clean them thoroughly, removing traces of mud, salt, and other compounds with a toothbrush or a soft rag before applying the compound with a polish brush. Allow to dry completely in a room temperature room before braving the elements. Remember that a shoe care kit is a great investment anytime, but downright necessary come winter.
You need layers. Lots of layers.
On the clothing front, you'll want to pack both your warmest pieces and some light layers. A thick sweater can be worn alone or on top of a collared shirt. Packing a pair of warm pants (think: wool or corduroys) as well as jeans will position you well for daytime activities or weekend trips. If you're headed on a business trip, wool suits or separates are the way to go.
// SHOP SG PACKING PICKS //
Carry a compressable coat
If you're traveling between cold destinations, your warmest down or wool coat is the way to go, and doubles as a blanket on the airplane.
If you're traveling between climates, you may want to consider a down coat or vest that can be folded down to a compact size. It saves space and weight on your suitcase – without rendering you a popsicle when you touch down in frigid temperatures.
I especially love Uniqlo's Ultra Down line. If you're headed to a warm destination from a cold one, you can't go wrong with this bad boy. The coats and vests are lightweight, warm enough for short bouts outside in freezing weather, and occupy the smallest footprint in your suitcase.
Accessorize for warmth
A great pair of gloves, hat or earmuffs, and scarf is all you need. I recommend opting for winter accessories made predominantly from wool. Wool is both extremely absorbent (it absorbs up to 30% of its weight without feeling damp) and warm (it retains 80% of the insulating value when wet), making it an ideal fabric for staying toasty.
Of course, you don't need to wear these accessories onto the plane. Here's how to pack them all:
Step 1
Place gloves, earmuffs or hat, and scarf in your coat pockets.
Step 2
Fold coat in half, lengthwise
Step 3
Fold in sleeves halfway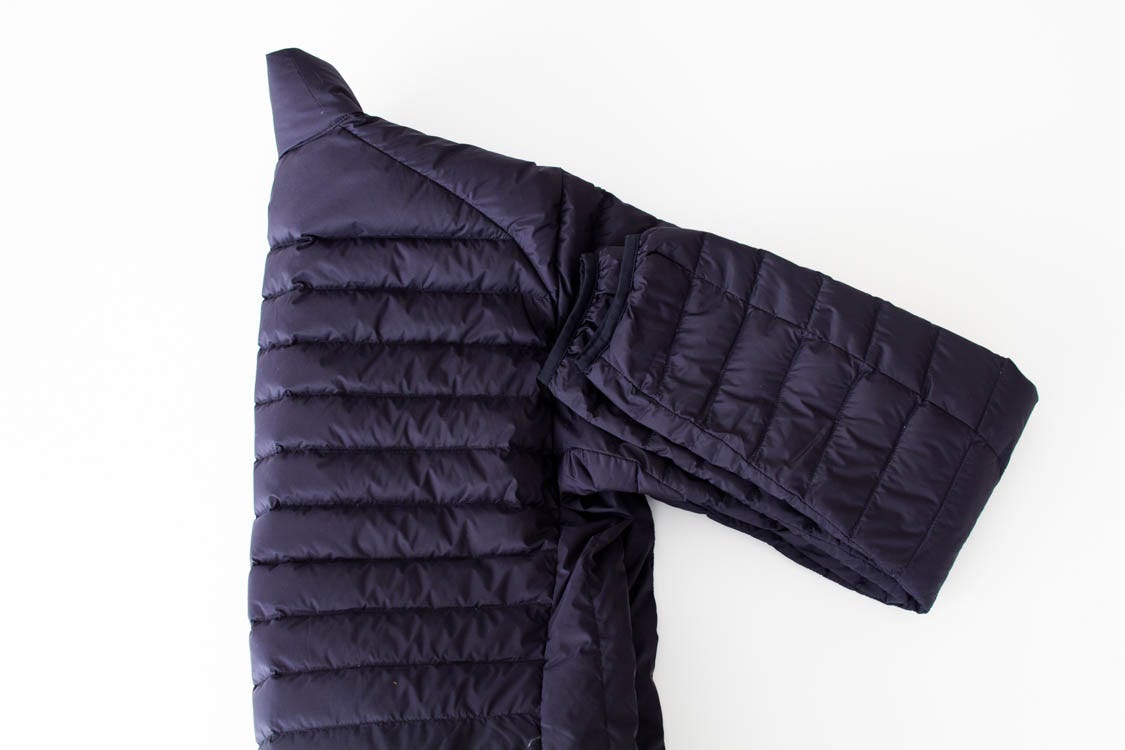 Step 4
Fold sleeves on top of coat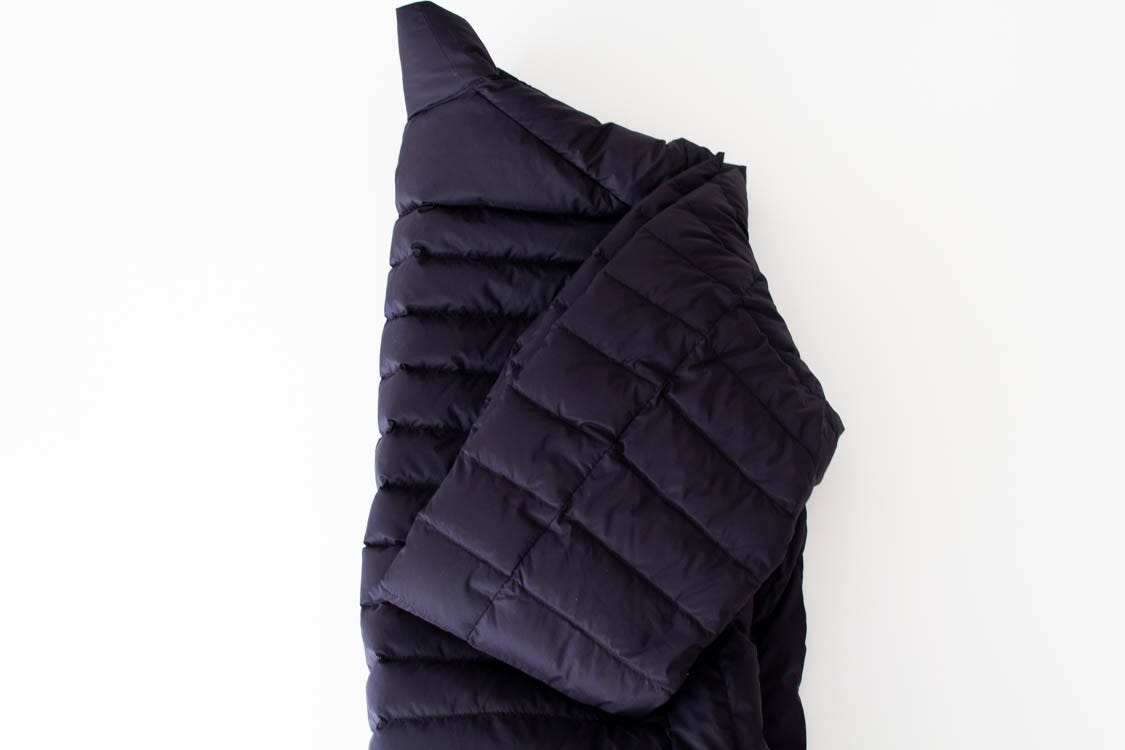 Step 5
Fold coat in half, with the bottom hem meeting the collar
Step 6
Roll coat and stuff into the provided pouch. Gallon-sized baggies or a small drawstring bag work equally well. 
Pack your dopp kit with the right grooming gear
Pack moisturizing hand cream so your mitts don't get mistaken for actual leather baseball mitts. A lip balm with SPF will keep your kisser from getting burnt (and, of course, chapped) in the cold and wind. And a stronger-than-usual hair product (I like Bumble and bumble's Sumotech) will ensure your locks don't turn into one of those electricity static balls when you pull off your beanie.
And don't forget to stay moisturized. A face lotion with SPF (again…just because it's winter doesn't mean there's no sun!) and a body lotion will keep flaky skin at bay.
While you may be powerless against the wrath of the weather or airlines, you'll be all set (and stylish) on the packing front.
TELL ME:
WHAT'S YOUR BEST WINTER TRAVEL TIP?
For more cold weather gear, check out our layers collection on our shop page, featuring everything you need for your chilliest trips