Wear It Well: 3 Ways to Wear Tonal Colors
Layering subtle shades for a sleek look
The hotter it gets the less layers you have to wear, but that doesn't make it any easier to get dressed. Instead of trying to find colors that coordinate, choose one color and wear it head-to-toe.
Below, three totally tonal outfits that won't wash you out:
WHITE
 Shirt: Lacoste for J.Crew, $98 | Pants: Theory, $195 | Cardigan: Tommy Hilfiger, $150
Shoes: ASOS, $73 | Sunglasses: Steven Alan, $165
Wear it Well: Give into the tennis vibe of an all white outfit and pair a polo with sneaks and sunnies for a country-club-cool look.
BLUE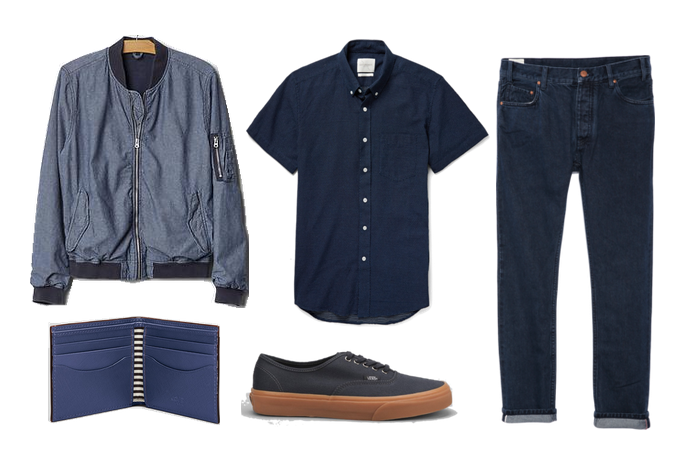 Bomber: Gap, $90 | Shirt: Saturdays Surf NYC, $110 | Jeans: Han Kjobenhavn, $200
Shoes: Vans, $45 | Wallet: Jack Spade, $78
Wear it Well: Keep the shirt and pants close in color – it feels like there are *literally* endless shades of blue amiright? – and let the bomber lighten the palette and turn up the texture.
GREY
Suit Jacket: Banana Republic, $450 | Pants: Banana Republic, $198 | Watch: Michael Kors, $195
Shirt: W.R.K., $80 | Tie: DKNY, $65 | Shoes: Robert Graham, $258 | Bag: Jack Spade, $398
Wear it Well: Wear a patterned shirt in a lighter shade to offset a darker suit and tie, and finish it off with a sleek, silver watch.
Tell Me:
What color would you wear head-to-toe?
Want to know how to wear more trends? How to wear prints, pastels, and the nautical look.

Like a phoenix rising from the ashes, Gabi Meyers went from Team SG's first-ever intern to a trusted fashion editor and stylist. She currently lives in Chicago with a very cute dog.