What a Woman Wants: Bianca Caampued and Mallory Blair of Small Girls PR
A PR Power Duo Shares Their Thoughts on your style
They might be small, but oh, are they mighty. As the driving forces behind top NYC public relations agency, Small Girls PR, Bianca and Mallory are known for their personable-yet-professional approach and petite statures (both are under 5′ tall). They agreed to stop by SG HQ and share their larger-than-life advice.
Mallory and Bianca of Small Girls PR tell us what a woman wants:
You run Small Girls PR; a PR firm with a client roster that includes GE, Google, AOL, and Hinge. With accounts that swing from traditional to tech, how have you established the dress code in your Brooklyn office?
Mallory Blair: Dress code is "do you" – the PR industry generally attracts people who are prone to caring about expression & appearances, so that combination probably explains why everyone that works at Small Girls is naturally on fleek as it is.
Bianca Caampued: We encourage self-expression at SGPR. When Mallory and I started the company, our branding was created around the things we liked to wear – pink, leather, bows, and studs, so our 'dress code' and our brand were the same. Since we've grown, we trust our employees to wear what's best for them, which can include sequin party dresses, sloth shirts (with blazers), onesies, fancy sweatpants, etc. I think they generally know that when they have certain meetings scheduled maybe opt for something other than the jorts, but otherwise it's pretty stylish chillzone. My boyfriend hangs out at the office every now and again and he actually asked me if being fashionable is a requirement when we hire people, based on his observations. It's not, we're just #blessed.
How do you balance running your business with dating and relationships? Some successful women find guys to be intimidated by (or even resentful of?!) a partner who's more high-profile than they are. Have either of you ever encountered that?
MB: In the past, I've typically dated guys who were just as successful, if not much more so, than I was — to paint a picture, my high school boyfriend starred in an episode of MTV cribs, and my most recent (and ridiculously talented!) ex just had a retrospective of his work at MoMA. On one hand, GREAT, we're both driven and understand how a feverish passion for one's work bleeds into the corners of nights and weekends, but balancing this reality between two people, let alone one, can be straining.
When we first started Small Girls, I hadn't quite figured out how to just relax & enjoy the company of another person without being preoccupied with the needs of clients, employees, & current projects. I was (rightfully!) resented for it by my partner at the time but was at a loss to operate any differently without risking the business. I have enough years (and staff help) now to be much more confident about delegating, shutting off on the weekends, and prioritizing play. I still have room to improve, though 🙂
BC: LOL. Oh man. Since we started Small Girls I've been in three serious relationships, a few non-boyfriends, a bender of a love affair, and at least 100 dates (not from the relationships.)
For me, dating has actually been a hobby that keeps me from being all work all the time. I try to make the time for it because it makes me happy. I've basically turned it into a second job-ish- writing for a dating site, being on the radio about dating adventures, maintaining a dating blog, going on streamed dates online and on TV, speaking on panels about how dating tips can be translated to community management, and (more recently) exploring the start of a dating podcast.
I've had a range of experiences from guys breaking up with me because they thought being in a relationship would hurt my career, a breakup because I spent more nights at the office than coming home for dinner, partnerships where we would literally spend weekends co-working together (best date EVER), and being with guys who have no idea what I even really do. It's different for every person, you just gotta roll with the punches. I do often joke that my longest relationship is with Mallory.
As public relations professionals, you make a living off of helping brands make a good impression. What's the best advice you can give to a guy looking to do the same?
MB: Chivalry isn't dead but it's too one-sided. A guy who holds open the door for a woman is fine, sure, but a guy who holds open the door for whomever is in his or her path gives an even better impression. Just be kind.
BC: Bruce Wayne is the best style icon. No flip-flops or regular cut/wide leg jeans pls. All Saints, Uniqlo, & J.Crew. Also, a great haircut can transform your life.
What is the first thing you notice about a guy's look?
MB: Is he wearing a Pokemon shirt? If yes, then I'm into it.
BC: Their height …and then what kind of pants they are wearing.
What isthe most stylish thing a guy can do (say/wear/etc)?
MB: Being confident makes whatever you're wearing instantly stylish, no?
editor's note: we couldn't agree more, confidence is everything.
BC: Take great meeting minutes, pull together a beautiful deck, or dominate an excel chart – keyboard shortcuts and all.
What about the least stylish?
MB: Sandals (you aren't trying enough) and ostentatious hats (you are trying too hard)
BC: Wide leg jeans.
What is one item that you wish every guy had in his closet? 
MB: Bags of Cheetos because I love snacks!
BC: A well-tailored suit.
Who do you think is the best-dressed male celeb (in any field – actor, singer, musician, businessman, etc) out there today?
MB: Kanye (and I believe he would agree.)
BC: Hayden Christensen & Bruce Wayne.
Is there a perfect date night look you'd love to see a guy wearing?
MB: Rolls up on a skateboard with a backwards baseball hat and button down and is all like, "Sup giiiiiirl" and I'm all like, "swoon."
BC: Confidence.
What do guys stress about, appearance-wise that they really don't need to?
MB: I find it hard to believe that men stress more than normal when it's obvious that women are so much more forgiving with regards to appearances of men than vice versa.
BC: Hmm… not sure, but my BF constantly asks me whether his outfit looks ok in the morning and it always does. Like, no stress dude. You look good.
What is a guy's best opening line?
MB: My first time hanging out with my now boyfriend was on a car ride with some mutual friends to the US Open. On the way there, everyone was discussing the merits of facial hair and asked my opinion. I feel pretty strongly about my dislike of beards, goatees, sideburns etc. and made it heard. My now-boyfriend turned around from the passenger seat, slowly lowered his sunglasses and said, "You know, Mallory… I can't grow facial hair" with a big wink. It was the perfect mix of flirtacious forwardness with self-deprecation and humility, all wrapped in a well-timed joke. We've been dating ever since.
BC: "Do you want to play Buck Hunter with me?"
What's one thing you wish guys understood about women?
MB: That we are always one step ahead of them because we are witches made of magic.    
BC: I don't need you to fix it, I just want you to listen.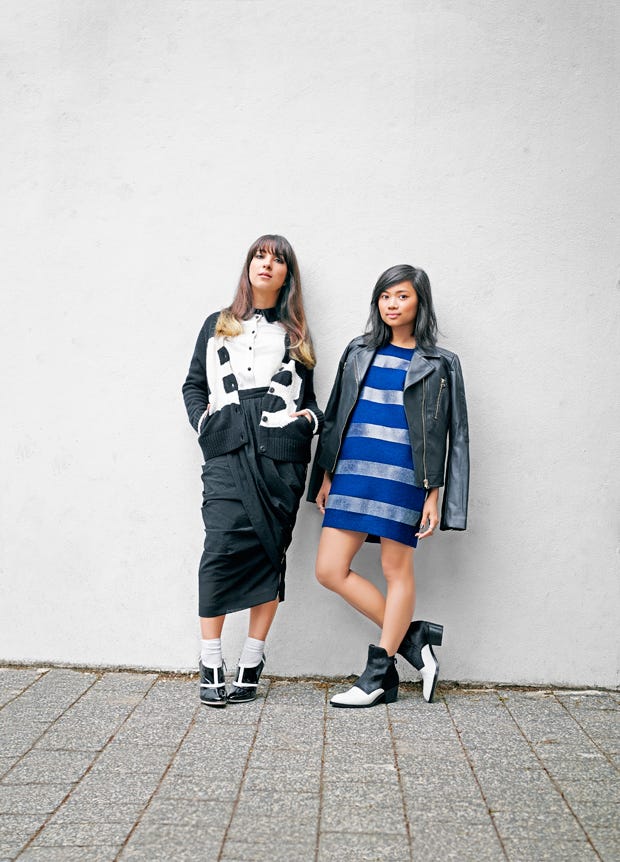 Quick Hits:
Can't miss first date
MB: Build my Ikea furniture.
BC: Anything that involves dancing… or co-working!
Best summer date
MB: Caracas brunch, bike to PS1 Warm-Ups, then grab pizza and fly drones in the park.
BC: Co-working on the beach.
Business book everyone should read
MB: When we started Small Girls PR, there was no good guide on how to structure a bootstrapped company so I kept calling Rick Webb with questions (he's a guy who famously sold the Barbarian Group to a Samsung holdings company for a cool multi-million). Rick eventually became sympathetic enough to write it all down for me, which ended up becoming his book, "The Agency."
BC: "Becoming the Boss" & "Girlboss"
First celebrity crush
MB: "J-T-T is h-o-t"
BC: Jonathan Taylor Thomas
Grooming product you've stolen from a boyfriend
MB: Hair comb! This was such a recurring steal in a long distance relationship I was in that I included a hand-crafted, special edition hair comb in his holiday present.
BC: Old Spice deodorant (Swagger is the best scent)- I've actually been buying my own for the last 4 years now.
Beauty product you've had a boyfriend steal from you
MB: I think a dob of concealer; turns out it is ok for girls to buy concealer but not dudes, yet we all break out just the same.
BC: My Old Spice deodorant.
Favorite men's scent
MB: Bianca and I are both going to say Old Spice.
BC: Old Spice Swagger.
Call or text?
MB: Text.
BC: Text.
Man bun: yes or no?
MB: Nope.
BC: Depends on the guy.
Sneakers with a suit: yes or no?
MB: If they're all-over white sneakers, could be an A+ ensemble.
BC: Depends on the sneakers.
Including inspirational quotes in your email signature: yes or no?
MB: Nooooo, never, whyyy?
BC: Yes if they are inspirational gifs of Yoda.
TELL US:
WHAT GROOMING PRODUCT HAVE YOU STOLEN FROM YOUR S.O. (AND VICE VERSA)?
Want even more SG? Sign up for our newsletter!