What a Woman Wants: Jessica Quirk of What I Wore
This Indiana-based style blogger knows her stuff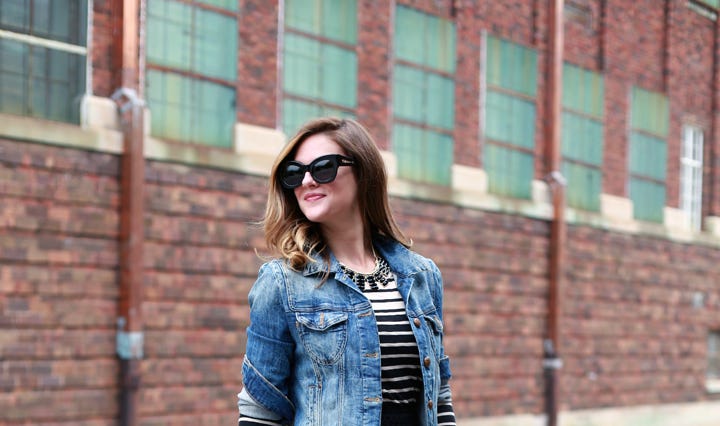 NYC fashion designer turned Bloomington, Indiana-based personal style blogger and super-mom, Jessica Quirk is the name behind the internationally recognized site What I Wore. Documenting her accessible day-to-day style, Jessica's "look good, feel good" philosophy parallels our biggest principle here at SG. Which is why she's the perfect woman to tell you What a Woman Wants.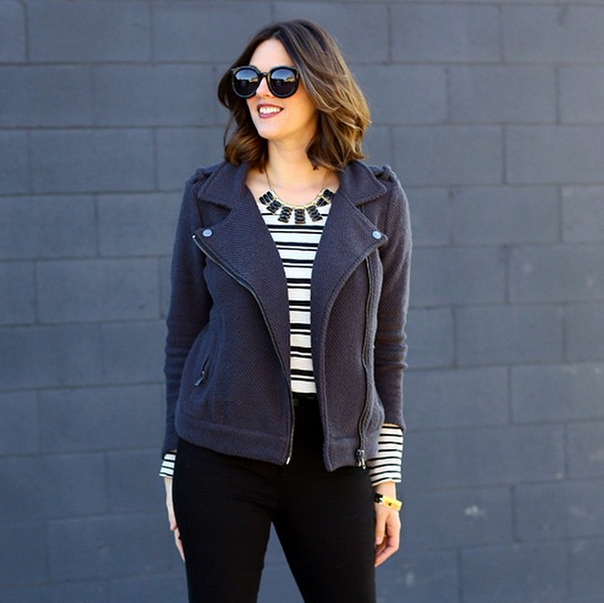 You were one of the first to document your outfits every single day on the internet, on your personal style blog What I Wore. How did knowing you'd be photographing your look each and every day affect your style?
In the early days of the blog, I photographed myself almost everyday. I tried to make sure I didn't wear something too similar too often and would alternate between colors and styles. I've slowed down a lot since becoming pregnant and now having a six month old. The new difference between photo and non-photo days usually has to do with whether or not I've washed my hair.
You live in Indiana. What do guys in the Midwest get right about style, and where could they improve?
There are stylish men everywhere, but guys with really great style stick out here a little more. The guys who are doing it right have great hair cuts, cool jeans (dark and cuffed) and good shoes. The guys who could use a little help are in corporate logo polos and dockers.
What do you first notice about a guy's look?
Was that ironed?
What's the most stylish thing a guy can do (wear/say/etc)?
A kind word. Manners win every time.
What's the least stylish?
I cringe every time I hear a stranger curse.
Whats do guys stress about, appearance-wise that they really don't need to?
I think some men have more style than they want to admit for fear of being judged for caring about how they look. Go ahead guys! Women appreciate a well dressed man! (Check out Jessica's Husband's guest post on What I Wore)
What's one thing you wish guys understood about women?
All women love a compliment.
How important is…
   …his place?
As long as it's not a dump… not very
   …his job?
Very. My husband's job is so important to him (and me!) because it's something he's incredibly passionate about. That is to say: craft spirits! Adam just co-founded a local distillery, Cardinal Spirits, here in Bloomington and it's something he's dreamed about for a decade and put the last five years of his life into.
   …his fitness level?
As long as he can keep up on a hike, he's good.
   …his ability to cook?
Very.
What's the best gift you've gotten from a guy?
Adam just gave me a bronze ring molded from real honeycomb that I'm really into.
What's the best gift you've given a guy?
I love presents! Some of my better ones to Adam have been a Seagull guitar, a hand knit Fair Isle hat, and atobacco pipe.
Speaking of presents: you and your husband just had a (very cute) baby. What's your take on the "push present?"
I didn't expect one, but after Felix was born, Adam told he he's taking me to Nashville in the spring as long as we didn't call it that.
What's a guy's best opening line?
No line at all. A simple smile and hello will work just fine!
Quick Hits
Favorite men's cologne 
I prefer the smell of soap/shampoo.
Grooming product you've stolen from your husband
his Gillette razors
Beauty product you've had your husband steal from you?
my Burt's Bees grapefruit scented face wipes
Best 1st date
my (second) first date with Adam – he made me a cocktail and fried plantains and we watched a movie at his place
Best 1,000th date 
we've been together six years, so I don't think we're there yet, but take me someplace I need a passport (hint hint)
Facial hair yes or no?
Yes yes yes
Hair long enough for a man bun: yes or no
Yes
Manscaping: yes or no
Trimming = ok, waxing = no
Running sneakers with jeans: yes or no?
Only if they're the retro kind
Call or text?
Text day-to-day, call when you're away
Emojis: yes or no
No if you just started dating, Yes if you're married (or together forever)
Tell me:
What's the best gift you've ever received from a significant other?
Want more SG girl talk? Check out this interview with Aussie Beauty Blogger Eleanor Pendleton