What a Woman Wants: ESPN's Julie Stewart-Binks
This sportscaster sounds off on suits and the 6ix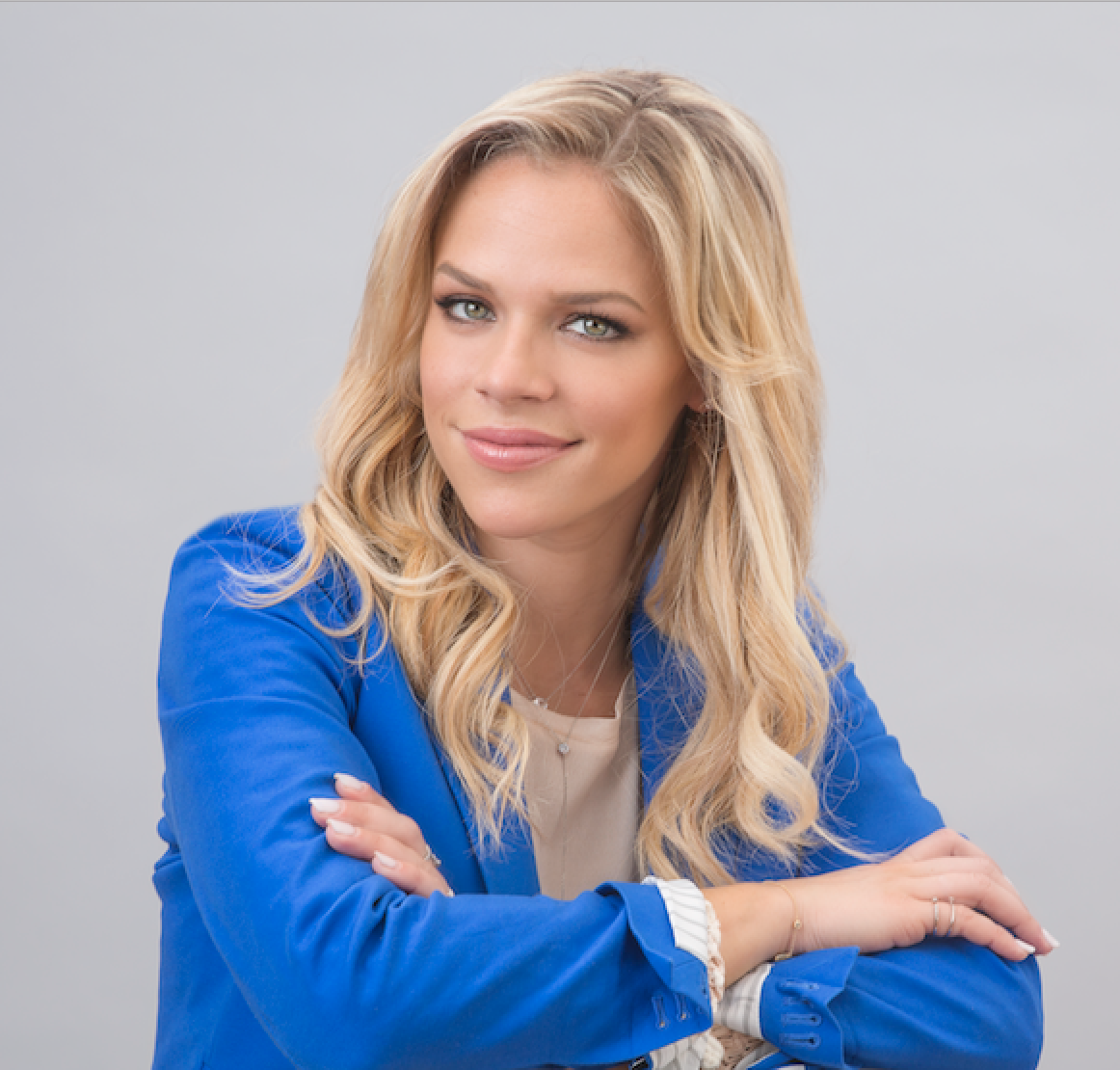 I have an unhealthy obsession with female sportscasters, journalists, and commentators. From Michelle Beadle to Katie Nolan, I'm very here for women who get up everyday, brush off all the "Actually's…" lobbed their way from insecure internet trolls, and just go do their jobs. Let the peanut gallery perform for their 27 Twitter followers; these women have work to do.
To wit: Julie Stewart-Binks, a reporter for ESPN covering soccer and hockey who knows how to GSD. I got a chance to ask her about launching a career in sports, staying not-gross on the road, and her favorite look on a guy.
Below, what a woman wants, according to sports reporter Julie Stewart-Binks:
Your Twitter geo-tag location reads: "airport." For someone who travels as much as you do, what's your best tip for not looking like a hot mess while racking up frequent flyer miles?
First of all, you have to be OK with looking like a hot mess because it's going to happen. I've had to adapt to drinking more water since flying causes dehydration, and carrying granola bars and snacks on me so I'm not buying the first thing I see because I'm starving. To help keep my skin in good condition, I love using Juice Beauty products. My mom introduced me to them, and I find they help keep my skin soft, firm, and avoid drying out in different climates. The under-eye patches are a lifesaver when I look like death from a red eye.
When was the last time a guy mansplained sports to you? What was your reaction?
I think this probably happens every single day on Twitter. You ignore it. It reflects how much confidence they have in themselves.
How do you handle the pushback? And what would you say to men who think "women don't know about sports?"
You have to have thick skin. If a dude wants to battle me on sports at this point in my career, it reflects how much confidence they have in themselves, and how they view strong females. Ask any female sports reporter this question and all answers are generally the same – it's not worth our time or energy to deal with insecure men – you learn very quickly to ignore it. It's natural for people, regardless of gender, to be skeptical of someone they see for the first time on TV talking about a specific sport and have questions about their credibility. But, you gain respect over time through your work, and ignoring the trolls (who will always be there).
You were born in Toronto; who's a better fashion ambassador for Canada: Drake or Justin Trudeau?
Love me some Justin Trudeau and his well-fitted suits, but going to have to say Drake. He's been a generational icon for the city – through his music, and his fashion line OVO. He made Toronto cool to everyone else. People in "the 6ix" have known it forever, but Drake helped open everyone's eyes.
I read that you developed your love of soccer while in England getting your master's degree. Which do you think will happen sooner: soccer infiltrating the US, or football infiltrating the UK (and beyond)?
The NFL has already been making headway in the UK through the league staging a handful of games a year across the pond, and through the now-defunct NFL Europe. I may be biased, but I think soccer is becoming a top-4 sport in the US. It's not only accessible to play, but it's easy to watch (from ticket prices to being played in a 2-hour window), and one that welcomes and celebrates all cultures.
The US Men's National Team has to play a significant role at the World Cup for soccer for the domestic league (MLS) to really springboard into a general fan's viewing habits. That might take a while, but the better the USA does internationally, and the more we highlight the American stars and their stories, people will inevitably become more curious. If there's one thing I've learned living in America, it's that the USA loves when the USA succeeds.
I read an interview once with Sarah Silverman where she talked about being asked to do a roast and was promised she'd be the only female on the dais, and her response was about how that wasn't what she wanted. She didn't want to be the "token" comedienne, and I think about this a lot as it relates to women in sports media. How do we move past the idea that having one woman on the sideline or at the analysts' desk is "enough?"
Those decisions are always going to start and end with executives. Some networks view females as being a part of the conversation, some view them as being capable of just throwing those conversations to break. I've seen both first-hand. The more women we have in positions of power, the greater likelihood of promoting women to the big boy table and giving them a chance to be equal. The fewer women there are, the more their gender is the center of attention, not their abilities. We need to support all women – even if they are our competition – to help change our gender in the locker room from being an anomaly to being the norm.
What's the best sports-related date?
Dinner, game, post-game drinks. Simple.
What is the most stylish thing a guy can do?
Love guys in a well-fitted suit. I'm around so many male anchors and fantastic wardrobe stylists that now I've become a bit of a suit snob. It can turn a 6 into a 9-10, instantly. Confidence is big…not over-confident, but subtle, "you feel secure with yourself and the fact I am around millionaire dudes all day but don't feel threatened" confidence.
What about the least stylish?
Insecurity. 100%. Almost all of my relationships have ended/never started because a guy feels threatened that I'm an independent, strong female who has things figured out, or that they can't handle me being around men or athletes 24/7. Trust is hard to come by.
Name an essential piece in a sport's fan's wardrobe.
I'm a big fan of hats. I think I have about 30 different team hats, it's so easy to throw on going to a game. As a reporter, it's not a great look to cheer for a team, but there are plenty of national reporters that hold certain teams or cities close in their hearts if they are from there, or maybe spent a lot of time covering that team.
As a fan, you can never go wrong with hats because those teams – unlike players – can't get traded or released. They can fold or move but, hey, that's not as common.
Who is the most stylish athlete – in any sport – today?
I've always been a huge fan of New York Rangers goaltender Henrik Lundqvist …and his suits. Whoever is styling him should be styling more athletes. Jonathan Bernier of the Anaheim Ducks is also meticulous with details. Maybe it's a goalie thing.
What's a "can't miss" date night outfit for a guy to wear?
For a casual date, you can't go wrong with a blazer and sweater combo paired with dark jeans. I always like a leather jacket/white shirt combo, too. For a more formal look, a charcoal suit. And shoes are VERY important these days.

Quick Hits
Grooming product you've stolen from a boyfriend
Beauty product a boyfriend's stolen from you
Favorite men's cologne
Best sports video game of all time
Golden Eye for N64. No question.
Call or text
Text, calls mean more, but usually on air or flying.
Spirit animal
Best road trip snack
First celebrity crush
Andrew Keegan in 10 Things I Hate About You
TELL ME:
WHAT'S YOUR IDEA OF A PERFECT SPORTS-RELATED DATE?