What a Woman Wants: Maayan Pearl of J.Crew
This J.Crew designer spills her secret
Great get for you guys today, we've got the inside style scoop from Maayan Pearl, a senior designer at menswear mecca J.Crew and all-around awesome lady. And while we didn't ask her about the shirt, we've gotta assume she had something to do with it…
Read on, as Maayan Pearl shares what a woman wants:
As a senior designer at J.Crew, you think about clothes for a living. How has your personal style grown or changed since working for the brand?
I've become more interested in classic pieces and wearing clothes that I will still love in 20 years. I've developed a low maintenance classic uniform that is easy to throw together but also looking professional and put together. My J.Crew trench, striped shirts, and black jeans. I'm constantly running around picking up props and styling shoots, it's important to stay comfortable.
What's the best font to use in an email to impress a designer?
The classics like Helvetica, Chronicle ( if you're super fancy), or good ol' Garamond Pro is sure to impress.
You run an amazing Tumblr called Look Who I Pet Today. Is "must love dogs" a deal breaker for you?
Absolute deal breaker if they don't like animals. Never trust someone who doesn't like animals. I am co-owner of a turtle and parrot.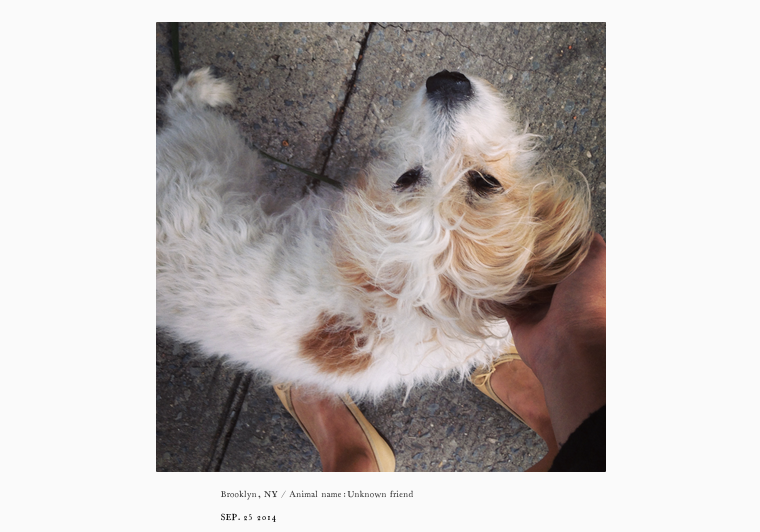 Share with SG readers the best style advice, tip, or trick you've learned in your time working in fashion.
Never looking like you're trying too hard. Invest in classic pieces you'll love forever.
What's a "can't miss" date night outfit for a guy to wear?
Soft chambray shirt, well fitted jeans (A.P.C adds big points), and anything but pointy dress shoes.
What's one item you wish all guys would add to their wardrobe tomorrow?
A good pair of shoes, classics oxfords that pair with anything… Suits and even a good pair of jeans on the weekends.
What's one item you wish guys would banish from their wardrobe forever?
Pointy or square toe dress shoes & ugly print button down shirt that is ill fitting (usually too big).
What do you first notice about a guy's look?
The way he keeps his nails. Badly chewed fingers or long nails are a huge turn off.
What do guys stress about, appearance-wise that they really don't need to?
Their hair. Don't spend too much time fussing with hair. I prefer to keep it short and neat. No one wants to date a guy that spends more time (& money) doing their hair.
Quick Hits
Gingham or stripes
Stripes
Suits or separates
Separates
Big dogs or little dogs
little dogs
Call or text
call, always
First date: coffee or drinks?
Drinks. Preferably
grooming product you've stolen from a boyfriend
beauty product you've had a boyfriend steal from you
Favorite men's cologne
First celebrity crush
Leo DiCaprio (obviously)
Yes or no to…
Facial hair : yes
dad jeans: no
normcore: no feelings
Comic Sans: hellllll no
Wearing one brand head-to-toe: not recommended
Tell Me:
Did you ever own a pair of pointy toe dress shoes? (Be honest!)
Want even more SG? Sign up for our newsletter!