What He Wore: Chris McDonald
What a Producer Wears in a Week
While it can be fun looking to celebs for sartorial inspiration, it's often more useful to simply look around you – at stylish friends, co-workers…even strangers on the street. That's why I like to document the personal style of my well­­-dressed pals right here on SG -­­ real guys I know with killer style.
Chris McDonald is a producer, writer, talent booker, and photographer living in the San Fernando Valley area of Los Angeles. He has produced and written for an array of programming including late-night television, cable news & editorial interviews. He's worked at CNN and PBS, and helped launch The Arsenio Hall Show reboot from the ground up.
I love that he's as happy to talk to you about the meaning of a musical lyric as he is about the shoes on his feet. Which is exactly why I asked him to document what he wore for a week. Below, the style-savvy results:
MONDAY
Sweater: Banana Republic Heritage Collection | Henley: J Crew
Pants: Levi's 513 | Boots: Kenneth Cole
I fell in love with cardigans at the age of 6 when my grandfather used to sport them. I vowed to buy an endless amount of them once I grew up and could afford them. They go with just about anything. In this case, I paired my cardigan with an off-white Henley (my go-to undershirt) and distressed jeans and boots. These boots are my oldest pair of shoes. I've had them for nearly twenty years. Let's just say my shoe cobbler appreciates my on-going business.
TUESDAY
Blazer: GANT | Shirt: Thomas Pink | Pants: Levi's 511 | Chukkas: Steve Madden
Eyewear: Warby Parker, Tennessee Whiskey | Belt: vintage
When I was in college, one of my journalism professors always wore corduroy blazers. It fit his astute demeanor. Now, I own four cord blazers. It's the perfect accessory for my monthly book club, which I moderate. I find every time I wear one of these, I garner the respect of elders. I once had a handsome well-put-together senior citizen man stop me on the street one afternoon. He shook my hand and said, "that's a fine suit jacket, young man." He then patted me on the back and went on his way like the passing wind. That made my life.
WEDNESDAY
Suit: Banana Republic Monogram Collection | Shoes: Cole Haan
Every man should absolutely get his suits tailored, 100%!! But there's tailored and there's ridiculously small.  In the past 5-7 years, there has been a trend where men wear ultra slim suits to the point where it looks like they've raided the children's rental section of Men's Warehouse. You know what I'm talking about—high water pants, blazer that sits above the butt, wristwatch exposed. I'll admit, I'm a follower when it comes to new trends. So when that style emerged, I actually got myself an ultra-slim suit and had the nerve to wear it to a business meeting. I stood out like a sore thumb! Don't get me wrong, there's a time and place for those small suits, like the runway or in a GQ spread. But if you want to be taken seriously in a meeting with cross-generational clients/coworkers, keep it simple. Wear a well-tailored suit that will endure when trends die.
THURSDAY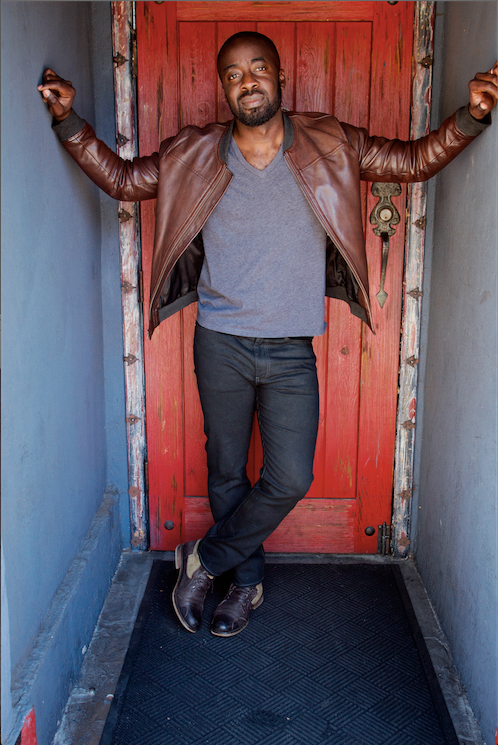 Jacket: Banana Republic | Shirt: Urban Outfitters | Pants: Levi's 513 | Boots: Steve Madden
I've owned all sorts of leather jackets. With each one I purchased, I got closer and closer to 'right.' The first one might as well had been a zoot suit blazer, It was so big. I was always afraid to buy one that actually fit me firmly. But I finally got the perfect one and I plan on wearing it to my grave… and possibly in it. While most men I know lean towards the black persuasion when it comes to leather jackets, I gravitate towards the brown. I owe this inspiration to the Tuskegee Airmen of World War II who managed to look fly even in the face of danger and discrimination. My brown leather jacket also pays homage to Arthur Fonzarelli. Yup, the Fonz from "Happy Days." People often forget the jacket he wore the most was brown.
FRIDAY
Shirt: J Crew | Pants: Banana Republic | Shoes: Polo Ralph Lauren | Eyewear: Ray Ban
In my mid twenties, my mother pointed out that I'd grown into a man and maybe it was time I stopped dressing like a boy. It wasn't nitpicky. It was just a suggestion. It took a couple years to sink in, but now you wouldn't catch me dead in a printed Tee or baseball cap these days; especially because I'm knocking on 40's door. To each its own, but not me. Even when I take leisurely walks around the neighborhood with my dog, I opt for what I call the 'Hyannis Port' look. You ever see what the Kennedy's wear when they do leisurely things on the Port (then and now)? It's never tanks, professional team jerseys or anything of the sort. JFK and his siblings used to play football in button downs and trousers. Football!!! Now, that's dope!
SATURDAY
Baseball Henley: J Crew | Jogger: J Crew | Shoes: Adidas
 Now that I'm a father, I pretty much always dress for comfort on the weekends. But it doesn't mean that I have to drop the style. I tend to settle for a pair of joggers and a comfortably fitted shirt. It's really hard trying to chase down a running toddler in a suit. But then again, if you're a Kennedy…
 Tell Me:
Who most inspires your style?
Want to see more real men with real style? Check out SG pals Tommy Dewey, Barron Cuadro, and CB Rucker

Like a phoenix rising from the ashes, Gabi Meyers went from Team SG's first-ever intern to a trusted fashion editor and stylist. She currently lives in Chicago with a very cute dog.