What He Wore: The Men of East Dane on Office Style
OUTFIT MVPS AND GO-TO LOOKS
At the New York headquarters of Amazon-owned East Dane, you'll find a premium placed on creativity, effortless polish, and popover shirts.
A favorite online fashion pitstop for men looking to upgrade their wardrobes, East Dane is known for balancing emerging trends with classic styles – two things you'll also find in its staffers' wardrobes. Fun (Midwestern) fact? The name comes from its Madison, Wisconsin roots; the office there is located on East Washington in Dane County. 
Inside East Dane's office style with five of its most stylish employees:
Wayne Gross, 
Fashion Directo
r
"I think it's really important for people to be comfortable in the way they dress."
My first day at East Dane I wore a navy, red, and white striped sweater with faded light blue jeans, vintage Reebok trainers, and probably a denim jacket or something like that. It was more of a casual look.
My office style mantra is 'Less is more'
On the office dress code: What's interesting is that everyone has their own personal style and they tend to stay true to that. There's no specific rule per se, each individual is quite true to what they like and what they don't like and everyone has their own way and style of dressing. People tend to follow what they're comfortable with.
Outfit MVP: APL sneakers, $185
Peter Haury
, Assistant Buyer
"Living in New York is a great place to get inspiration because there's always someone on the street who is cooler than you."
My office style mantra is: Be comfortable without looking like a slob.
When it comes to adding color to my wardrobe I like green a lot. Maybe because living in the city you don't get to be around nature that much.
Outfit MVP: Mismo Backpack, $600
James Ha
, Head of Marketing
"The details pull the actual outfit together. Menswear doesn't always reinvent itself every season, but the smaller details are what make a look amazing."
My go-to outfit when I don't know what to wear is: Black denim and a white t-shirt
I get outfit ideas from: Pretty much anywhere. What's amazing is, working here, you get outfit ideas from everyone around you. The people sitting next to you – whether it's a buyer or someone else – everyone has phenomenal taste.
About that employee discount… Oh yeah [laughs]. Every time your paycheck comes in, you're online putting it right back into the company.
Outfit MVP: Simon Miller Jeans, $245
John Wong
, Men's Accessories Buyer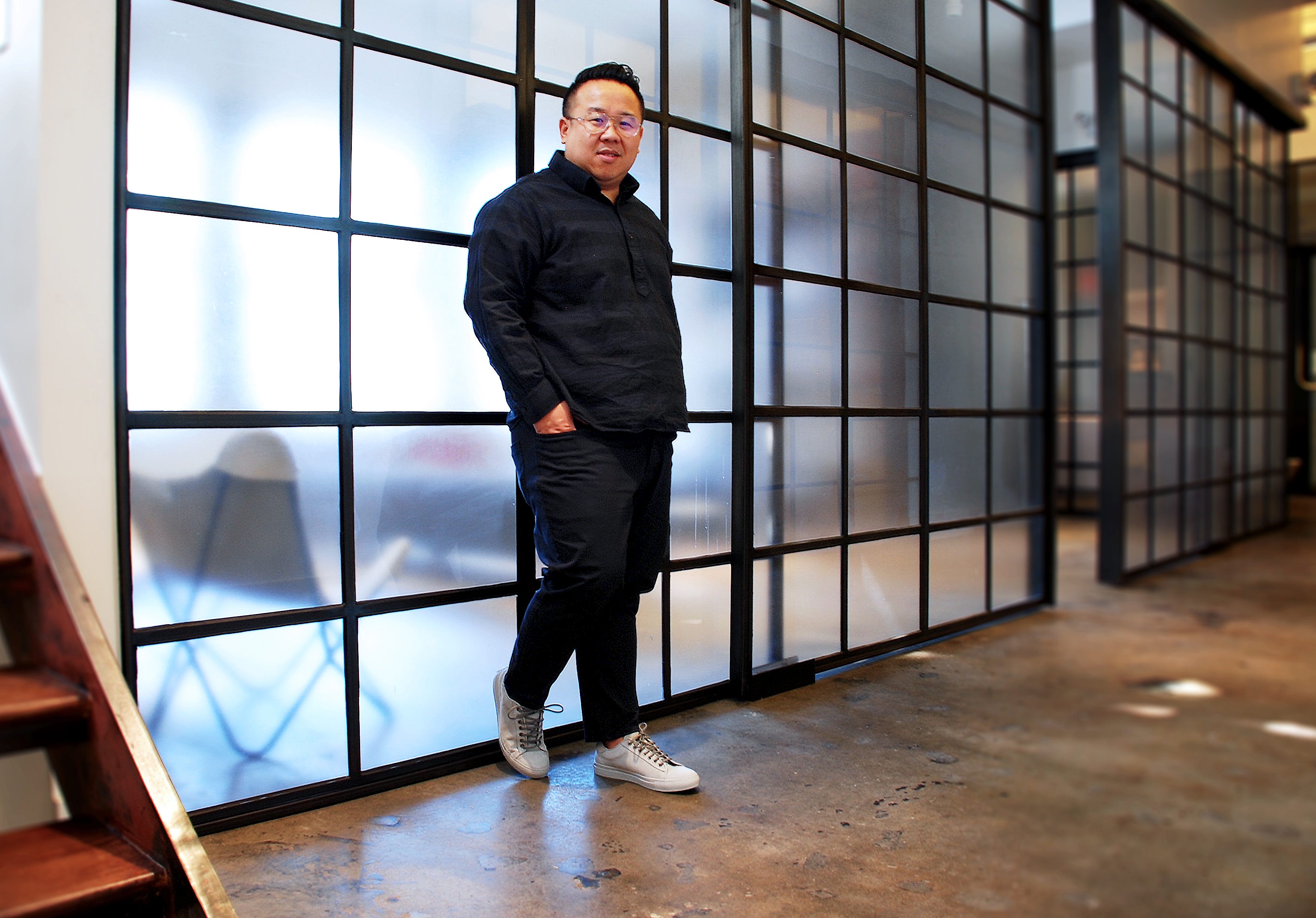 "I think I'm the oldest one here so after so many years I became pretty confident in what I like and what fits my body type best, so I kind of have stayed in that line. Sometimes it aligns with trends, sometimes it out of trend."
How my work and weekend wardrobe differ: They don't. If you see me on the weekend, I'm wearing the same exact thing. I try not to over complicate my life. The only difference is that maybe I'm wearing more comfortable sneakers.
My first day at East Dane I wore a camo print popover, blue pants, and loafers. I thought it was a good mix of dressed up and on-trend.
Most recent wardrobe addition: This really great tote from a small company out of Copenhagen called Mismo. They make this great tote that has leather handles and a shoulder strap. I've used it for the past two months from Paris to most recently NY. It's probably one of my favorite purchases this year. It's really versatile and fairly inexpensive, it's something I can really throw around and it'll still look sharp.
Outfit MVP: Le Grammes Cuff, $490
Mike Heaney
, Men's Apparel Buyer
"I pretty much wear whatever I feel most comfortable in. I don't feel as though anyone here feels they need to dress a certain way."
On the office dress code: It's all about personal style here, there's a lot of really interesting personal style in the office. I have much more of a uniform than most people.
When I don't know what to wear my go-to is all black all the time. It makes it easy to get ready in the morning. Even when I was just a little kid. I think it's because I wanted to be a cop when I was really young.
Outfit MVP: Our Legacy Shirt, $100
TELL ME:
WHAT DO YOU REACH FOR WHEN YOU DON'T KNOW WHAT TO WEAR? 
Are you all caught up on our color guides? See how to wear and how to pair bold colors.