What He Wore: Men's Clothing Specialist Kiyoshi Martinez
The blogger and fit specialist on his everyday style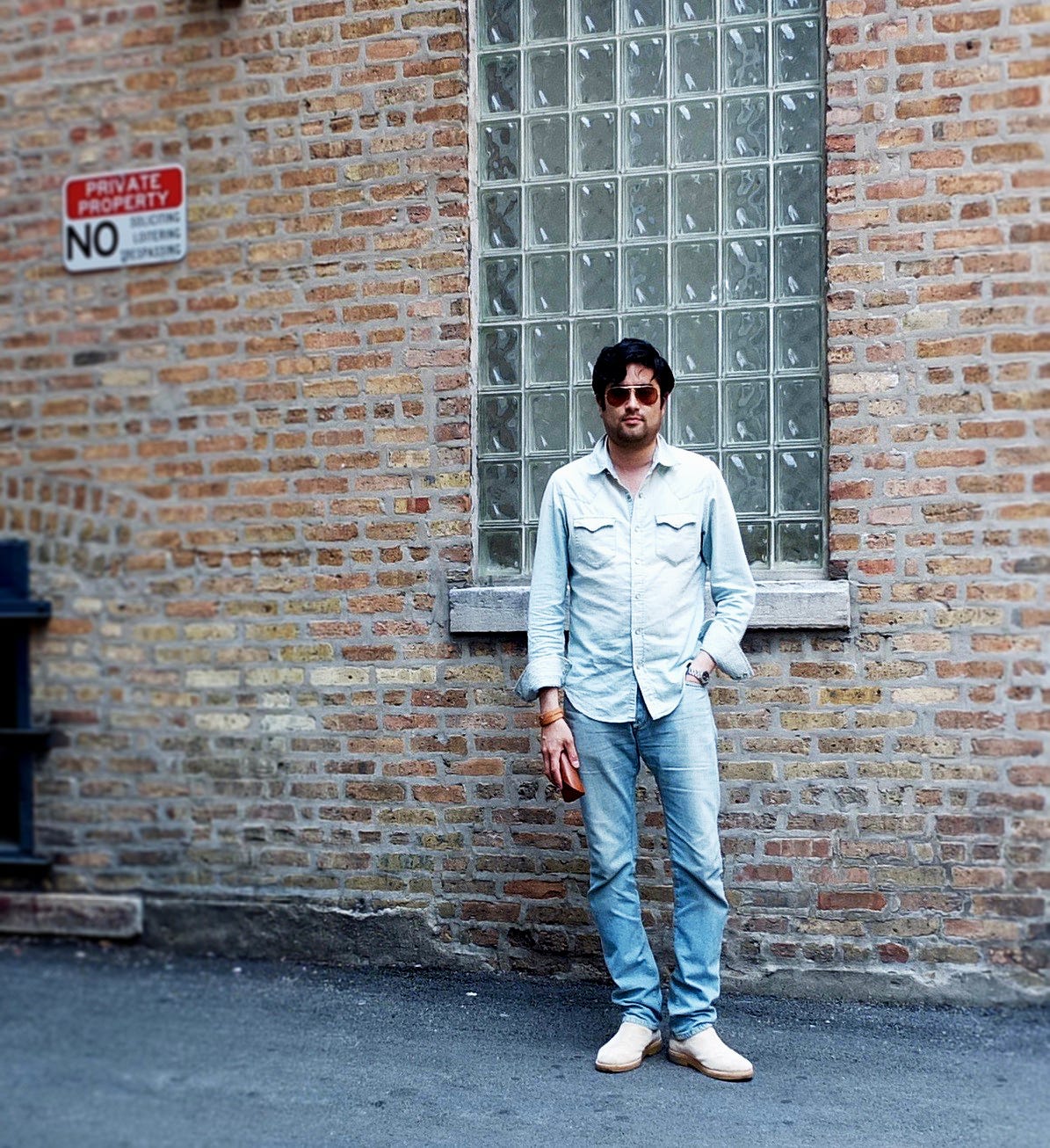 While it can be fun looking to celebs for sartorial inspiration, it's often more useful to simply look around you–to stylish friends, co-workers, even strangers on the street. That's why we like to document the personal style of our own well­­-dressed pals right here on SG. Real guys we know with killer style.
I've known Kiyoshi Martinez since we were both just wee babes in the #menswear scene on Tumblr (yes, Tumblr…it was THAT long ago).
The Chicago-based PR pro-turned-men's clothing specialist first gained style street cred through his blog, The Silentist, as well as for his hella-detailed and informative guest posts on Put This On (a menswear mecca if there ever was one).
Since then, Martinez has put his passion to work as a fit specialist with Hall Madden. If you live in the Chicago area and want to experience the luxury that is a custom-made garment, I highly recommend you get in touch.
Men's clothing specialist Kiyoshi Martinez shares a week's worth of style:
Monday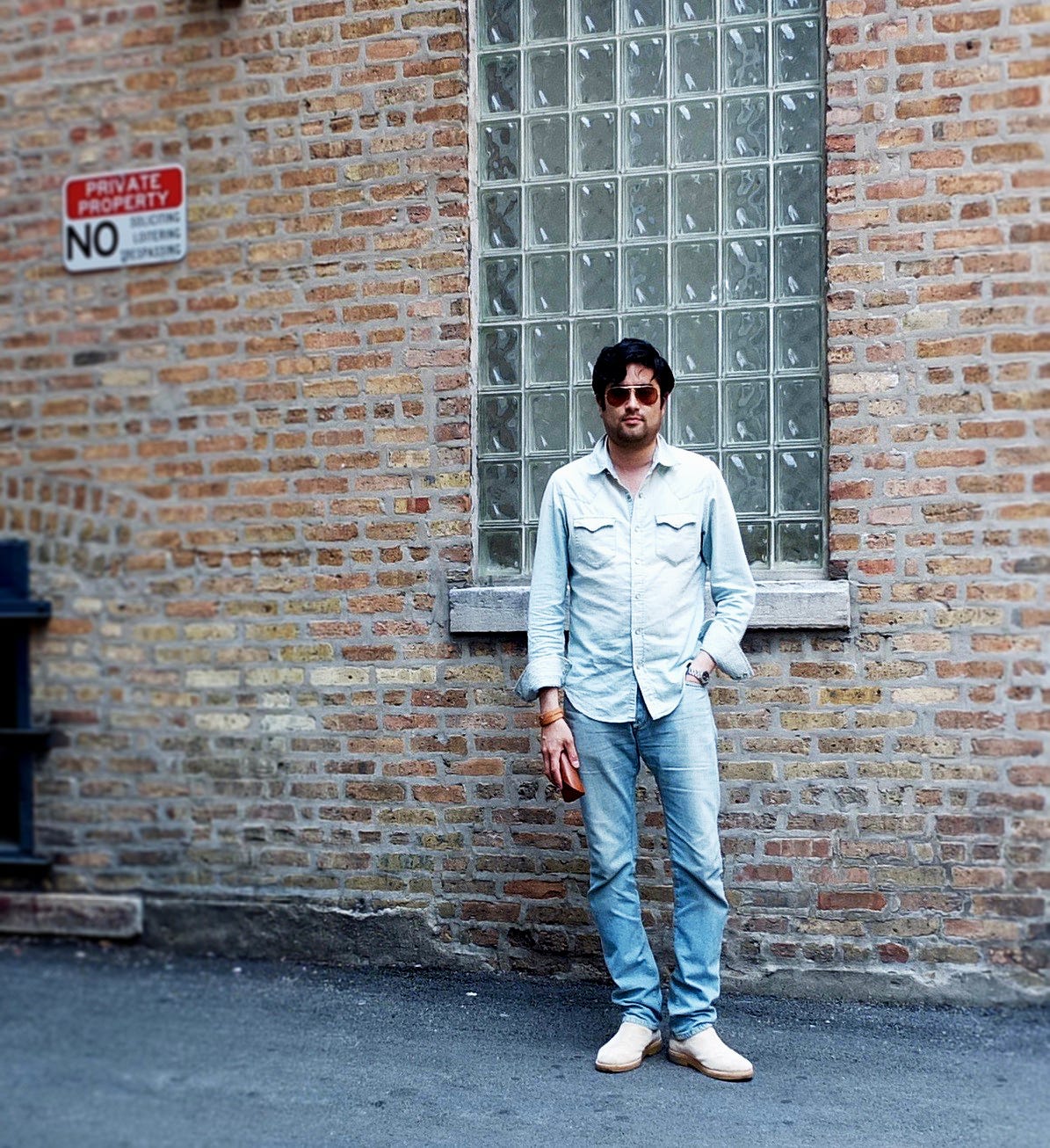 shirt: Polo Ralph Lauren | jeans: Natural Selection | boots: Epaulet New York | bracelet: Leather Works Minnesota
"One day I noticed that Jay Leno, Ralph Lauren and Kanye West all were fans of the washed-out denim-on-denim look and that there were multiple ways to interpret it: suburban blue-collar dad, faux-vintage Americana, and streetwear-influenced high fashion. On days where I don't meet with clients at work, I dress down in jeans. I used to only wear dark, raw selvedge denim, but my friend introduced me to this brand and I loved the softness."
Tuesday
suit: Hall Madden | shirt: Brioni | tie: Vanda Fine Clothing | shoes: Gaziano & Girling
"This is probably my most-worn suit when meeting clients for private fittings. The brilliant blue nailhead fabric — a Super 150s from Vitale Barberis Canonico — is not as serious or conservative as dark navy or charcoal. I prefer my formal suits with jetted jacket pockets and no back pockets on the trousers. It's a cleaner look. In the past I've worn off-the-rack and made-to-order suits and had them altered. But wearing a made-to-measure suit shows you what you've been missing out on. It follows your posture and moves better after the full canvas molds to you."
Wednesday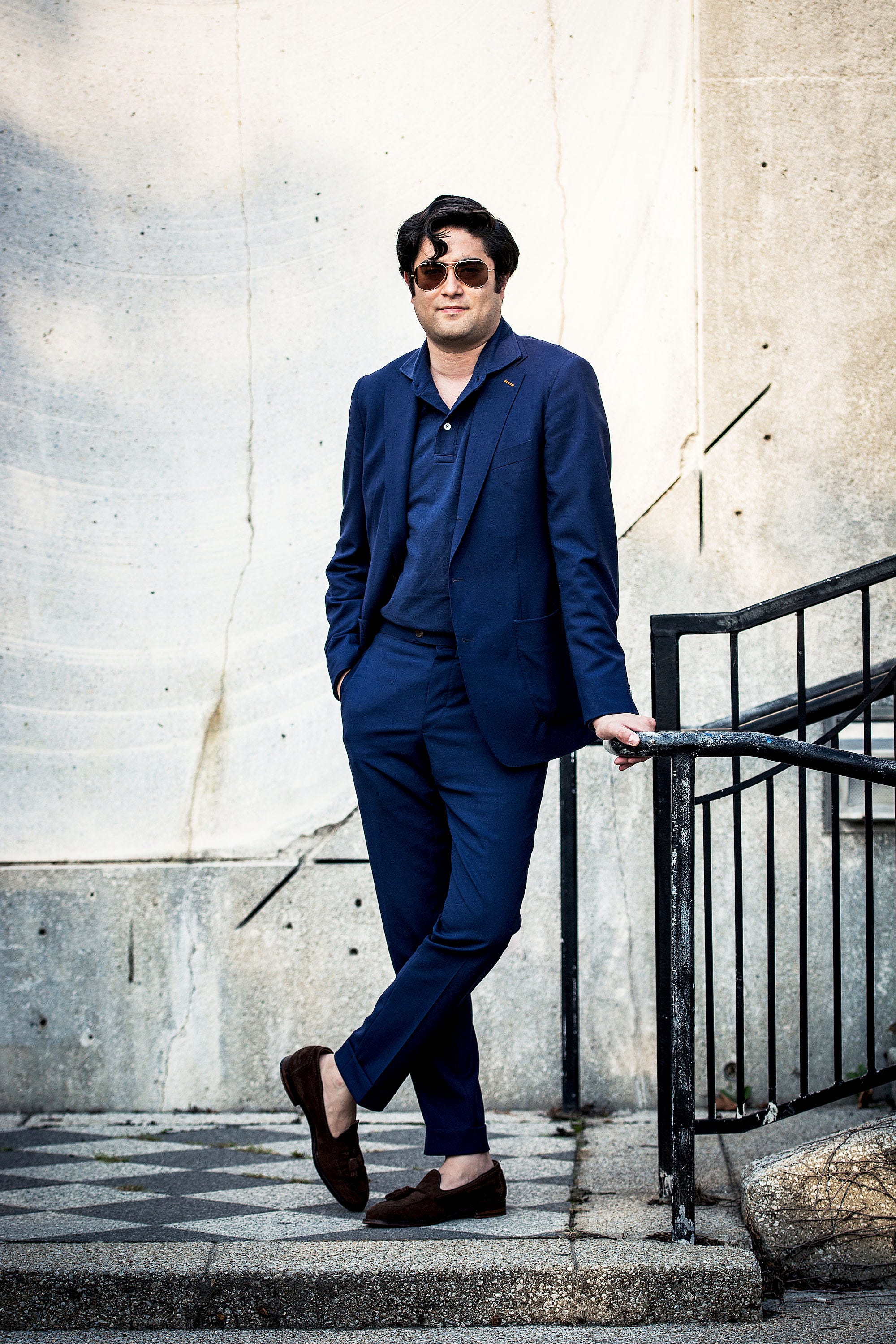 suit: Hall Madden | polo: Kent Wang | shoes: Alden
"Dress shirts and neckties aren't the only way I wear suits. This is my preferred way to dress a suit down for summer. The fabric is lightweight (6 oz.) from Ermenegildo Zegna's "Cool Effects" range that works remarkably well in the humidity to keep its drape. The jacket has patch pockets, a lighter interior canvasing, half-lining and softer shoulders. The pants have side adjusters for comfort. I prefer to wear a long-sleeve polo shirt because it's one of the few shirts that looks good without a necktie under a jacket."
Thursday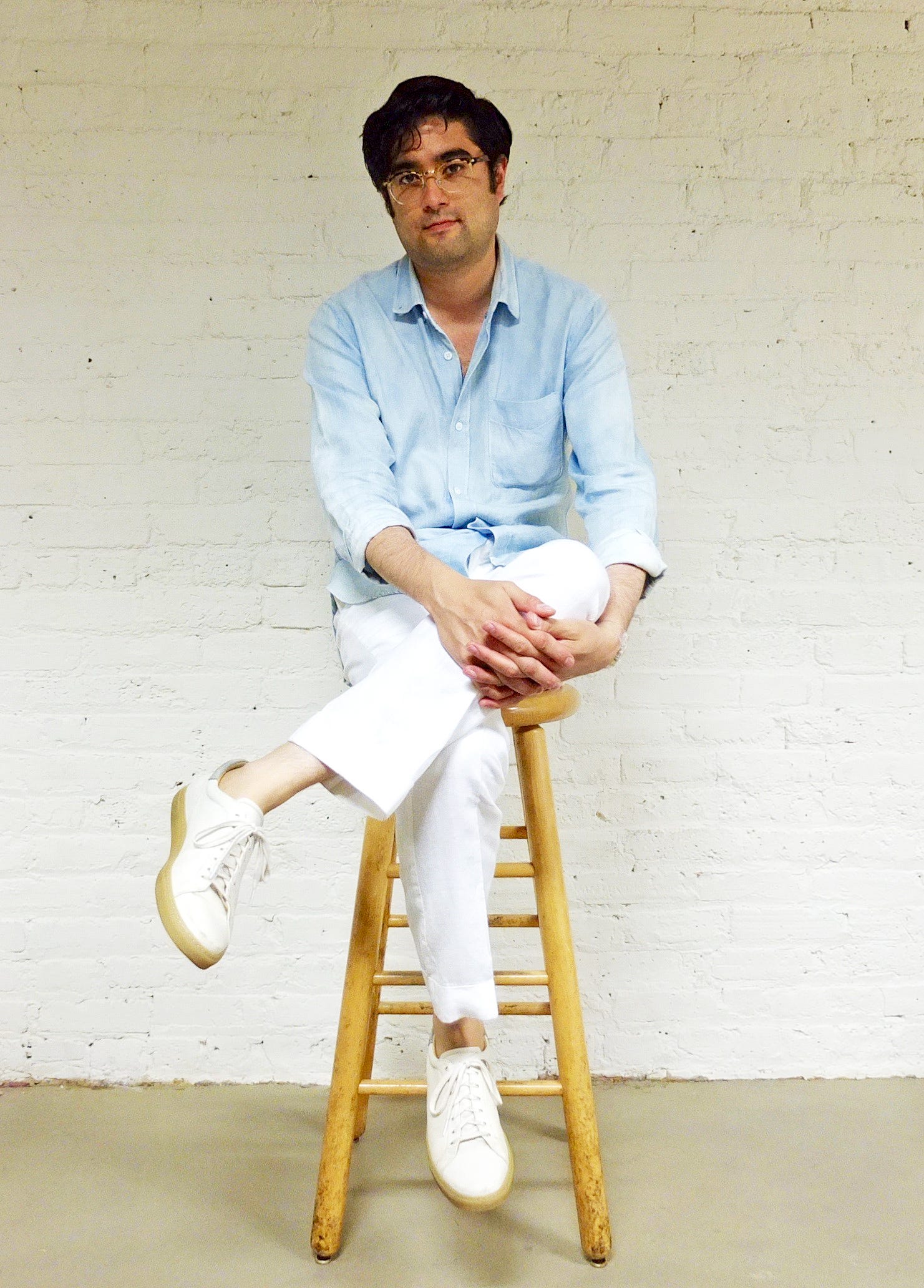 shirt: Niuhans | trousers: Hertling | shoes: Epaulet New York
"Resortwear is underrated and under appreciated by many guys. I think it's an elegant way to dress while dealing with warm climates. The louche look of linen is perfect for weekends visiting with friends to drink mojitos. The key is to find linen garments that are slightly roomier than how you'd typically wear your clothing so the air moves thru and the fabric can breathe. Everyone is so obsessed with slim clothing, but it makes no sense to let sweat cling to you in the summer."
Friday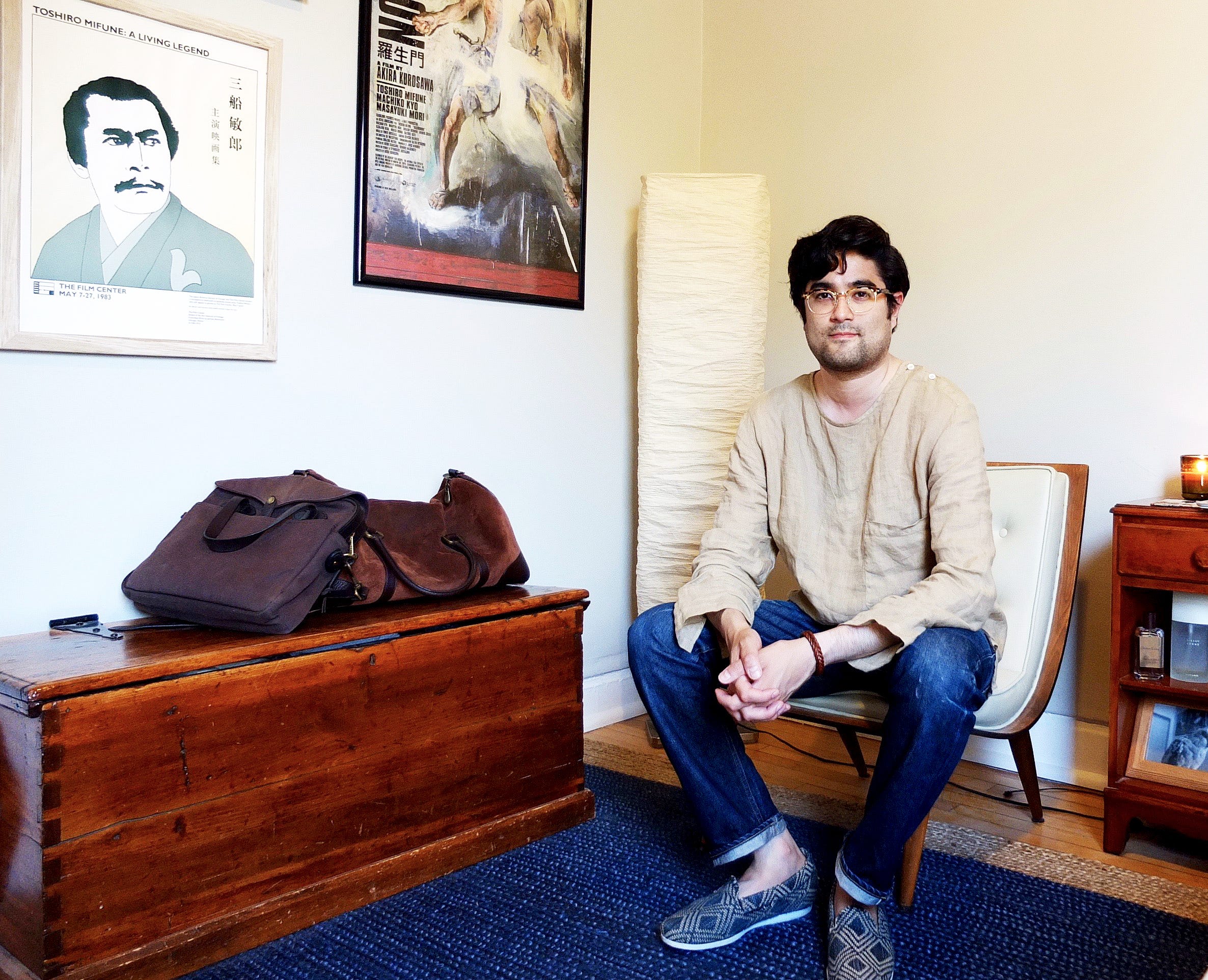 shirt: Barena Venezia | jeans: 3Sixteen | shoes: Benjamin's Shoes | bracelet: Chicatolia
"True story: I wore this outfit to an art show in Chicago's West Loop last month and was asked no less than five times about what kind of art I did. Embarrassingly, I had to let them know I wear a drapey linen tunic shirt that makes me look like a member of The Others on "LOST" for when I just want to chill on my days off."
***
Want some help with your wardrobe?
Let us rescue you from shopping fatigue and sartorial apathy. With our online personal shopping service, we can promise the kind of dedicated attention that will make you feel like the best, most stylish version of the awesome guy you already are! We'll also help you figure out how to wear your new clothes with the things you already own.

Ready to seriously improve your closet and your confidence? Give us a shout.
***
Originally published August 2016. Want more Real Guy Style on SG? Let us know! And check out other features here, here and here!