What He Wore: Kyle Edwards of WWE
The bold style of an on-air broadcaster
While it can be fun looking to celebs for sartorial inspiration, it's often more useful to simply look around you – at stylish friends, co-workers…even strangers on the street. That's why I like to document the personal style of my well­­-dressed pals right here on SG -­­ real guys I know with killer style.
Today we're taking a peek inside one week of an on-air broadcaster who caught the reporting bug while studying mathematics at the University of Waterloo. Nowadays, Kyle Edwards has traded number crunching (that's what mathematicians do, right?) for a microphone with WWE's Bottom Line, WWE Experience, Raw, and UpUpDownDown…just to name a few. 
So we'll let Kyle Edwards of WWE take from here…
Hi! I'm Kyle Edwards, I'm a broadcaster with WWE, hosting programs that air in a multitude of countries around the world as well as on social media, online and on our award winning WWE Network. I've been with WWE since 2014 and as a lifelong fan it's a dream come true. Before WWE I was a weather reporter – you know, that guy that's freezing his butt off live in the middle of a snow storm? Yup, that was me. It's nice to host indoors for a change!
MONDAY – IN STUDIO
Suit, tie, shirt, square: Sarar | Tie Bar: The Tie Bar | Socks: Yo Sox | Shoes: Florsheim
As a WWE Broadcaster I wear a suit 90% of the time. This day I'm taping segments that will air all around the world, including a show called "WWE Experience" which appears in roughly 40 countries. I'm a big fan of funky, outside the box tie designs and this is one of my favorites. Some of my colleagues around work call it the "Tie that's wearing a tie" look. It's the tie that I get the most comments about right now for sure. I match it with a straight colored pocket square and lighter shirt to let the tie really pop. The suit is a shiny metallic darker blue that really fits well. As for the socks, they never match – sometimes I'll even wear two different socks. It's a planned imperfection that you can hide and still shows off a part of your personality to those that are paying attention.
Tuesday – MAKEUP ROOM
Watch: Mistura Timepieces | Tie, tie bar, pocket square: The Tie Bar | Shirt: Express
This outfit was created on a dare, actually – my three closest friends, Shortts, Dodes and Frats (all their legal first names of course), saw this watch at a fashion event and thought it looked cool. They challenged me to match my outfit with it. Challenge accepted. I happened to have a wood tie bar and the perfect pocket square (side note: the flower embroidering at the top of the corner is "on fleek" as the kids say). The Tie Bar an essential for color matching of a pocket square and tie bar, they have a terrific selection. I really like the double lapel shade on the suit – Zara often has interesting styles and color combos for suits to wear on TV. 
Wednesday – FISHBOWL
Jacket: JOS A Bank | Shirt: WWE Shop | Pocket Square: The Tie Bar | Jeans: Mavi
This is a special week because we are taping a set of shows called "5 Things", one of WWE's most watched weekly segments online and on social media (the premise is that each segment gives you 5 facts you didn't know or forgot about WWE, past and present). This calls for a much more casual look – I keep the blazer so I can match the shirt with the square, with dark jeans (always a good starting canvas) and fun shoes. I'm big on staying positive – glass half full kinda guy – so that's why I wear the Lokai bracelet. I wear that ring because it's made of brass and in WWE we reach for the brass ring. It's a nice little reminder about how far I've come and how there is much more to go.
Thursday –

 

VIDEO GAME ROOM
Shirt: Super 7 | Jeans: Mavi | Shoes: Air Jordans | Socks: Nintendo World | Watch: Fossil
This is another fun part of the job – playing video games live on YouTube while people watch! We have a video game channel called "Up Up Down Down", with one of our Superstars Xavier Woods (who goes by Austin Creed on the channel). On UUDD, I become A-OKÉ, the old school gamer who brings the past back to life on the weekly "The Retro Stream"! Of course I have to dress appropriately. For gaming fans, no explanation is necessary, but indulge me for a second: The t-shirt is Mike Tyson's Punch Out, the socks are Super Mario Brothers. Of course I like to pick a flashy fun pair of shoes – note the laces match the hue of the characters on the shirt. That's Sean Cohen beside me, one of the editors for the channel – I totally beat him at Street Fighter 2 all the time and never lose…
Friday – OUTSIDE THE LOBBY
Jacket and jeans: Mavi | Shoes: Nike | Glasses: A stand at Universal Studios Orlando | Shirt: Zara
In this outfit I wanted to show you the pair of comfort shoes near and dear to my heart – these shoes have been everywhere with me. Each crease has a story, each smudge breathes character. I've had them for years and I refuse to throw them away – everyone has something like this in their wardrobe for sure. On top of that, red is my favorite color. I love these shoes so much that I will buy accessories to compliment the shoes – like I did the sunglasses when I was at Universal Studios a couple weeks ago. I like the bomber jacket look for fall and Mavi has some eclectic looks that match my personality. Fashion is often about your personal feeling and confidence, and this getup is it for me. Here, I am outside of the front lobby of the WWE corporate headquarters. That giant statue prominently displayed inside is Andre The Giant, one of the most famous Superstars of all time and our very first WWE Hall of Famer.
Saturday – AT A FUNCTION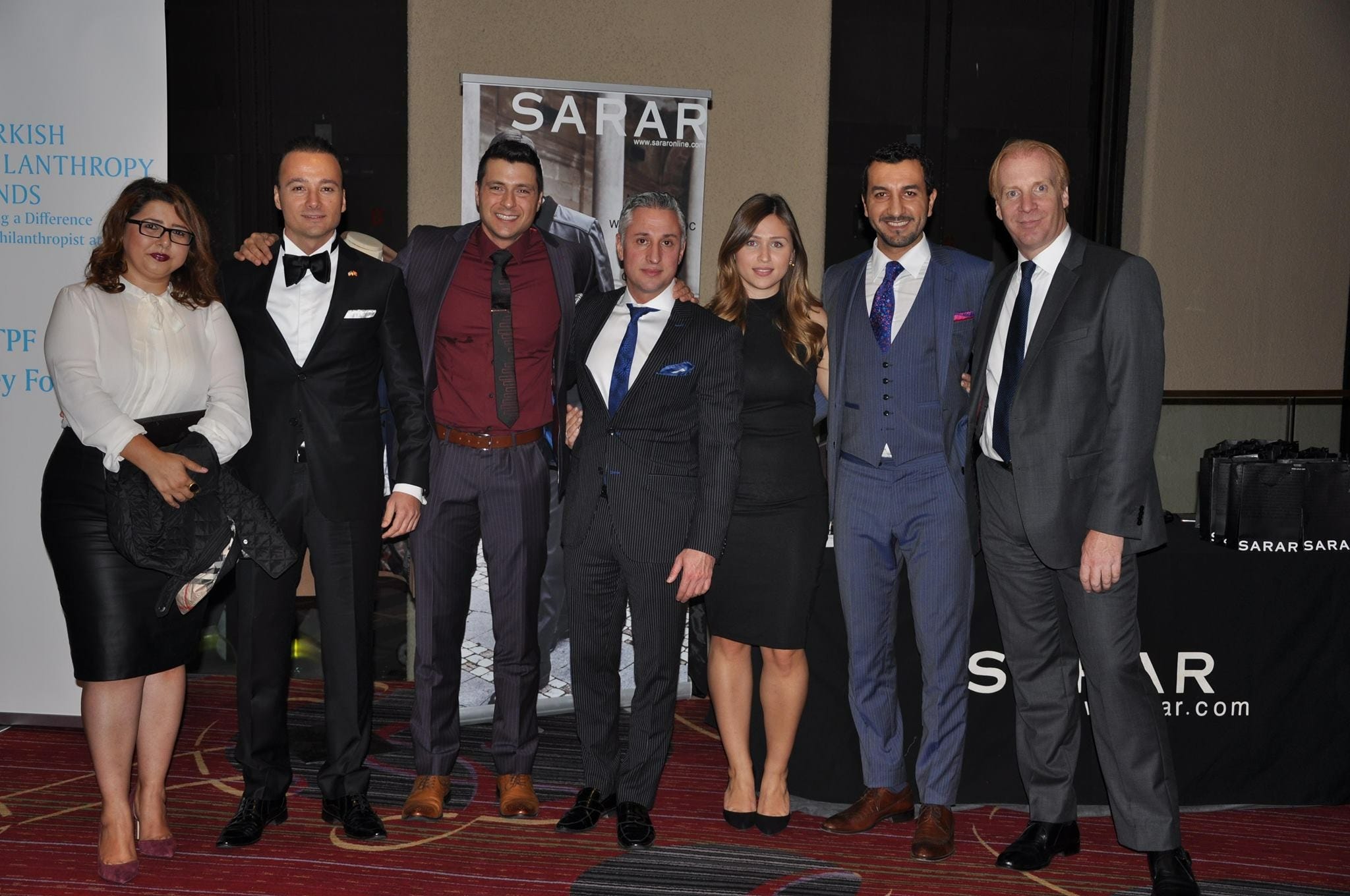 Suit, tie, belt: Sarar | Pocket square, tie bar: The Tie Bar | Shoes: Bar III | Shirt: Express
Networking and events are a big part of the gig, so you'll find me at functions like this often. You'll notice the tie is another funky design, the "half pattern" look, which I've worn a lot recently. That and dual pattern ties look interesting on the air and are conversation starters at parties. In this picture are my friends at Sarar, where you've noticed I buy a lot of my suits and ties. I experiment with pocket square folds all the time – because this one was a neutral color I liked the double peak. Express was great to get a bunch of solid shirt colors to mix and match with my ties – always remember the collar stays, they enhance the shirt and tie! The Little Things matter so much, especially in fashion!
TELL ME:
WHO'S YOUR PICK FOR MOST STYLISH WRESTLER OF ALL TIME?
Want to see more real men with real style? Check out SG pals Tommy Dewey, Barron Cuadro, and CB Rucker