What He Wore: Michael Adam of BankMyBiz
This Madison Start-up Founder shares his style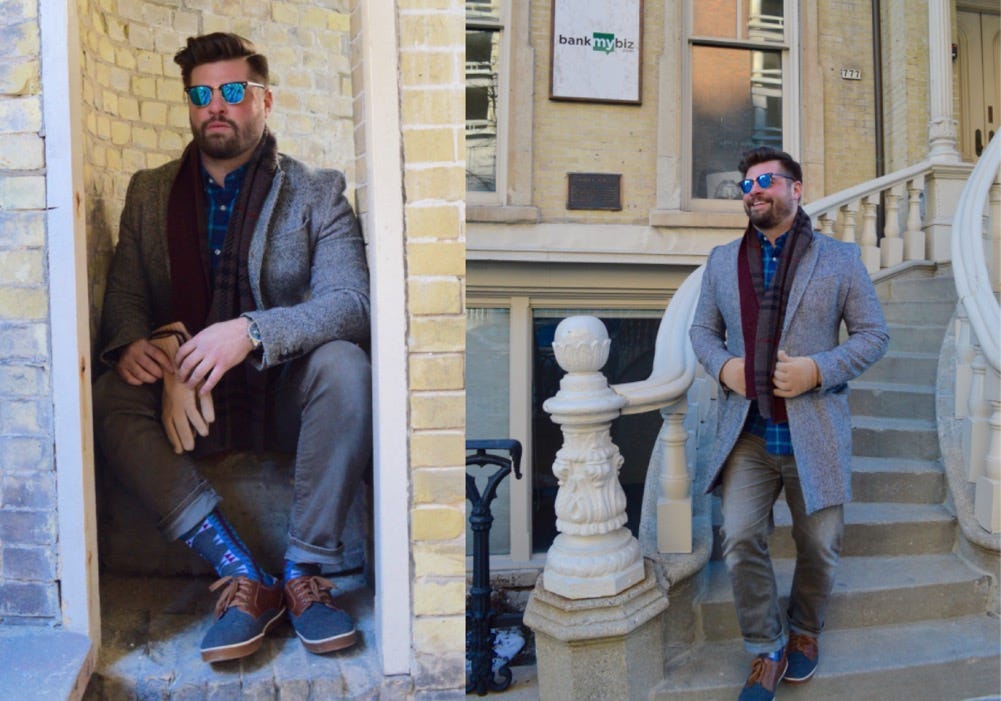 While it can be fun looking to celebs for sartorial inspiration, it's often more useful to simply look around you – at stylish friends, co-workers…even strangers on the street. That's why I like to document the personal style of my well­­-dressed pals right here on SG -­­ real guys I know with killer style.
---
Want to see more real men with real style? Check out SG pals Kyle Edwards, Tommy Dewey, Barron Cuadro, and CB Rucker.
---
Fellow Wisconsin-ite and start-up founder, Michael Adam is taking a break from the lending business to you know, lend us his style – from coffee breaks in chambray to a layered look while coding for his company Bankmybiz.com. His self-designated dress code is anything but the Silicon Valley sweatshirts and sandals vibe that we associate with the start-up tech world, so we're excited to highlight his thoughtful – and bold – work day wardrobe.
Michael of BankMyBiz shares his style:
Monday
Shirt: J.Crew | Jacket: Volcom | Slacks: Levi's | Socks: Stance | Shoes: Aldo
Mondays I like to open the office early and get a jump on the week. Take my time and relax into the day's work. It's going to be freezing the next few days in Milwaukee, like -20 freezing, so layers and hot coffee will have to keep me warm.
Tuesday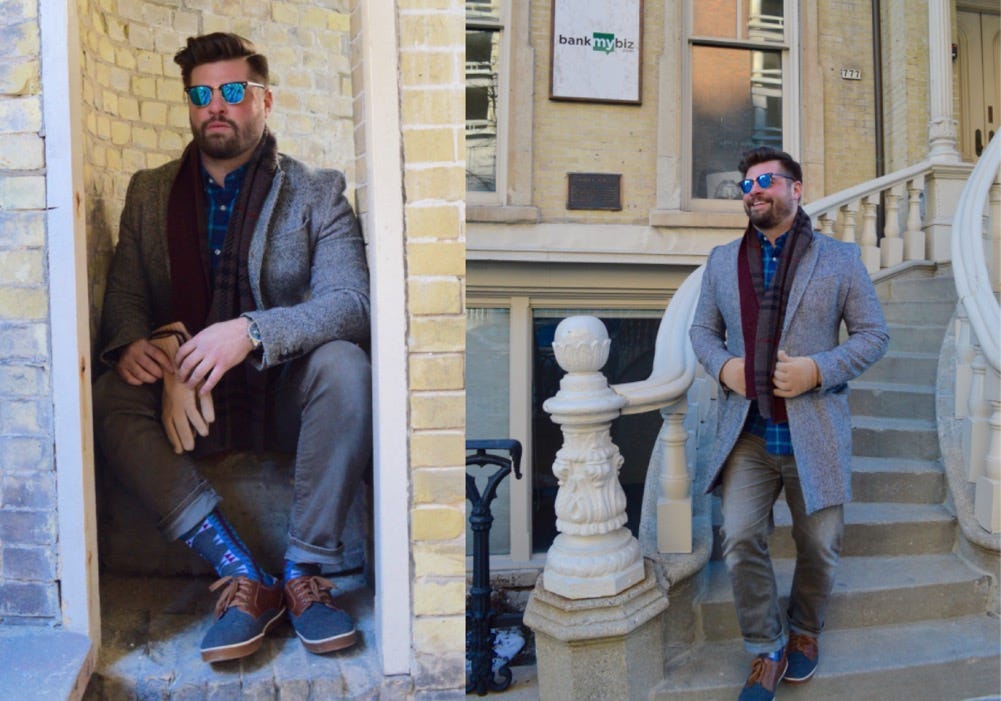 Shirt: Sonoma | Slacks: Levi's | Coat: Roberto Cavalli | Gloves: J.Crew
Scarf: Burberry | Socks: Pair of Thieves | Shoes: Sonoma |  Sunglasses: Ray-Ban
Most of my outfits during the week are a combination of comfort and a little business-like. Today I have three back-to-back meetings that are in close distance so I will be on foot. Relaxed, but ready to represent the company.
Wednesday
Thermal Shirt: Sonoma | Button Up: Volcom | Jeans: Levi's
 Boots: Sonoma | Watch: Breitling
Today is going to be a laid-back day in the office. A bit of coding, some new marketing efforts and… office dodgeball. Just in case a surprise meeting pops up, I can always button the shirt and throw on a sport coat.
Thursday
Shirt: Hurley | Jeans: Levi's | Hoodie: Oakley | Socks: Stance
Another freezing day in Milwaukee so I decided to pop home for a lonnnng lunch and a bit of creativity.  All morning on conference calls has numbed the brain. If I'm ever in a creative slump at work or in life playing music always picks me back up! 30 minutes singing and playing gets me going and back on track.
Friday
Suit Coat: Calvin Klein | Sweater: Sonoma | Pants: Ralph Lauren
Shoes: Calvin Klein | Puppy: Nashville
It warmed up a bit here in cream city so decided to celebrate with suede sneaks. This is as dressed up as I get. I wore a suit and tie every work day for a decade as a commercial lender… so when I created Bankmybiz.com I made a vow to retire the "bankers suit." After a busy week I'm back home with my pup, wine, fire… celebrating a successful week.
Tell me:
How does your style change throughout the seasons?
New videos on YouTube every Thursday! Have you subscribed?