What He Wore: Rainier Jonn of The Dressed Chest
Silicon valley engineer and Instagram influencer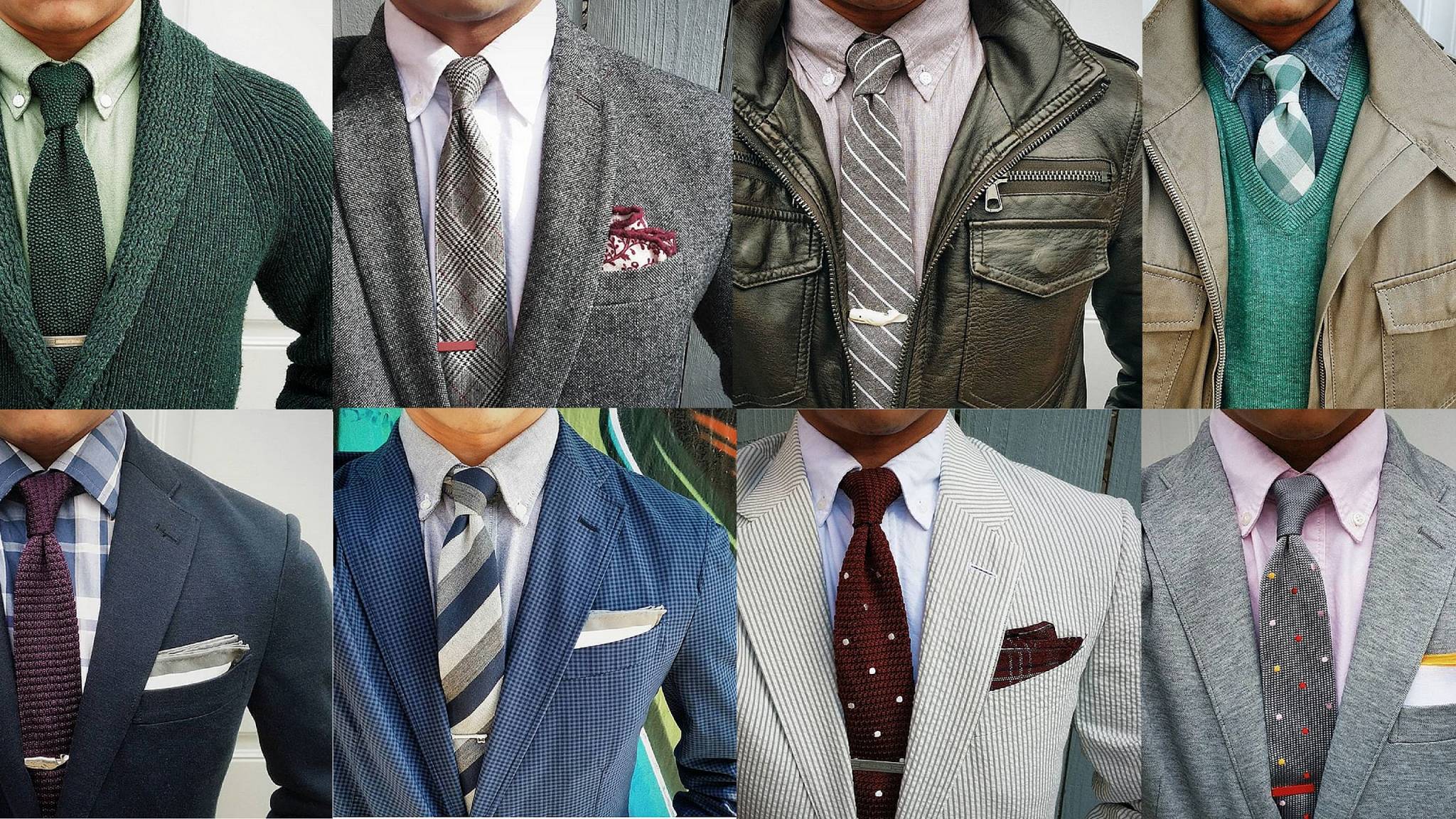 While it can be fun looking to celebs for sartorial inspiration, it's often more useful to simply look around you. Think: stylish friends, co-workers, even strangers on the street. That's why we like to document the personal style of our own well­­-dressed pals right here on SG. Real guys we know with killer style.
If you track the fashionable folks of Instagram, you probably already know The Dressed Chest.
With over 110,000 followers, the San Francisco-based software/data analytics engineer is showered with "likes" for the interesting looks he puts together of shirts, ties, jackets, sweaters, and accessories.
Why no face? "In my field, style isn't exactly celebrated or prioritized. I would put up occasional chest photos on my private account, but those pictures would regularly get mixed in with pictures of my wife and kids and food. Not wanting to bother family and friends who weren't interested in looking at my chest every day (and also because my sister kept nagging me to do so), I created @thedressedchest so that I could have an outlet for all these combos that I style."
Below, a week's worth of what he wore from The Dressed Chest:
Monday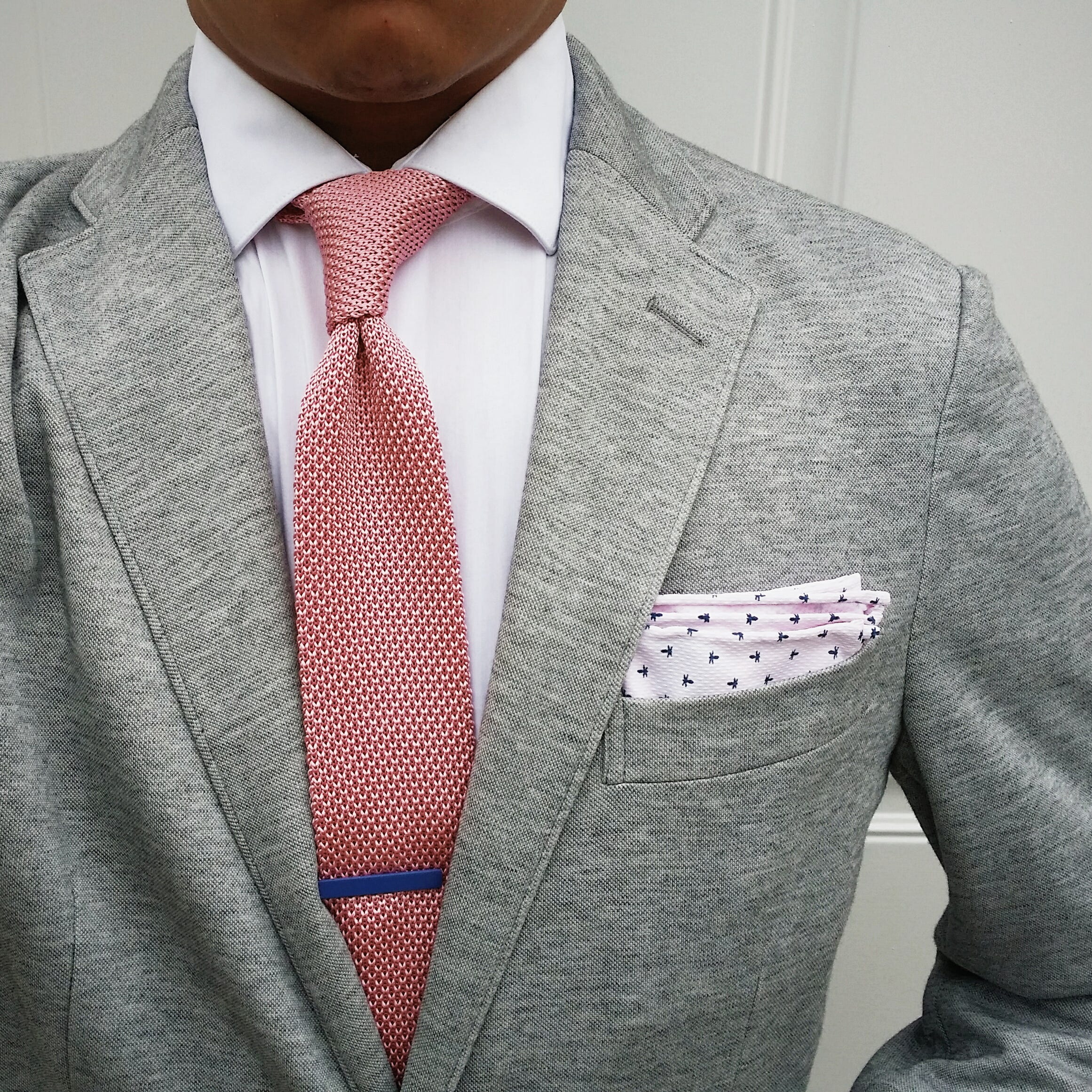 shirt: H&M | jacket: Uniqlo | tie bar and pocket square: The Tie Bar | tie: Geezer Melbourne
The cool thing about where I work is that people don't really care about what they wear. To some that may mean going to the office in a t-shirt and shorts; but to me, that means shirt and tie all day every day. In this case, the good fellows over at The Tie Bar sent me this sweet pocket square and tie bar, and the guys at Geezer Melbourne gifted me this knit tie. It was a coincidence that I got them around the same time and I figured they all go so well together, so I styled them into what you see here. I threw on a white shirt and marled gray jacket so as to not take attention away from the pink in the accessories.
Tuesday
tie: Kiriko Made | tie bar: The Tie Bar | shirt: Uniqlo | denim jacket: Lucky Brand
I overslept today and didn't have a lot of time to think about what to wear. In those cases, I have a simple formula: White shirt, denim jacket, honey brown chinos, chocolate brown belt and shoes, virtually any tie, and socks to match the tie. I opened up my necktie drawer and for some reason this tie really caught my eye, so I went with it.
Wednesday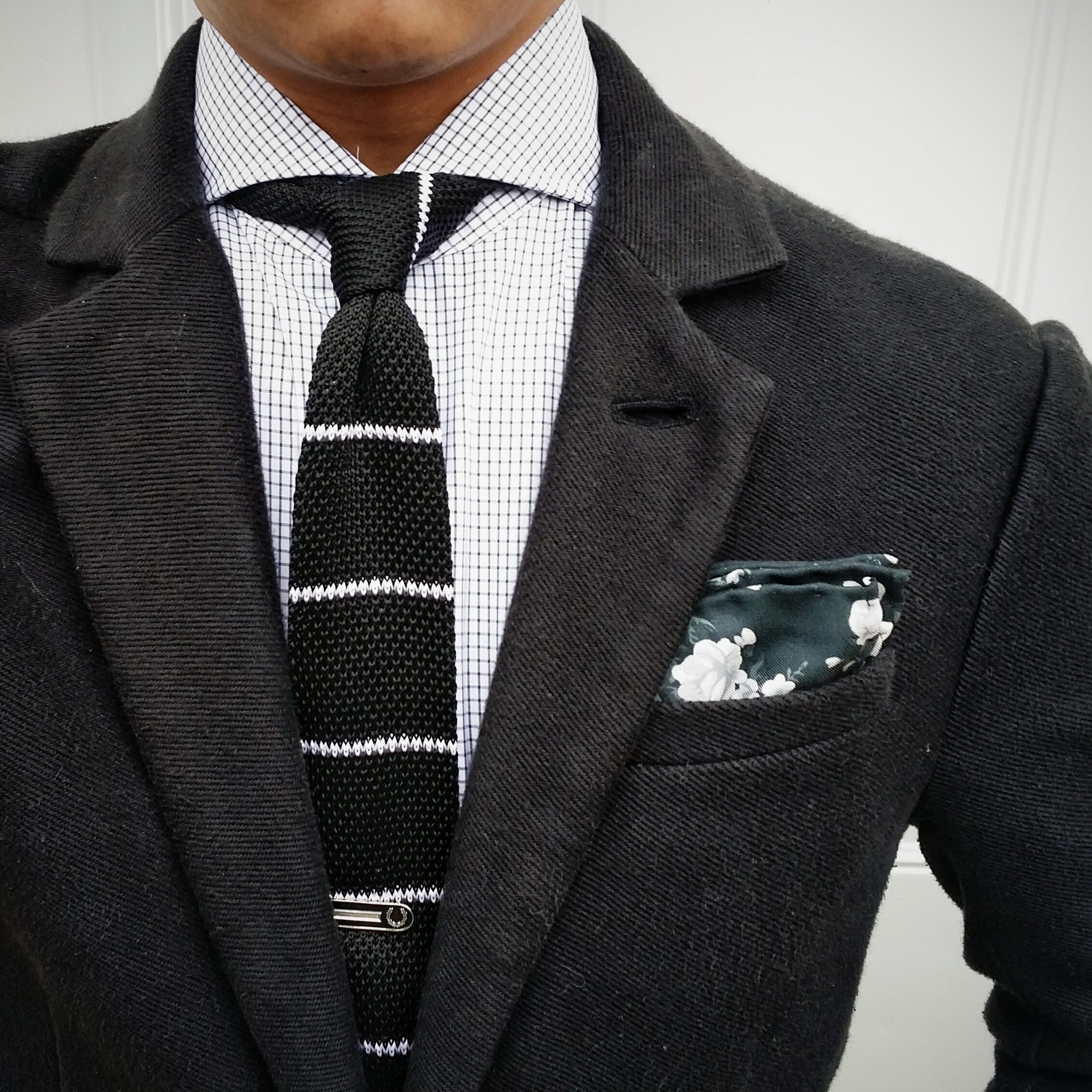 tie and pocket square: The Tie Bar | shirt: Uniqlo | tie bar: Fred Perry | jacket: Armani Exchange
Today's outfit is a mix of really old stuff and really new stuff. I picked up the shirt from Uniqlo on sale the other day for ten bucks. The tie and the tie bar were also recent pick-ups. I went with the floral pocket square because I thought the pattern contrasted well to the solid lines brought on by the shirt and tie. The weather stays cold throughout most of the year where I live, so I thought I'd keep myself warm with this jacket that I picked up back in 2008 when I worked retail in Armani Exchange. As for the tie bar, I picked that up in a Fred Perry store in Greenbelt, a higher-end mall in Makati, on a trip to the Philippines in 2009.
Thursday
tie: Bows-n-Ties | tie bar and shirt: J.Crew | pocket square: Weekend Casual
This outfit was actually inspired by a bit of wordplay. The tie is a club tie, and the shirt has a club collar, so I couldn't help but put the two together. I went with the brown jacket because a blue jacket would have brought about a blue overload. The lining of the pocket square plays off the red in the tie, while the white adds a nice contrast. For lunch I had a club sandwich. LOLJK I don't like club sandwiches.
Friday
shirt: Rugby Ralph Lauren | cardigan: J.Crew
My family and I had to attend a one-year-old's birthday party, so I thought I would dress down a bit. It was pretty cold and windy, so I had to layer accordingly. I went with this shirt because the twill is nice and husky, so I would be warm an comfortable chasing after my kids in the playground, and also because I thought the bold primary colors were perfect for an infant's birthday party. I put this shawl-collared cardigan on top because it's warm and cozy like the shirt, but also because I thought it paired really nicely with the shirt. The blue in the cardigan picks up the blue in the shirt, but also tones down the rest of the shirt's bold primary colors; the cardigan's knitting adds a nice textural contrast to the twill in the shirt.
***
Want some help with your wardrobe?
Let us rescue you from shopping fatigue and sartorial apathy. With our online personal shopping service, we can promise the kind of dedicated attention that will make you feel like the best, most stylish version of the awesome guy you already are! We'll also help you figure out how to wear your new clothes with the things you already own.

Ready to seriously improve your closet and your confidence? Give us a shout.
***
Originally published September 2015. Want more Real Guy Style on SG? Let us know! And check out other features here, here and here!