What a Woman Wants: Kristin Tice Studeman
The travel writer on romantic destinations and carry-on conundrums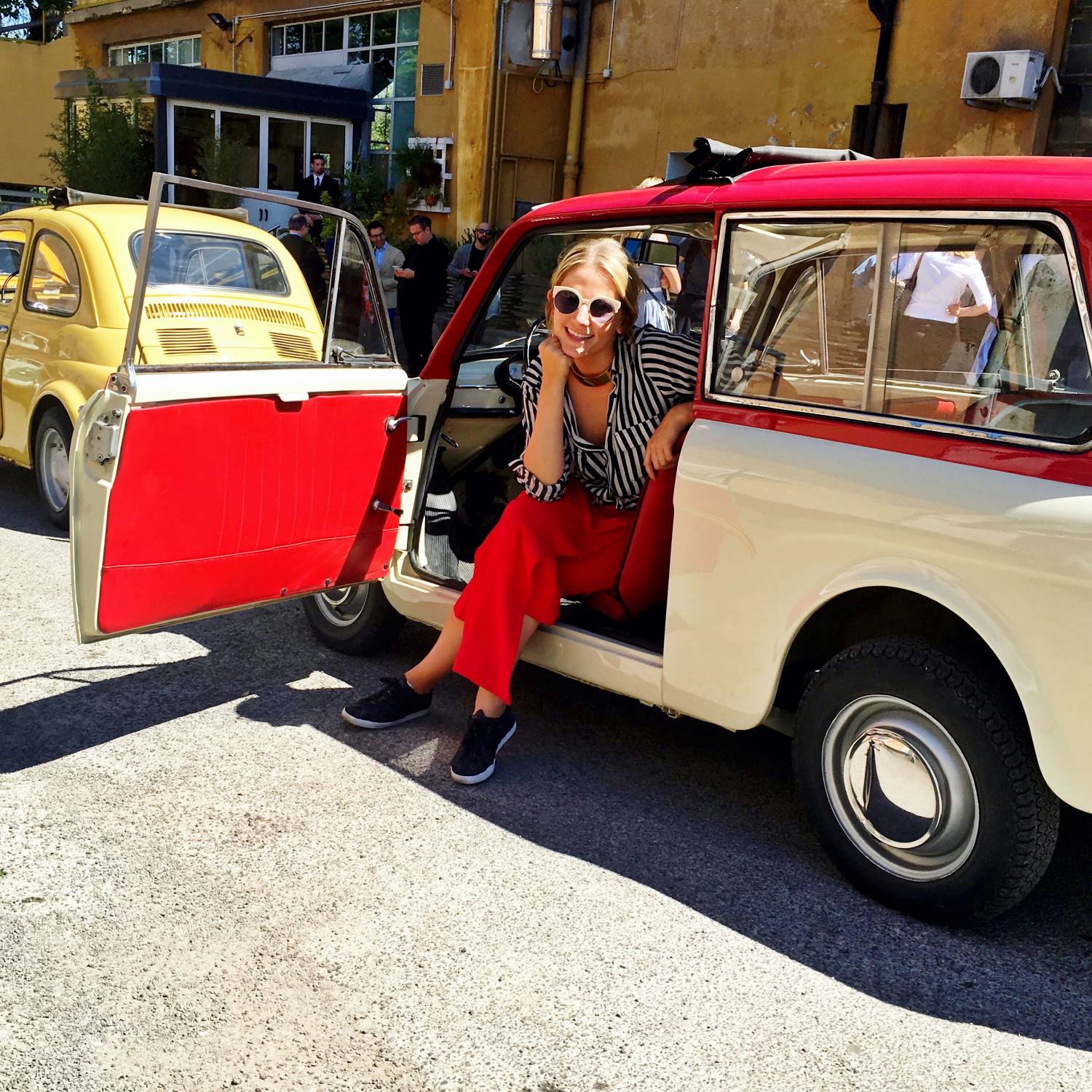 I first met Kristin at a small coffee shop on the cusp of Lower East Side in Manhattan. The wheels of her last trip had barely touched down before she would need to start packing (efficiently, I'd correctly assume) for her next travel assignment.
When Megan told me there was a small window open to meet her long-time – internationally published – pal, I was elated to pick her brain about all things travel and culture writing. Below, dive in as Kristin shares romantic destinations, tips for traveling together, and where you can find unrivaled style inspiration.
Read on as Kristin Tice Studeman shares what a woman wants:
You write about travel and culture for publications like Conde Nast Traveler, Vogue, and more. Where's a perfect long weekend vacation for a couple? What about the best long-haul trip (two weeks or more?!)
I just went to Martha's Vineyard for a long weekend with my boyfriend and it made for such a great, easy escape from NYC. It's a little over an hour's flight from the city but it feels a world away. There's plenty of excellent dining, outdoor activities if that's your thing (sailing, hiking, biking, etc), and of course, stunning beaches.
If you have more time, Bali/Australia/New Zealand are a great choice. One my favorite hotels in the world is The Mulia in Bali and they have these stunning villas (with your own private pool!) that make for the perfect retreat for two.
They say traveling together is the true test of a couple; any tips on traveling well a deux?
Traveling with anyone, be it a boyfriend, family member, or friend, is a truly a great test. More than anything, I would say don't over schedule things and make sure both of you have some tasks/roles in the planning of the trip. If one person does all the work, you will both resent each other because you feel like you did it all by yourself or you don't like the schedule your partner created.
When should one size up from a weekender to a carry-on, and from a carry-on to a checked bag?
Overpacking is a total sin! Whatever you do, don't do it. I avoid checking a bag at all costs because it is just so much easier to be able to walk off the plane and straight to your destination without having to wait. If you are just going for three days or less, a weekender is probably just fine. Beyond that, it's a bit more of a challenge unless you are complete and total minimalist, so then I would say switch to a small carry-on roller bag. If you are going for two weeks, you might need to check it.
Most surprisingly romantic vacation destination
There's something totally romantic about snowy, winter hideaways like Chamonix in the Alps or Aspen. Also, Lake Como is wildly romantic, but I suppose that's not terribly surprising.
Most surprisingly UN-romantic destination?
I was in Boston recently. I wouldn't say it's a particularly romantic city…
What city that you've visited boasts the most stylish guys?
The men in Copenhagen always look quite effortless and hip. But it's hard to beat the stylish men in Milan.
What's a can't-miss sightseeing outfit for a guy visiting in warm weather? In cold weather?
For warm weather, I would say keep it simple. A chambray shirt with rolled sleeves and white shorts or pants, plus loafers or crisp white sneaks, and a killer pair of sunnies (I've recently seen some great sunglasses for men by Toms, and also think Garrett Leight makes some great eyewear) and you are set to go. In cold weather, it's all about the outerwear, so invest is a piece that says you're a man of style.
Quick hits
Best drink to order at a hotel bar
Dirty vodka martini, preferably with blue cheese stuffed olives. Pure perfection. I particularly love the martinis at the Hemingway bar at the Ritz in Paris.
Grooming product you've stolen from a boyfriend
Harry's razors and shaving creams. I am obsessed with the packaging (and the products).
Beauty product you've had a boyfriend steal from you
My Sun Bum spray-on sunscreen.
Favorite men's cologne
Santa Maria Novella Alba Di Seoul Cologne. It's from this perfumery in Italy and everything, from the smell to the bottle, is so on point.
Plane, Train, or Automobile:
I honestly love planes. They are one of the only places in the world you can have a few minutes of peace and quiet (assuming there are no screaming babies and chatty seatmates). But there's also something quite old school and fantastic about a train ride—and I don't mean the NYC subway trains.
Call or text:
Phone call! Because no one seems to do it anymore.
Aisle or window
Aisle, always.
Go-to road trip snack:
I always have Kind bars in my purse and suitcase. I can't tell you how often they have saved me when I'm traveling or in between meetings.
First celebrity crush
Jonathan Taylor Thomas.
TELL ME:
WHAT'S THE MOST SURPRISINGLY ROMANTIC VACATION DESTINATION YOU'VE FOUND?