Workout 101: Guys' Guide to TRX
unraveling the mystery of all those straps hanging from the ceiling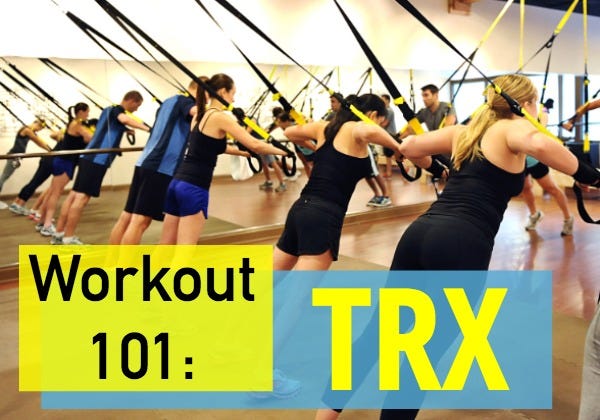 Presented by Ford

Here at SG HQ, we believe in going further and pushing yourself – from stepping outside your style comfort zone to hitting that last set of squats at the gym. That's why we created the "Workout 101" series, giving you the down low on the latest fitness trends…because when you look good, you feel good. Today? TRX training.
You've probably seen those black-and-yellow straps hanging from the ceiling of your gym—but without an instructor to show you the ropes (ahem), their mysteries can remain forever locked. That's why you'll want to either hit a TRX class or schedule a private session, so a pro can guide you through the dozens of moves you can do with TRX, from classic push-ups and lunges to atomic push-ups (which incorporate a knee tuck) and single-leg squats.
Expect a workout that's as hard as you make, in which the degree of difficulty chiefly depends on how the straps are handled. Consider, for example, a TRX push-up, in which your feet are suspended and your hands are on the floor. With your feet a couple inches off the ground, it's pretty easy. Raise those straps, though, and the same exercise just got way harder. The beauty of TRX is that no extra weights or equipment is needed — just some adjustments to the straps.
Interested? Here are the basics to know before you go: 
WHAT IT IS
TRX is a variation on ropes training, developed by a former Navy SEAL (so you know it's legit). Straps hang from the ceiling or other elevated position, and your instructor leads you through exercises that make use of them in various ways, whether it's pushing against them to do mid-air planks, pulling on them for a variation on rows, or hanging on them for a stretch. It's not all intuitive — hand a newbie a TRX system and he might have no idea what to do with it — but with experience, either in class or one-on-one, all will become clear. You can do cardio with TRX but that's rarely the point. It's more about torturing your core into peak physical form, using minimal, portable equipment.
GUY-TO-GIRL RATIO
Of all our Workout 101 classes so far, this one might be the one with the most guys per capita. I chalk it up to the Navy Seal connection.
CHOREOGRAPHY COMPLEXITY
Low to medium. We're not talking about Beyoncé dance videos or Broadway musicals here. Sure, you'll need to hold and adjust the straps in particular ways, and there is some balance involved; if you start out with a weak core, you might find it difficult to hold certain poses or properly position yourself. That said, it's pretty straightforward. One tricky part can be trusting the straps to hold your weight (they will). Everything gets a lot easier once you fully accept that the straps aren't going anywhere.
Get past that, and it's pretty straightforward.
SHOWER-METER
Let's go with a yes. You're probably doing this in a gym, so consider yourself covered there.
HOW HARD IS IT, REALLY
TRX is as hard as you want it to be. Rene Manatt, a personal trainer in San Diego says, "It's very versatile. I use it all the time, with everyone from very beginner clients all the way to very advanced athletes. Someone who's new to exercise can learn how to do a pushup correctly or a plank using TRX straps, while those who are farther along in their fitness journeys can add plyometrics for an even tougher workout." And really, if it's good enough for Navy SEALs, it's good enough for all of us.
TELL ME:
HAVE YOU TRIED TRX? WOULD YOU?
When you feel good, you look good. So get even more SG fitness stories here, here, and here!