#GiftInColor: Holiday Gift Ideas In Shades of Indigo
Festive Party Apparel & So Much More
For this season's #giftincolor gift guide series on Style Girlfriend, we hand-selected more than 100 amazing holiday gift ideas for both guys and gals. Every Tuesday we're launching a brand new guide that's themed to a different color. Check out our past weeks featuring red, orange + yellow, green and light blue. Up today? Indigo.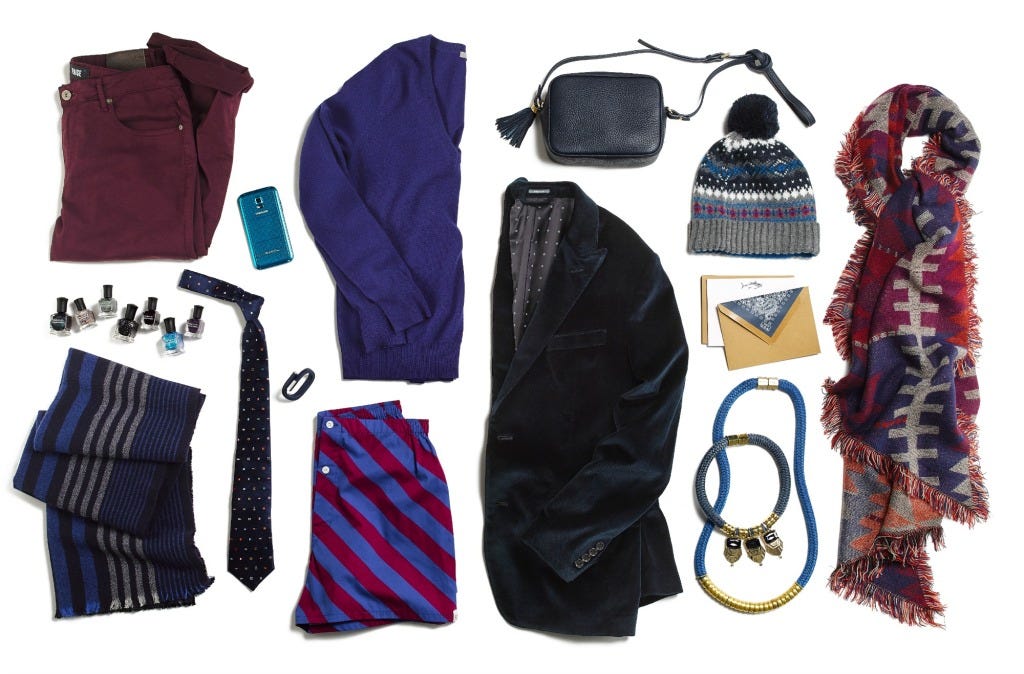 men's twill jeans, Paige Denim | women's sweater, Uniqlo | crossbody bag, Gigi New York | beanie, Old Navy (similar)
scarf, Anthropologie | necklaces, Holst + Lee (one and two) | stationery, Terrapin Stationers | velvet blazer, Bonobos | boxers, Sleepy Jones
UP24 band, Jawbone | tie, Kiel James Patrick | Galaxy phone, Samsung  | assorted nail polish, Deborah Lippmann | scarf, Coach
If I had to give this week's guide a theme—you know, other than the one it already has—it would be, "unexpected pleasures." From apparel to accessories and even technology, all of these holiday gift ideas have a little somethin' somethin'  that feels a little bit special and out of the ordinary.
Take that deep blue Bonobos blazer, for instance. I'm of the belief that there are few easier ways to dress up during the holidays (and all winter long, actually) than by slipping into a velvet jacket. Dark enough not to feel flashy but rich enough to be a little fancy, this is a standout piece for any guy's wardrobe.
Speaking of rich, I can't quite get over the maroon hue of these Paige Denim japanese twill pants. They're a stylish alternative to denim jeans, and you'll be surprised how wearable this color can be. I also love the tailored shape and preppy vibe of Sleepy Jones' boxer shorts—they sort of beg to be worn around the house on a lazy Sunday, right? (By who? That's up to you and your lady..)
For the women on your list, skip the dainty jewelry in favor of a statement piece, like this embellished rope necklace from Holst + Lee. Or, treat her to a monogrammed cross-body bag from Gigi New York. Its small, utilitarian shape and fun tassel detailing ensure she'll carry it all the time.
For the tech-savvy (and sporty) folks on your list, you can't miss with the latest smartphone or Jawbone's latest UP24 fitness band. Both can be used to track your health and wellness—just the thing for keeping those New Year's resolutions.
Tell me:
How do you dress up for the holidays?
By Taylor Davies. Taylor is a fashion and menswear editor in New York City and occasional contributor to Style Girlfriend. She lives for croissants and swears by an Old Fashioned. You can find her blogging here and 'gramming here.
And don't forget to check out ALL the#giftincolor guides in shades of:
Red  |  Orange and Yellow  |  Green | Light Blue
Taylor Davies splits her time between NYC and Sun Valley. She loves writing about menswear, overpriced martinis in dimly lit hotel bars, and cross-country skiing. Not necessarily in that order.