#GiftInColor: Holiday Gift Ideas in Metallic Hues
This Year, Give Them Something That Really Shines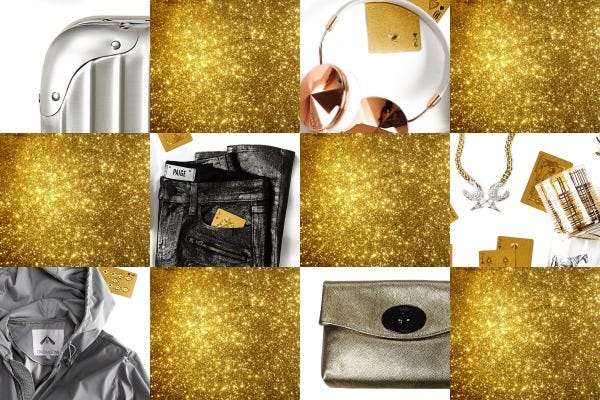 For this season's #giftincolor gift guide series on Style Girlfriend, we hand-selected more than 100 amazing holiday gift ideas for both guys and gals. Every Tuesday we're launching a brand new guide that's themed to a different color. Check out our past weeks featuring red, orange + yellow, green, light blue and indigo. Up today? Metallics.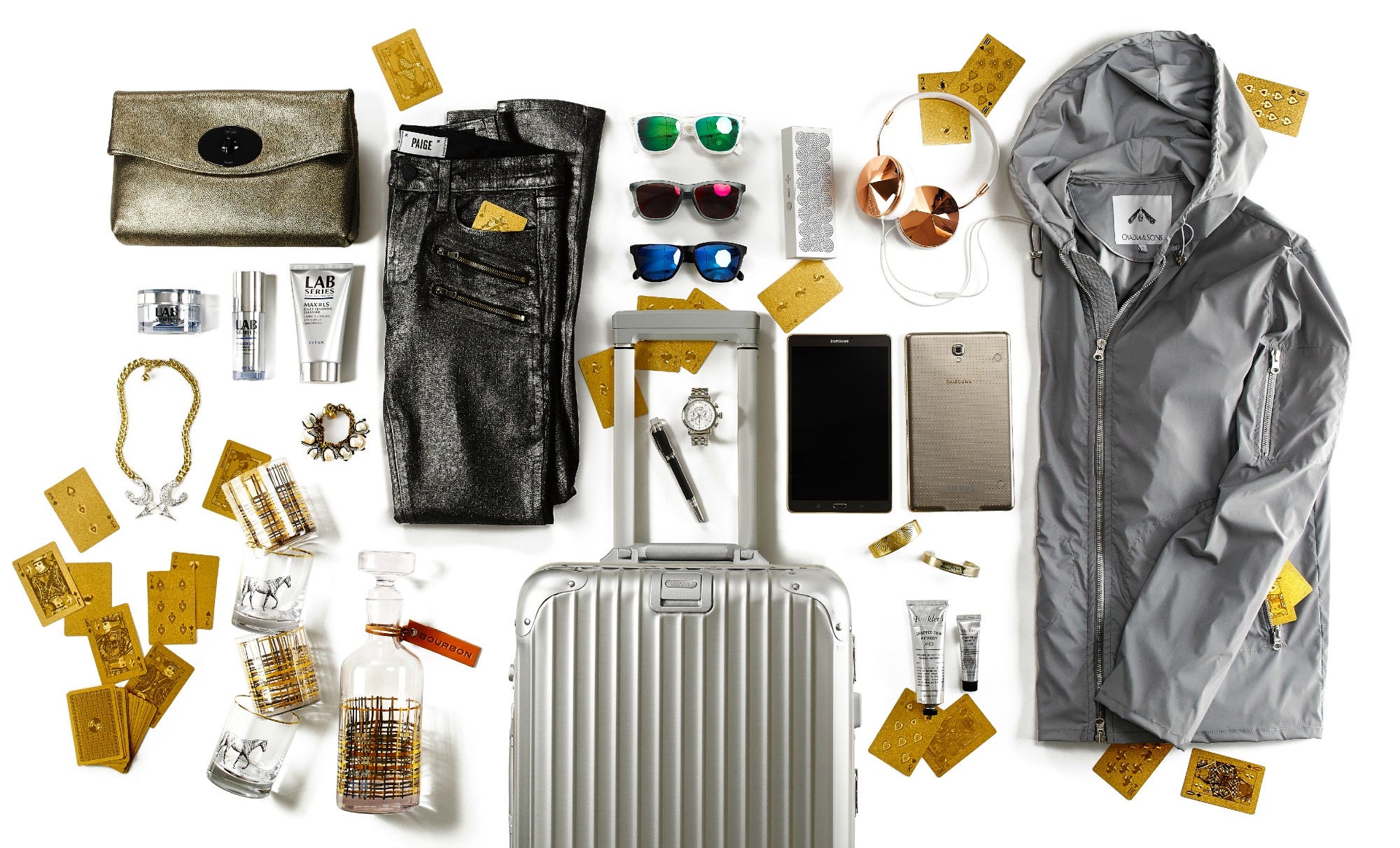 Clutch, Coach | jeans, Paige Denim | assorted sunglasses, Knockaround | wireless speaker, Jawbone | headphones, Frends
jacket, Ovadia & Sons (similar) | skincare (skin and lips), Buckler's | tablet, Samsung | cuffs (one and two), George Frost
luggage, Rimowa | watch, Shinola | pen, Montblanc | decanter, Crate & Barrel | assorted glasses (one and two), Crate & Barrel
bracelet, Lulu Frost | skincare products (one, two and three, Lab Series | necklace, Lulu Frost | playing cards, Anthropologie
The holiday season is already a time that conjures up visions of glittering tinsel and shining ornaments, so creating a gift guide that encourages you to tie up all that sparkle with a bow and give it to someone you love is only natural. Sure, glamorous jewelry is a given this week (hello, Lulu Frost!), but I also assembled a selection of unexpectedly mirrored, shimmering, reflective, and all-out gilded gift ideas.
The centerpiece of this week's #giftincolor guide is what I like to think of as the 'Holy Grail' of luggage. This Rimowa rolling suitcase is part-sleek lockbox of carry-on belongings, and part-seriously stylish accessory. You'll certainly never miss this luggage on the baggage carousel…and neither will anyone else. Be ready to induce some pretty intense traveler jealousy.
No matter what, metallic gifts beg to be looked at, whether it's at a party (wearing those metallic Paige Denim jeans, or by giving the host or hostess metallic playing cards) or out and about (playful reflective Knockaround sunglasses for day, a metallic track jacket for the gym).
Perhaps the ultimate proof that good things come in small packages and are often rendered in gold and silver—you can't miss with an ultra-luxurious, indulgent gift like a Montblanc pen or classic Shinola Watch.
Go ahead, get you shine on.
Tell me:
How much of your gift shopping is already done? (Be honest…)
By Taylor Davies. Taylor is a fashion and menswear editor in New York City and occasional contributor to Style Girlfriend. She lives for croissants and swears by an Old Fashioned. You can find her blogging here and 'gramming here.
And don't forget to check out ALL the#giftincolor guides in shades of:
Red  |  Orange and Yellow  |  Green | Light Blue | Indigo
Taylor Davies splits her time between NYC and Sun Valley. She loves writing about menswear, overpriced martinis in dimly lit hotel bars, and cross-country skiing. Not necessarily in that order.