30 of the Best Fall Outfits for Guys
What to wear all fall for men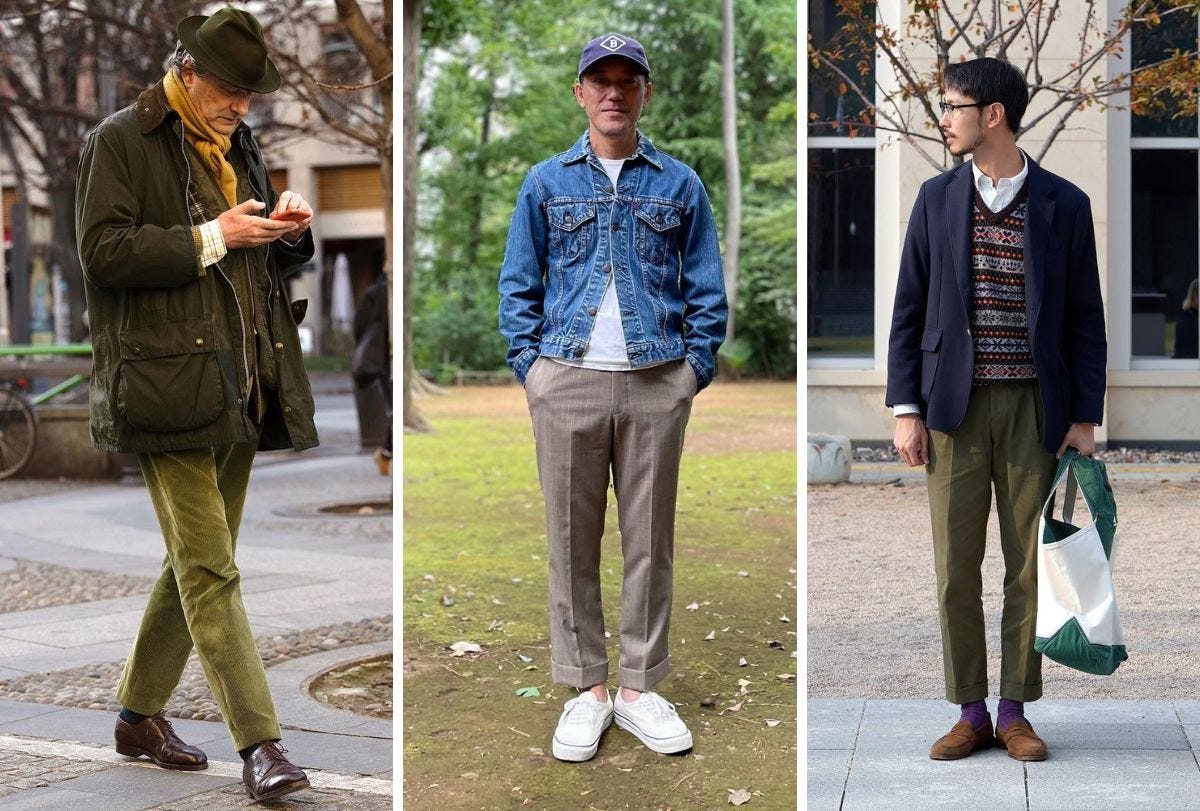 It is now officially, unequivocally fall. But if I'm being honest, I've been living in the autumn mindset since mid-July.
Halloweentown has graced my TV screen more than once, and I'm ready to throw out every swimsuit I own if it means I can break out my light jacket rotation.
Embarrassing or not, that is just a taste of how passionate I am about autumn.
Plus, my favorite color is orange, so you know I am finding every excuse to wear those pumpkin tones right now. My cornucopia-colored wardrobe makes much more sense in fall.
And did I mention the jackets?? I hope you're as excited as I am for a bomber/shacket/sweater vest season.
Bottom line? If I can layer it, I am wearing it. And guys, it's time you do the same.
Need some outfit inspo? Wondering what's in style now?
Team SG's got you.
Whether you're looking for the best cool casual fall outfits or the ideas for going out outfits, we've got you covered.
We rounded up a month's worth of easy men's fall outfits to wear right now. Below, find some outfits to wear right now and style ideas already put together for your, courtesy of our team.
Below, check out 30 men's fall outfits to wear right now:
Day 1: Throw on some clogs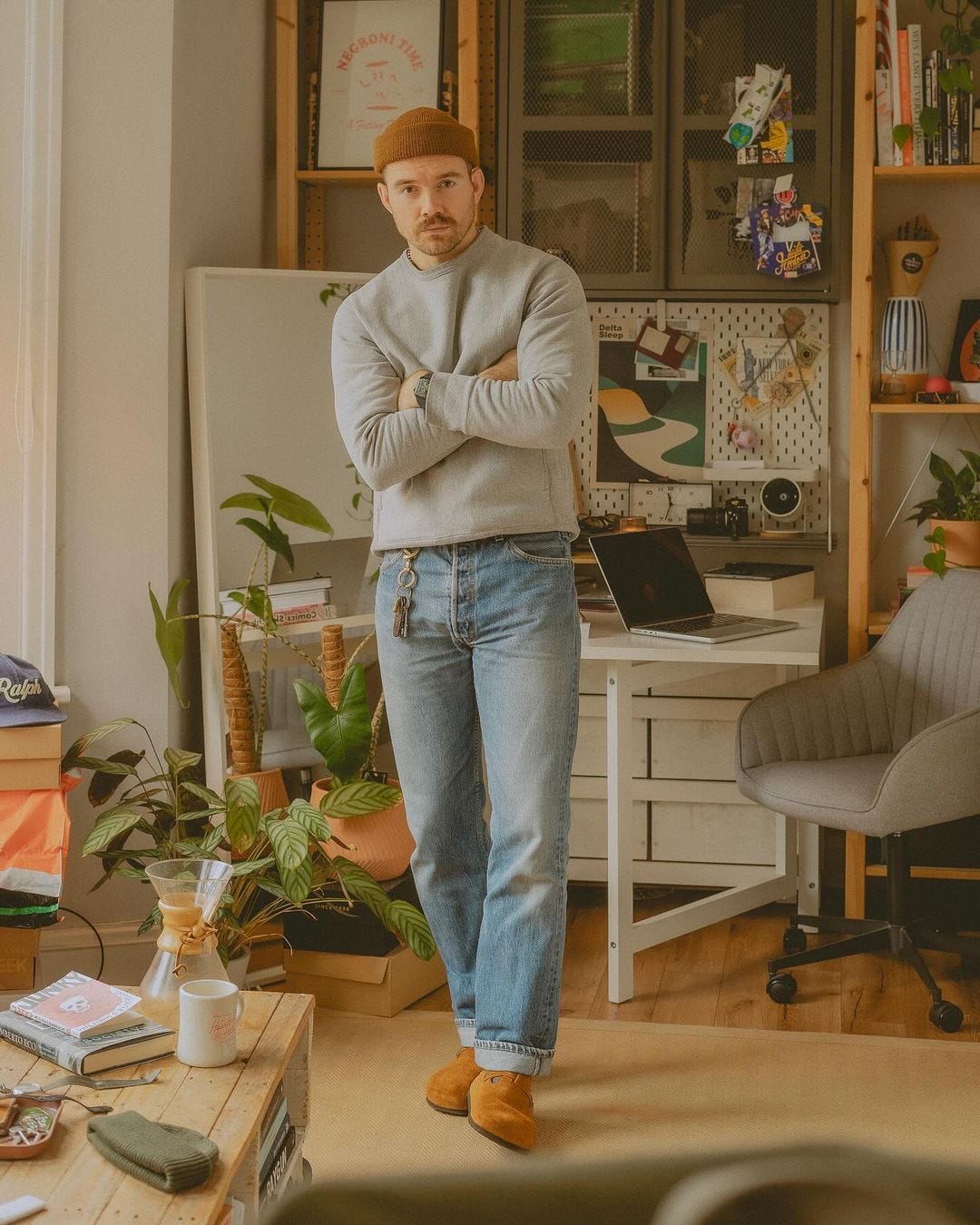 Wear it well: Ready to embrace cozy season?
Do it in a pair of slip-on Birkenstock Boston clogs. The iconic fall footwear deserves a spot in every well-dressed man's repertoire this year.
SHOP THE TREND
Not sure how to style these shoes? SG's got you covered.
Day 2: Sport a plaid shirt with a suit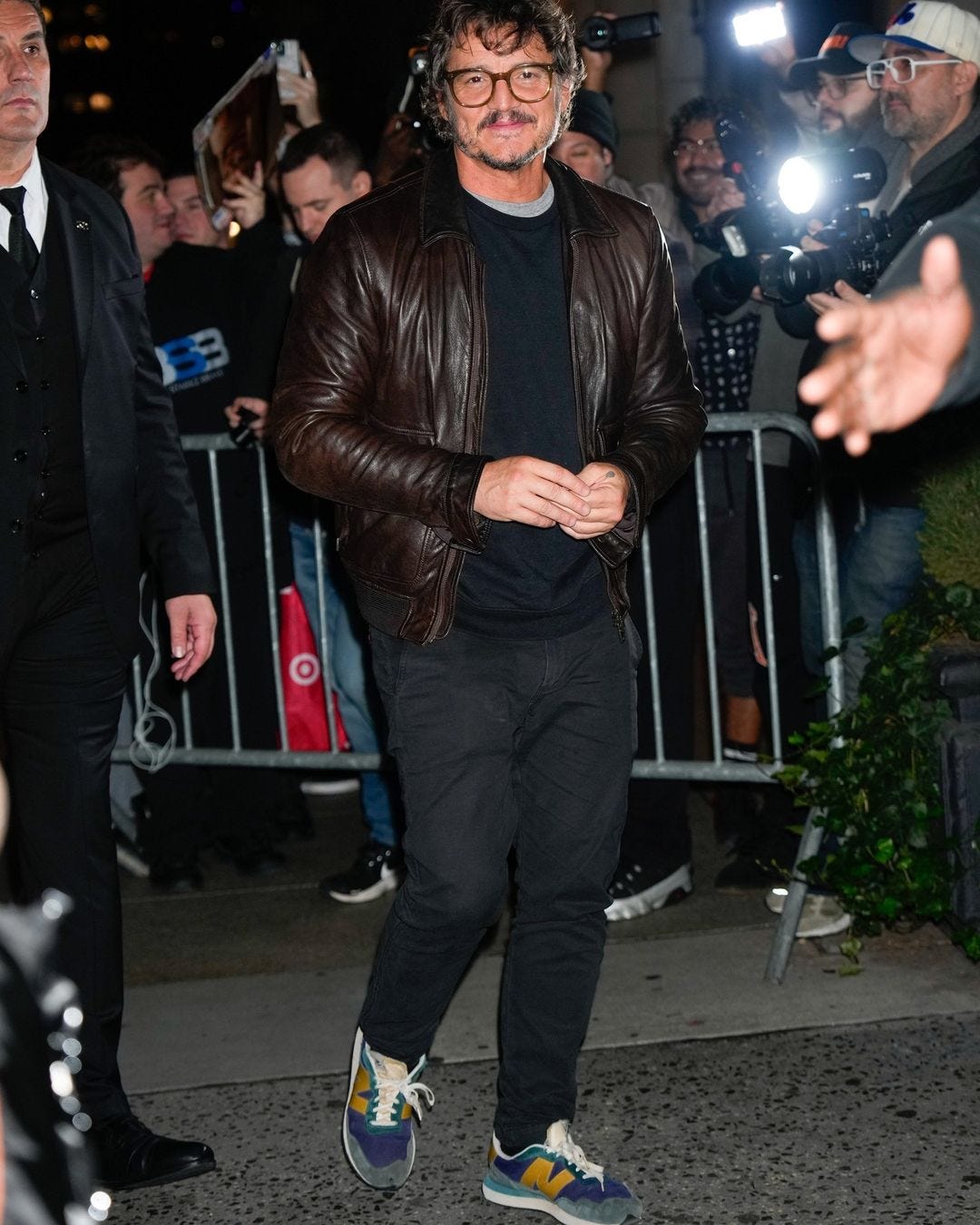 Wear it well: Pedro Pascal is giving strong "dad in the 90s" vibes here in the best way.
Beat-up leather jacket? Check. Well-loved New Balance sneakers? Check check.
An easy outfit to copy from head to toe. Literally.
Day 3: Wear athleisure everywhere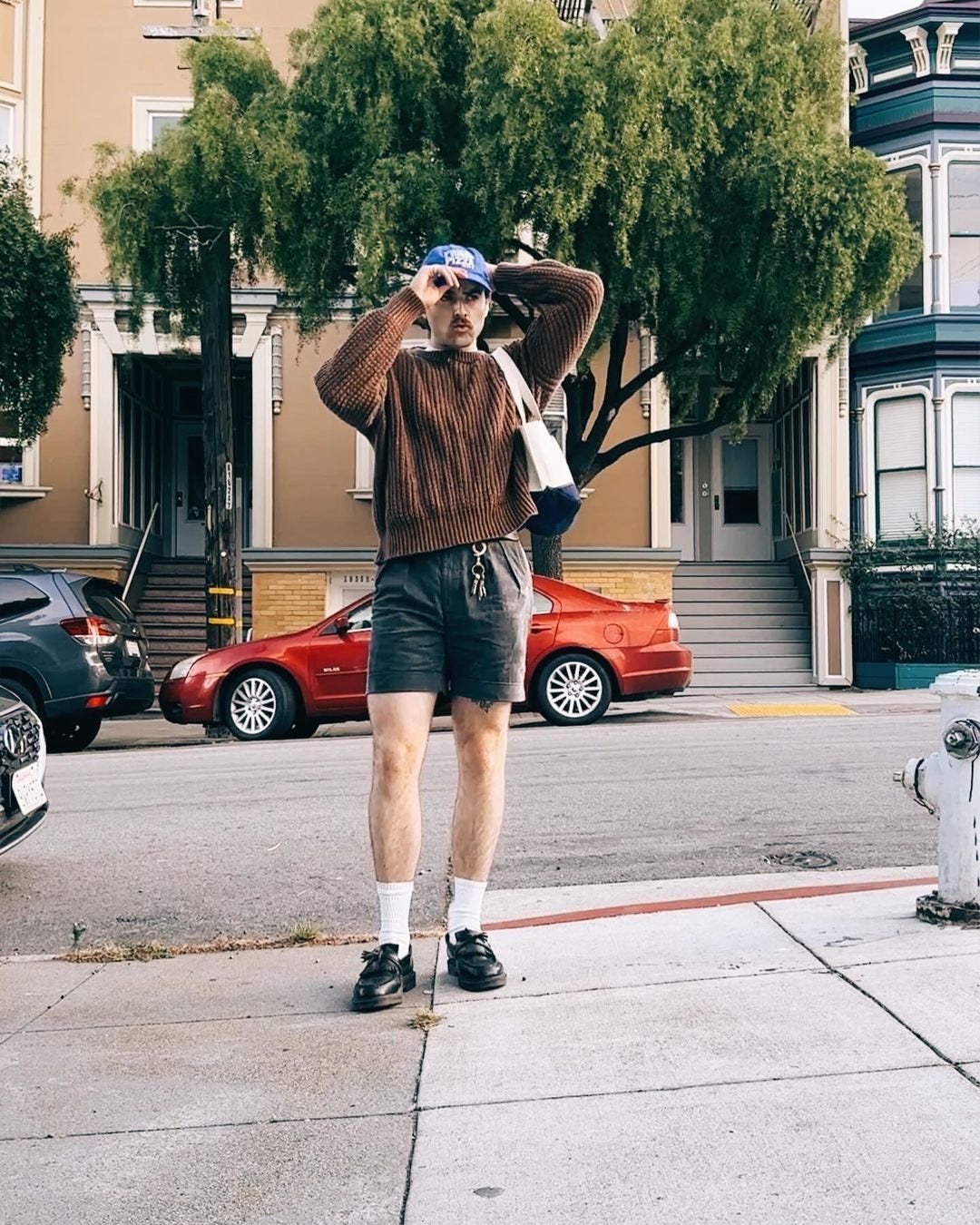 Wear it well: If the quarantine taught us anything, it's that athleisure fits are not going anywhere.
And when it comes to the best casual outfits for guys in the fall, pairing shorts with a sweater is an athleisure style level-up.
RELATED: Why Shorts and a Long-Sleeve Shirt is the Perfect Fall Outfit
You could wear yours with clompy lace-ups or loafers if you want to go more trendy. If you'd rather keep things a little more timeless, opt for your favorite sneakers or a pair of moccasins.
Day 4: Swap your boots for cowboy boots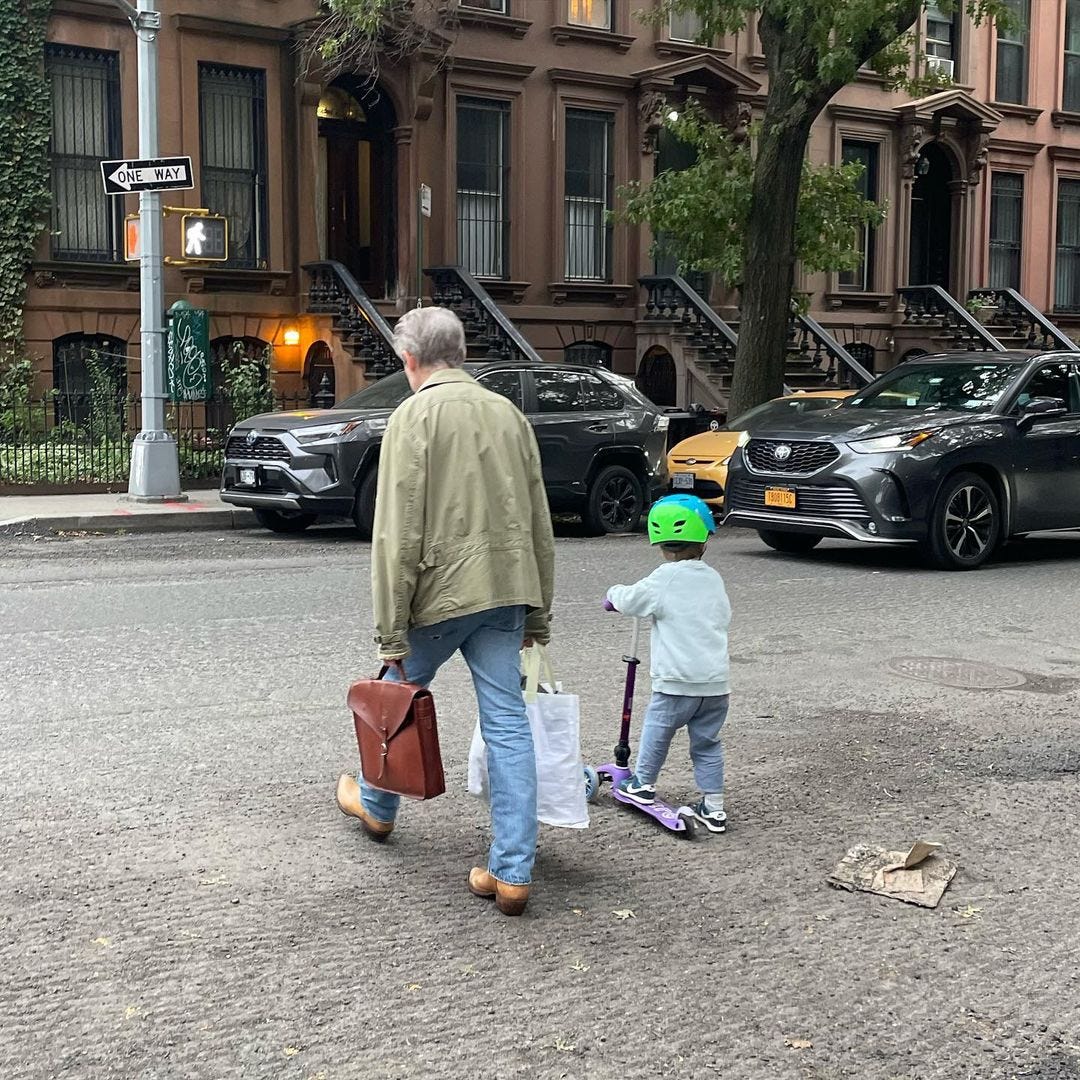 Wear it well: Cowboy boots have been a trend on the women's side of fashion for a few years now, and I say it's high time guys got on board.
RELATED: 5 Days, 5 Ways: Cowboy Boots
No, you won't look like you're doing Yellowstone cosplay, so long as the rest of your outfit gives off a city vibe.
Day 5: Hit the streets in Chuck Taylors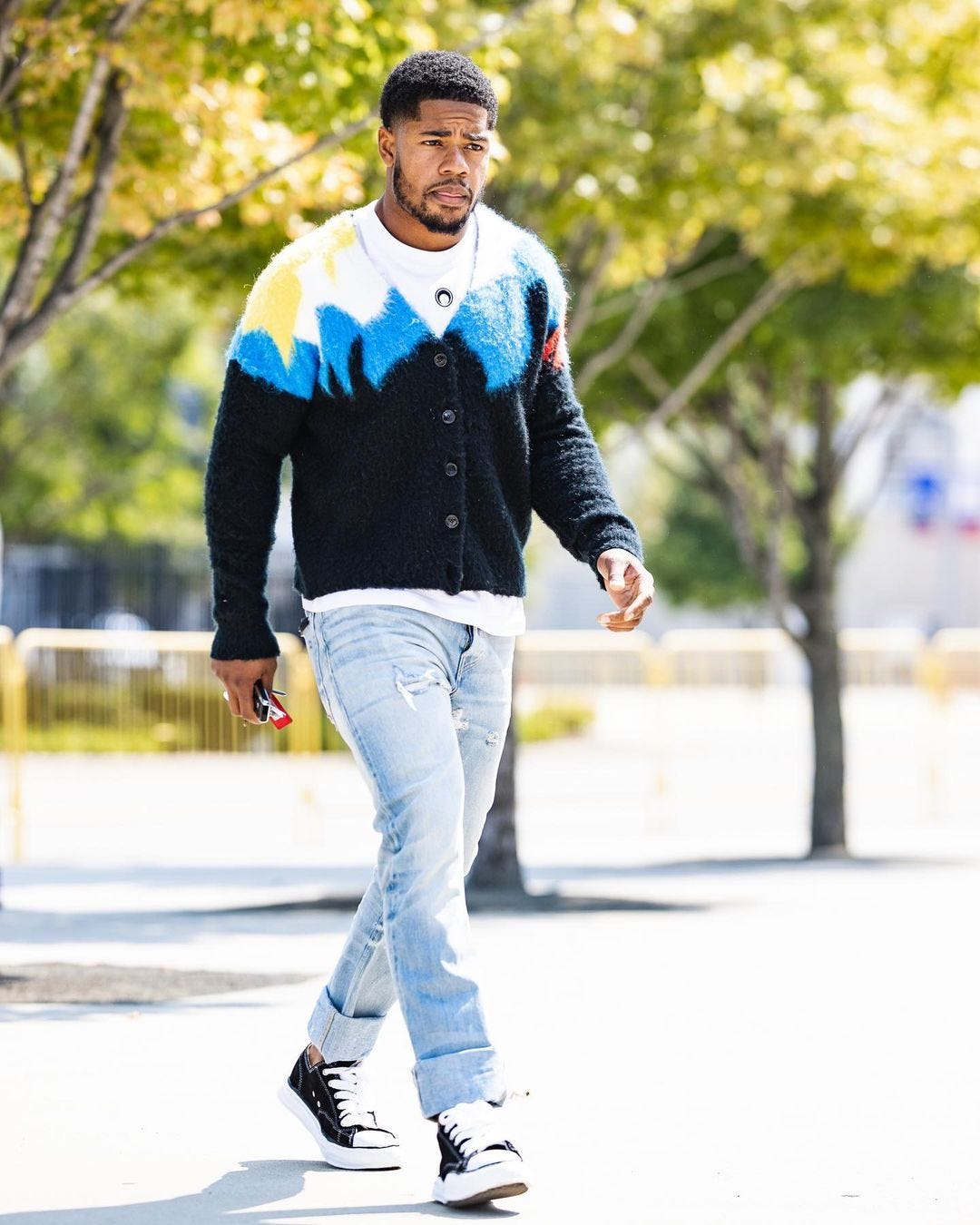 Wear it well: Football season may be back, but classic sneakers, like Sterling Shepard's iconic Chuck Taylors, never left. The Converse and denim combo is timeless!
I loved it on Danny Zuko in Grease and I love them on Shepard now.
Day 6: Sport a sweater in a sunny color
Wear it well: Dare I say yellow is the new black?
Sure, neutral-hued sweaters like tan, navy, and black may dominate your closet, but as the temperatures drop, consider adding some sunshine to your fall and winter wardrobe.
I love this button-front sweater Diddy wore on a recent Jimmy Kimmel Live! appearance. You could choose something subtler, but why not let your light shine?
SHOP SUNNY STYLE
Day 7: Wear shorts as long into fall as possible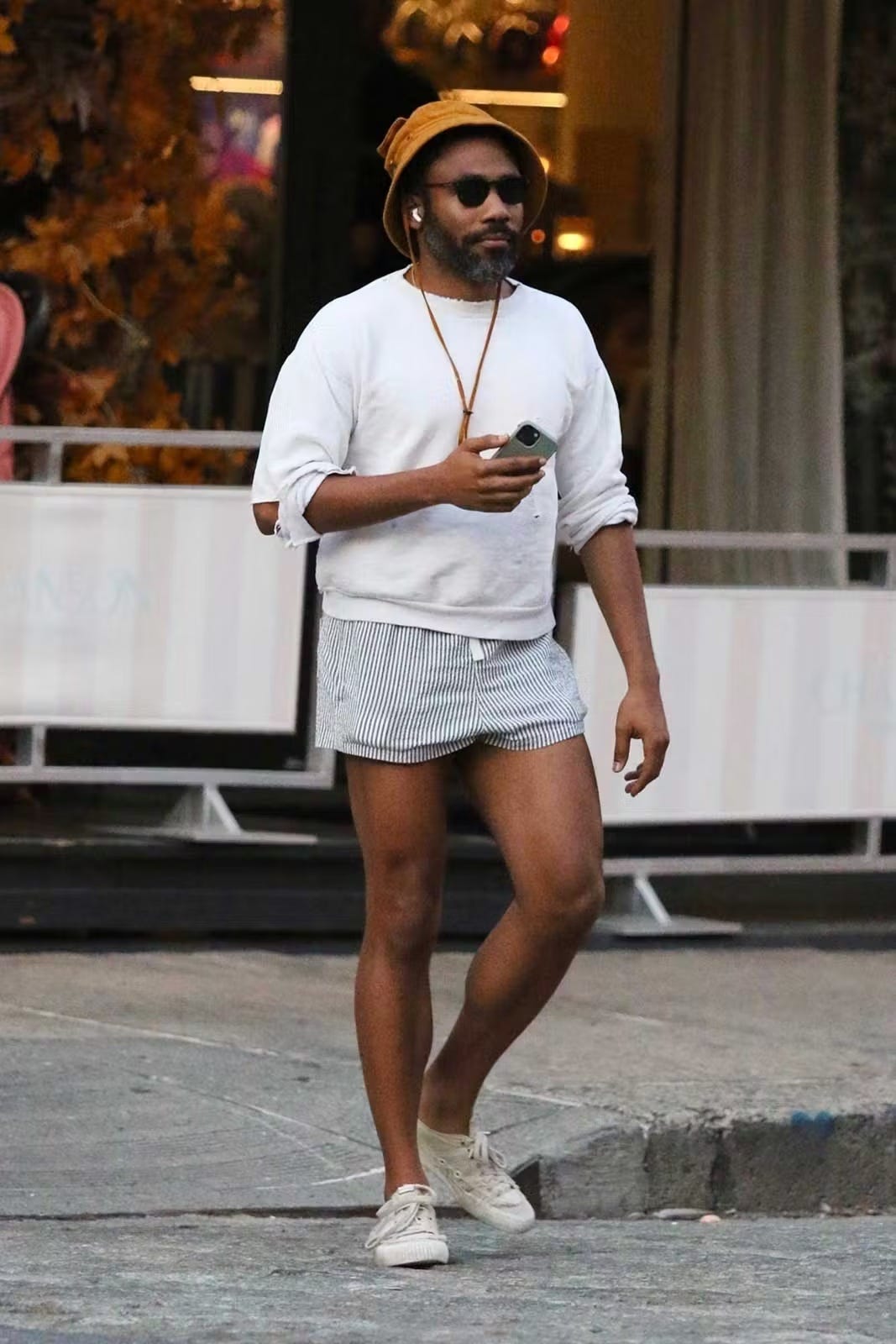 Wear it well: I'm telling you, the fall equinox does not mean that shorts season has to end!
Which is a good thing, because we're not ready to let "Donald Glover gets spotted in short-shorts" season go.
RELATED: Shop our favorite 5″ shorts
Feel free to wear your shorts through the fall season. On chillier days, simply opt for a long sleeve pocket tee, cotton sweater, or your best hoodie.
Day 8: Mix business casual with flat-out casual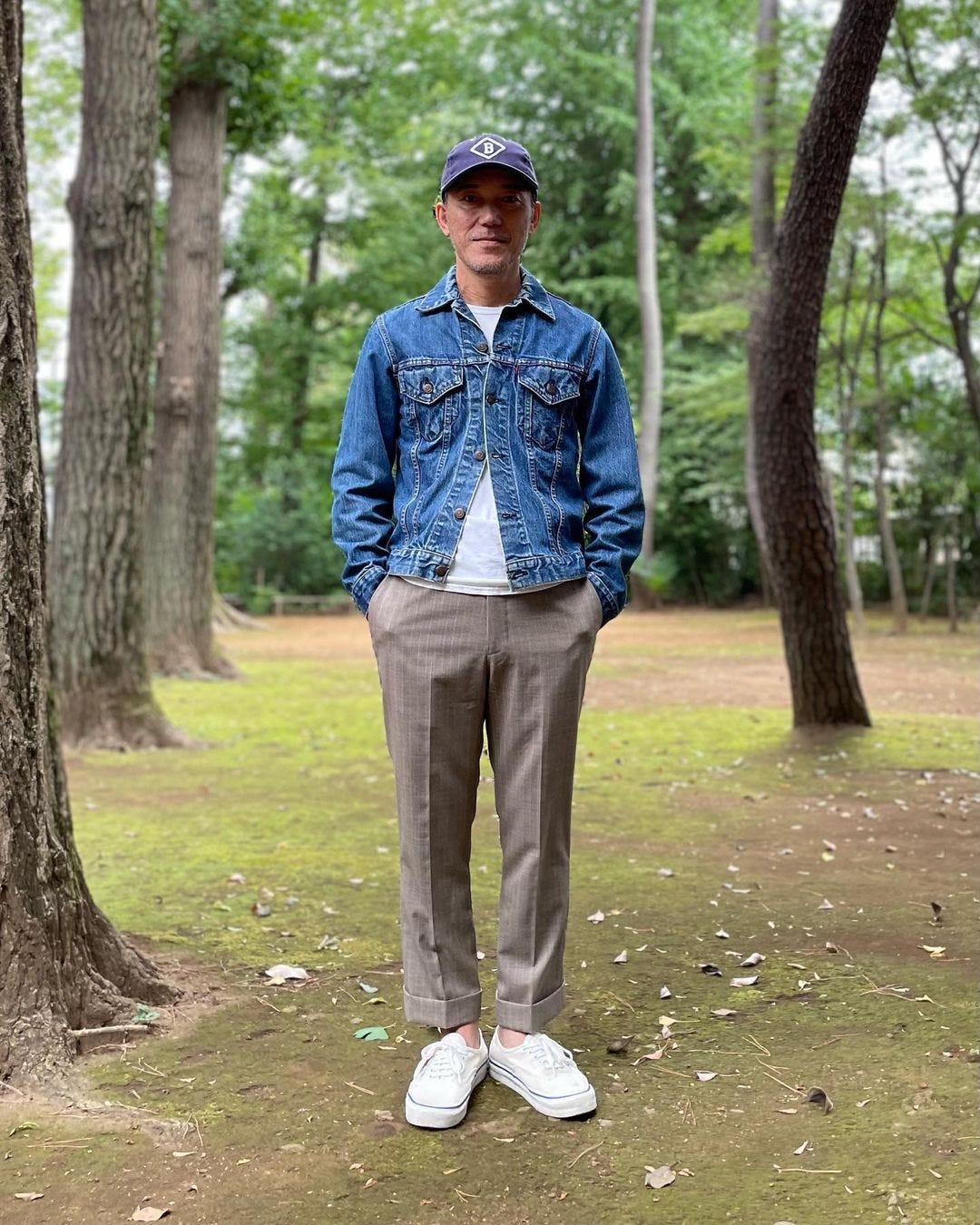 Wear it well: I love a denim jacket paired with dressier trousers. It's such a fun mix. You look put together, and still feel totally comfortable.
The shoes you wear will cement which side of the casual-to-dressy continuum you land on. Finish off the look with casual sneakers, and the overall effect will be breezy cool. Go with a more formal shoe like a lace-up or loafer, and you'll easily be able to pull off the outfit at the office.
Day 9: Add a cardigan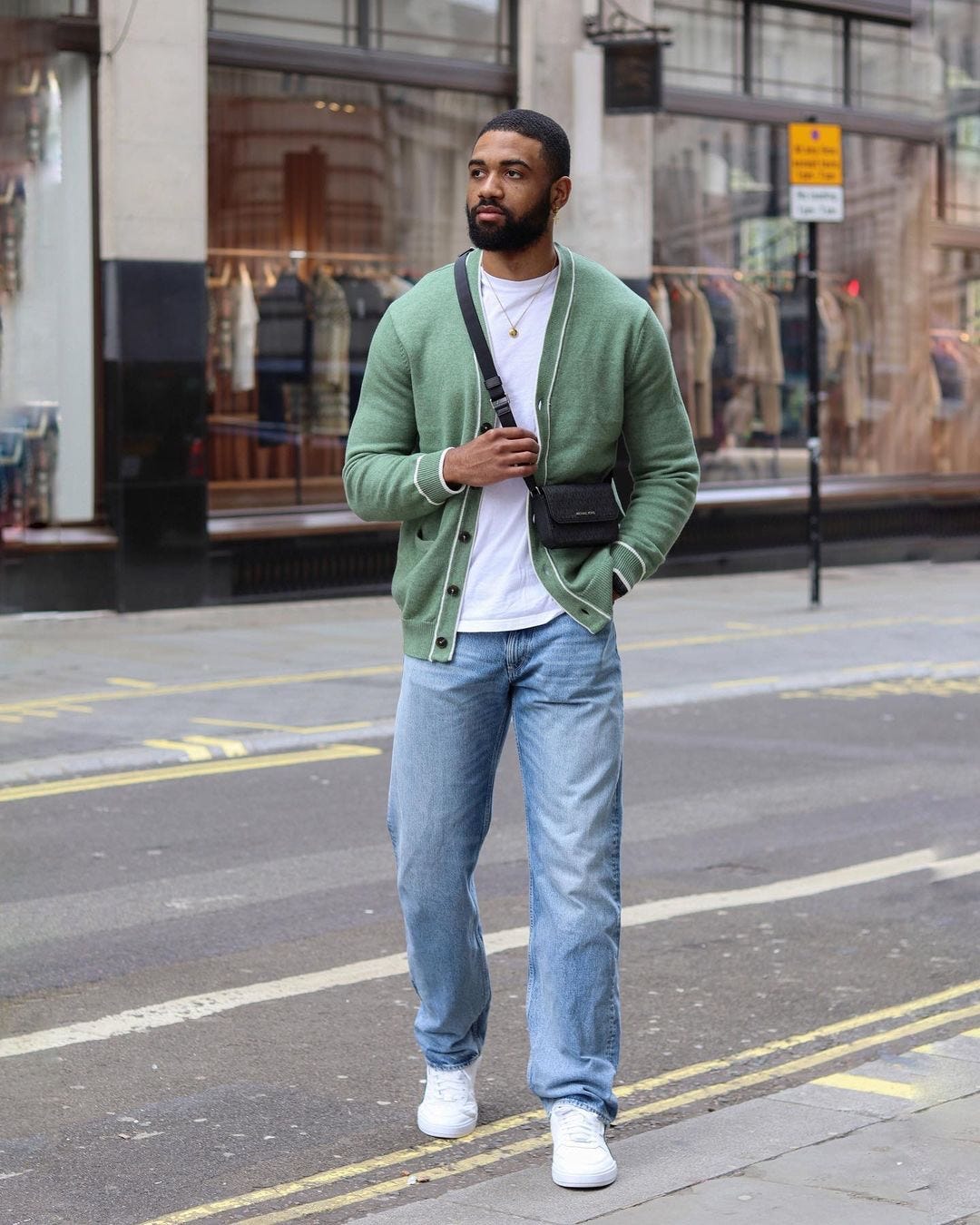 Wear it well: Wearing a cardigan as a top layer instead of a sweater you pull over your head is such an easy style upgrade for guys to make. There's no reason not to try it!
RELATED: The 8 Best Men's Cardigans to Wear Now
Wear yours with loose jeans and a crossbody bag for an outfit that's totally trend-forward.
Day 10: Top things off with a vest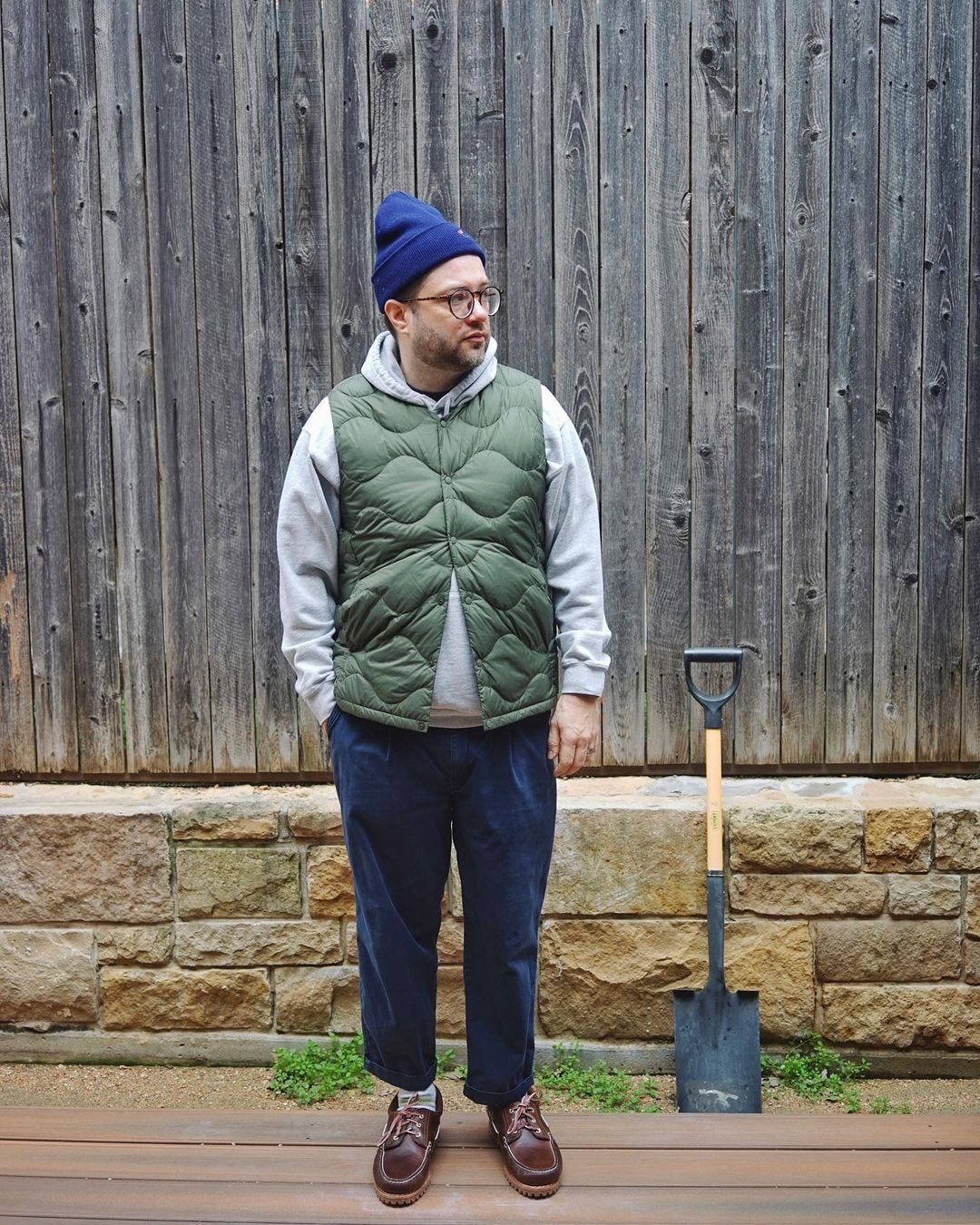 Wear it well: A hoodie and chinos? Basic.
Adding a quilted vest? Things just got interesting.
It truly cannot get much easier than adding one light-weight extra layer to an everyday outfit to make you look like a style star in your daily life.
Day 11: Go black & blue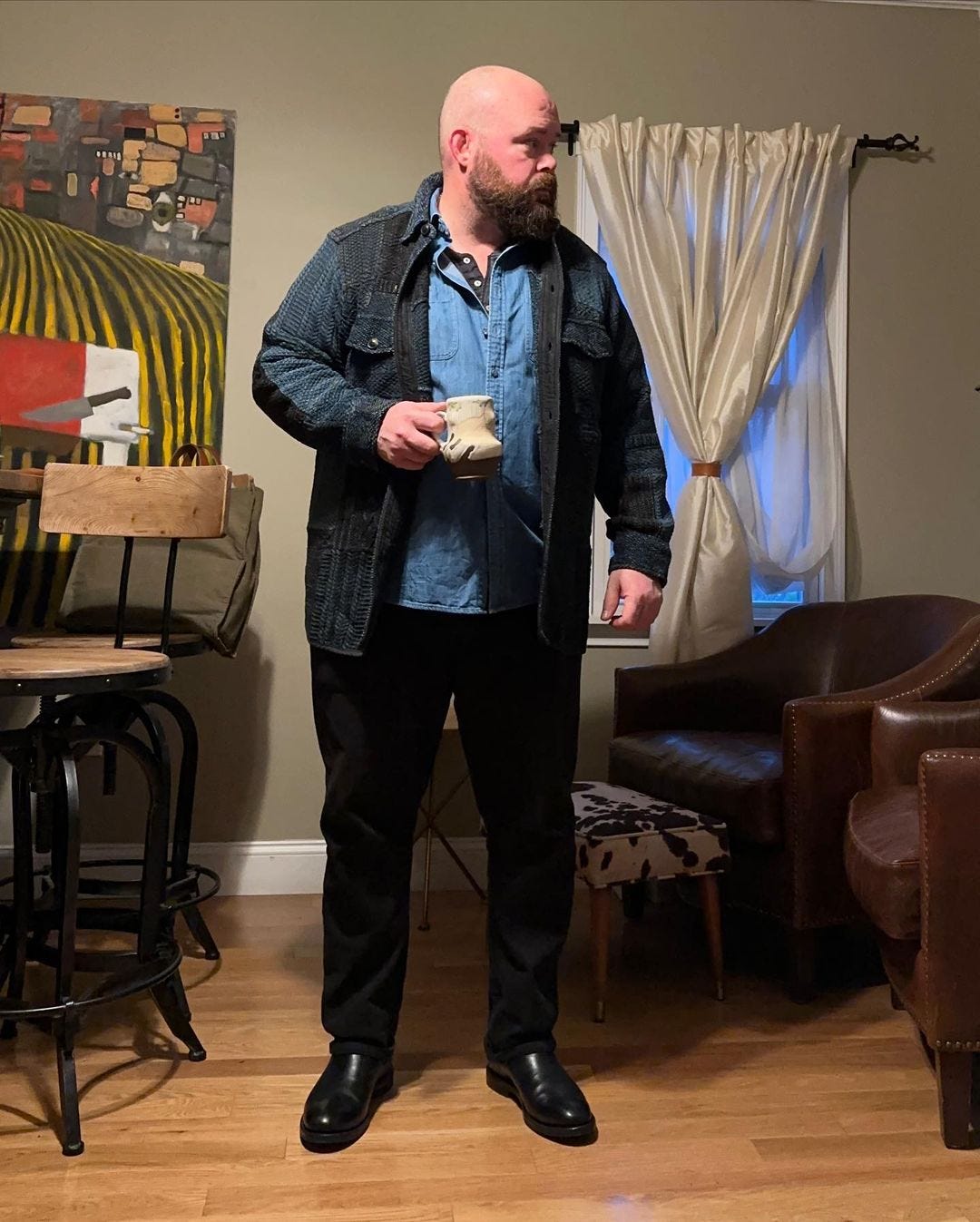 Wear it well: Black and blue is an underrated color combo for fall.
Whether it's business casual or weekend athleisure, level up a fall outfit simply by combining this understated, stylish pairing.
Day 12: Add an accessory…or two
Wear it well: I've said it once, I'll say it again, the Jo Bros have style now!
…Okay, maybe not Kevin. Sorry Kevin.
While touring the country with your brothers may not be on your fall to-do list, layering in an accessory, like a chain necklace or two, is a cool way to upgrade any autumn outfit.
Day 13: Go full English countryside gentleman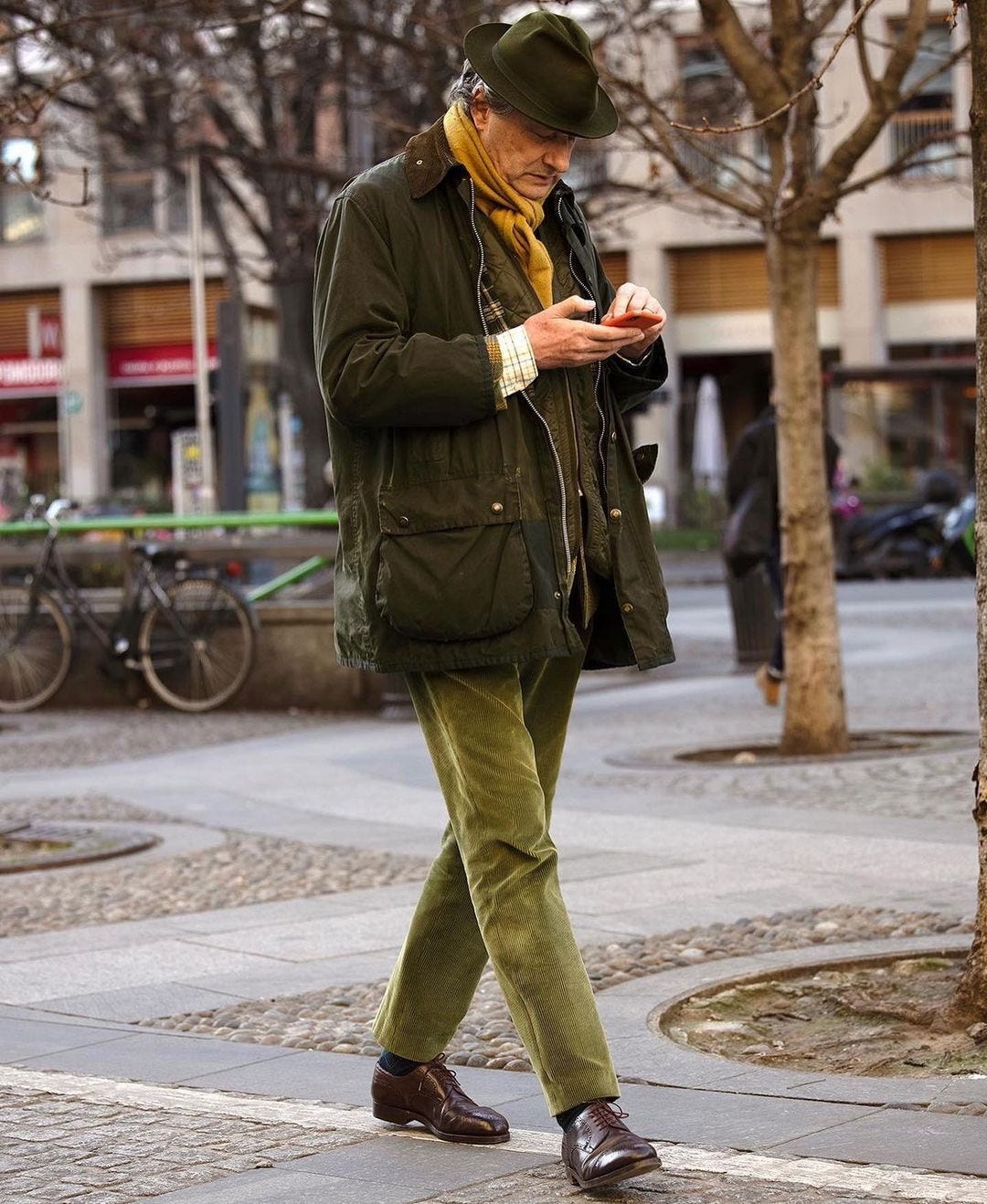 Wear it well: Grab your walking stick! Break out your Barbour! It's time to layer up like this gentleman who looks ready to ramble straight off the sidewalk and into some flat countryside.
SHOP BARBOUR JACKETS
Day 14: Go for a relaxed fit with your jeans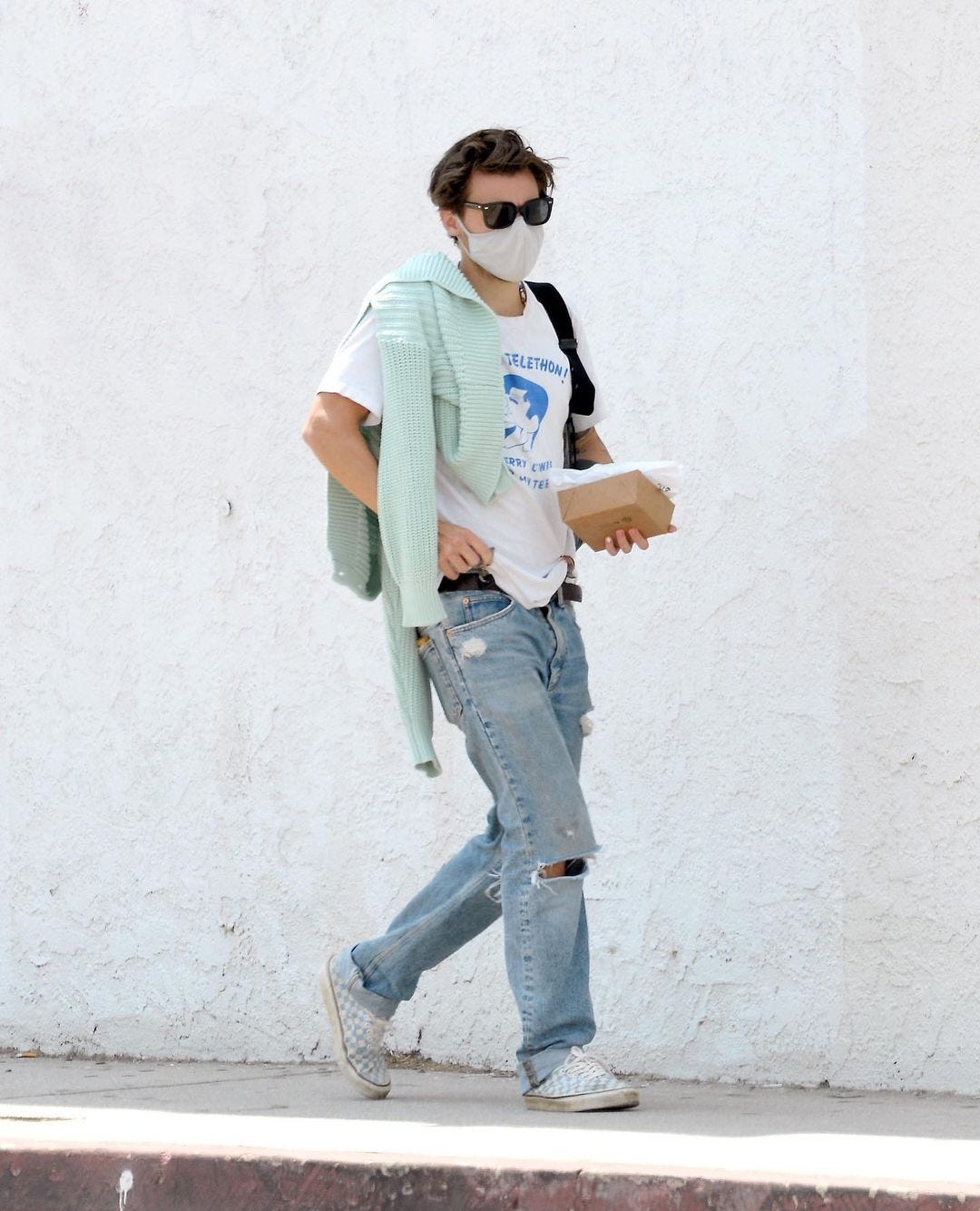 Wear it well: We can always count on Harry Styles to rock the latest trend with almost obnoxious ease.
The past few years skinny silhouettes ruled, but this fall is your time to get the circulation back in your legs because the best clothes to wear in fall are the ones you feel most comfortable in.
Meaning? Right now, wear slightly baggy denim in place of your skinny jeans. Your legs and fashion sense will thank you.
Day 15: Embrace your inner teen in Doc Martens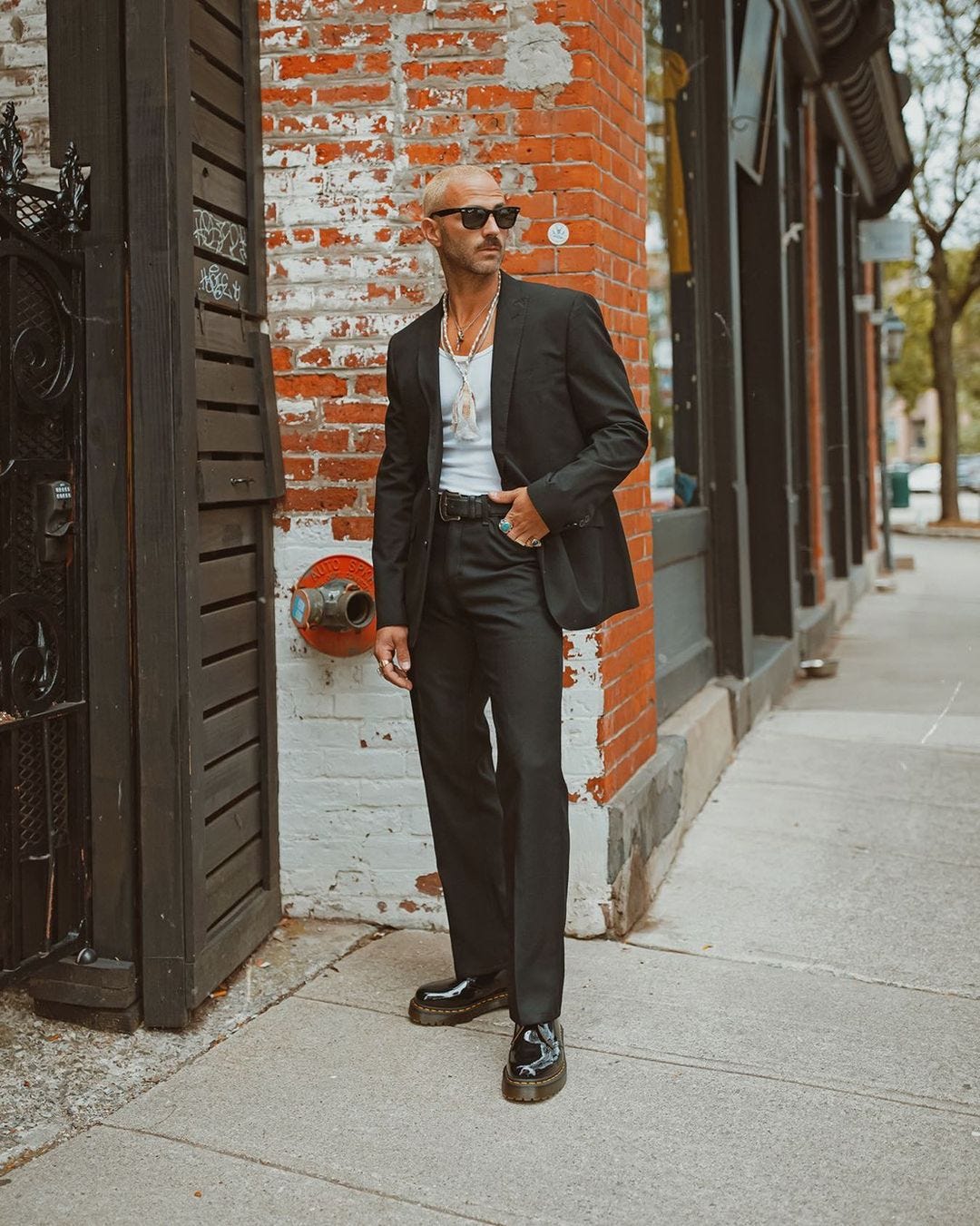 Wear it well: You don't have to be a rebellious teen to pull off Doc Martens anymore.
The clompy boots are a big trend for both men and women this fall, so turn up Olivia Rodrigo on your Airpods and get ready to do some serious adolescent brooding.
Day 16: Add an overshirt to your outerwear repertoire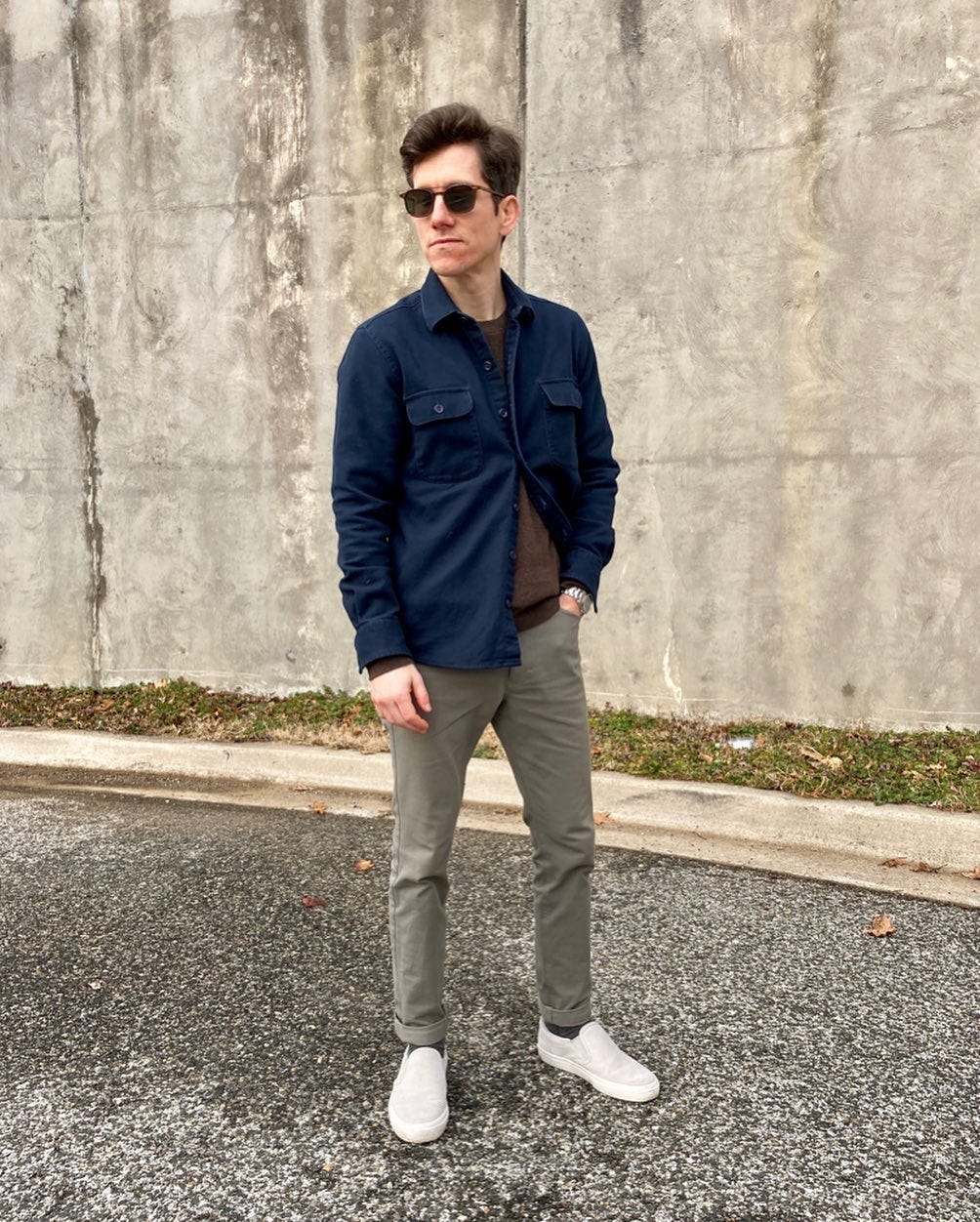 Wear it well: The overshirt is on its way to taking the top spot in men's fall outerwear options.
If you haven't already, it's time to add one to your closet and wear it over everything.
Day 17: Wear a bomber jacket
Wear it well: Dare I say the easiest light outerwear to style, the humble bomber jacket looks good over everything in your closet. Yes, really. No, you don't have to play a super hero like Chris Evans, above.
It helps that most bomber jackets come in neutral colors like black, navy, or army green.
SHOP BOMBER JACKETS
This kind of coat looks good with almost every casual fall piece in your closet, from jeans to chinos to cords.
Day 18: Just add corduroy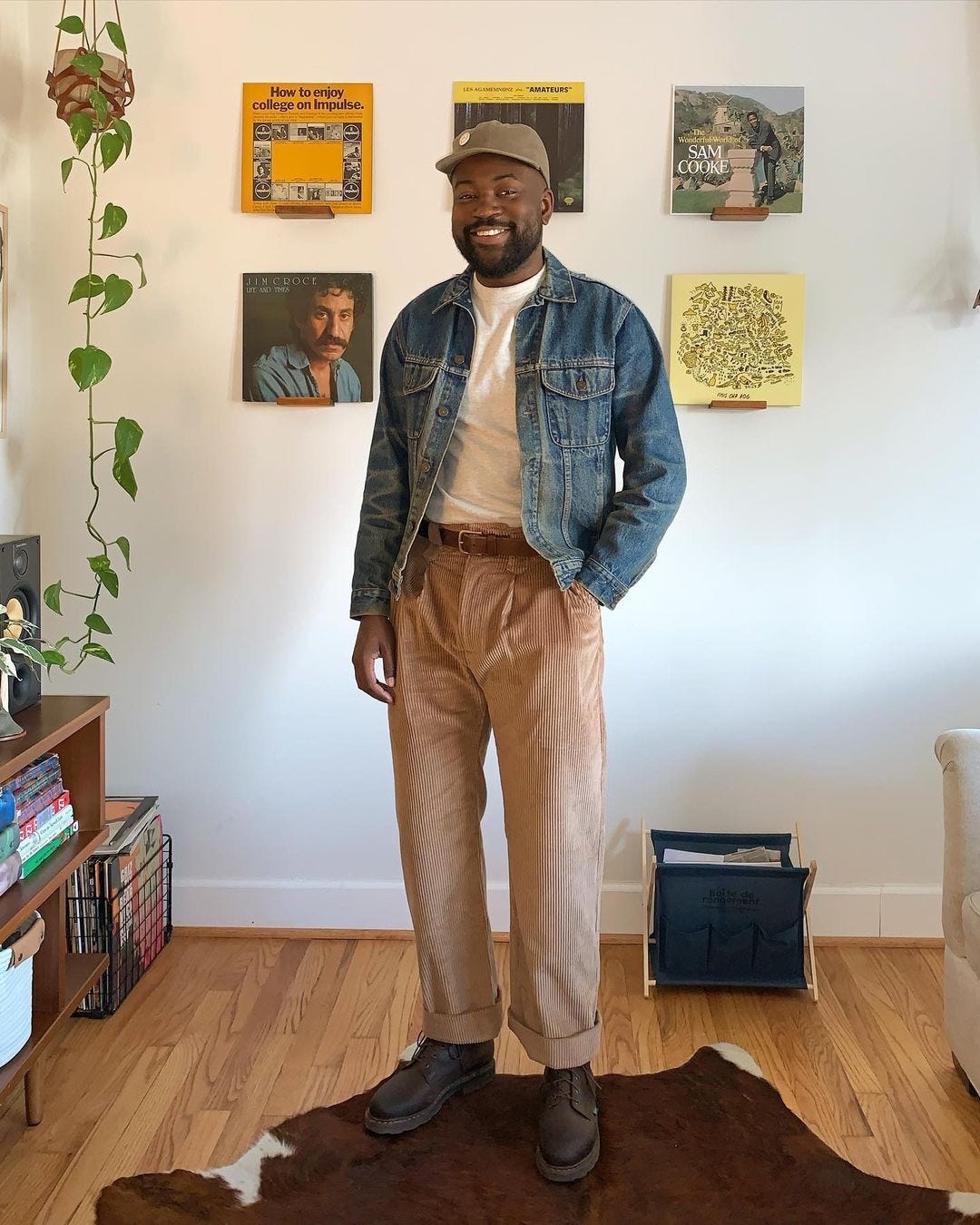 Wear it well: Once pumpkins start showing up as decoration on neighbors' doorsteps, it's time to break out your favorite cozy fall fabrics.
Corduroy pants make for a great starting point. Also corduroy overshirts, corduroy trucker jackets, and even full corduroy suits.
Day 19: Try a timeless pocket tee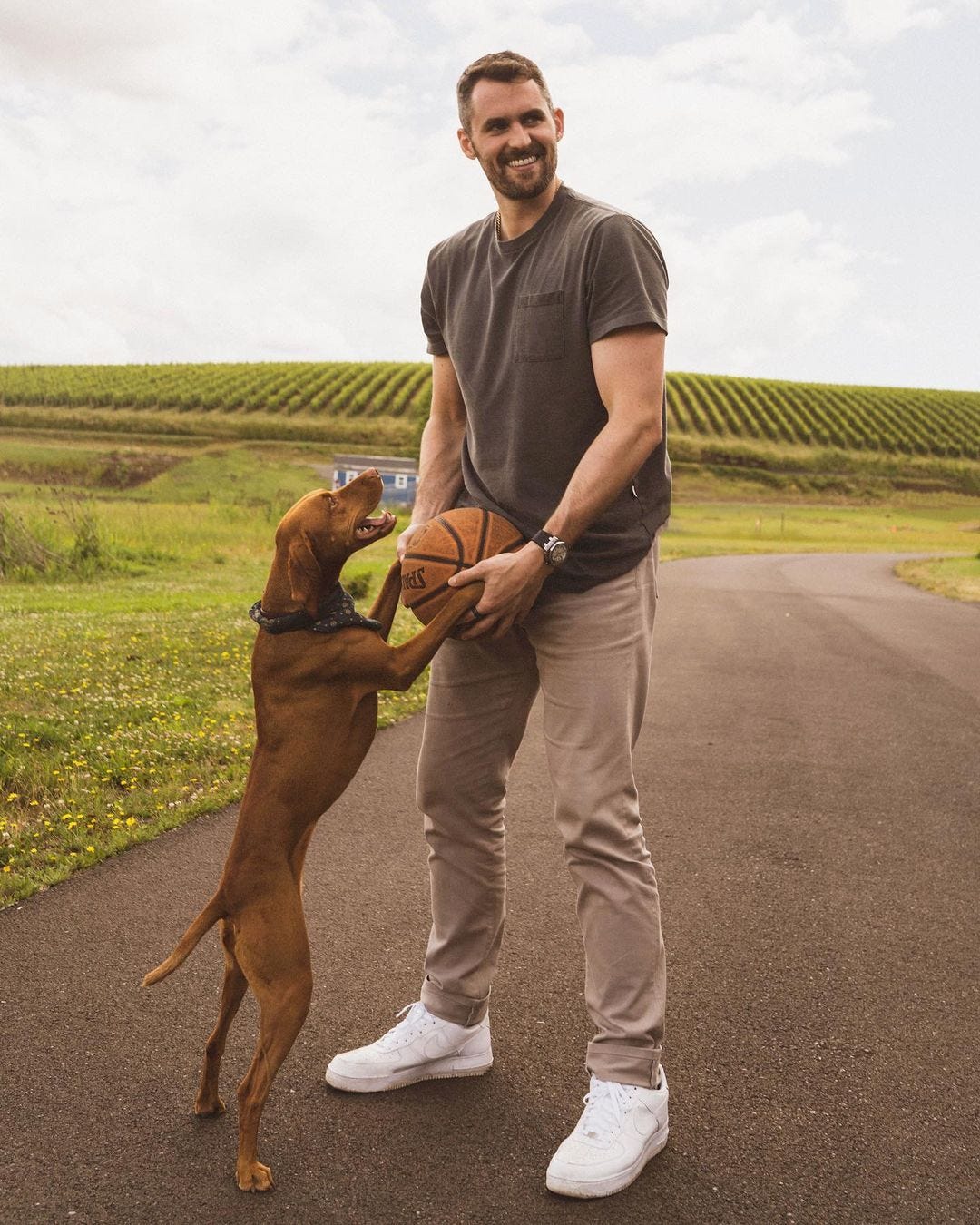 Wear it well: A pocket t-shirt with chinos and Air Force Ones may just be the easiest look to copy—and look really freaking handsome in—this fall.
Day 20: Top things off with a statement jacket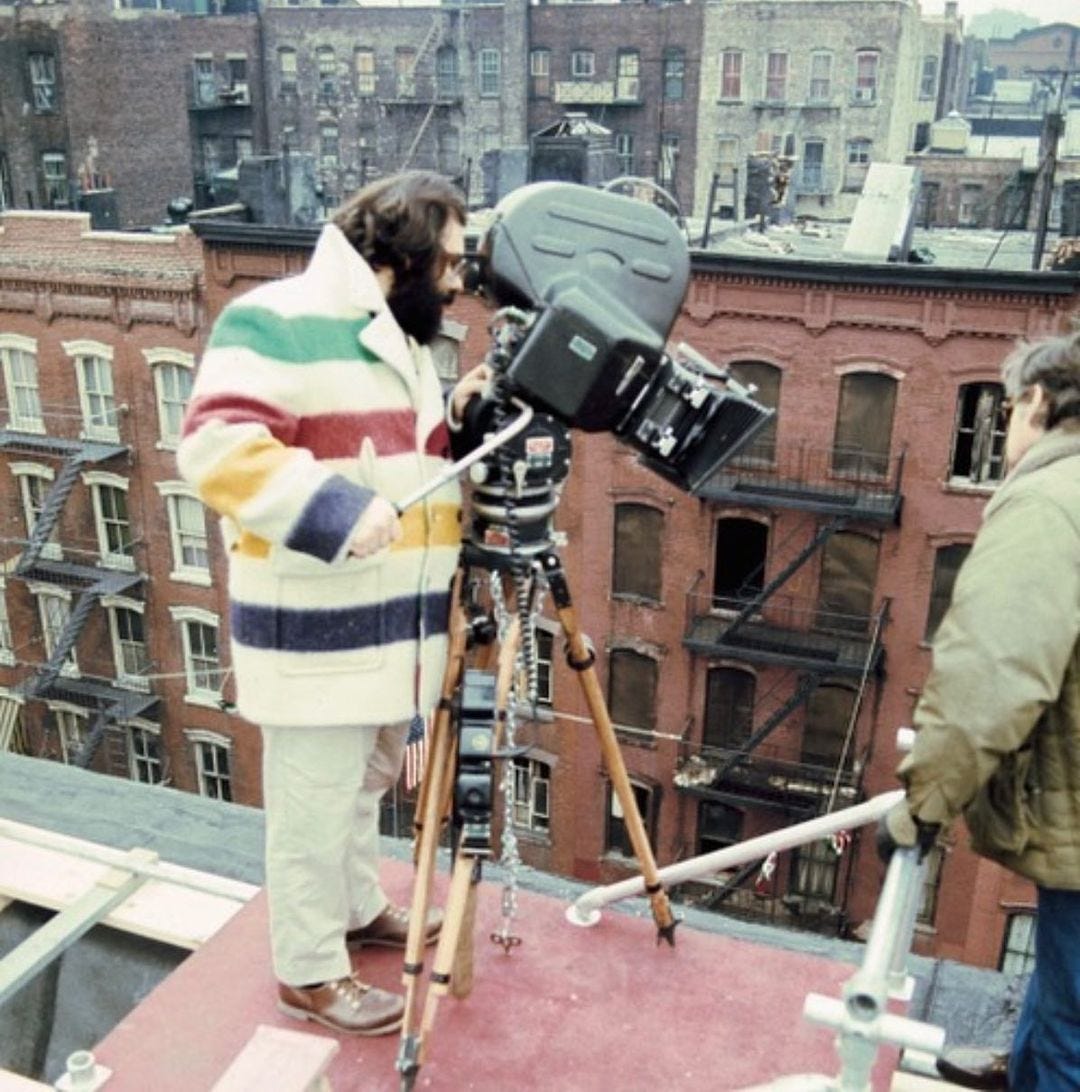 Wear it well: I love this image of Francis Ford Coppola from the '70's wearing a beautiful Hudson's Bay wool coat while filming a bird's-eye shot for 'The Godfather Part II'
It shows that the best fall outfits for guys are the ones that make you feel comfortable and also dressed appropriately at the same time. A great jacket usually helps you check both these boxes.
A plug: give the Instagram account @directorfits a follow for more great throwback style like this!
Day 21: Skip the tie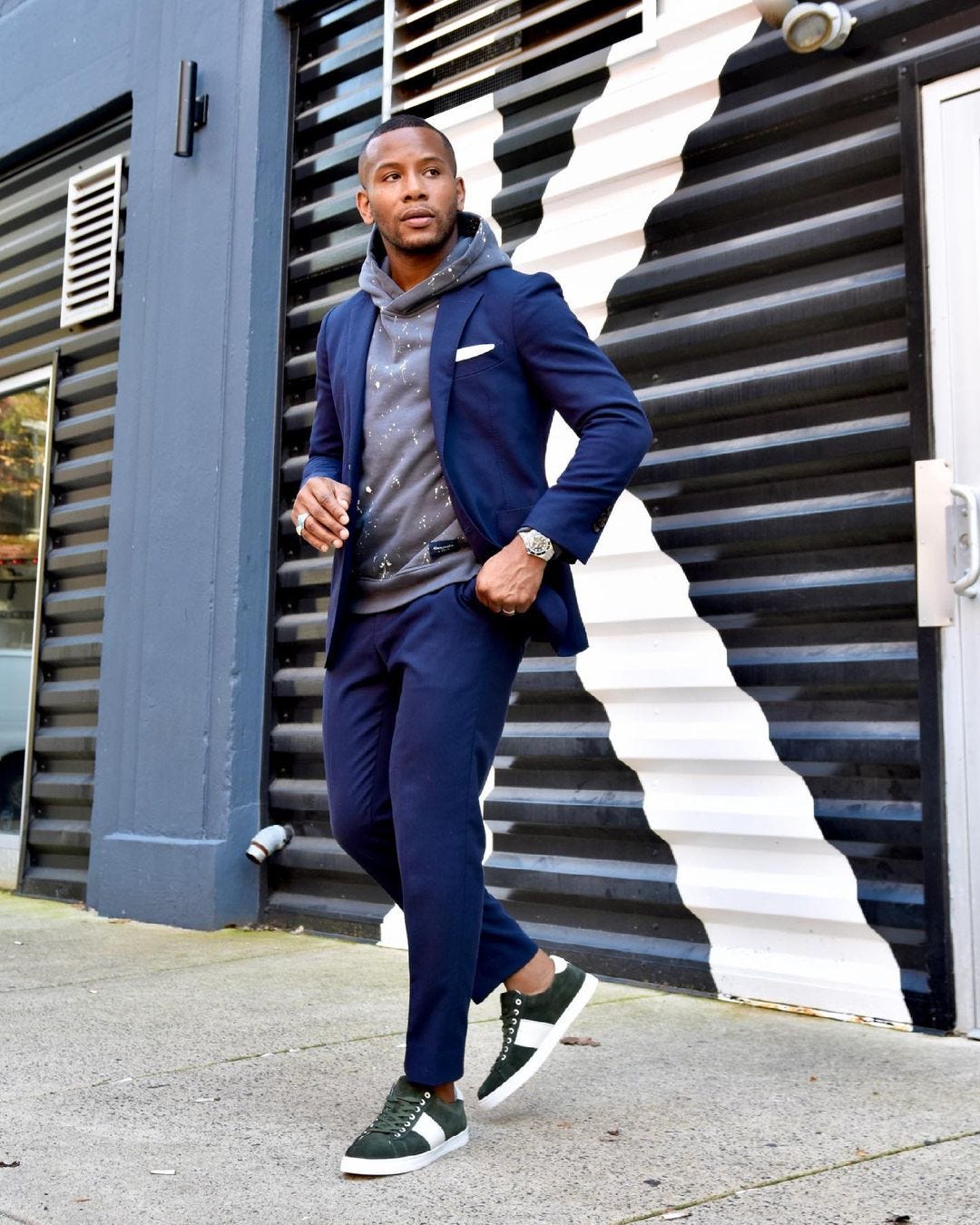 Wear it well: Blazers really can elevate anything, even a paint splattered hoodie.
When you're looking for men's fall outfits that look dressed up without feeling stuffy, this is a great option.
Replace your button-down and tie with a fitted sweatshirt. You'll still look professional, just not like everyone else.
Day 22: Throw on a band tee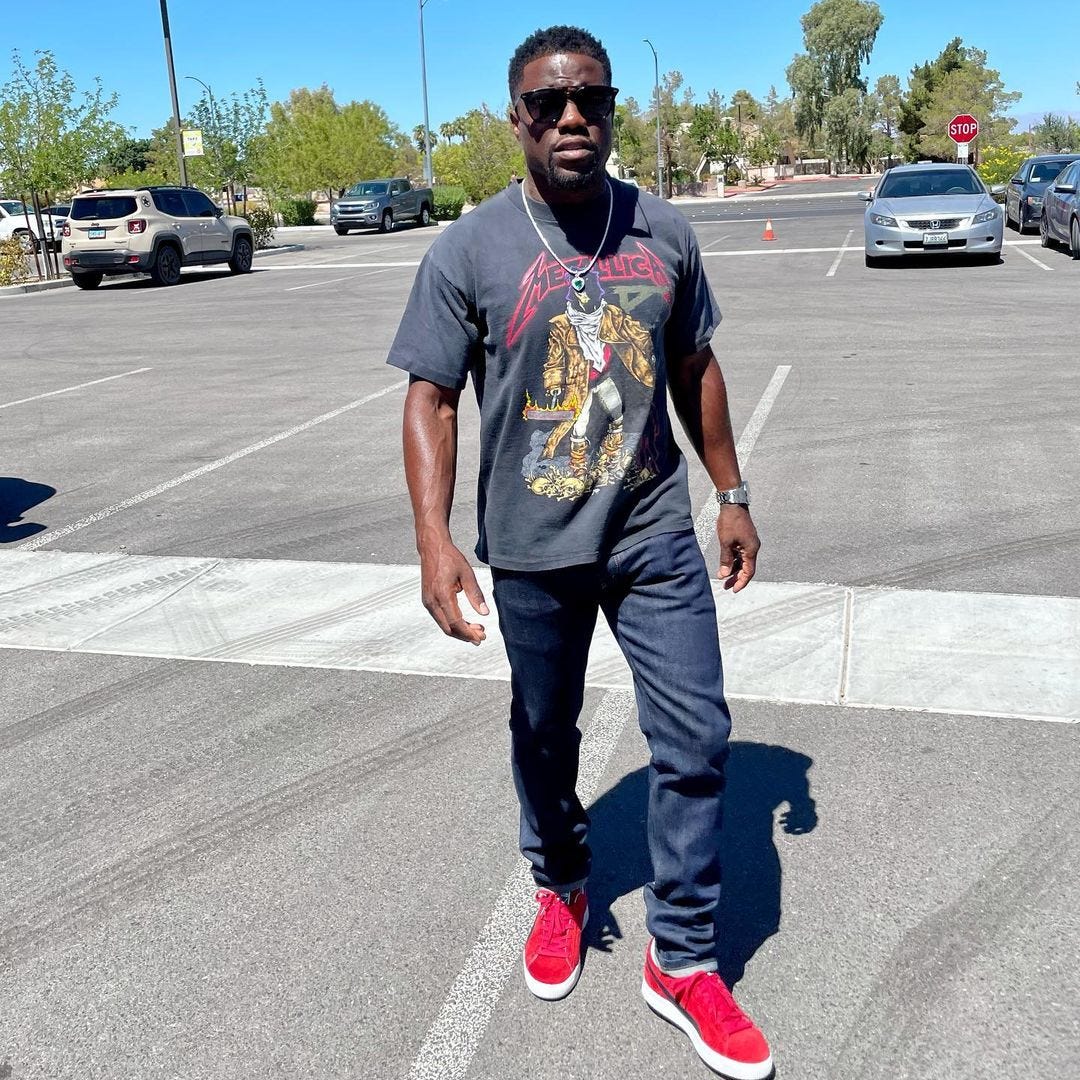 Wear it well: From faux-vintage Britney and Aaliyah tees you can buy at Urban Outfitters to the real thing you find thrifting, you should have a band tee (or two!) in your closet this fall.
Day 23: Match your sweats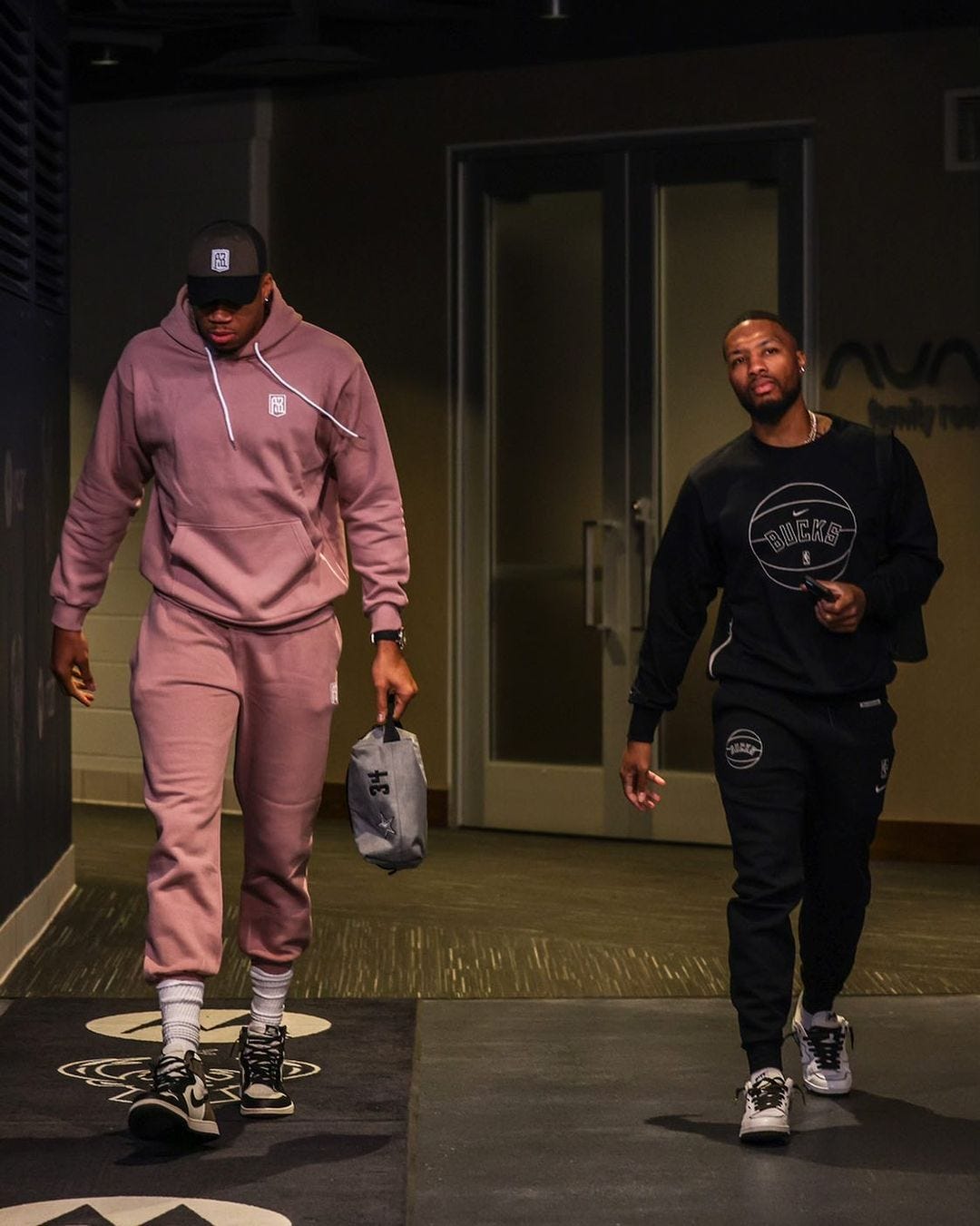 Wear it well: New teammates Giannis Antetokounmpo and Damian Lillard know that even on your travel days, you can look good.
One way to look like you didn't just "throw on" sweats?
Make them match.
If you work from home, then your collection of men's fall outfits could very well look like this seven days a week!
Day 24: Hang onto summer in short sleeves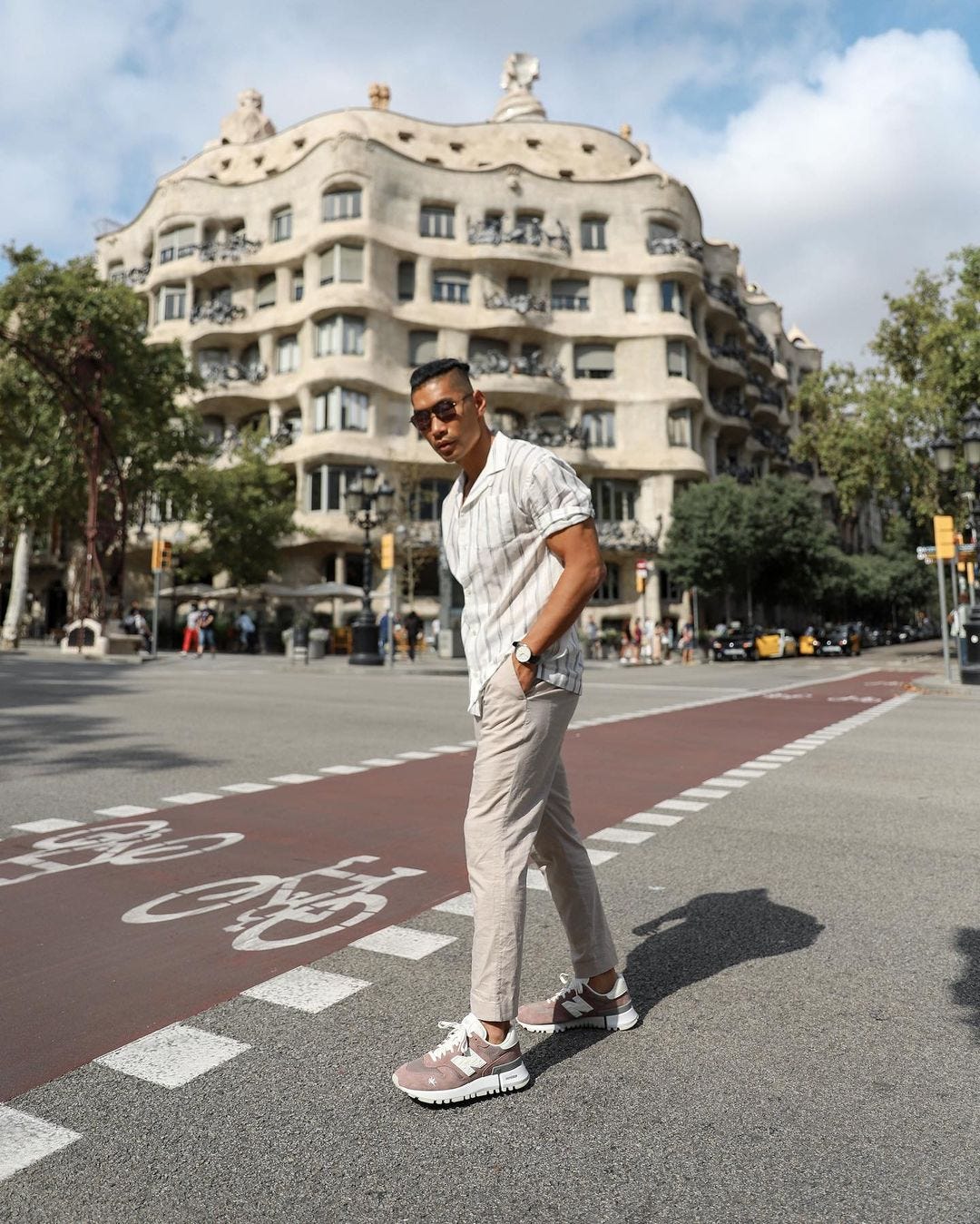 Wear it well: Just because summer is "over" doesn't mean the weather is going to cooperate with that idea. So on those warmer fall days break out your short sleeve shirts. It's not worth breaking a sweat to abide by the fall fashion "norms."
You'll look and feel cool, promise.
Day 25: Sport blue head-to-toe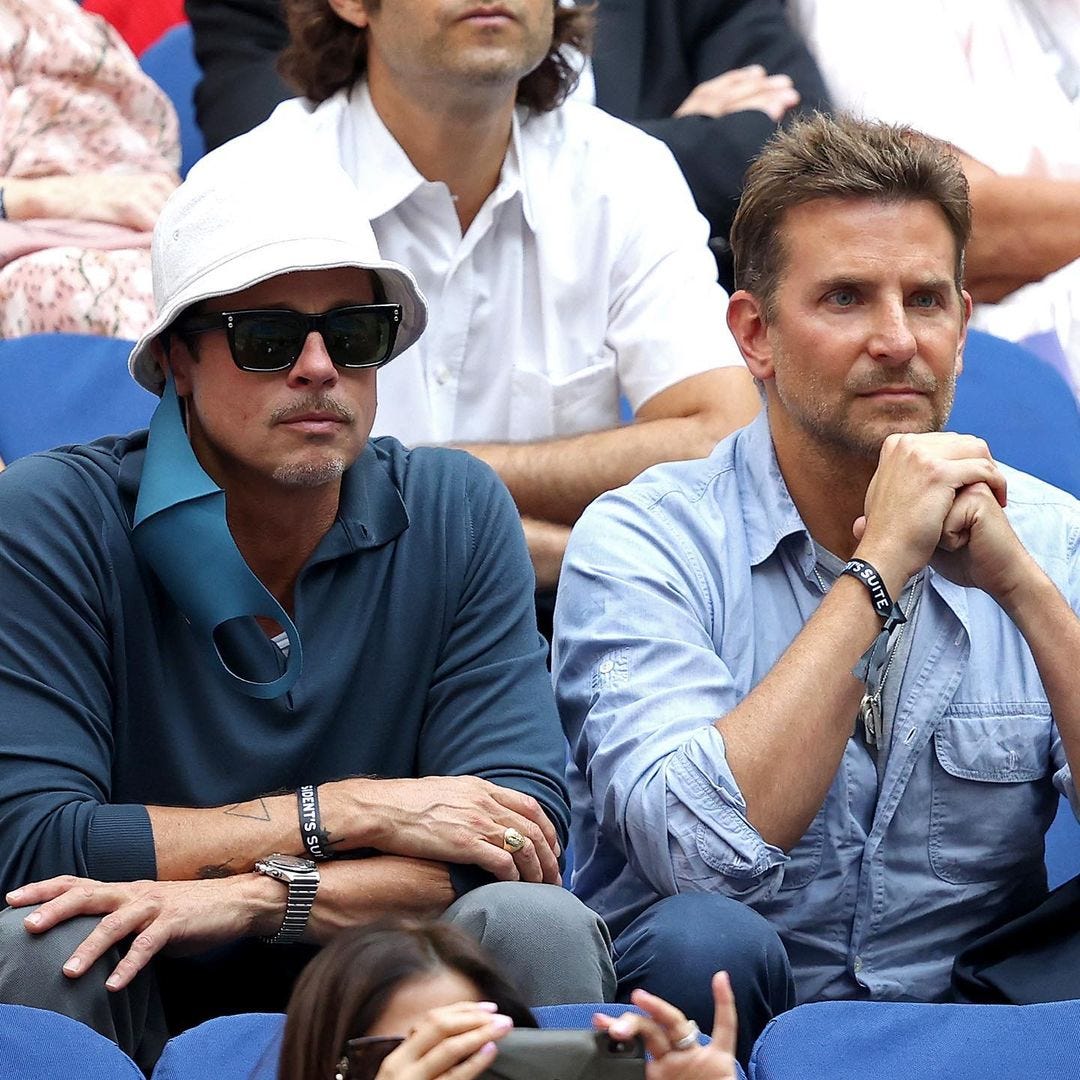 Wear it well: The US Open brings many celebrities dressed to the nines as spectators. You can see the excitement in the Brad's pictured above.
Good thing blue is everyone's color.
And okay, sure, Pitt and Cooper were wearing these looks at the end of summer, but you can absolutely use them as men's fall outfits inspiration.
Day 26: Wear black and brown together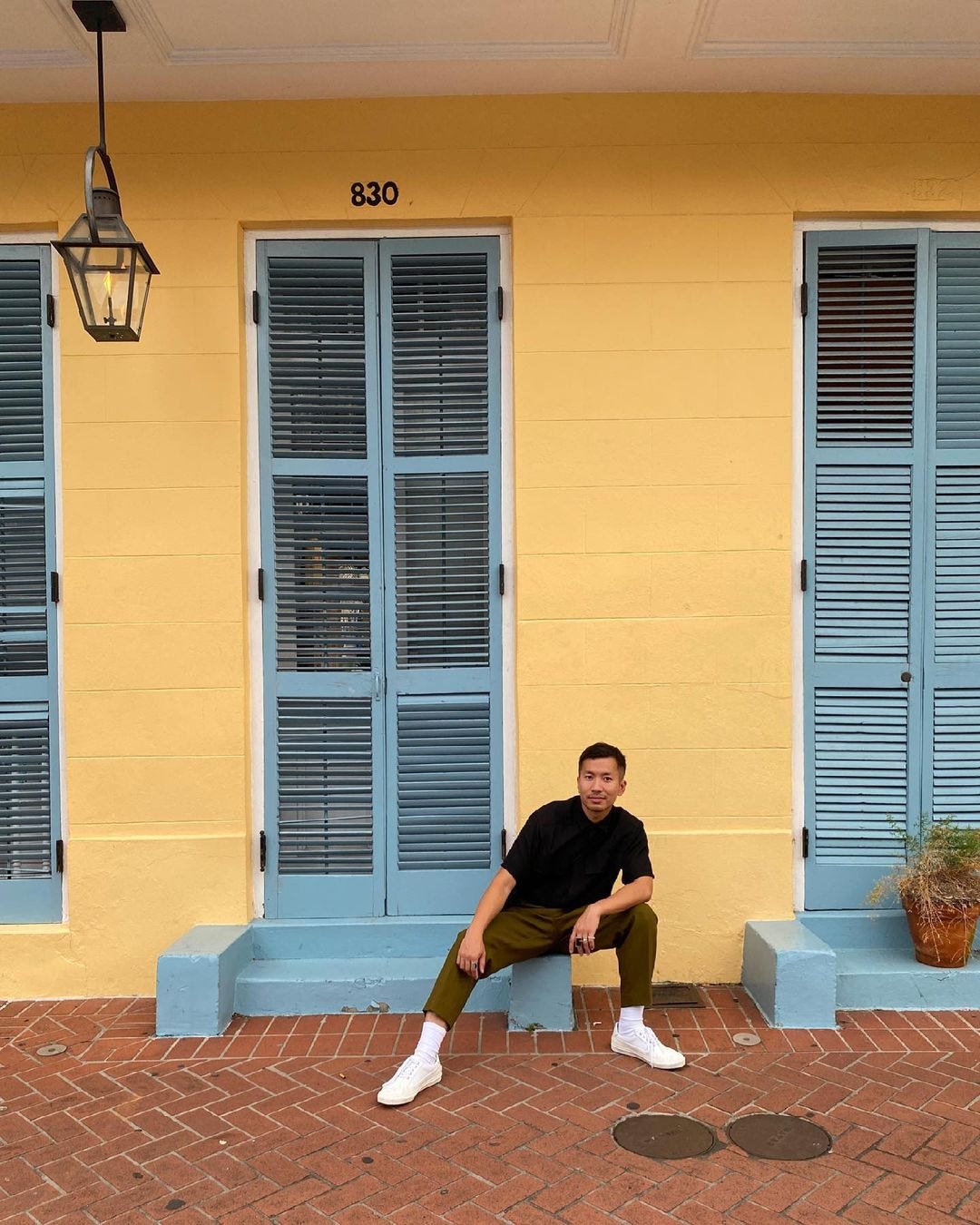 Wear it well: Somewhere down the line wearing black and brown together was deemed a fashion no-no.
I am here to say DO IT! I know the colors are in your closet, and I say wear them together.
Day 27: Switch up your accessories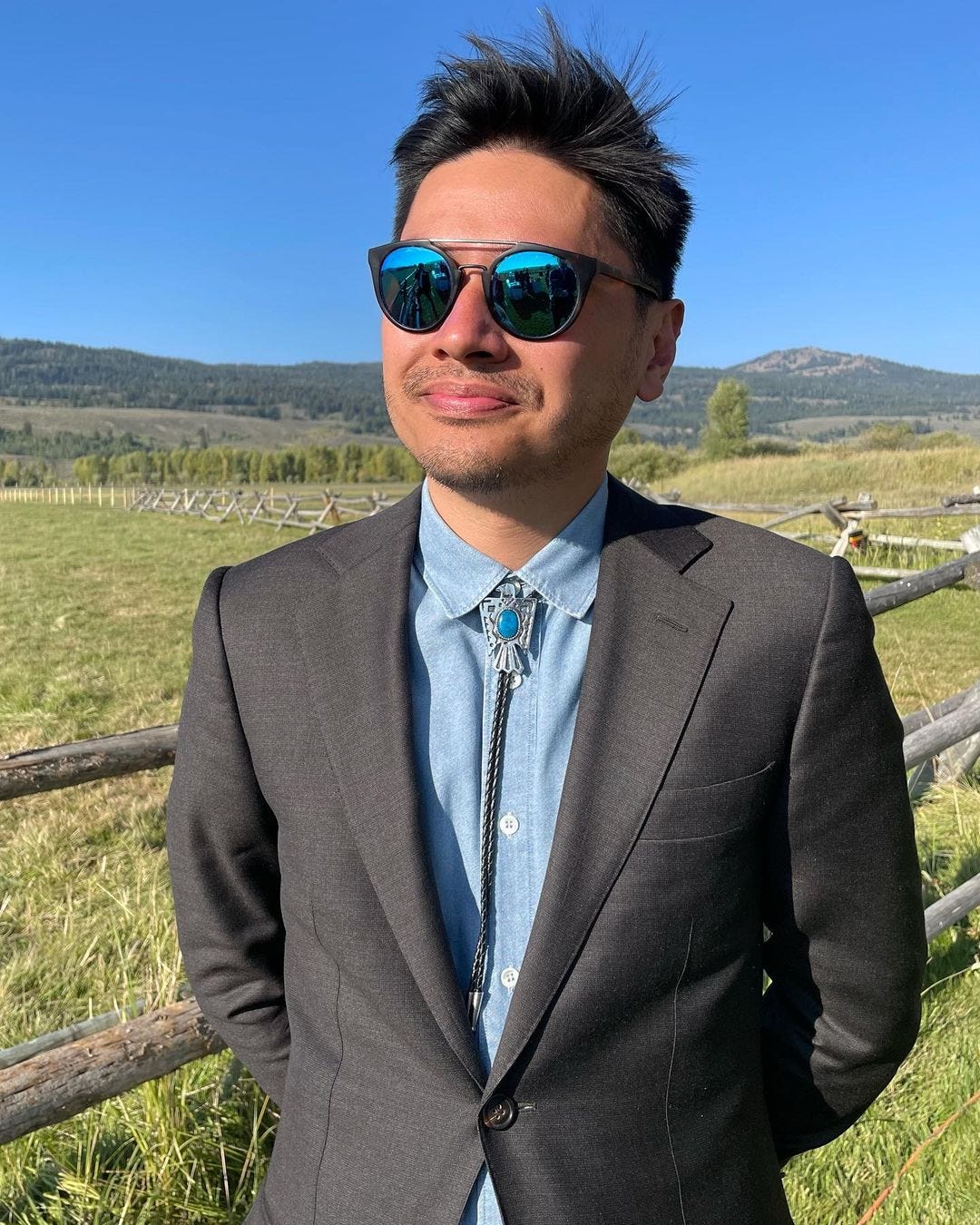 Wear it well: It's time to rethink your formalwear accessories for this year's men's fall outfits. If you're looking for cool dress up options for guys? Look no further.
Channel your inner John Wayne like podcast host Pablo Torre, and try swapping your standard neckwear for a bolo tie instead.
Day 28: Mix prints and patterns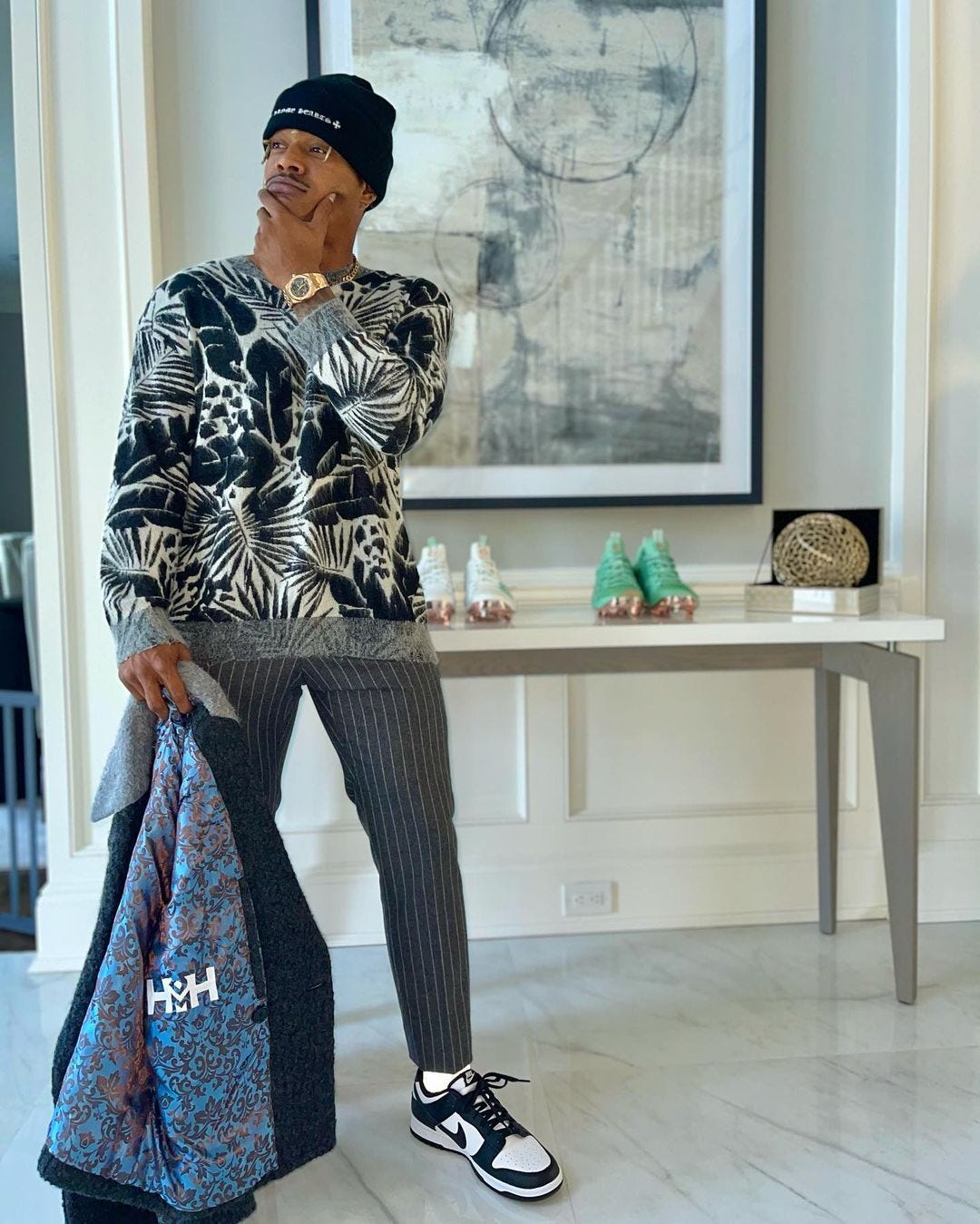 Wear it well: Baseball player Marcus Stroman is not afraid to stand out in a crowd.
And while you may not throw 93 MPH, you can too. Try pairing a patterned top with pinstripe pants. And yes, you can wear it all with sneakers if you want.
Start slow by keeping the color scheme simple, like Stroman's black and white above.
Day 29: Dress in fall colors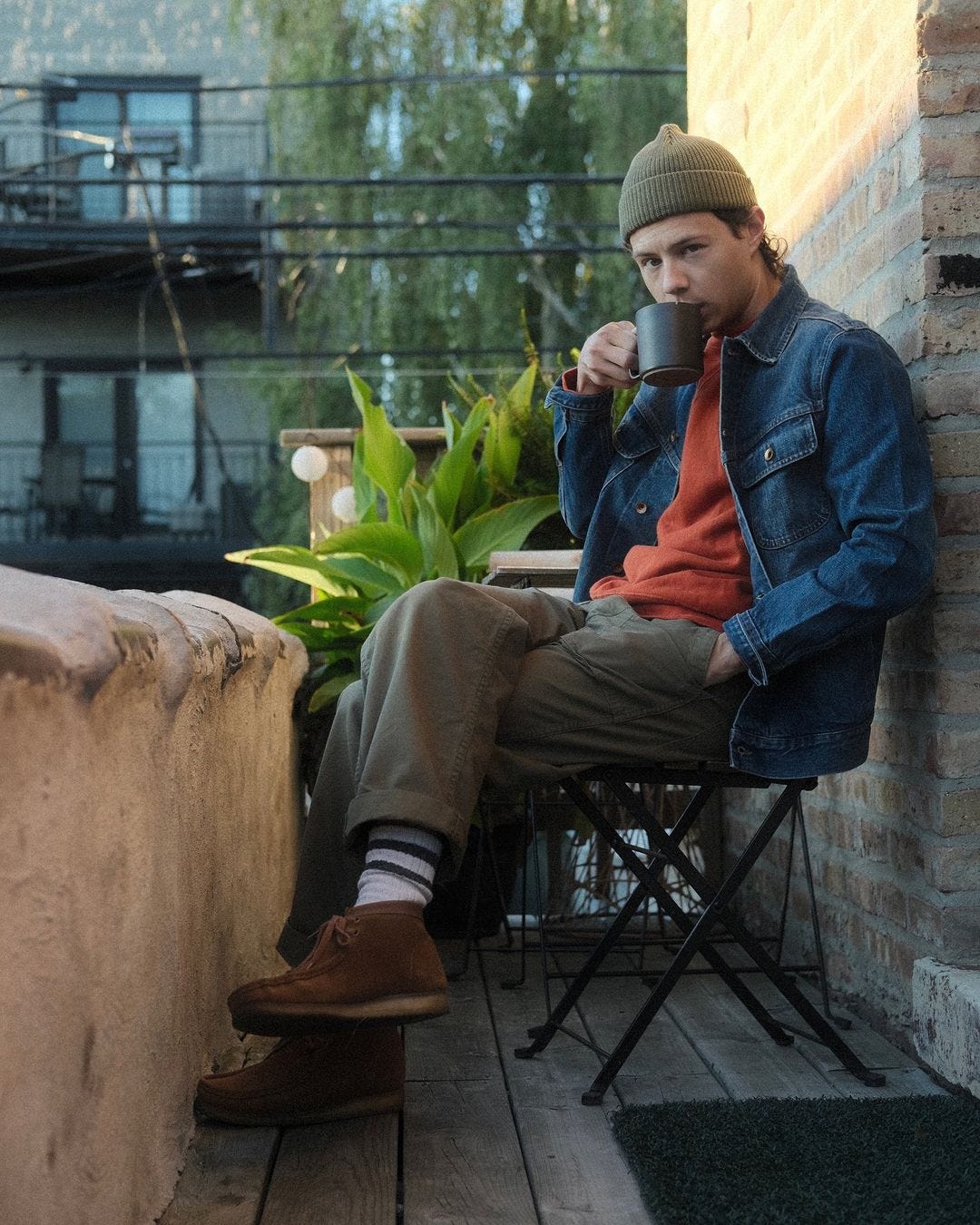 Wear it well: When we say "men's fall outfits," this is pretty much exactly what we're talking about.
Besides, it would not be fall if I didn't tell you to wear fall colors this season.
Think: Thanksgiving cornucopia when you are choosing the colors you should be adding to your fall wardrobe. If it's not on your Thanksgiving table spread, save the color for next season.
Day 30: Go with a high waist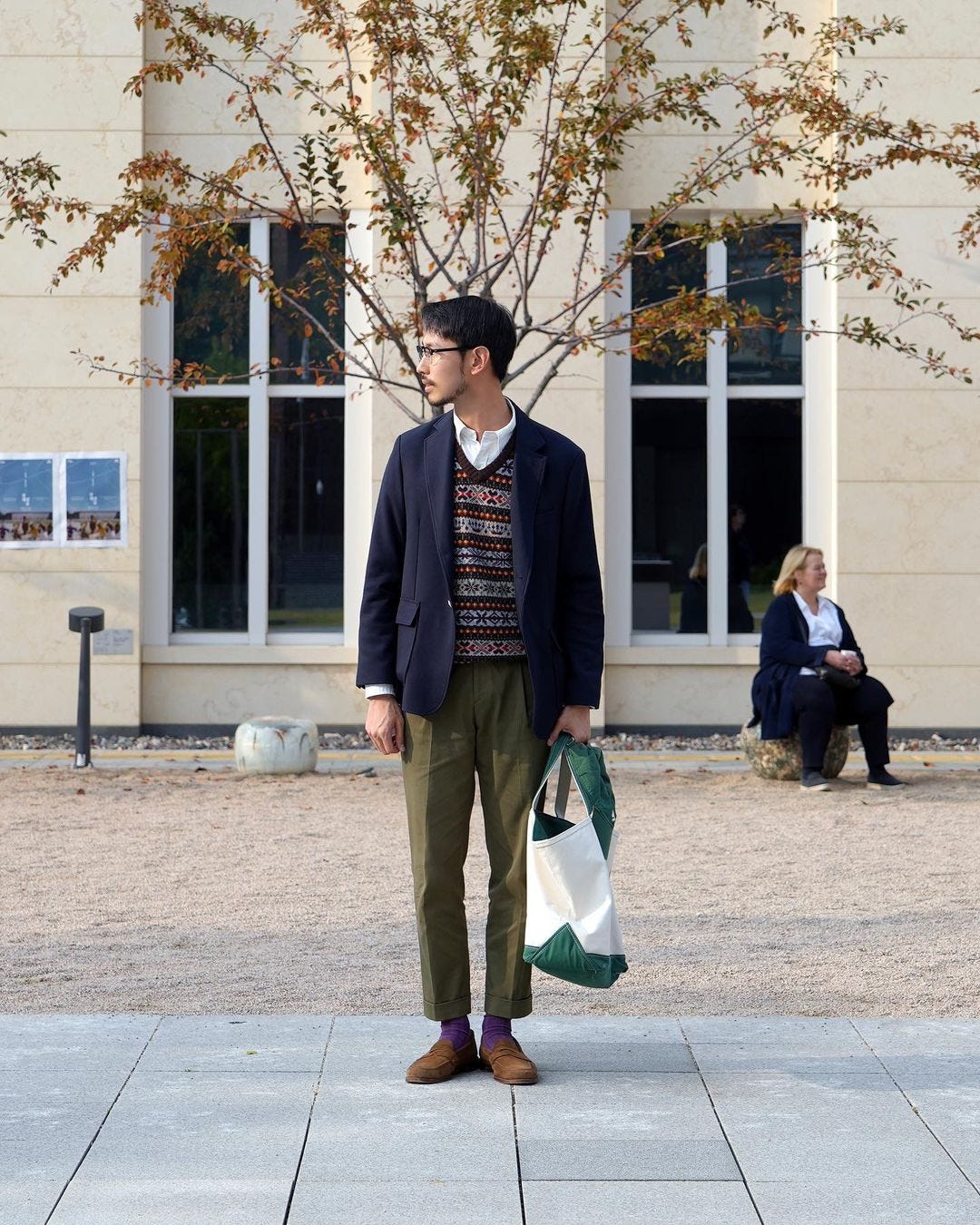 Wear it well: Hello I love Fair Isle sweaters SO MUCH.
You don't have to wear yours so…professor at a small liberal arts school on the east coast like above. All I'm saying is..wear this style of sweater this fall! And winter!