Yes, You Can Pull Off Cowboy Boots. Here's How.
Say "Howdy partner" to this western style
Let's get this straight. You are a modern, stylish man who knows that lace-up footwear is not your only option! You've embraced open-back shoes like Birkenstock clogs, and broken in natty loafers. Now, you're itching for something new. So I'm going to throw something out there. Have you considered cowboy boots?
Okay yes. Maybe that feels too "out there," or even a step back in terms of style. But I am here to (try to!) convince you that you, yes you, can and should wear cowboy boots this fall and winter.
Can I pull off cowboy boots?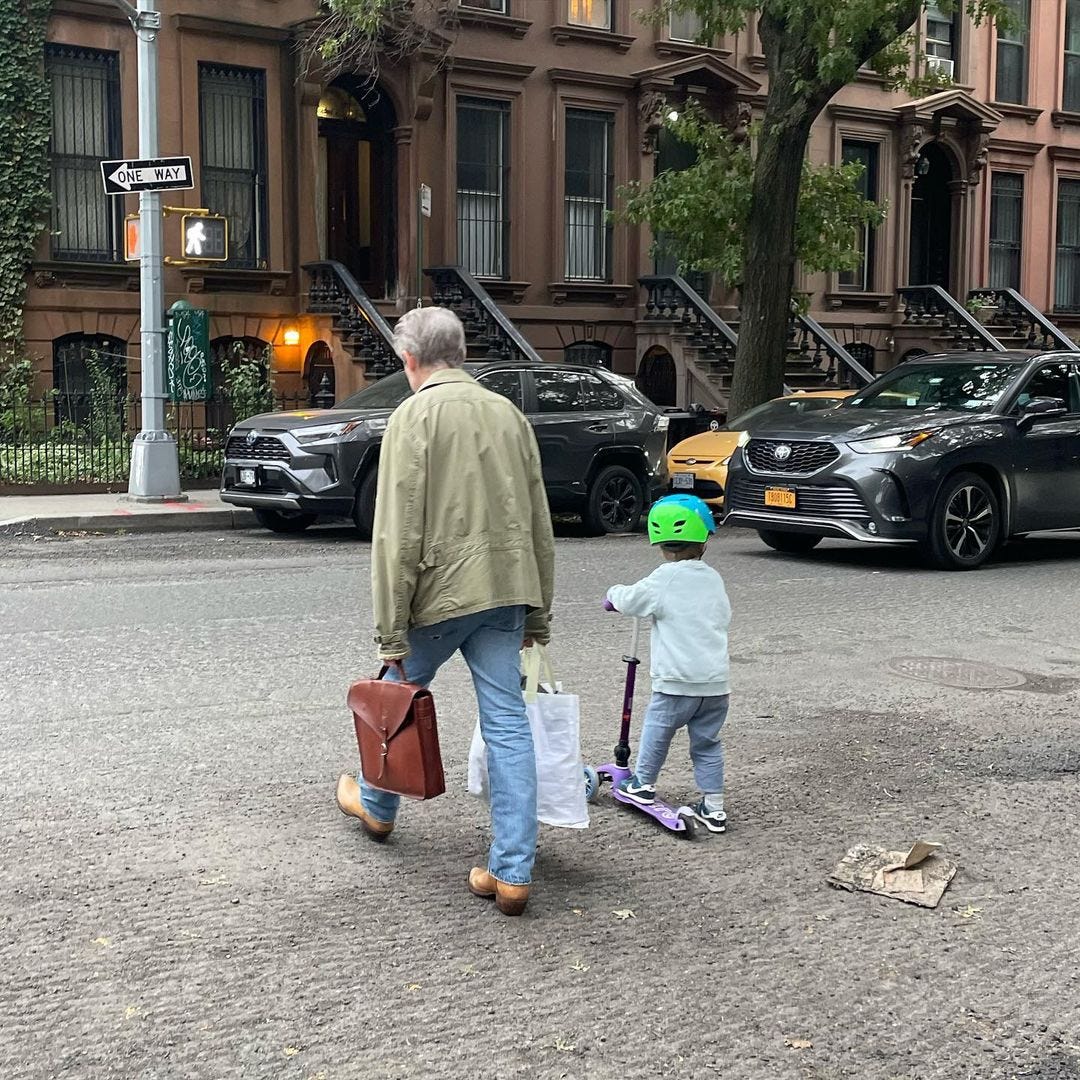 Even if you're firmly in the "I like all music but country" camp, don't turn your back on cowboy boots! You can absolutely make this functional footwear work for your city style.
Think of all the benefits. No laces to tie or trip over. Your ankles are stable but not as suffocated as ski boots. A sturdy design is crafted to last for years, if not decades. And if you somehow find yourself astride a horse, you'll be ready.
Oh, and if you've added some of the wider silhouette pants that are currently so trendy to your wardrobe? Great news, a cowboy boot is a great shoe style for these bottoms!
What kind of cowboy boots are there?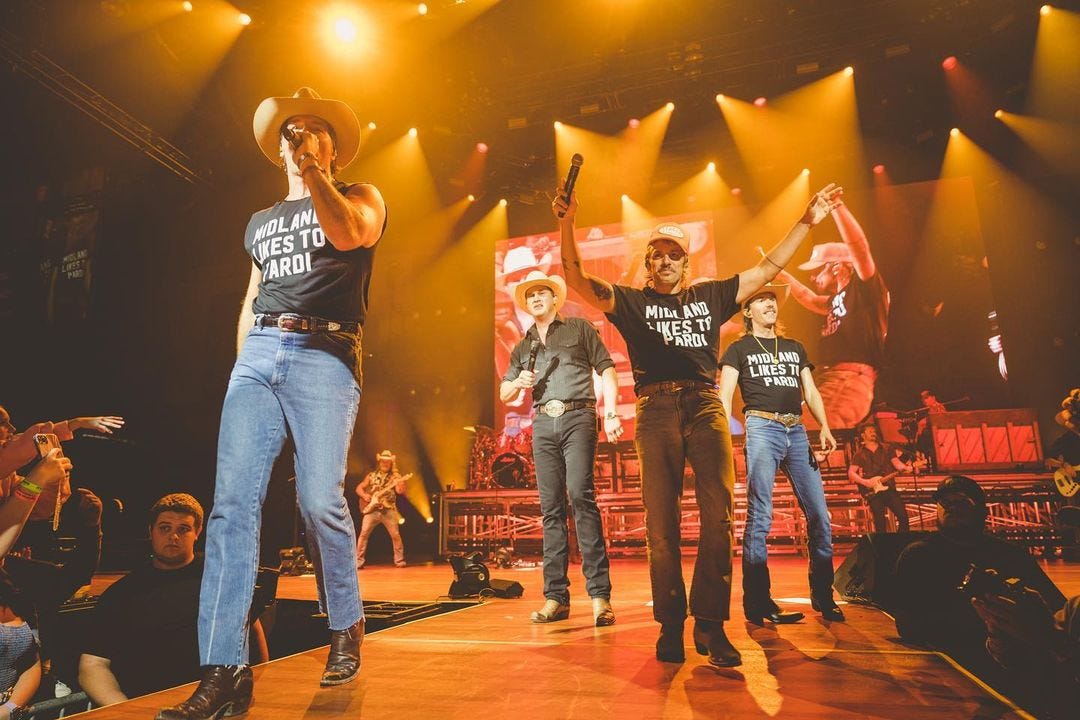 Just like there are all kinds of sneakers, there are different types of cowboy boots.
You've definitely seen the traditional Western style that hits mid calf, has a pointed or "snip" toe, a bit of a heel, and ornate detail on the shaft. These are the standard when you hear "cowboy boot" and they definitely make a statement.
The roper boot, designed for roping cattle, is a great option if you want to experiment in this look, but want something more subtle. Their heel is lower, their toe might be more square, their shaft is shorter, and plenty of brands make ropers with less flourishes than traditional cowboy boots.
Unless you're doing actual cowboy work in them, what style you buy is totally up to you.
Where do I buy cowboy boots?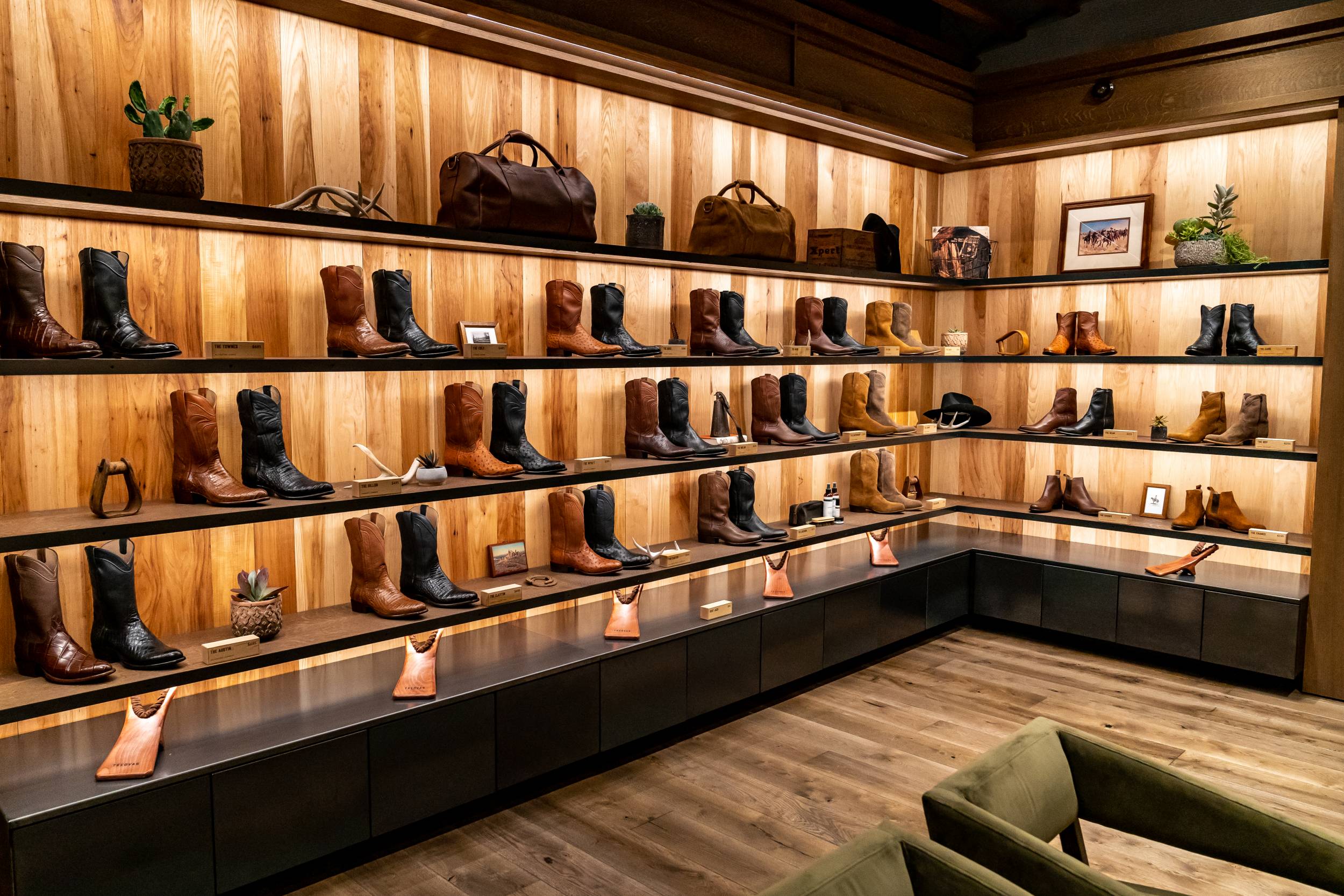 You can't go wrong picking up a pair from one of the long-standing heritage companies that specialize in cowboy boots: Lucchese, Ariat, Tony Lama, and Alvies are a few that come to mind. Other shoe or leather brands you already love, like Barbanera, Stetson, and Thursday Boot Company, certainly won't disappoint. Since cowboy boots require so much leather and a lot of labor to craft, they can quickly enter into "investment piece" territory.
If you're not sure you want to go all in on a pair of investment boots quite yet, consider scooping up a vintage or secondhand pair on a resale site like Etsy, eBay or Poshmark.
Mine are Acme, the most popular cowboy boot brand in the 50s, and cost $60—and I've definitely worn them well over 60 times.
Below, check out 5 men's cowboy boot outfits to wear right now: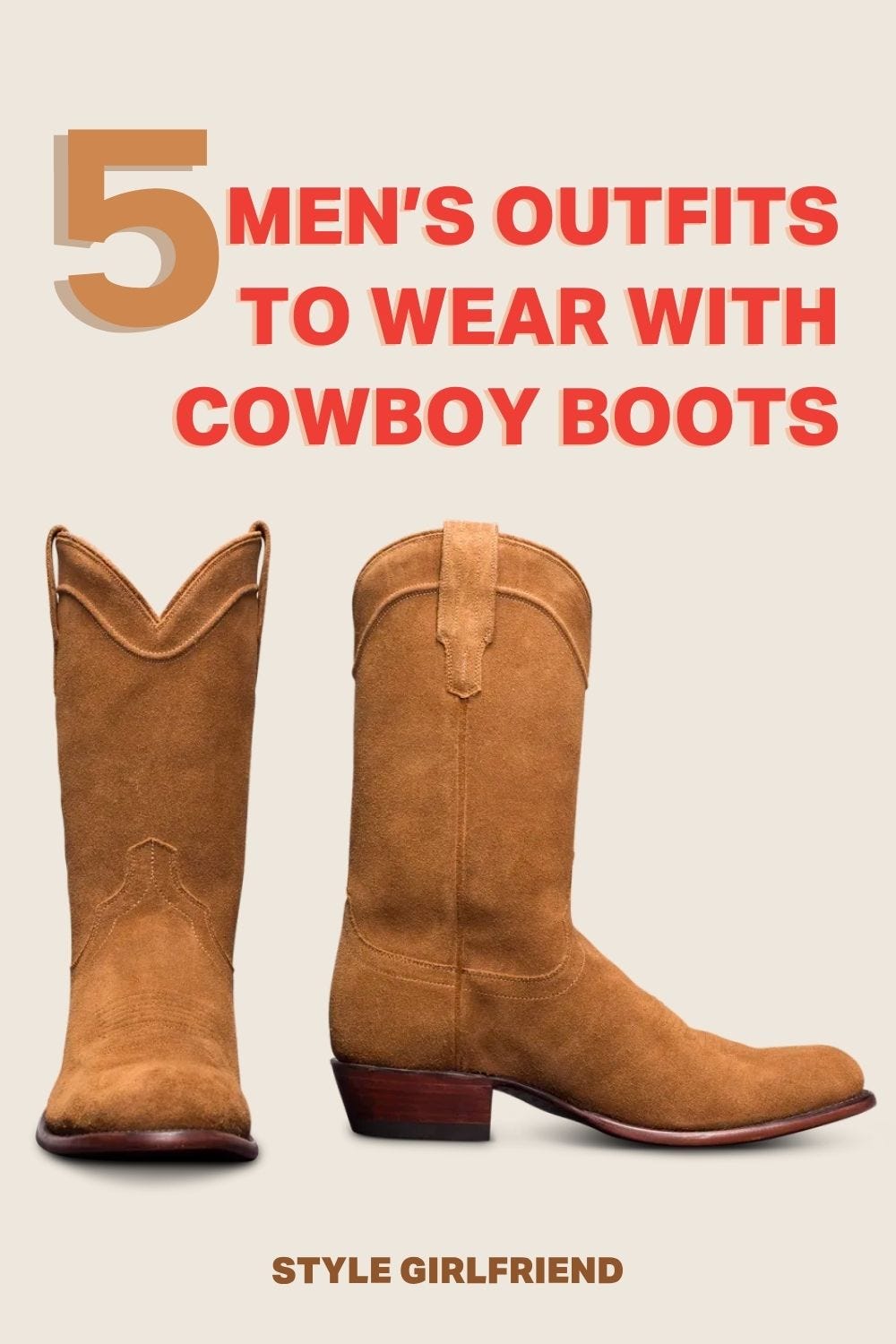 MONDAY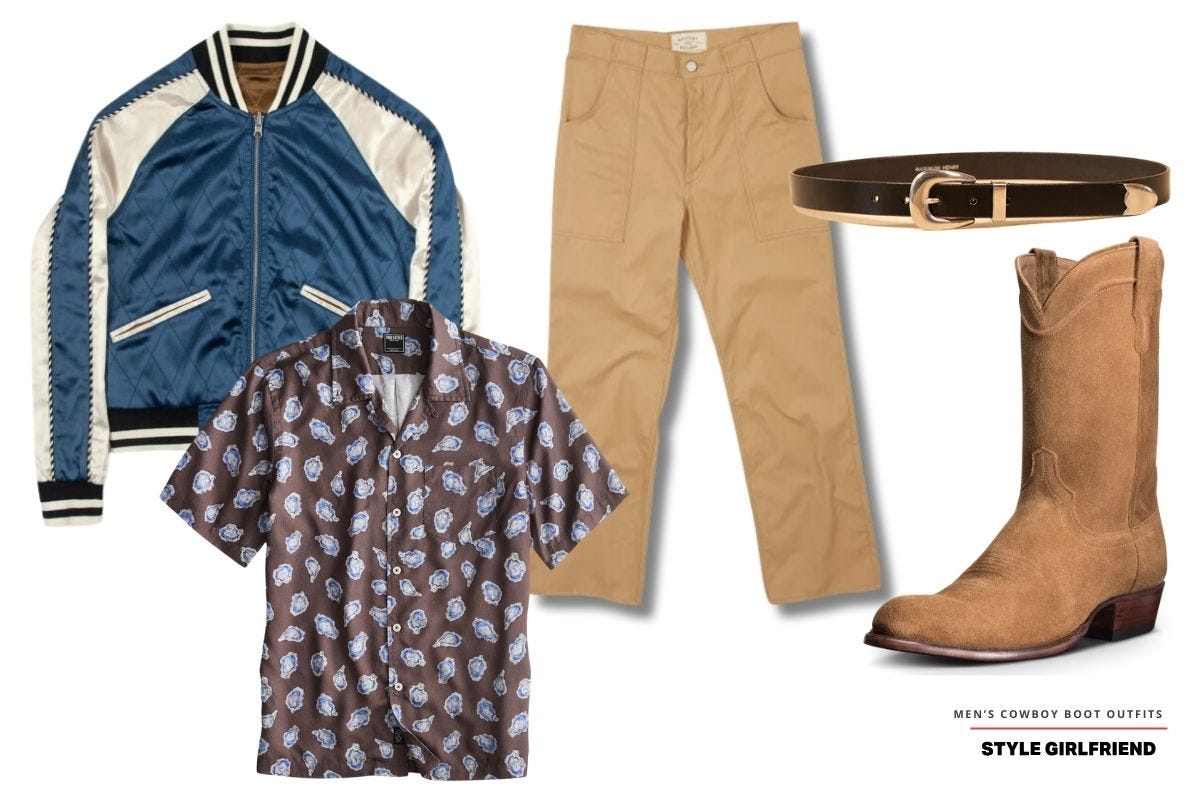 shirt: Todd Snyder | belt: Maximum Henry
pants: Holiday | bomber jacket: Straight To Hell
STYLING NOTES: Take your boots out dancing in a bomber jacket, silk shirt, and '70s-esque pants.
Yes, they say these boots are made for walking, but they can make pretty great dance shoes, too! Whether you salsa, boogie, or just sway awkwardly at a more acoustic show, these can become your favorite night out shoes.
TUESDAY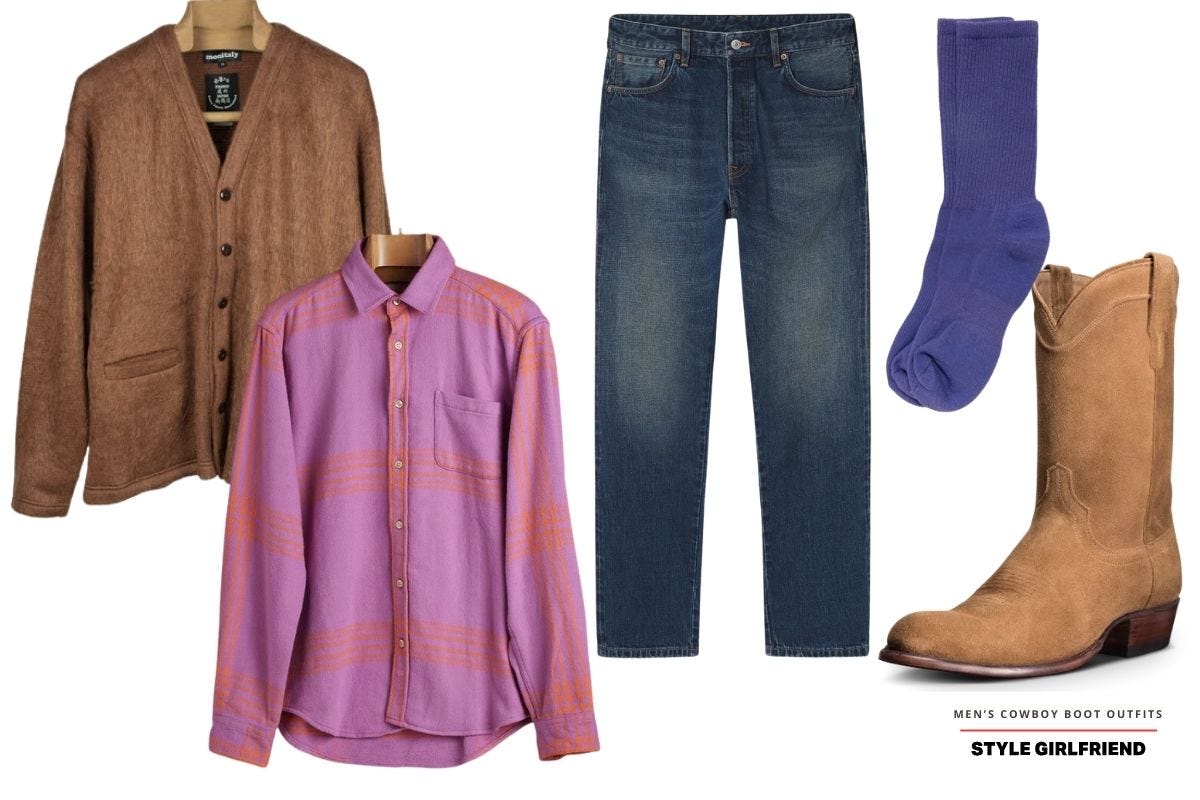 jeans: Buck Mason, $175 | flannel: Portuguese Flannel, $108
cardigan: Monitaly, $285 | socks: American Trench, $15
STYLING NOTES: Keep your cowboy boot outfits looking and feeling majorly cozy with fall favorites like a flannel shirt and cardigan.
Channel the 90s in this outfit, perfect for running errands in style, bonfire gatherings, or idyllic apple picking.
RELATED: The Best Men's Cardigans for Cold Weather
WEDNESDAY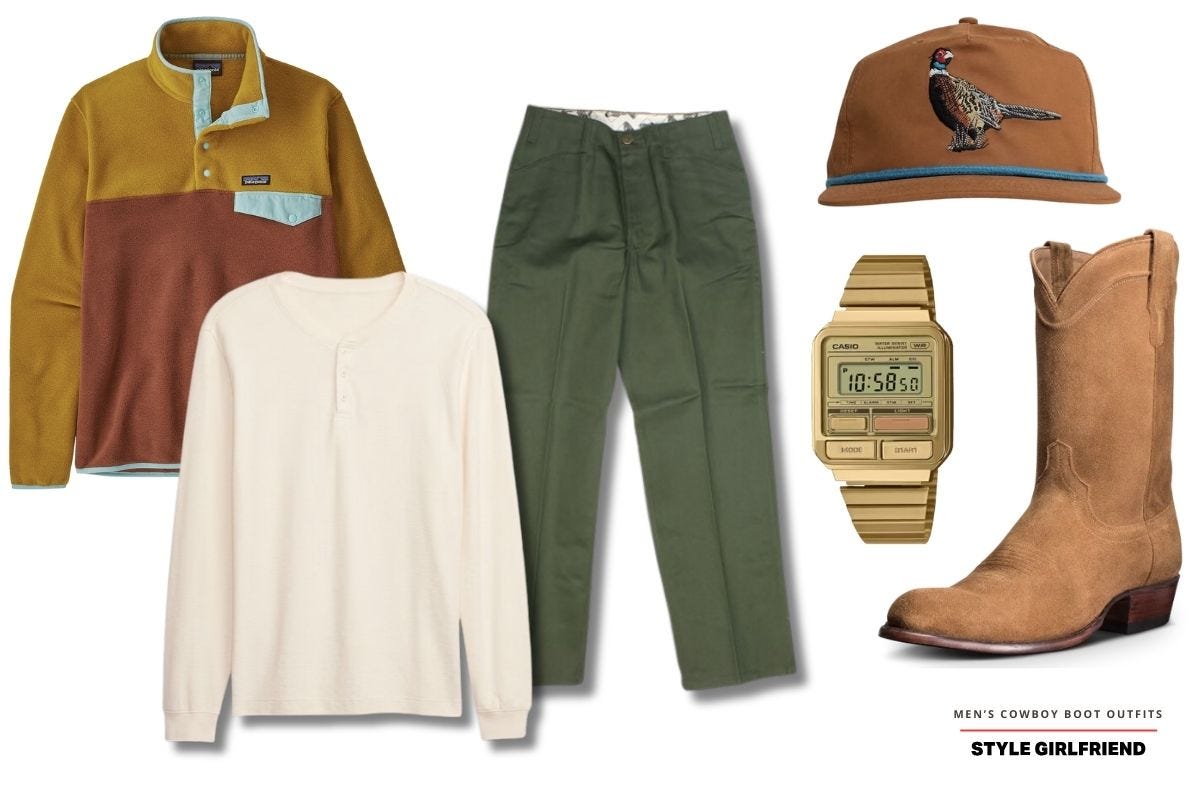 pants: Ben Davis | fleece pullover: Patagonia | henley: Gap
STYLING NOTES: This is an homage to an outfit I was wearing when I first pitched this story, and Megan was wearing basically the same exact outfit. Great minds!
You can make this Western staple more PNW GORP-core casual with a fleece and workwear pants.
To recreate the look, I recommend cutting the hem raw and carrying a mildly silly tote bag.
THURSDAY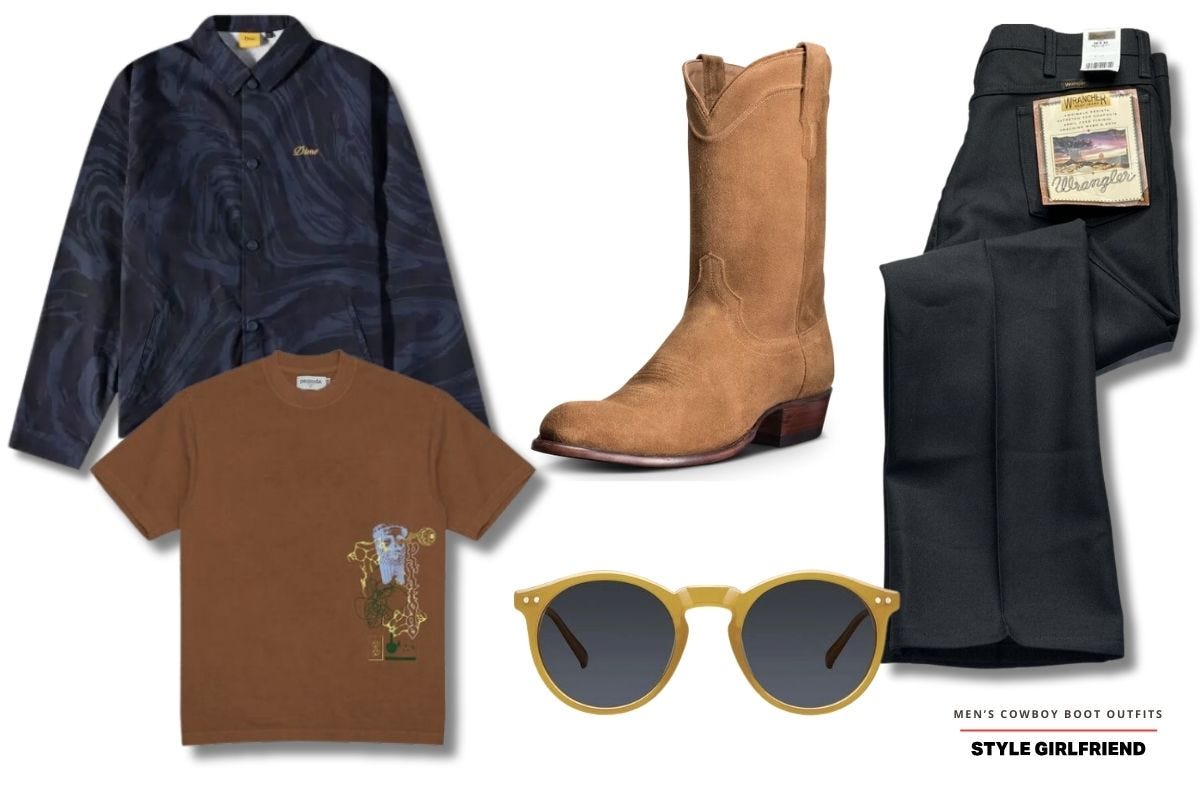 jeans: Wrangler | tee: Paratodo | jacket: Dime | sunglasses: Meller
STYLING NOTES: Get ready to feel like an influencer when you wear this outfit because all your friends are going to want to copy it.
For this look, pair a tee with a cool jacket, and finish the whole thing off with the pants tailor-made for these boots. These "dress jeans" can work from a more casual office all the way to happy hour drinks.
FRIDAY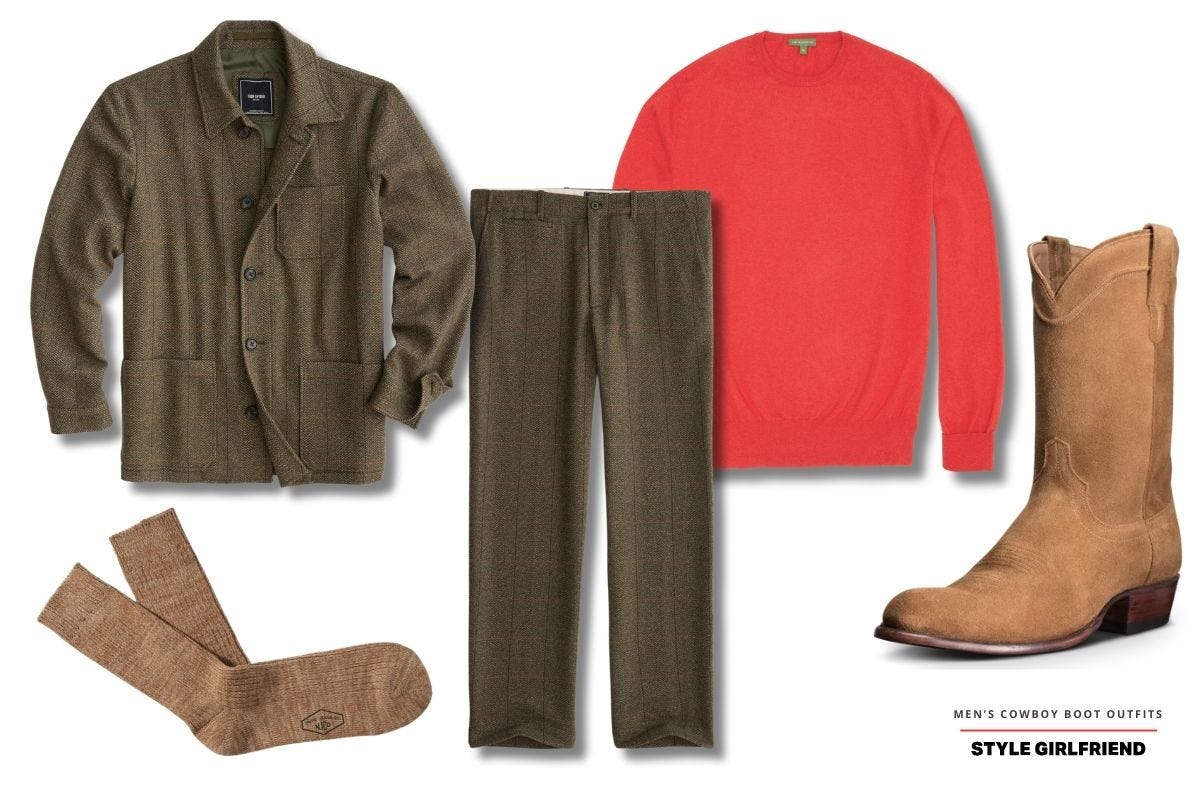 trousers: Todd Snyder | jacket: Todd Snyder | sweater: Sid Mashburn | glasses: Warby Parker | socks: Nudie Jeans
STYLING NOTES: While you may not ever pair your cowboy boots with a suit, you can definitely experiment with dressing up your cowboy boots.
Use the wrong shoe theory and put together cowboy boot outfits with a look that feels like it belongs in an east coast ivy league rather than south of the Mason-Dixon line.
So long as the pants you're wearing have a wider leg, you'll be good to go.

Like a phoenix rising from the ashes, Gabi Meyers went from Team SG's first-ever intern to a trusted fashion editor and stylist. She currently lives in Chicago with a very cute dog.