What to Wear With Jeans Right Now
Drop back into denim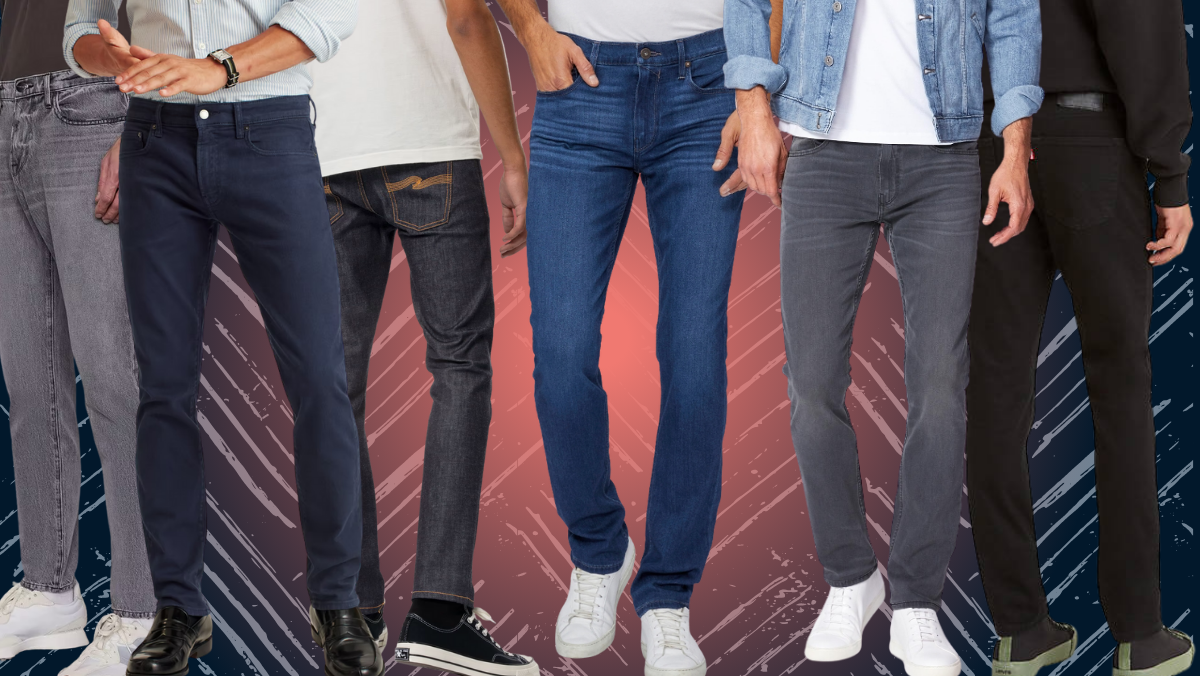 We're doing things a little differently in 2022! Usually at the beginning of the year, we issue our "No Jeans January" challenge to our community. 31 days, no denim.
Think of it as Style Girlfriend's version of Sober January, but for your style. Reset your style by not falling back on that old wardrobe workhorse standby, jeans.
But! Our team realized that the style rut we're all in right now isn't that we're wearing jeans too much.
No, it's that we're not wearing jeans at all.
Our style rut is sweatpants.
It's pajama pants.
And yes, it's "around the house" shorts.
Now, no judgment! Just add "leggings" to the list and us ladies are right there with you.
So for 2022, we decided instead to issue the inaugural JEANS JANUARY challenge.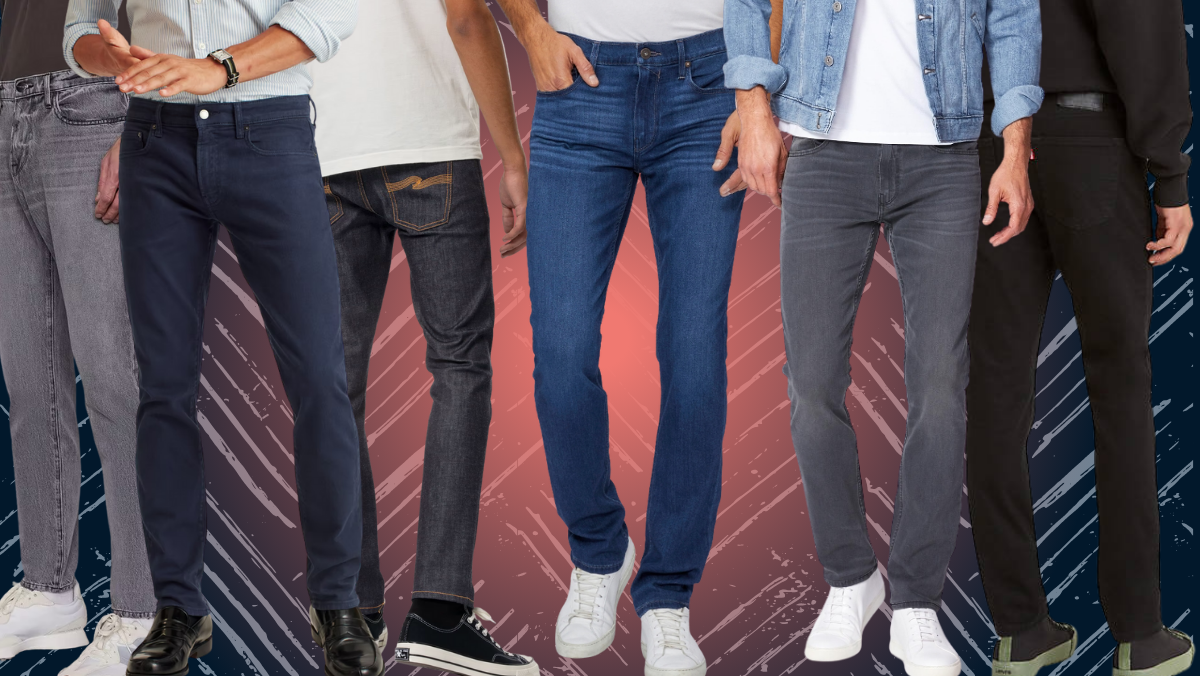 This month, we'll be sharing our favorite jeans for different budgets and body types, and sharing outfit ideas to help you get back into the style swing of things with pants that don't have an elastic waistband.
First up? 31 men's outfits with jeans to inspire you!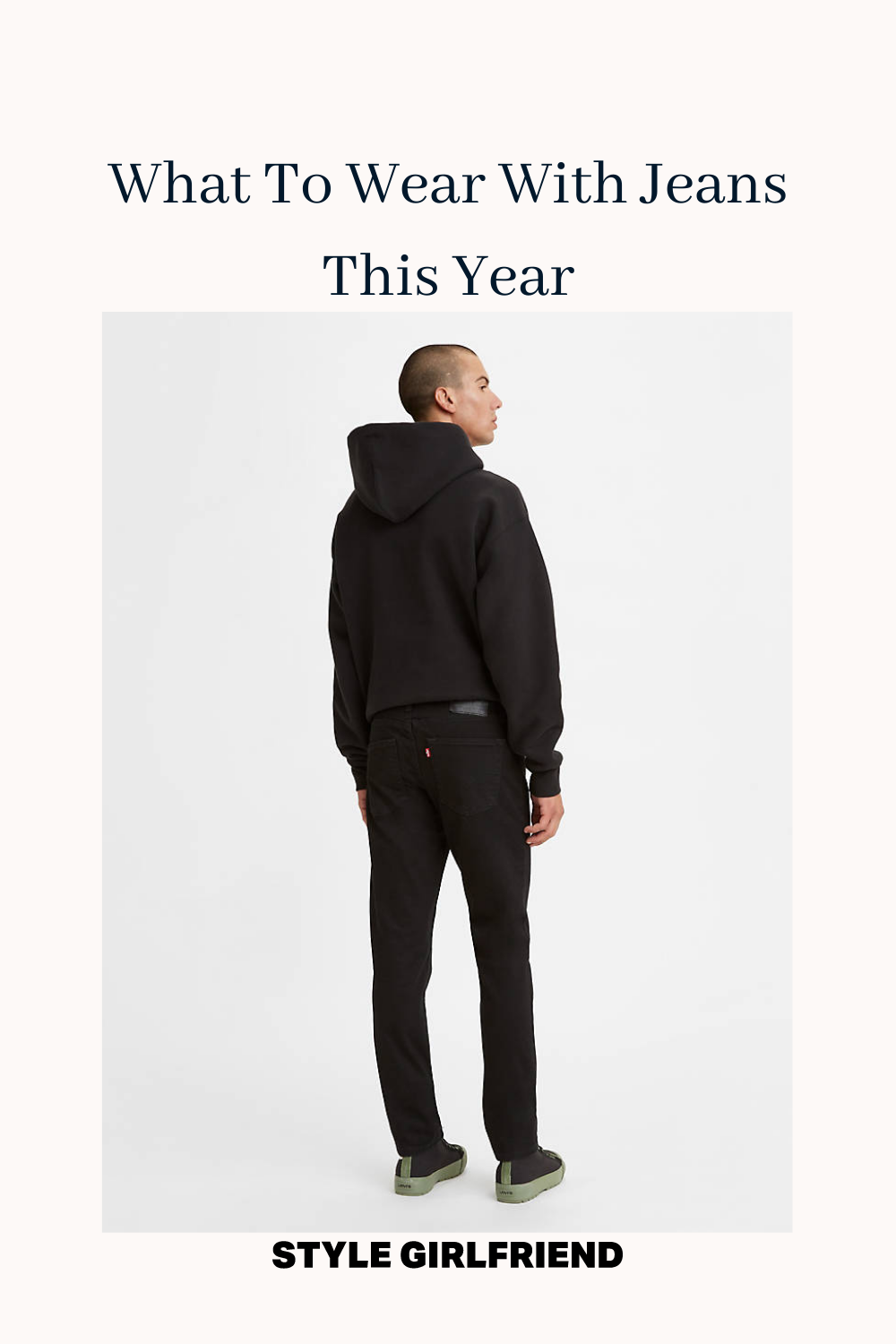 Below, get inspired with a month's worth of men's jeans outfits:
1. jeans with high top sneakers
SG SAYS: You don't need a professional athlete's physique to pull off this men's outfit with black jeans.
Giannis (and his adorable son!) wearing black jeans with off-white high-tops is a look any guy can pull off.
2. black jeans with a black hoodie
SG SAYS: Black on black, like the jeans and hoodie outfit Olympic snowboarder Shaun White is wearing, always works.
Complete the look with a pair of trending Adidas throwback sneakers.
3. straight-leg jeans with loafers
SG SAYS: Model (you may recognize him from Todd Snyder and J.Crew campaigns) and footwear founder Armando Cabral shows off the power of a great jacket and shoes when it comes to an otherwise pretty standard jeans outfit.
I'm sure you've got a long-sleeve tee and straight-leg jeans somewhere in your closet. So, try pairing these wardrobe basics with your best coat (you know, the one you save for special occasions) and a shoe you're not quite sure you can pull off.
Like, yes, sure this outfit would look fine with sneakers, too. But! Loafers are one of our team's 2022 style essentials for guys, so if you don't have a pair, now's the time to invest.
4. jeans with a camp shirt
SG SAYS: Henry Golding showing the power of a patterned camp shirt, and cigar as accessory.
5. WFH outfit with sweatshirt and sneakers
SG SAYS: Dogs not required for great outfit pics, but definitely recommended.
Editor-in-chief of UK-based style publication Essential Journal Will Halbert perfects the WFH vibe with a sturdy crewneck sweatshirt and stylish New Balance sneaks.
6. black jeans and desert boots
SG SAYS: SG Madness 2021 winner Barack Obama shows the power of simplicity when it comes to business casual style in a blue button-down and black jeans.
A pair of black desert boots completes the ready-for-anything outfit with jeans.
7. light rinse jeans and white sneakers
SG SAYS: Squid Game's Wi-ha Joon giving Breakfast Club vibes in an oversize top coat, light rinse jeans and white sneakers.
8. jeans outfit with a leather jacket
SG SAYS: The ASOS instagram account posted this great throwback of LL Cool J in his younger days wearing an outfit he could (and might!) wear today.
Yes, even the Kangol hat. Hey, the 90s are back!
9. jeans and a jersey
SG SAYS: You know our team loves an athleisure look.
Like Shang-Chi star Simu Liu in dark jeans, colorful sneakers, and a Raptors jersey. Go team!
10. mens outfits with white jeans
SG SAYS: Three cheers for winter white!
Want to steal the white-haired model repping short guy style? He's wearing a quilted jacket from short guy retailer Peter Manning, Levi's 511 jeans, 1000 Mile Boots from Wolverine, and a Stetson newsboy cap.
11. white t-shirt and jeans
SG SAYS: Tattoo artist Luke Wessman in a white t-shirt and black jeans with black high-top Converse sneakers is proof that mixing timeless wardrobe pieces is always a good bet.
12. mens outfits with faded jeans
SG SAYS: Yep, more loafers. Our whole team loves this laid-back look from photographer Jeremy Mitchell.
He makes a strong case for rolling your beat-up denim to show off the shoe of 2022.
13. jeans with a sport coat
SG SAYS: Designer Sid Mashburn pairing his jeans with a professorial oxford shirt, tie, and sport coat has me wanting to stand on my desk and recite "O Captain! My Captain."
Finish off a casually elegant outfit like Mashburn's with brown lace-up boots.
14. jeans with a bright-colored top
SG SAYS: We can all use a sunny pop of yellow in our winter wardrobe, like this Atlanta style blogger's great sweatshirt.
15. jeans with print shirt
SG SAYS: He's never taken the top spot, but perennial SG Madness contender Jonah Hill makes a strong case for a 2022 bid in this casual popover shirt with a fun print.
16. turtleneck and jeans
SG SAYS: A snap of the artist Hajime Sorayama taken by The Weeknd (they're collaborating) shows off not just his workspace but his laid-back style.
For an instantly elevated outfit with your jeans, throw on an elegant grey turtleneck and some throwback tinted lenses.
17. frayed jeans and a blazer
SG SAYS: Take inspiration from the frayed denim sported by former J.Crew creative director Jenna Lyons in this campaign for Todd Snyder's Clarks collab.
We love how the bottom of the jeans is set off by those chunky knit camp socks.
Worried about the Canadian tuxedo vibes of the blue Oxford shirt? Swap it for a white one for more contrast.
18. jeans with coordinated colors
SG SAYS: Celebrity stylist Jeanne Yang shared this pic of client Kumail Nanjiani promoting Eternals in pops of red.
The takeaway?
Don't be afraid of coordinating your standout pieces and keeping the rest of your look subtle.
19. topcoat over jeans
SG SAYS: Love this easy to replicate outfit from style 'grammer @soartisticnow, featuring one of our team's favorite topcoats from Abercrombie this season!
20. ripped jeans that look stylish, not sloppy
SG SAYS: Insecure's Jay Ellis in torn, faded jeans still looks cool.
Love the shacket. Love the sneakers. No notes!
21. a "sailor on leave" aesthetic
SG SAYS: This instagrammer (whose bio reads: "Dad jokes, boots, denim and coffee") nails the Jeans January vibe.
Find yourself a peacoat, beanie, henley, and boots, and you'll be similarly good to go.
22. jeans with a leather jacket
SG SAYS: Kermit The Frog has always been a style icon.
This leather biker jacket with white t-shirt and blue jeans outfit shows why.
23. dad jeans outfit
SG SAYS: Men's style blogger Acute Style wearing a patchwork plaid shirt and true dad jeans.
Look at those pleats!
24. weekend outfit with jeans
SG SAYS: Bruce Pask, men's fashion director at Bergdorf Goodman, rocking rich dad-chic in a blue chore coat, marled sweater, and ripped jeans.
And because he works in fashion, he knows how key natural light is in getting off a 'fit pic for the gram.
Repeat after me, I promise to pose outside or at least near a window for pictures in 2022!
25. all-denim jeans outfit
SG SAYS: Steve harvey with a true Canadian tuxedo.
Is it for everyone? Maybe not, but you gotta admire the Family Feud host's confidence here!
26. jeans with a field jacket
SG SAYS: Another bucket hat, but very different from LL Cool J's throwback vibes.
Get yourself a Barbour jacket and a Drake's scarf…and maybe an English countryside manor…to steal this look from style instagrammer @lastrolab.
27. men's jeans outfits x 2
SG SAYS: Okay, so ignore Keanu Reeves and Carrie-Ann Moss, who are not wearing jeans, and focus on Showtime hosts Desus Nice and The Kid Mero's denim looks!
We especially love the mix of Mero's fisherman sweater and gold chains.
28. jeans with loafers and socks
SG SAYS: This lookbook image from cool kid footwear brand Blackstock and Weber (self-proclaimed makers of "The best f*cking loafers in the world") is truly the 2022 vibe.
Soft sweater, true blue jeans, and loafers. With white socks! Can you even?
29. mens outfits with light wash jeans
SG SAYS: Another jeans and loafers combo? That's right!
With light rinse jeans from style influencer Ronald Thomas (aka The Male Prepster) in our favorite cold winter style hack—the hoodie and camel overcoat combo.
30. jeans with a print that pops
SG SAYS: Cardinals quarterback Kyler Murray in ripped jeans and a leopard-print jacket is a vibe.
31. jean…shorts?!
SG SAYS: Okay, I'm not saying anyone can pull off Idris Elba is 100% pulling off these denim shorts, but if anyone can inspire you to try, it's the past SG Madness winner!
---
Want more denim direction? Shop our favorite jeans for guys to wear in 2022!