How to Wear Espadrilles: A Guide for Guys
slide into summer with these slip ons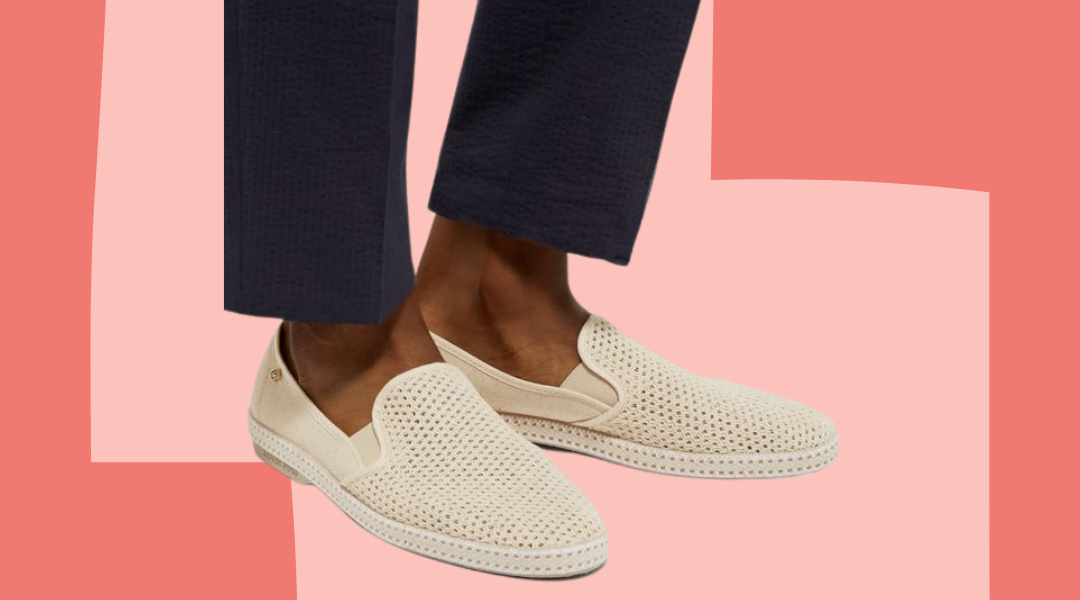 I'm sorry, guys, but I can't personally endorse any kind of sandal for men. I just don't want to see your feet, and I'm pretty confident that most women feel the same.
Thankfully, espadrilles exist.
Espadrilles are lightweight and breathable, and can be worn just as casually as flip flops (or Birkenstock sandals!), but also can be styled so many more ways than your go-to pool slip-on.
What are espadrilles?
This casual, flat shoe is generally made of a canvas or cotton fabric upper, with a flexible sole made of esparto rope.
Espadrilles are a stylish swap for sandals that can be dressed up or down for every summer situation.
Can guys wear espadrilles?
Absolutely! This subtly sexy shoe is great for guys who want to break out of boat shoe monotony this summer.
Think of them as a boat shoe or slip-on sneaker alternative you can wear with fancier outfits like a summer wedding (if any of those happen this year), or dressed down with shorts and a t-shirt for socially distanced drinks with friends.
In this guide, check out how to wear espadrilles in some stellar summer outfits, and shop a list of #SGapproved pairs.
Below, a guide for guys on how to wear espadrilles this summer: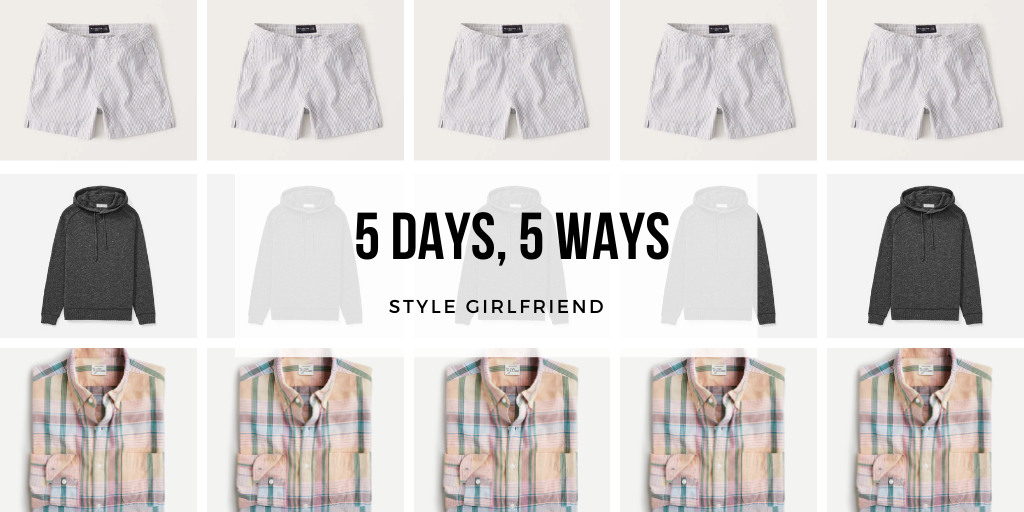 MONDAY
espadrilles: Soludos | shirt: Charles Tyrwhitt | pocket square: Reiss
Wear it well: Relaxed summer suiting, like this snazzy shawl collared, double breasted jacket with patch pockets, mirrors the casual elegance of espadrilles.
If you have the opportunity to dress up this summer, don't be afraid to bust out this casual shoe with a suit. Just skip the socks (obviously).
TUESDAY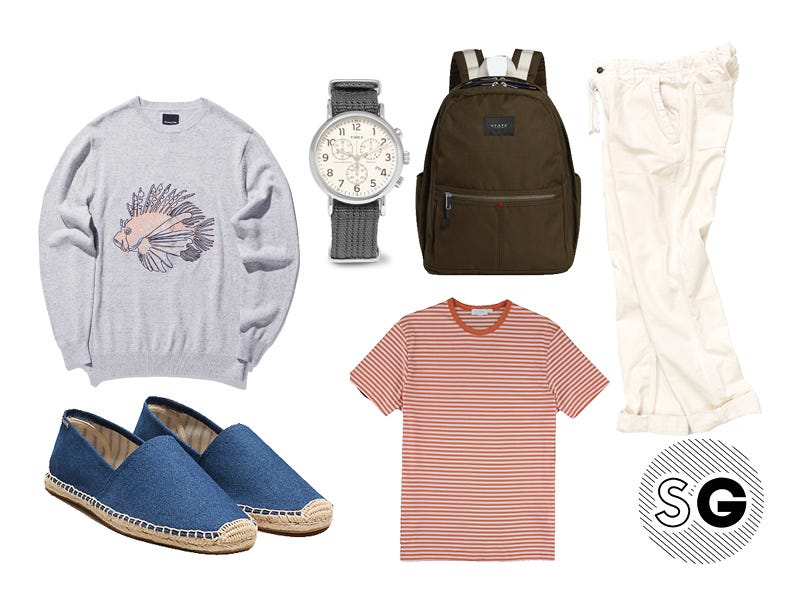 tee: Sunspel | pants: Save Khaki | watch: Timex | backpack: State Bags
Wear it well: Roll up the pant leg of your chinos this summer to show off your espadrille style. The shoe's streamlined silhouette can easily get lost in oversized styles.
WEDNESDAY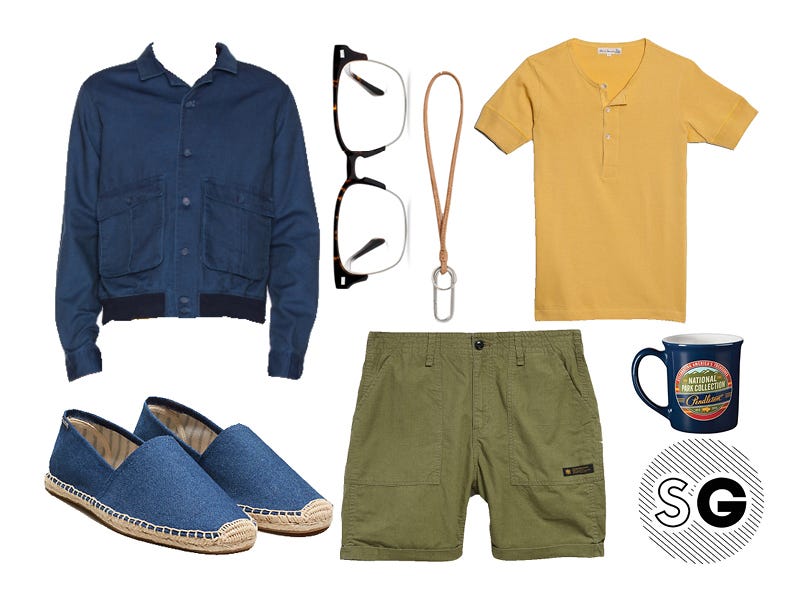 glasses: Warby Parker | shorts (similar): Levi's
Wear it well: Help I'm obsessed with this outfit. Tech-forward shorts, a short-sleeve henley in a sunny hue, and a lightweight jacket that picks up the color of the espadrilles? You. Would. Look. So. Good. In. This.
And really, don't be afraid of pairing two brighter colors together, like the green with yellow above. You won't look like a Green Bay Packer, promise.
THURSDAY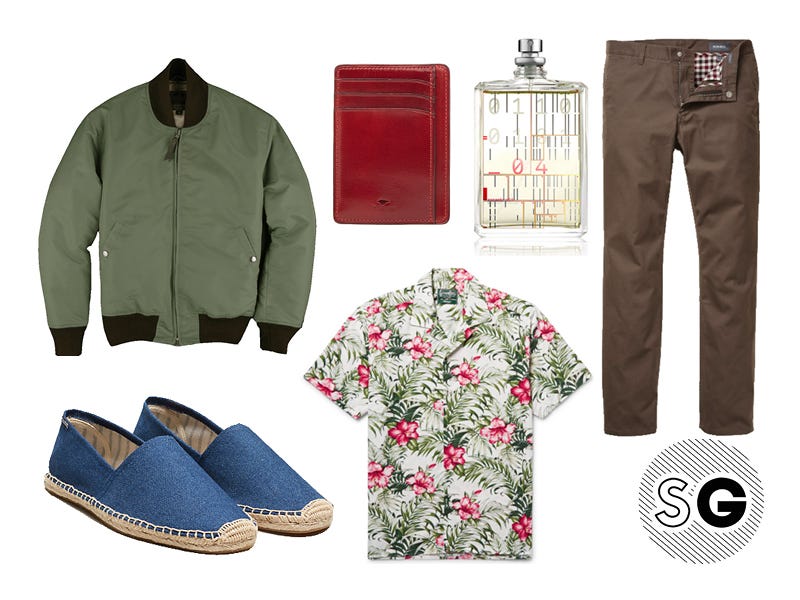 shirt (similar): RVCA | chinos: Bonobos
Wear it well: Wear your espadrilles with chinos and a playfully printed camp collar shirt for a summer outfit that can take you…literally almost anywhere!
And feel free to swap the bomber for another light layer. A denim jacket would look great. So would a cotton cardigan (we like this Alex Mill style for summer).
FRIDAY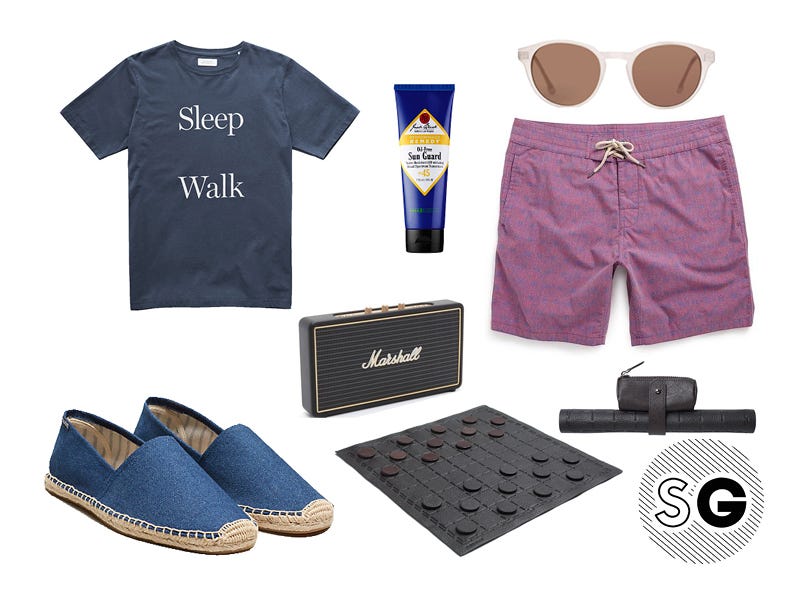 tee: Saturdays NYC | swim trunks (similar): Bonobos
Wear it well: Headed to the pool or beahc? Ditch the flip flops for good and pull on espadrilles instead.
Shop #SGapproved espadrilles for guys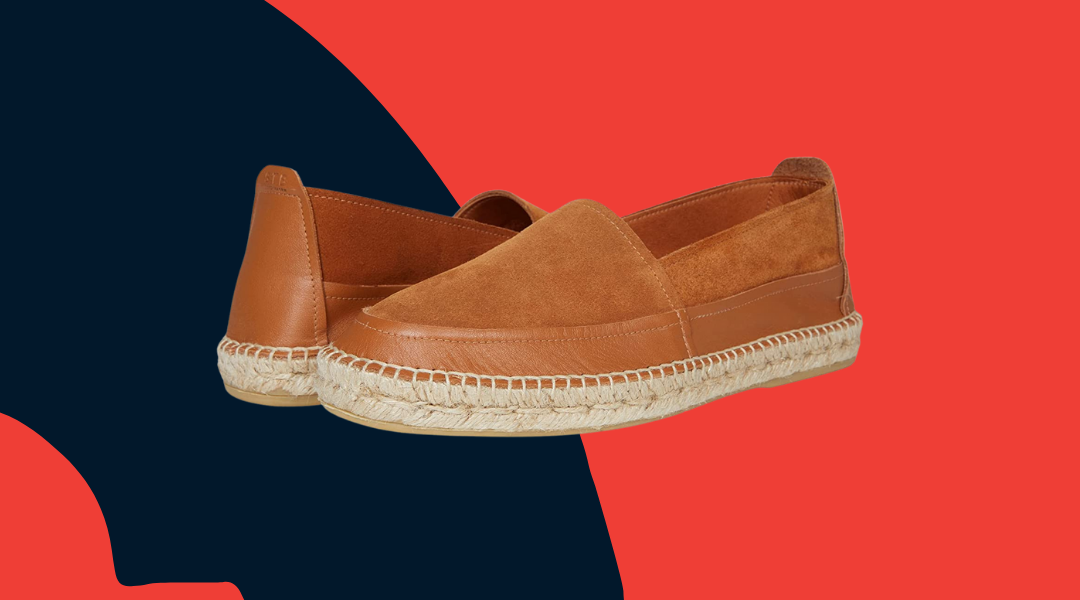 SG Says: Wear this suede style from Shoe The Bear (with a comfy cushioned footbed and leather sole) to your next beach wedding.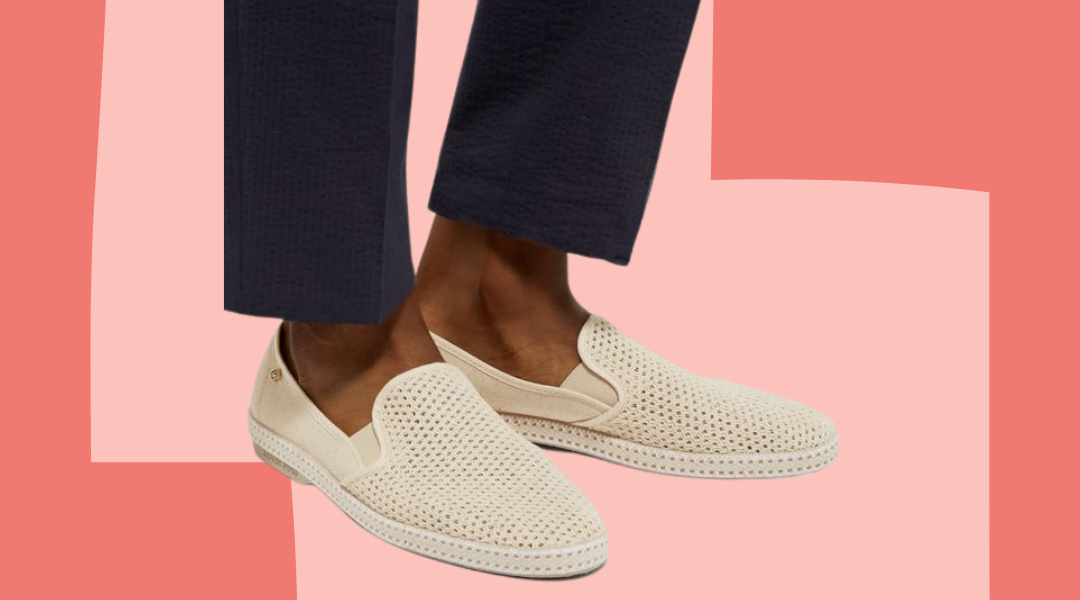 SG Says: The panelled mesh and canvas of these slip-on shoes from Rivieras mean your feet will actually be able to breathe in hot climates.
Wear them with shorts and a t-shirt, or dress them up with summer weight trousers and a knit polo shirt.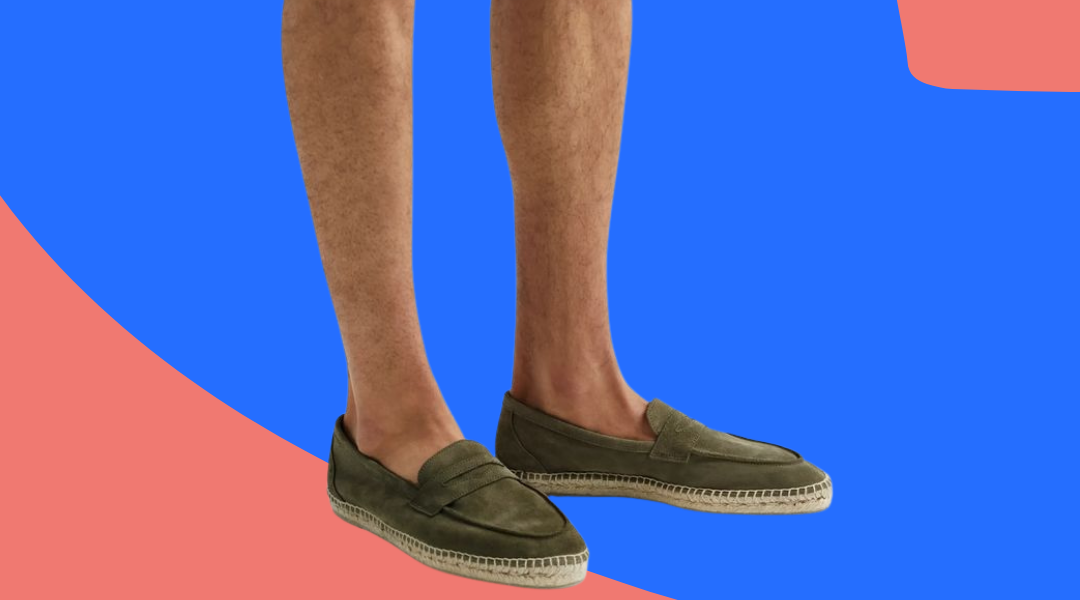 SG Says: The Castañer brand dates back to the 1700s, with a colorful history that includes soling soldiers for the Spanish Civil War.
Their 'Nacho' espadrille loafers offer a slight step up in terms of formality (well, as formal as a slip-on made with jute soles can get) thanks to its penny bar and smart casual green hue.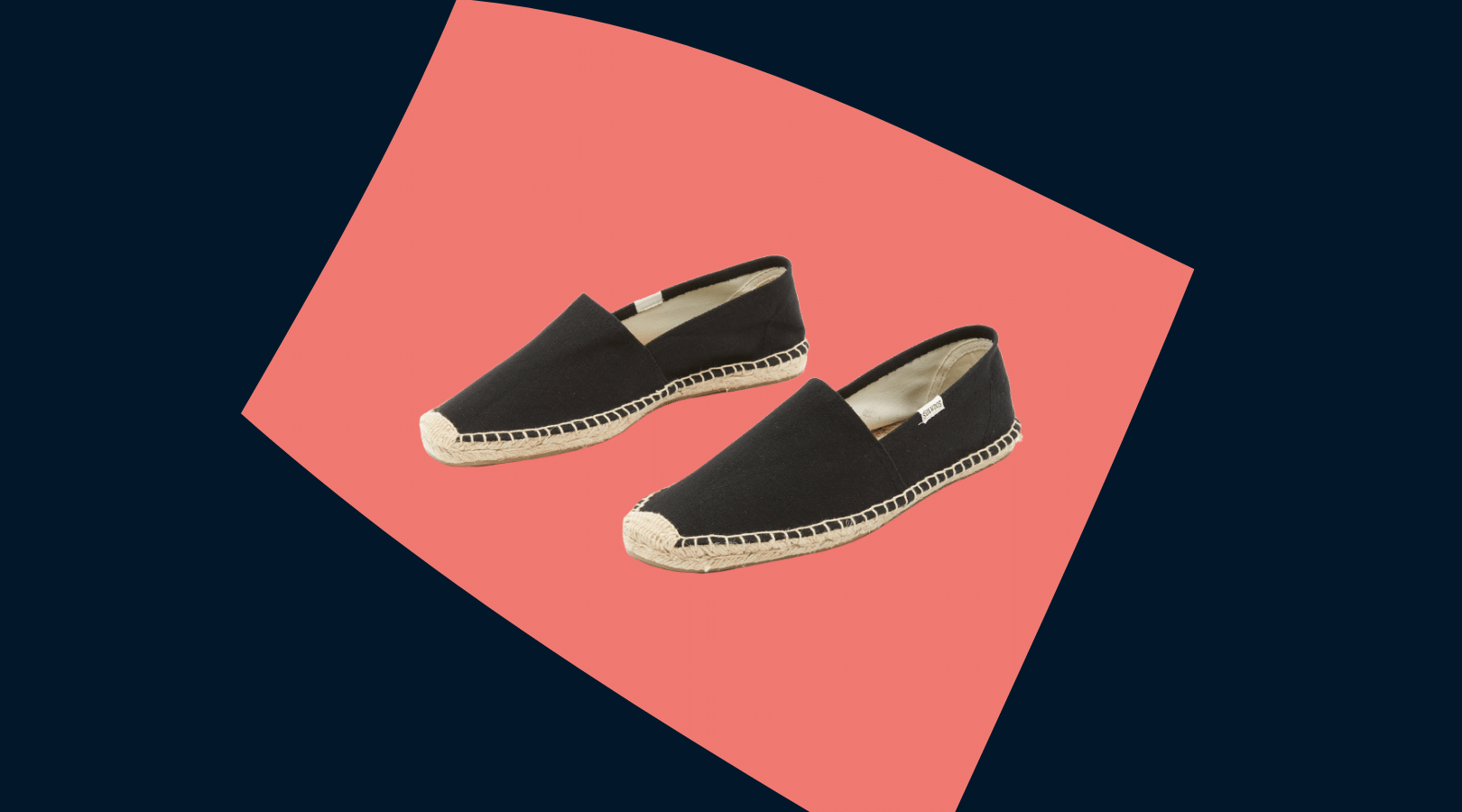 SG Says: Soludos make for a great first espadrille, thanks to their affordable price point and durable nature.
Listen, any shoe made of canvas and rope is not going to be a shoe you're running a marathon in, but that can be said for most summer wear, can't it?

Check out more ways to wear the best clothes for summer, including 5 ways to wear chino shorts, a band collar shirt, and a polo shirt.

Like a phoenix rising from the ashes, Gabi Meyers went from Team SG's first-ever intern to a trusted fashion editor and stylist. She currently lives in Chicago with a very cute dog.