5 Days, 5 Ways: How to Wear a Camp Collar Shirt
Up to your neck in summer style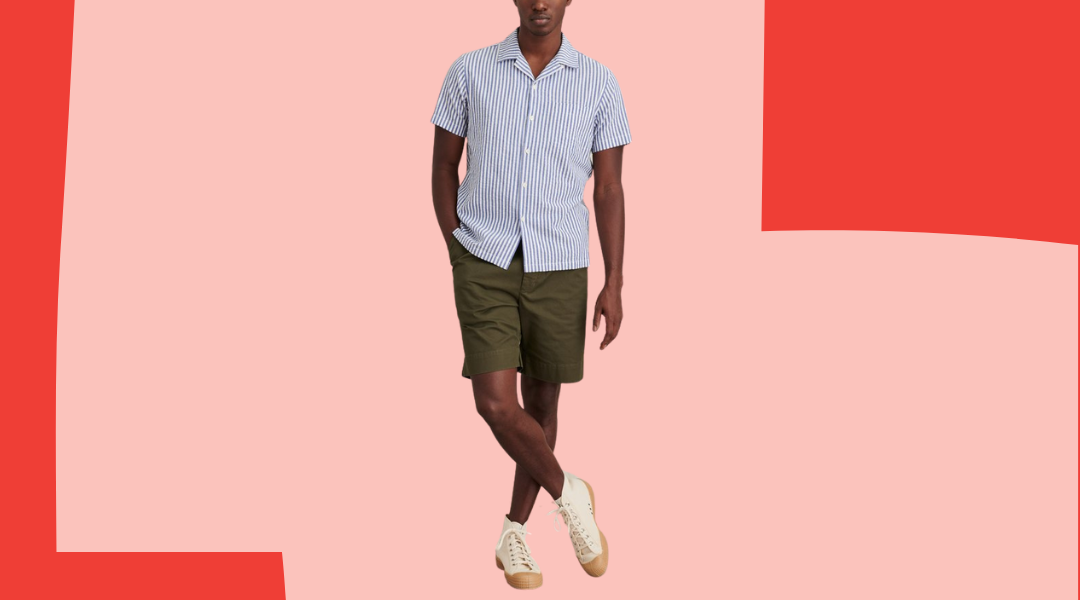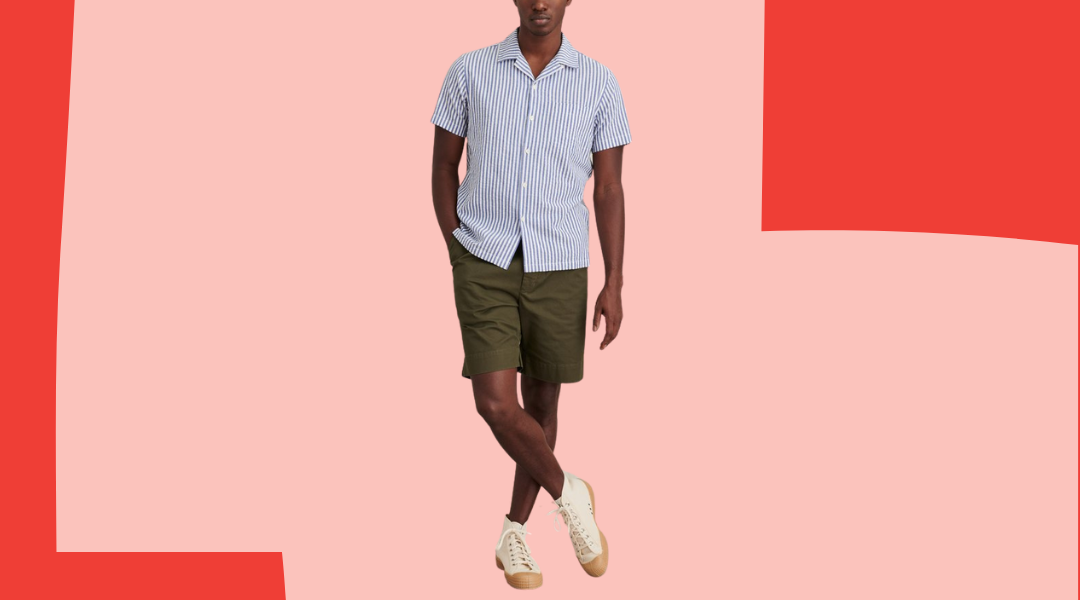 You may not be familiar with the camp collar shirt by name. But! I bet you've definitely seen one. Maybe even worn one! This casual warm weather shirt has been claimed as an off-duty favorite by stylish guys from James Bond to Chris Pine.
Oh that? You may think when you see one. That's a Hawaiian shirt. But guys, it's so much more. Let me explain.
What is a camp collar shirt, anyway?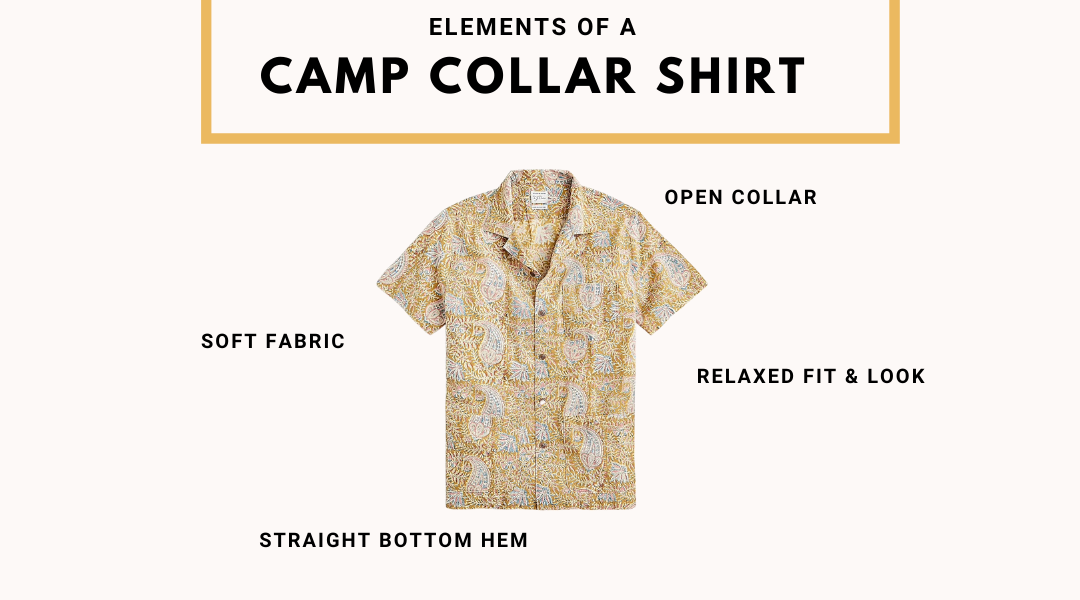 A style staple of the 1950's, camp collar shirts are characterized by their lack of collar band (making the collar a little floppy), short sleeves, and a loose, straight-cut fit.
History of the camp collar shirt
The Manual lays it out:
The history of the camp collar shirt is intertwined with Hawaiian fabrics as produced by pioneering brands like Reyn Spooner, but the camp collar shirt is also known as the "Cuban collar" shirt. It's a callback to the fact that a breezy shirt and open collar are perfect for hotter climates such as in, well, Cuba. Early camp collar shirts — even some newer counterparts — featured soft fabrics like rayon, but modern iterations also feature linen or linen-cotton blends.
Colors and patterns of a camp shirt
When you think of camp shirts, what comes to mind may be a louder, more vacation-y print or pattern. After all, this style of shirt was built for play.
However, this summer, the camp shirt is growing up.
We love a solid-colored camp shirt that relies more on textures and smaller, subtle details to make you stand out. If you've been reticent to try this summer shirt, a solid hue may be the way to go.
What to wear with a camp shirt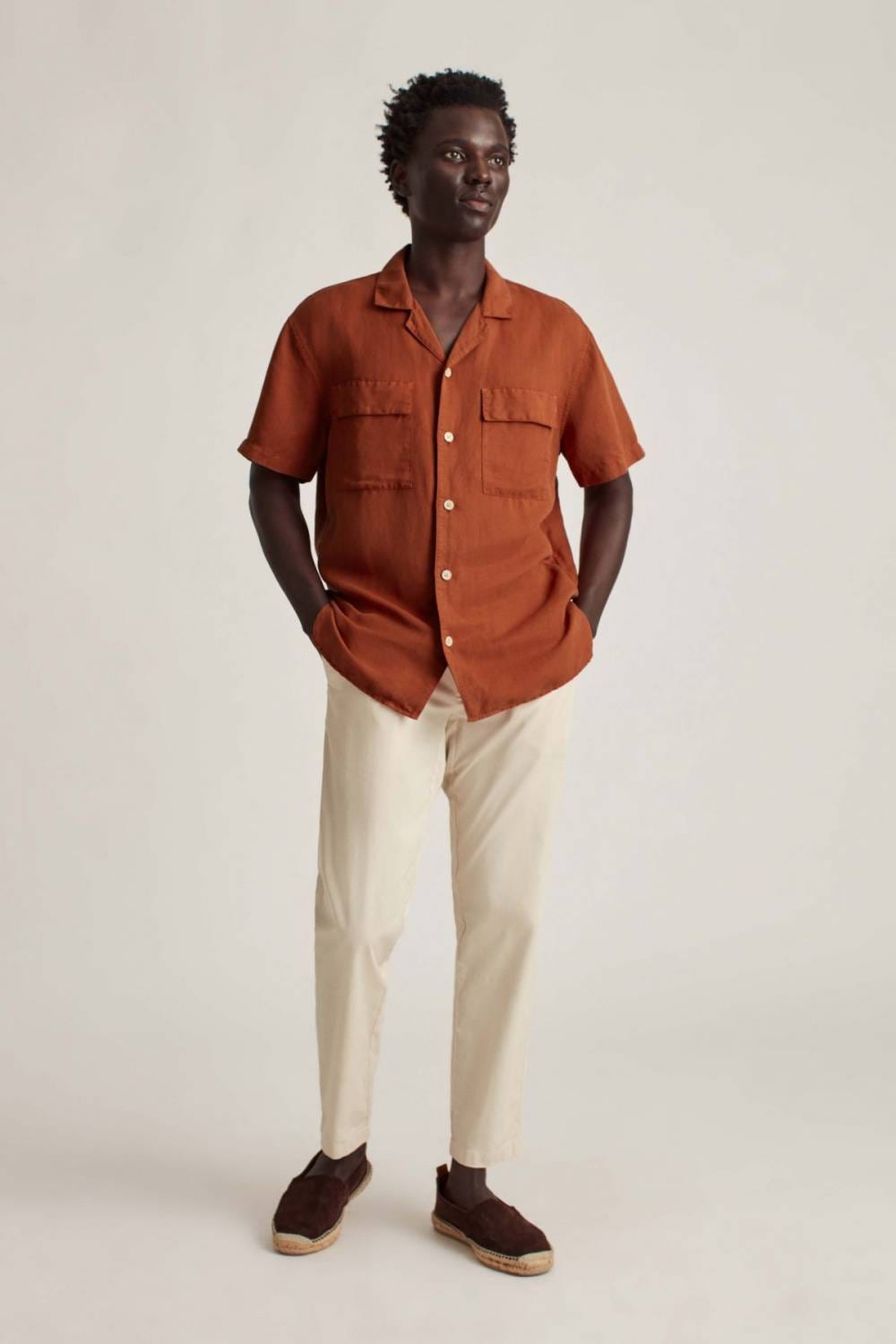 shirt: Bonobos, $89
There's so many ways to wear a camp collar shirt. In a more laid-back office (and as we head back into our workplaces after so long doing WFH, they're probably all more casual), you can pair yours with chinos or jeans.
In your off-duty hours, swap out close-toed shoes for sandals. And when it gets really hot? Go with shorts.
RELATED: The 5 Best 5-inch Shorts for Guys
Best left untucked, the camp collar shirt looks equally stylish on an upcoming Summer Friday half-day, at a backyard barbecue, and at the bar.
As our pal Peter Nguyen over at The Essential Man says, "Tag them in into any outfit that would call for a collared shirt and you're golden."
Below, check out how to wear a camp collar shirt five ways:
MONDAY
trousers: Bonobos, $98 | watch: Timex, $129 | cologne: Byredo, $175
SG Says: Elevate your camp collar shirt with trousers and loafers in beautiful fabrics and supple leather accessories. As the folks over at Mr Porter wisely recommend, the camp collar shirt has an "appealing, languid, sort of what-do-I-care-ness," so "just make sure you keep everything else very clean and classic."
TUESDAY
SG Says: With shorts and a pair of clean white sneaks, this shirt can get you through the end of the school year in style.
WEDNESDAY
espadrilles: Rivieras, $78 | belt: H&M, $13
SG Says: Perfect for plenty of warm weather occasions, pair your camp collar shirt with a pair of white jeans and some espadrilles for an easy-breezy weekend look.
THURSDAY
joggers: Zanerobe, $99 | denim jacket: Levi's, $90 | sneakers: Nike, $130
FRIDAY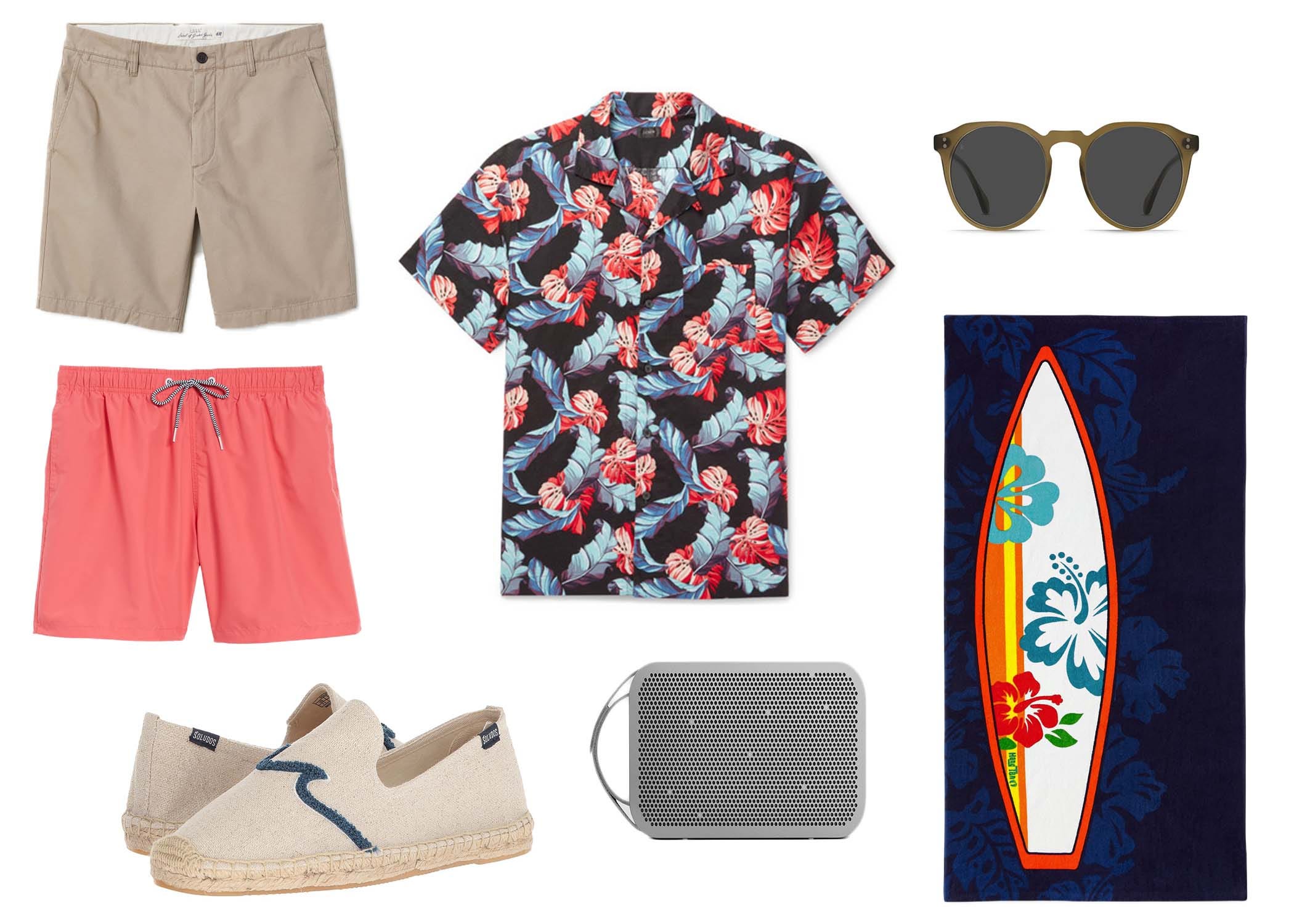 shorts: H&M, $25 | swim trunks: Boardies, $70 | espadrilles: Soludos, $
sunglasses: Raen, $175 | towel: Hang Ten, $25 | speaker: B&O Play, $400
SG Says: For one of those weird half-day Summer Fridays where you're supposed to stay at your desk til 2pm, grab your camp collar shirt and pack some swim trunks. Change when you get to the beach. You'll be all set.
Shop #SGApproved Camp Collar Shirts:
SG Says: Lightweight and breathable, this striped camp shirt from Alex Mill is the perfect style to add to your warm weather wardrobe. It's cut from a seersucker fabric that gives it a relaxed fit and look..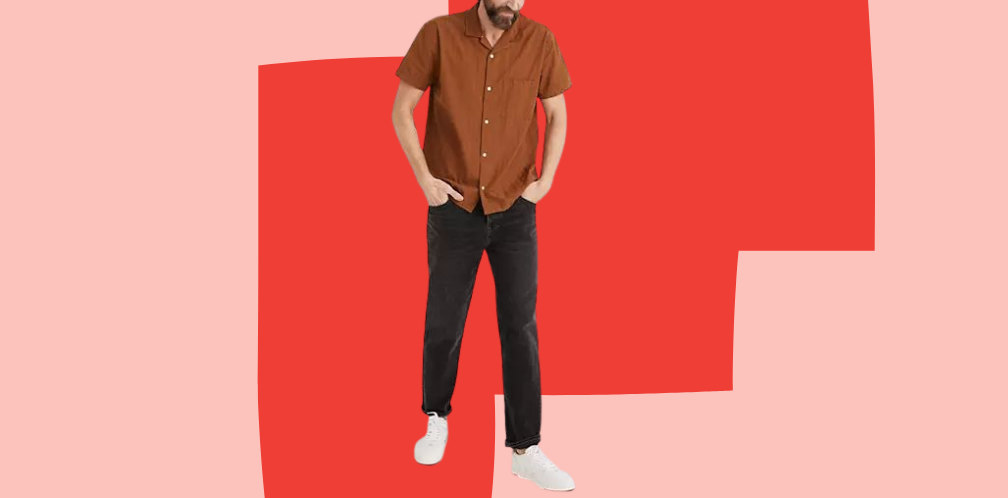 SG Says: The slightly oversized fit of this Madewell camp shirt makes for an easy way to look a little more put together this summer.
Wear it with shorts during the day, and with rolled chinos or jeans for a date night.
Subtle textural stripes like the ones in this style means you can get a little out of your fashion comfort zone without immediately jumping to a loud print or pattern.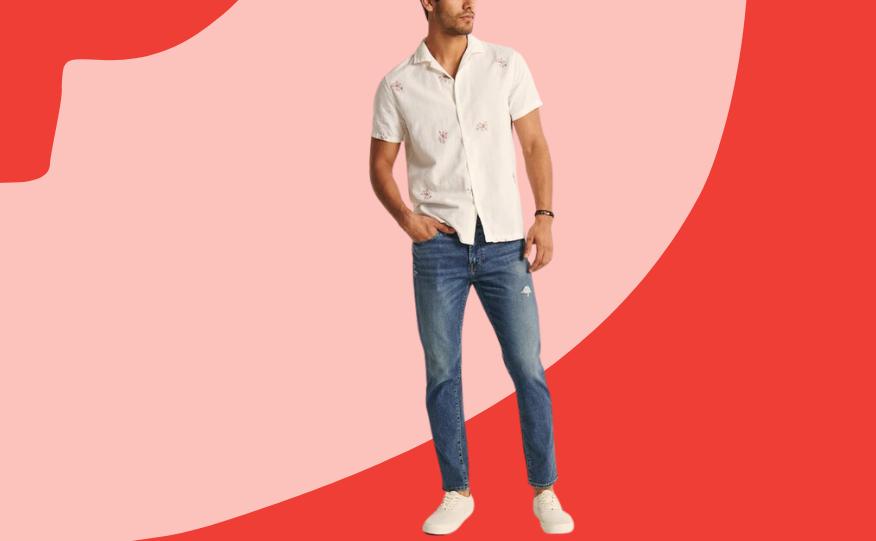 SG Says: We've been saying this for awhile now, but do not sleep on Abercrombie, guys! The brand has come a long way since they were slapping that moose on every single thing in the store.
Exhibit A? The easy-breezy camp collar short-sleeve shirt above.
It does run a little tight in the arms, so if you're going for a more roomy look and feel, size up.

Ready to update your summer wardrobe with Style Girlfriend's help? Get a personalized shopping list and just-for-you outfit inspiration.

Like a phoenix rising from the ashes, Gabi Meyers went from Team SG's first-ever intern to a trusted fashion editor and stylist. She currently lives in Chicago with a very cute dog.