LIFE IS COMPLICATED.
LOOKING GOOD SHOULDN'T BE.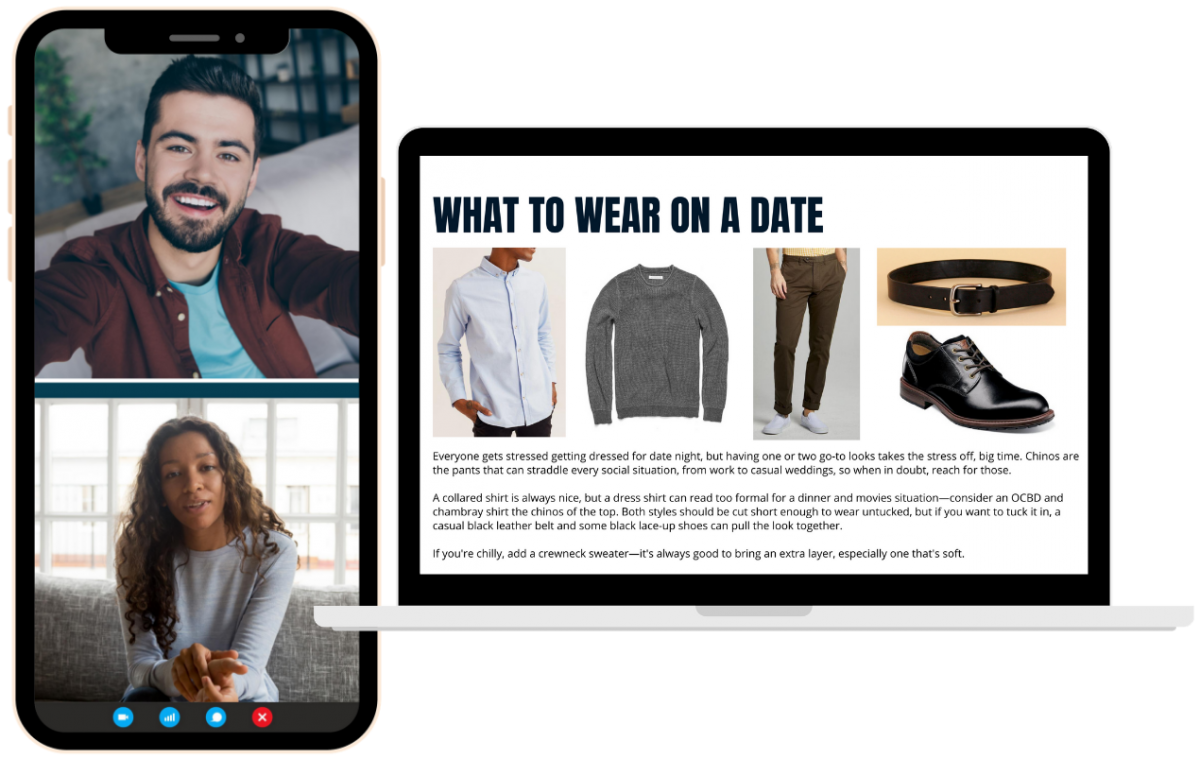 We'll find the clothes. All you have to do is buy them.
1. Tell Us What You Need
Looking to update your off-duty style? Want new work outfits for WFH? Share what you need in an easy-to-fill-out questionnaire.
2. Talk Face To (Virtual) Face
Next, you'll be paired with a member of the Style Girlfriend team for a video chat about your personal style, wardrobe budget, and body type.
3. Shop Your Plan
You'll then receive a personalized shopping list curated just for you, with outfit ideas and styling tips. All you have to do is decide what to buy from it.
Ready To Get Started?
Wardrobe Refresh

UPDATE YOUR SEASONAL WARDROBE, OR GET HELP PUTTING TOGETHER A SPECIFIC OUTFIT

personalized shopping list of 4-6 items with outfit ideas

---

1 round of revisions (as needed)

Best Value

Wardrobe Reboot

OVERHAUL YOUR SEASONAL WARDROBE

personalized shopping list of 12-15 items with outfit ideas

---

1 round of revisions (as needed)

---

follow up call to discuss styling
Why trust Team SG with your style?
NO BRAND BLACKOUTS
We shop the entire internet to find the best items just for you. Build a unique, stylish wardrobe that feels like you, not anybody else.
YOUR NEEDS COME FIRST
Unlike other stylists who work on commission, we'll never push you to buy clothes that you don't want or need.
SUPPORT YOU CAN TRUST
We've been sharing men's style advice for years. Put that wisdom to work for you — with a personalized plan that fits your budget, body type, and (duh) style.
YOU'RE IN CONTROL
Never be surprised by another delivery you don't like, or have to coordinate annoying returns. You choose what you buy from your shopping plan.
Meet Your Personal Shoppers
Taylor
Taylor has been writing and styling for Style Girlfriend for over three years. Based in NYC, Taylor loves statement jackets, white sneakers, and stripes.
Gabi
Gabi hails from Philadelphia and now lives in San Francisco. She loves helping guys discover new brands and is unabashedly Team "Pop of Color" for your wardrobe.
Allie
Allie lives in Nashville (y'all). After almost a decade in menswear, she believes in cuffing jeans, going bold with your blazers, and making the time to discover your personal style.
WHAT GUYS ARE SAYING
"After the initial shock of so much change, I felt much more comfortable. I recently tried on an old work outfit and didn't feel right wearing it anymore. It felt stodgy."

Ian, 44
"I've had a noticeable lack of confidence my entire life when it comes to my physical appearance. That's gone now, and the final piece to that puzzle was learning that I could, in fact, dress well enough to make myself stand out."

Samuel, 35
"When I received my shopping plan, I was floored by how much it met my needs. I donated almost my entire closet and bought everything recommended for me."

Bill, 32