How to Wear a Denim Jacket: Guys' Outfit Ideas
You'll love it, we promise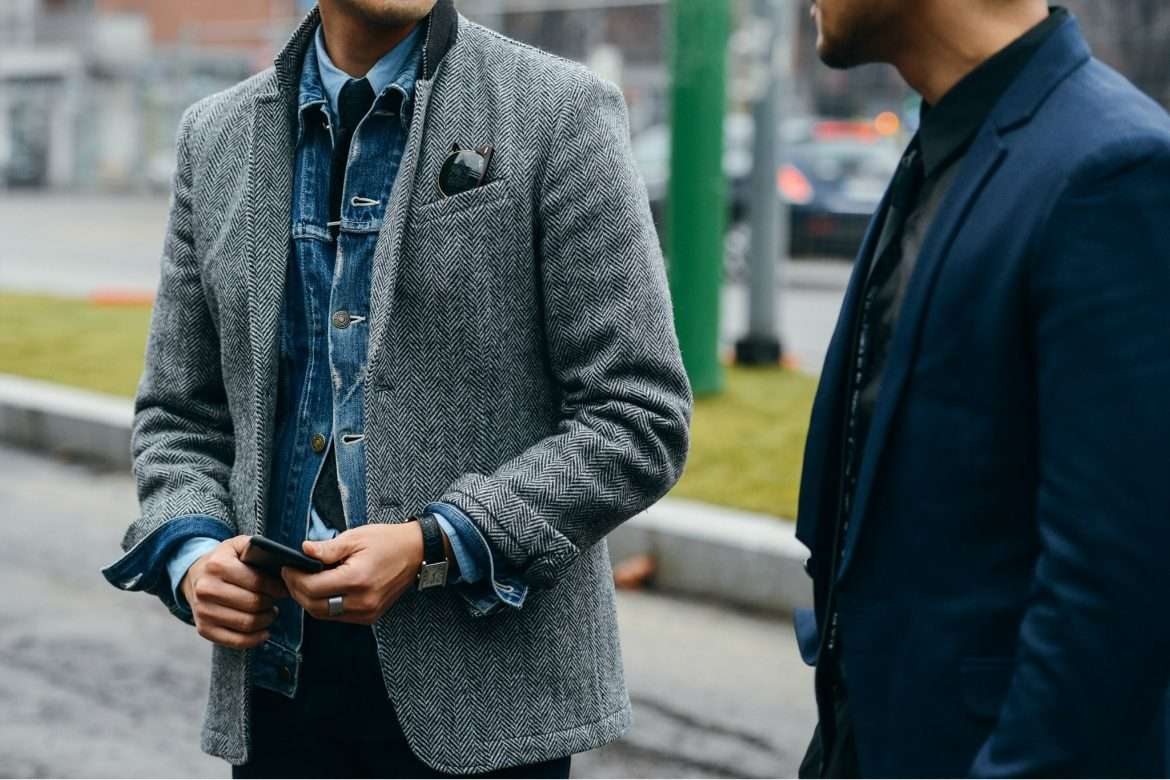 Here at SG HQ, we will beat the "denim jacket outfits for guys" drum 'til the day we all die.
Because you can and should feel confident in a denim jacket, guys!
It's such a great staple, and it kills us that so many men feel like they "can't pull off" wearing one.
Not too heavy, but still sturdy, this outerwear essential (yes, essential!) easily transitions from cool summer nights with a pocket tee to late November bonfires with a flannel or sweatshirt.
You can even wear it under a heavier coat in winter! If you're still not on-board, maybe after today you will be.
Check out stylish denim jacket outfits for guys, below:
1. Wear a denim jacket under a blazer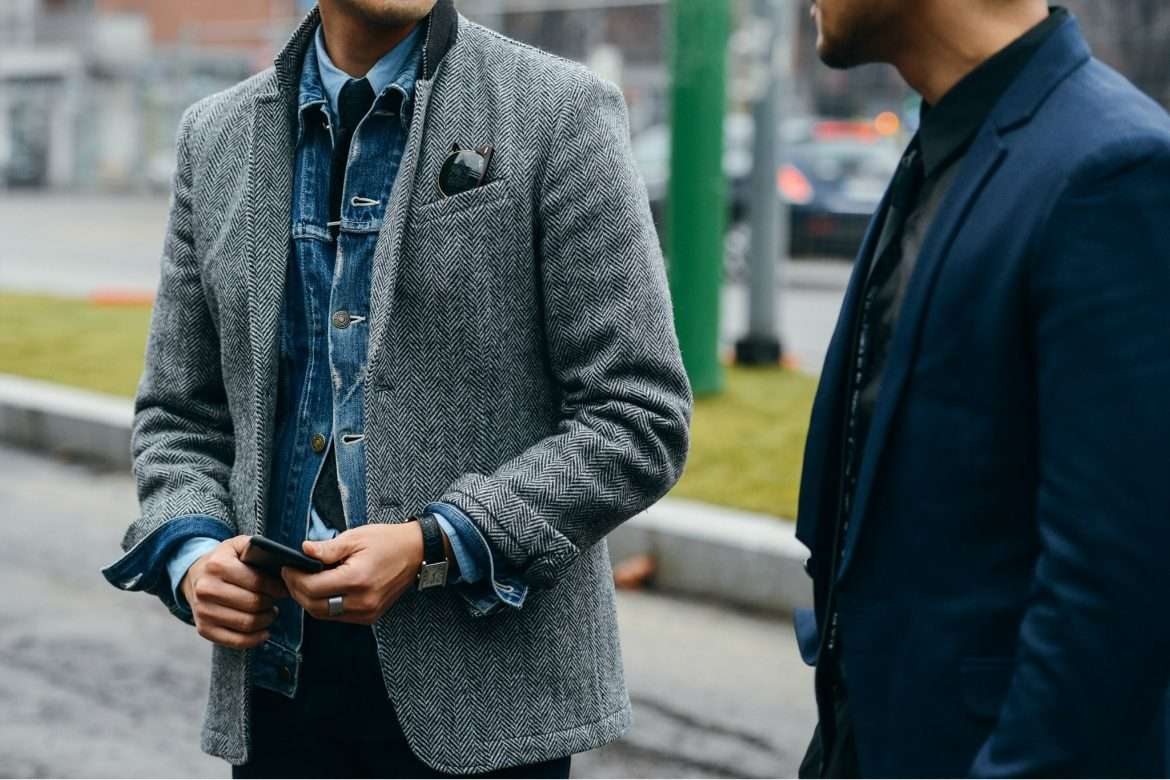 SG Says: You can fit more under a sport coat than you think. Go with a textured, more burly number, like the herringbone above to keep the vibe unfussy.
// Shop the Look //
2. Wear a denim jacket with dress pants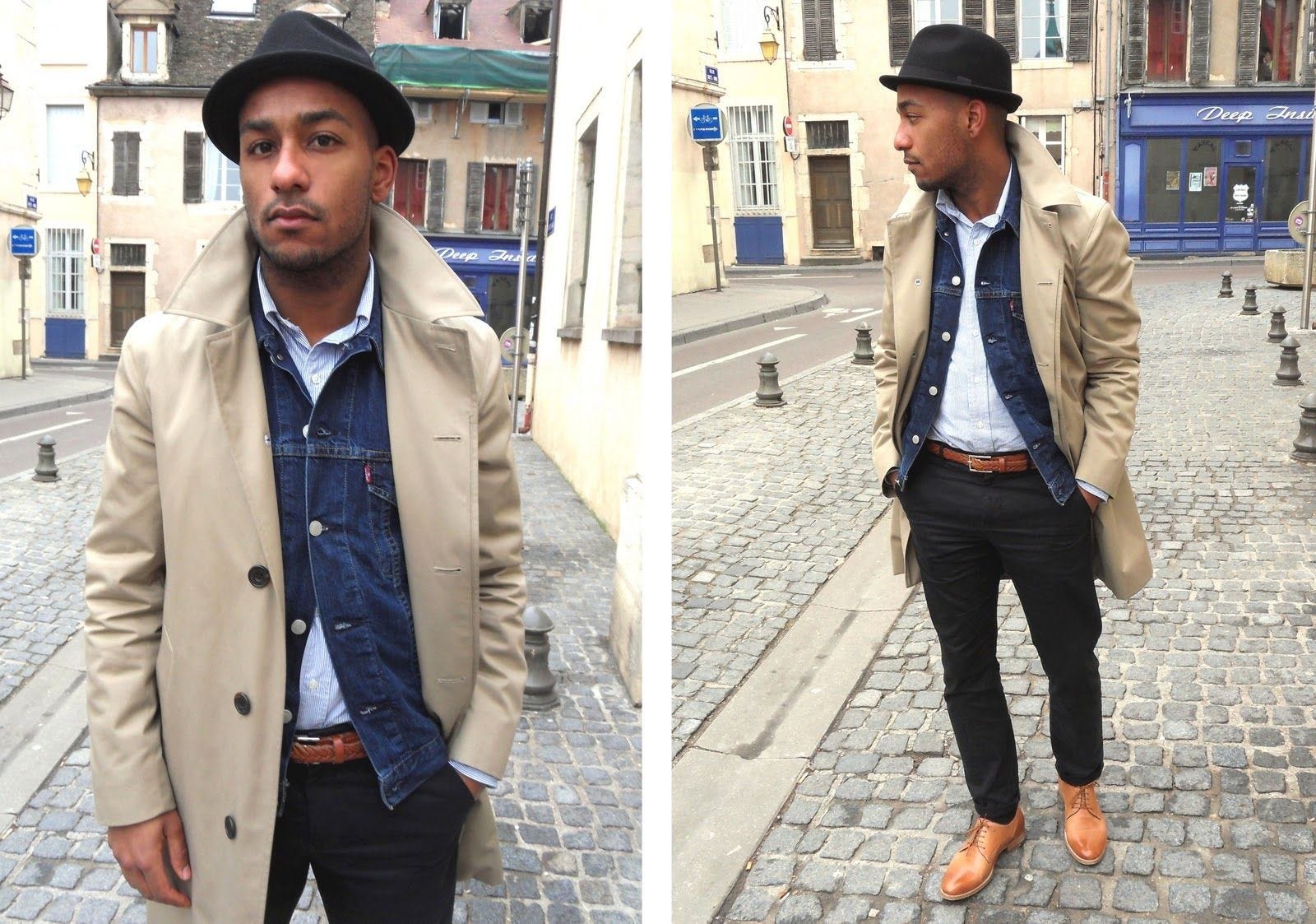 SG Says: Yes, you can dress a denim jacket up. Try yours with a trench or mac coat, button-front shirt and dress pants. Think you can pull off the hat? Go for it.
// Shop the Look //
3. Wear a denim jacket with a patterned sweater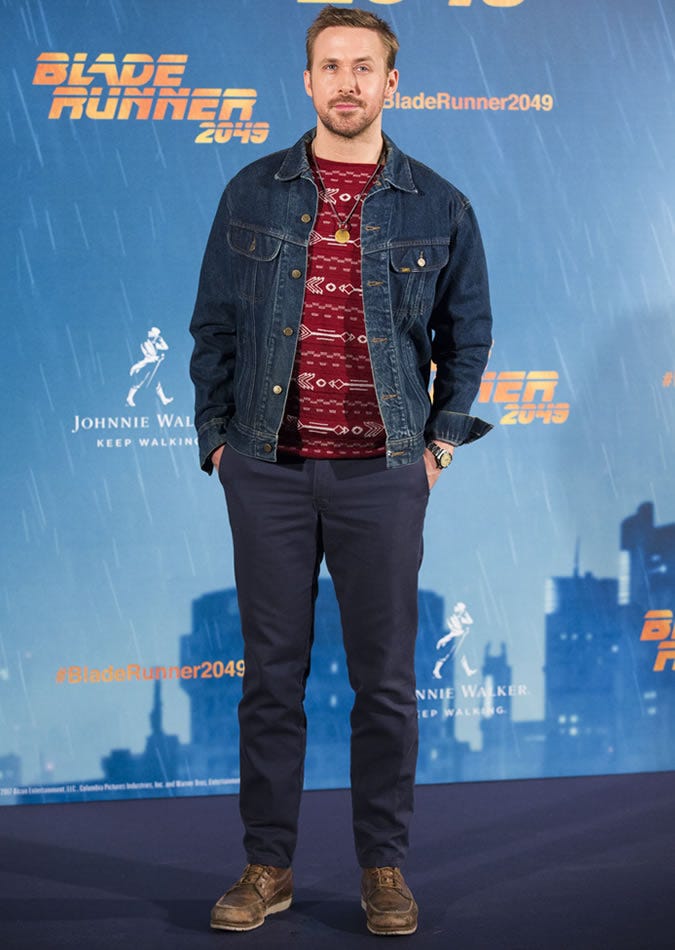 SG Says: What's that? You've seen this picture before? Damn right you have.
SG Madness 2018 winner (and MY pick to go all the way) Ryan Gosling wore one pretty much throughout his entire Blade Runner press tour.
Did I see the movie? No. Did I save all the photo call pics to a folder on my desktop? You bet.
Lucky for guys fashion doesn't change all that quickly, because even though this pic is from a couple years ago now, the outfit would look just as good this cold weather season.
// Shop the Look //
4. Wear a denim jacket with jeans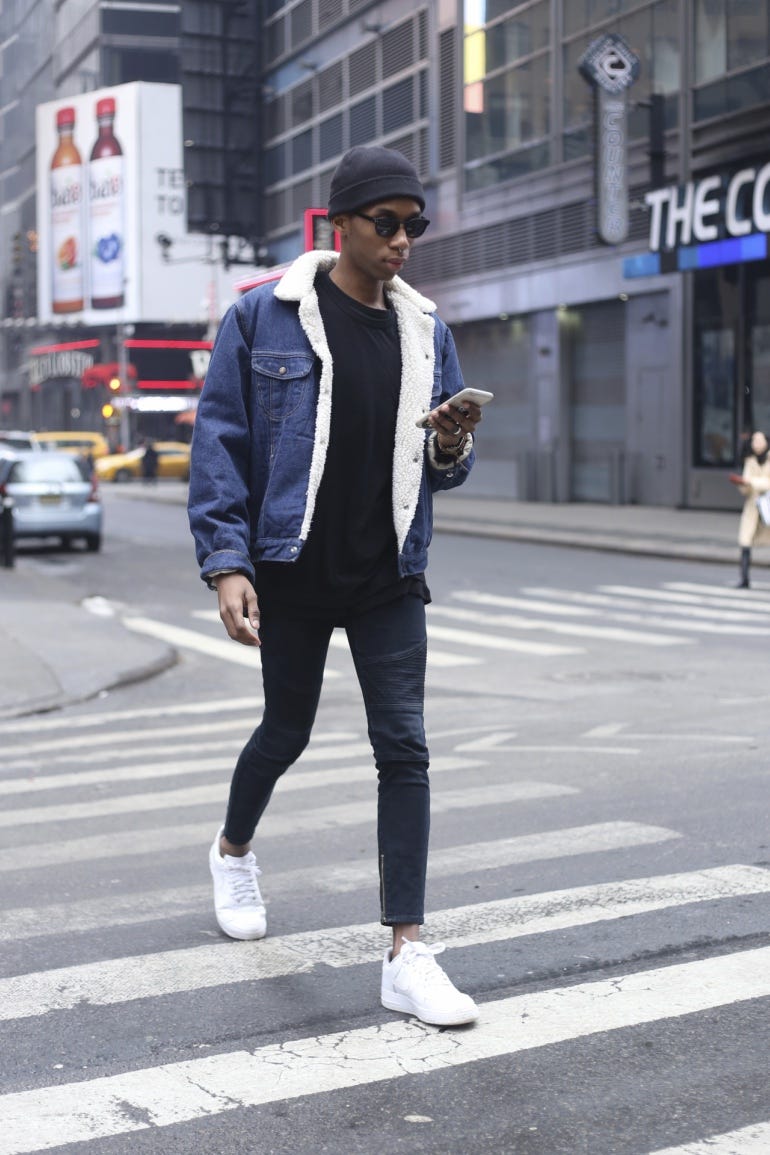 SG Says: Yes, really. With moto denim (which you can totally pull off!), white sneakers, and black on black tees, a sherpa trucker jacket is the perfect fall weekend look.
Nose ring optional.
// Shop the Look //
5. Wear a denim jacket all buttoned up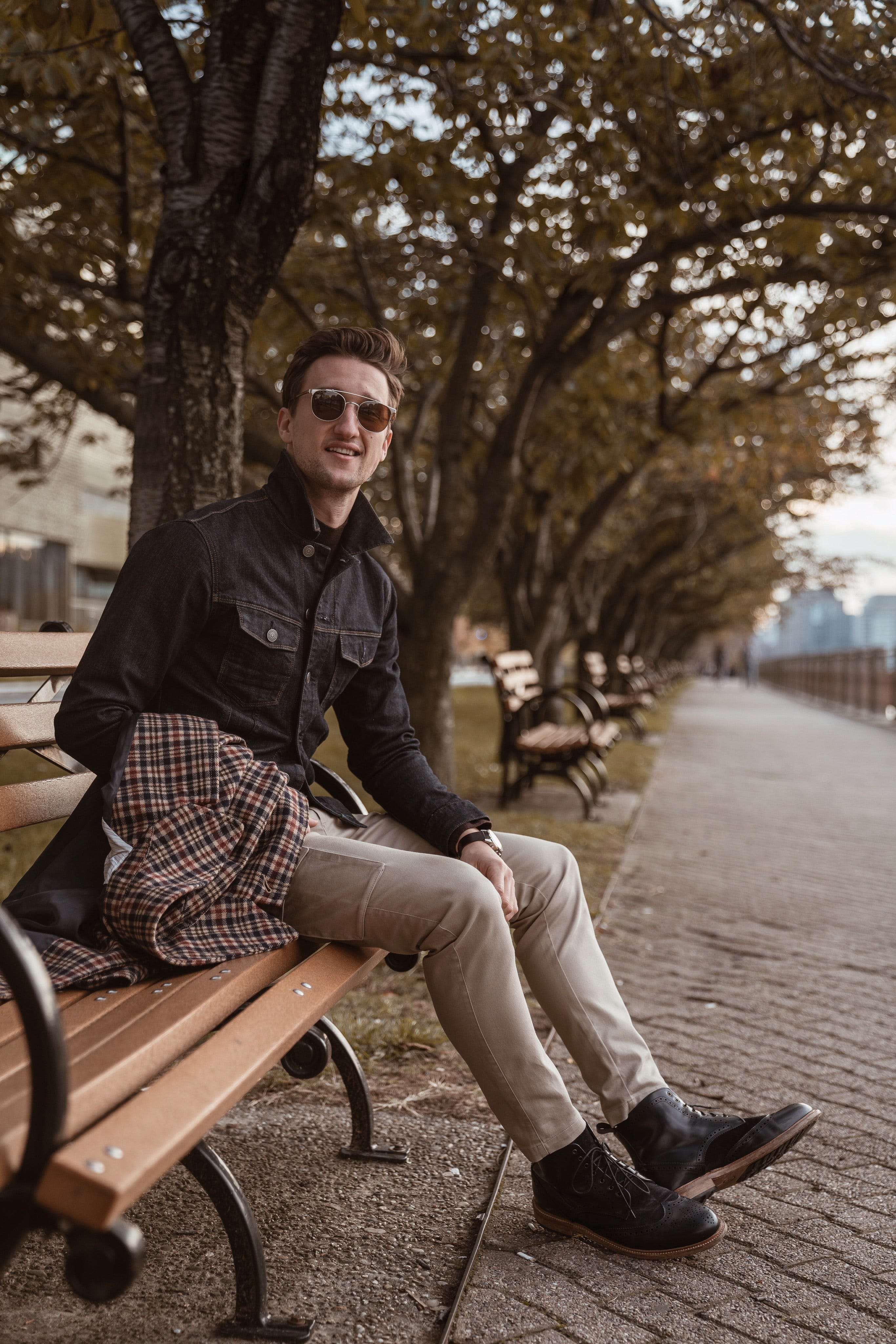 SG Says: Don't be afraid to wear your denim jacket more like a shacket, buttoning it up and keeping it that way.
For this, you'll want a jacket with a bit more structure.
Also, remember the darker the wash, the more formal your denim jacket will look. So choose accordingly.
// Shop the Look //
***
Want even more specific outfit ideas to wear with a denim jacket? You got it.
You guys know team SG will endlessly root for light layers. And the denim jacket is the lightweight layer to end all layers. No matter how little thought you actually put into your outfit, a denim jacket on top is always going to feel like you at least tried. And why is that? The structured shape is universally flattering, and the style is a timeless classic that looks just as good at 3 and 93. It goes with literally everything.
While the looks above are great for inspiration, you might be saying, "But Gabi, I'm not a style blogger or international celebrity (yet!). Can I wear a denim jacket to work? To the bar with my buddies? Help!
And I hear you. So I pulled together some really specific outfit ideas to help you know what to wear with a denim jacket, and to where.
More outfit ideas on what to wear with a jean jacket for guys, below:
How to wear a denim jacket to work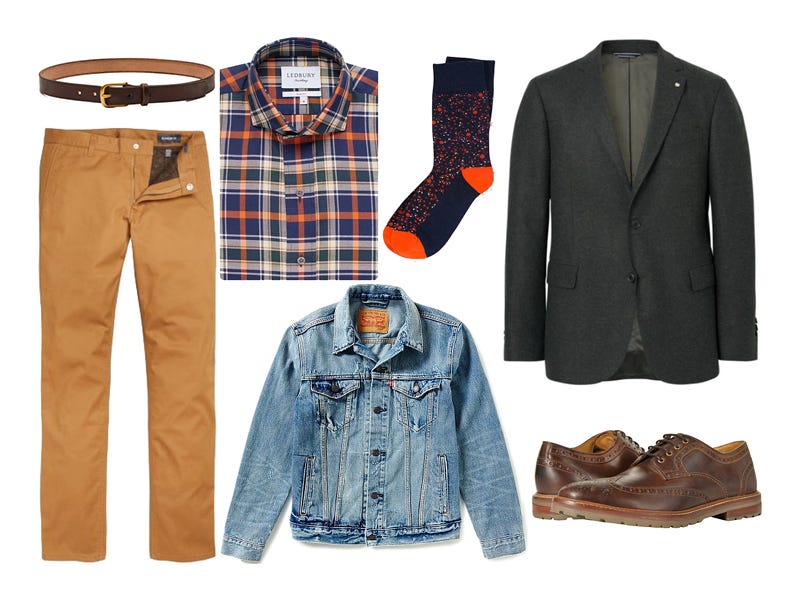 SG Says:
I hear from guys that they don't know what pants to wear with a denim jacket, which I suspect is because so many guys are overly reliant on jeans in their wardrobe (shout out
No Jeans January
!).
So here you go.
Chinos
(and their closet cousin, the
twill pant
) are the perfect solution. Put the casual in "business casual" with a denim jacket under your blazer.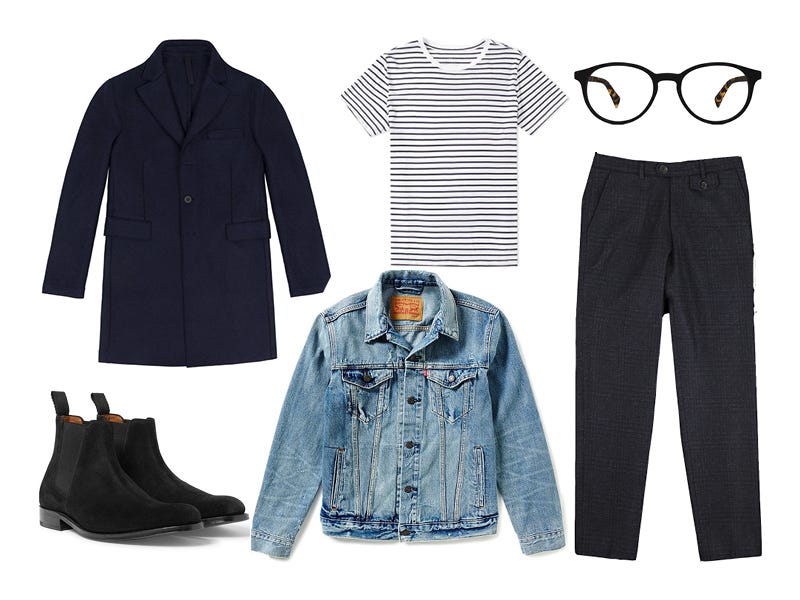 SG Says: Dress down your dress pants and topcoat with a striped tee, denim jacket and Chelsea boots underneath.
***
How to wear a denim jacket on the weekends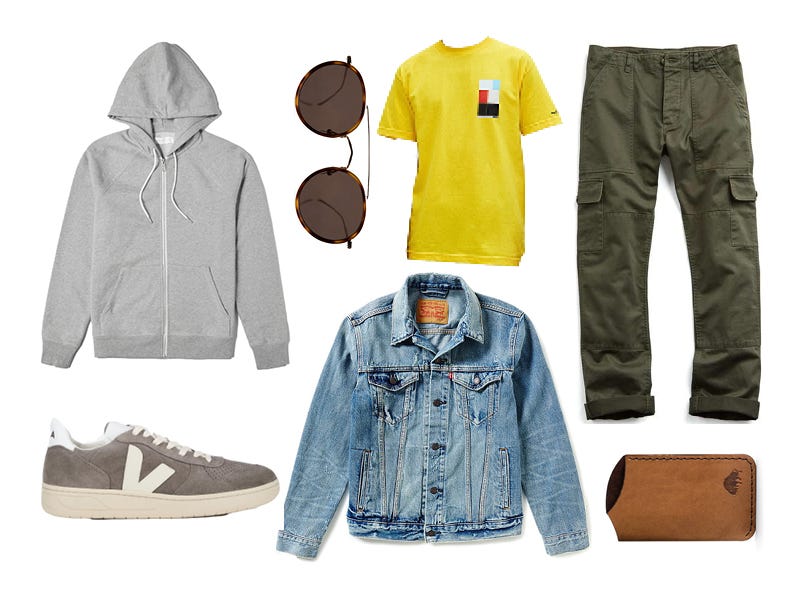 With a stylish hoodie and cargo pants
SG Says: A denim jacket steps up your standard errand running outfit.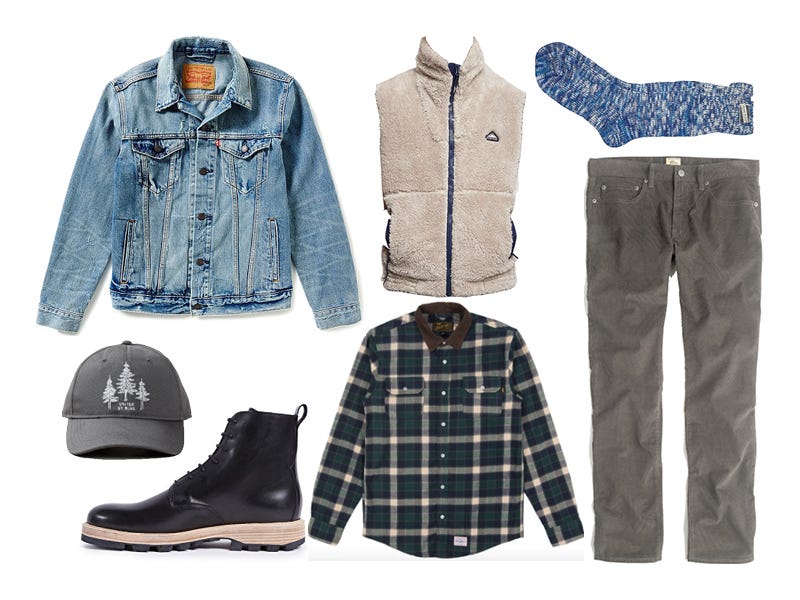 With a cozy vest and sturdy boots
SG Says:
Layer your denim jacket between a
flannel
and vest for your next jaunt through the woods.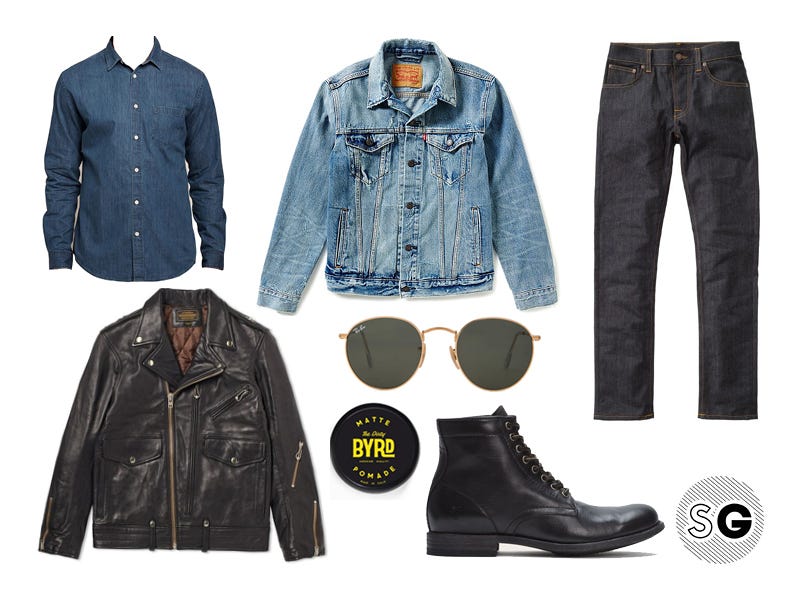 With even more denim
SG Says: The secret to pulling on the Canadian tux with panache? Differing your shades of denim.
// Shop our Denim Jacket Picks //
Want more help selecting the most awesome outerwear for you?

If you're ready to try some of the denim jacket outfits for guys above, but less-than-psyched to shop for them, consider having Team SG shop for you!
We're ready to build your personalized shopping plan for a style upgrade that'll seriously improve your closet, and your confidence.
***

Like a phoenix rising from the ashes, Gabi Meyers went from Team SG's first-ever intern to a trusted fashion editor and stylist. She currently lives in Chicago with a very cute dog.