The Best Fair Isle Sweater Outfits to Wear All Winter Long
Not just for holiday parties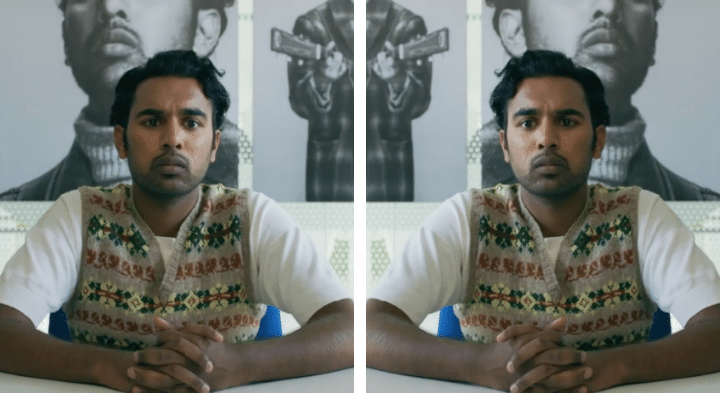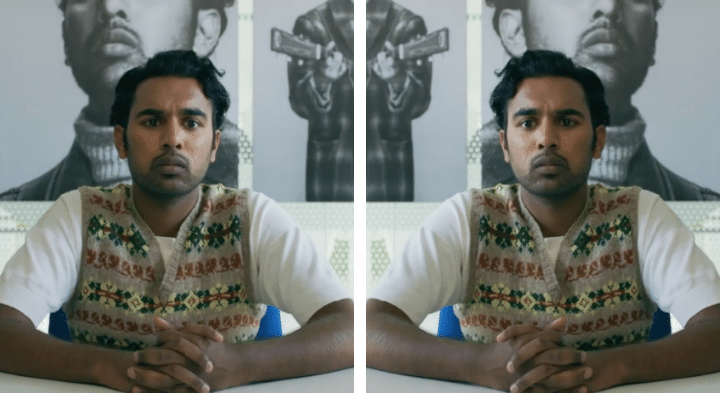 Did you see Yesterday, the "What if the Beatles never happened?" movie that came out this summer? Don't worry, no one else did, either.
I won't relay back the whole thing here except to say that the film deserved more love at least for the wardrobe game of the main character. I'd love to talk with the costume designer, because the choices were so thoughtful and really brought late '60s/early '70s era Beatles style (particularly Paul McCartney) up to date in a cool and modern way.
And back in that dark movie theatre in July, I thought to myself, I can't wait for fall when I can talk about that Fair Isle sweater.
Yes, the Fair Isle sweater can feel like a substitute for personal style when it's worn in a hokey way for a holiday party. But! This cold weather sweater can look really truly cool when pulled out of a "festive" vibe and into everyday.
Bottom line? Don't be afraid to wear Fair Isle style all fall and winter long.
About Fair Isle Sweaters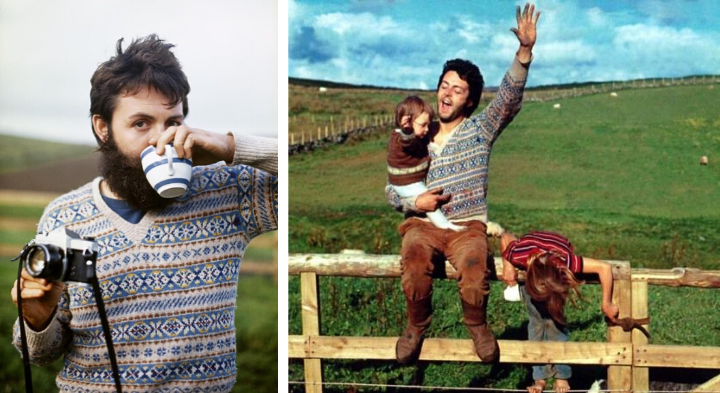 Technically, a sweater can only be classified as Fair Isle if it hails from the remote island of (you guessed it) Fair Isle.
That said, you'll find this multicolor knitwear style every season labeled as such by most brands. Knitting purists may take exception, but our team loves that it's so easy to find styles at different price points (see some of our favorite picks for the season at the end of this post).
And while you can always find Fair Isle sweaters in snowflake designs, just remember; they're not your only option.
When incorporating Fair Isle style into your everyday wardrobe, you can stick to geometric designs in non-holiday hues.
Ultimately, the nubby material in endlessly interesting patterns adds some fun to any outfit in need of additional layers.
Five ways to wear a Fair Isle sweater this winter:

Monday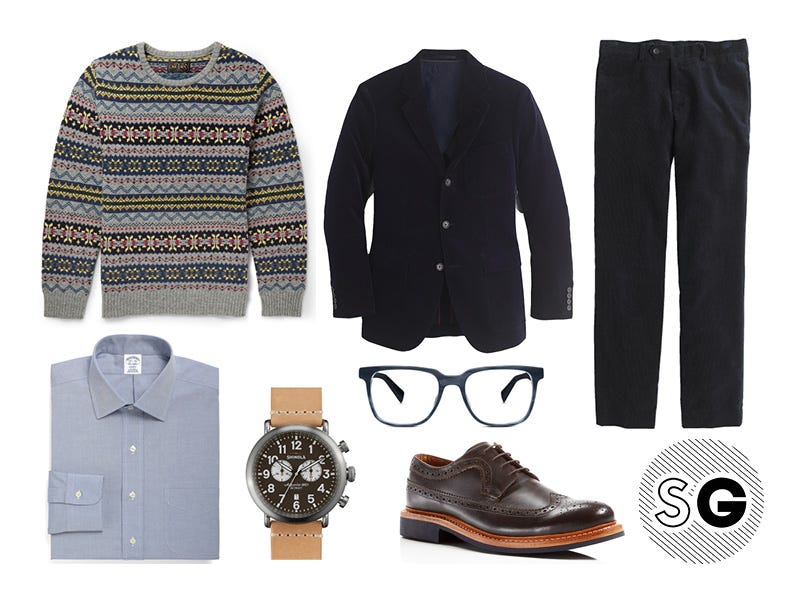 Wear it well: Pair your patterned piece with a textured suit and lush leather accessories to make it feel sophisticated.
Tuesday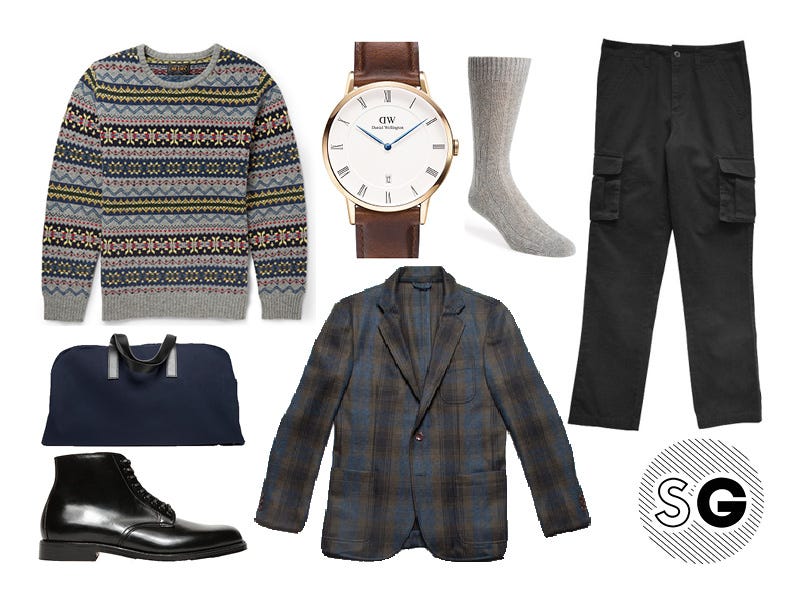 Wear it well: Wear a plaid blazer with your fair isle for a seriously sartorial look – just make sure your prints are different scales.
Wednesday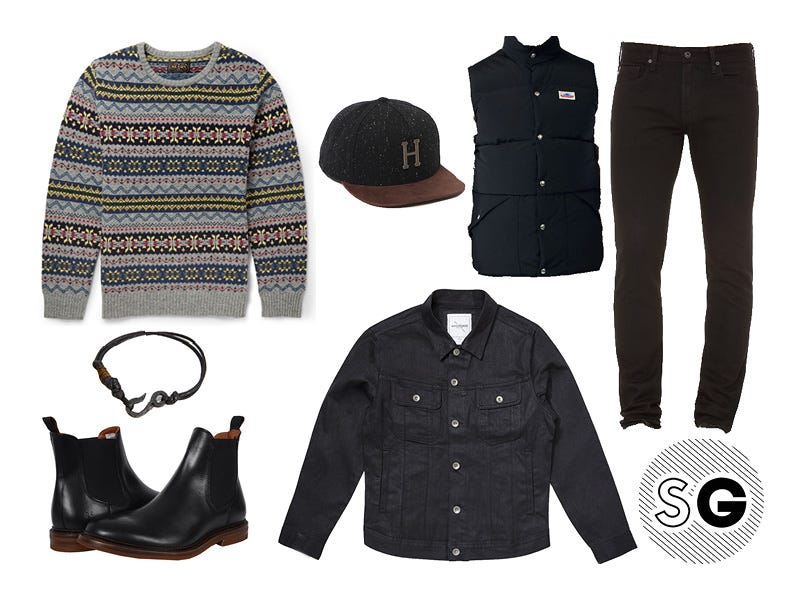 Wear it well: Layer on the black to give a fair isle sweater a cool, casual spin.
Thursday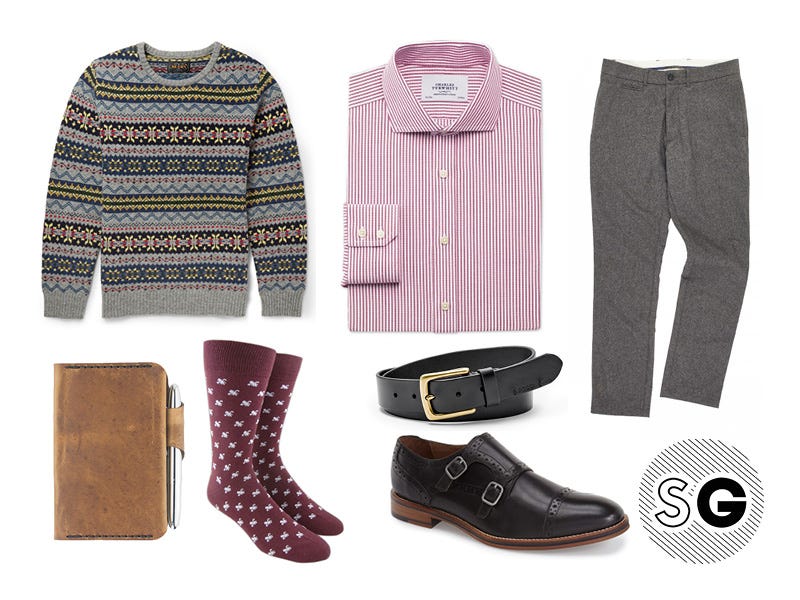 Wear it well: Swap out your standard white work shirt for a striped version that pulls out one of the colors in the pattern.
Friday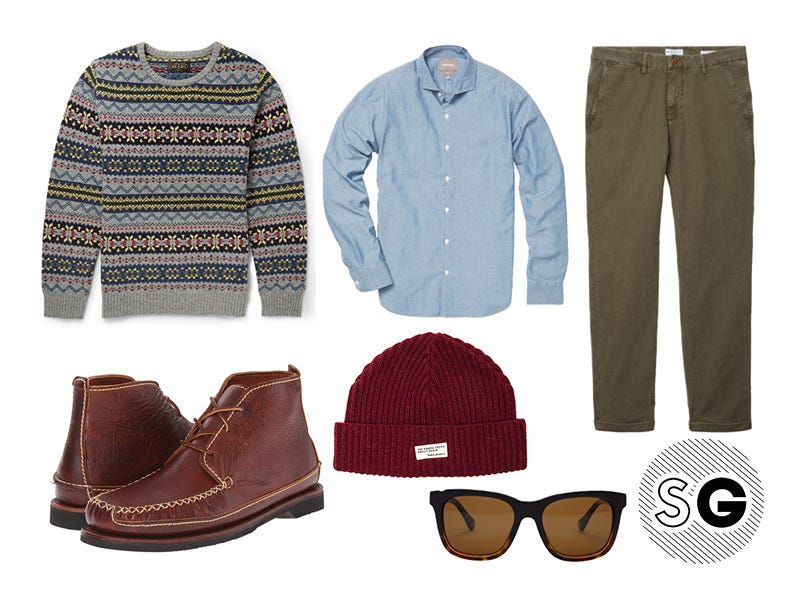 Wear it well: Adding a cozy hat and sweater to your casual classics makes for an easy but stylish errand running look.

When to wear Fair Isle Sweaters
Festive-natured fellas rejoice: bold winter prints no longer need to be reserved for your yearly holiday party. You can wear a great Fair Isle sweater as soon as temperatures float downward, and all the way through January and February.
The simplest way to avoid looking too holiday theme-y? Choose a Fair Isle color scheme that's more muted. Think: neutrals like grey and subtle earth tones.
Case in point? This Fair Isle sweater outfit Chance the Rapper wore on SNL a few years back: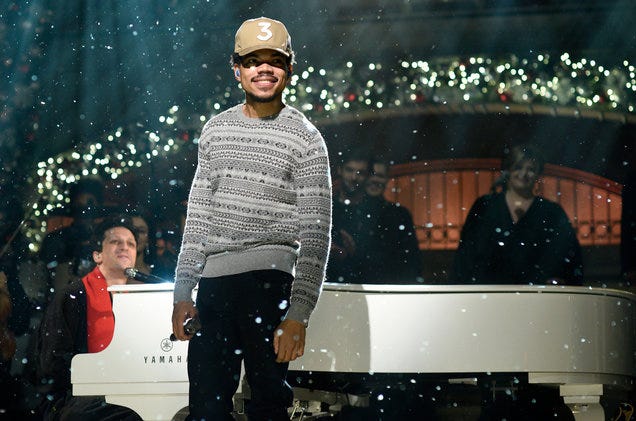 He looks so cool, right?! Yes, it was a holiday show, but our team would argue you can wear that same look well into February (and even March, if it's still snowing there where you live).
In this case, the novelty print of a Fair Isle sweater is softened with a monochrome palette, making it easy to seamlessly weave into your wardrobe well after you've taken the Christmas tree down.
Paired with dark pants and his signature baseball cap, he looks super cozy and super-stylish.
Similarly, you can take a patterned risk without worrying you look like you're headed to your office holiday party two months late.
Below, outfit ideas to emulate Chance the Rapper's cozy winter style
Monday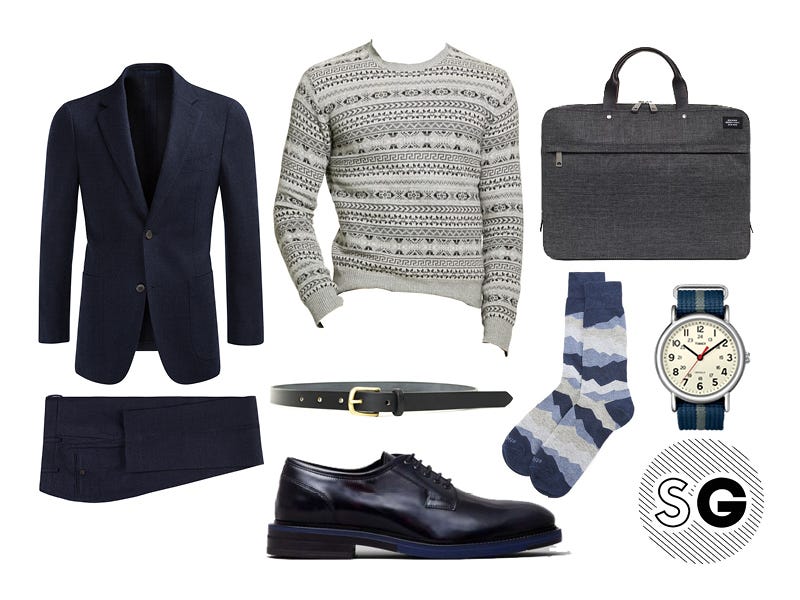 Wear it well: Wear your Fair Isle sweater under a suit for the holiday party for a look that says "I'm down with the snow," and not "SANTA! I KNOW HIM!"
Tuesday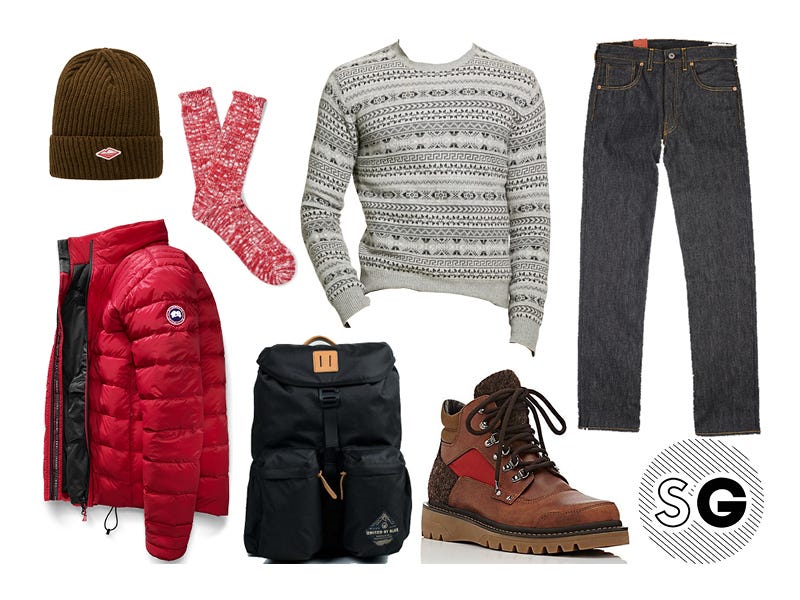 Wear it well: Get cozy in Fair Isle and outdoorsy cold weather wear like a puffer and lace-up winter boots – whether you're actually spending some time outdoors or just running weekend errands around town.
Wednesday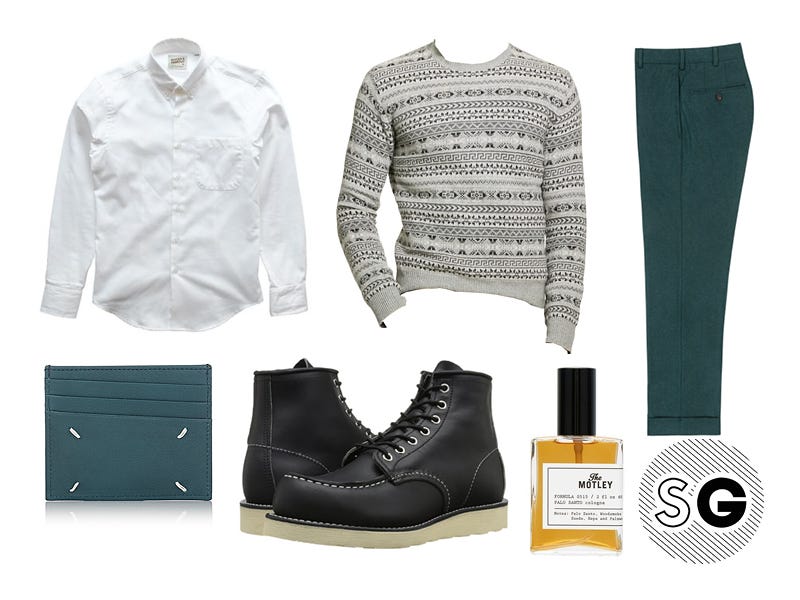 Wear it well: Headed straight to a date from work? Pair your monochrome Fair Isle sweater with colorful tailored pants for a look that is sure to impress.
Thursday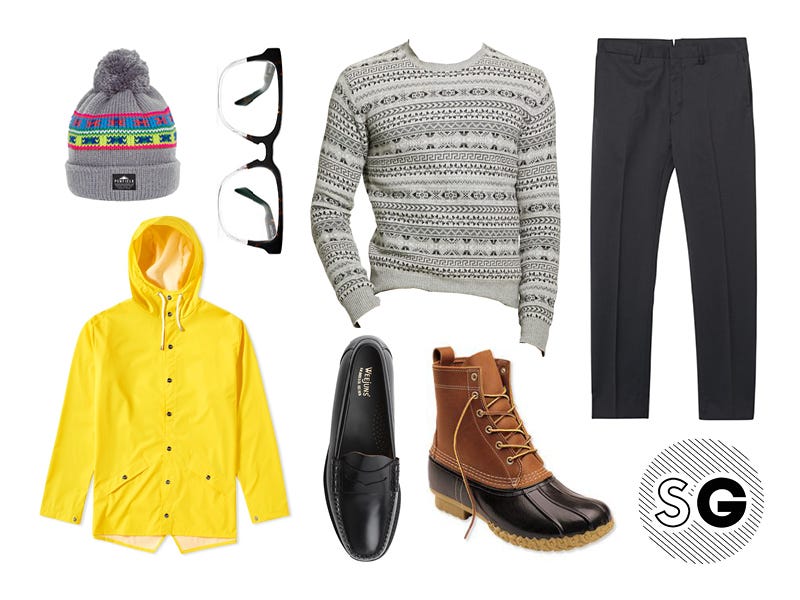 Wear it well: Bright outerwear and accessories make bad weather days a little more fun. Loafers are the perfect shoe to pack in your bag if you don't want to wear your outdoor shoes inside.
Friday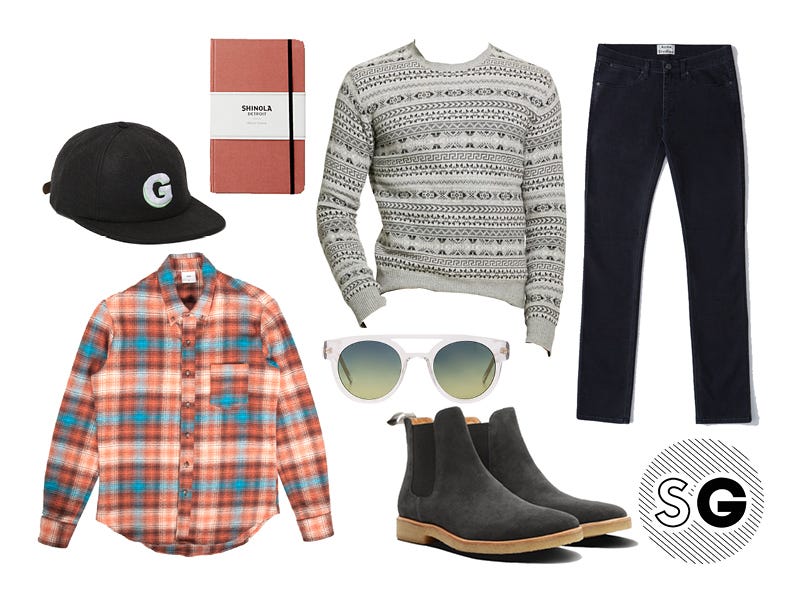 Wear it well: Layer a colorful and cozy plaid shirt under your sweater for a little bit of pattern play (learn more about mixing prints and patterns here).
Shop #SGapproved Fair Isle
Let Team SG Tackle Your Shopping List!
If you're ready to invest in some winter clothes but dread the thought of shopping for them…consider letting Team SG shop for you! We're biased, but we think it's pretty great.
Let us rescue you from shopping fatigue and sartorial apathy. We can promise the kind of personal attention and care that will make you feel like the best version of the awesome guy you already are! If you're ready for a daily lewk that'll change your life, give us a shout.

> See more ways to wear your favorites like a chambray shirt, crewneck sweater and lace-up boots 5 ways

Like a phoenix rising from the ashes, Gabi Meyers went from Team SG's first-ever intern to a trusted fashion editor and stylist. She currently lives in Chicago with a very cute dog.