What Are Twill Pants? Get to Know this Men's Style Essential
If chinos and jeans had a baby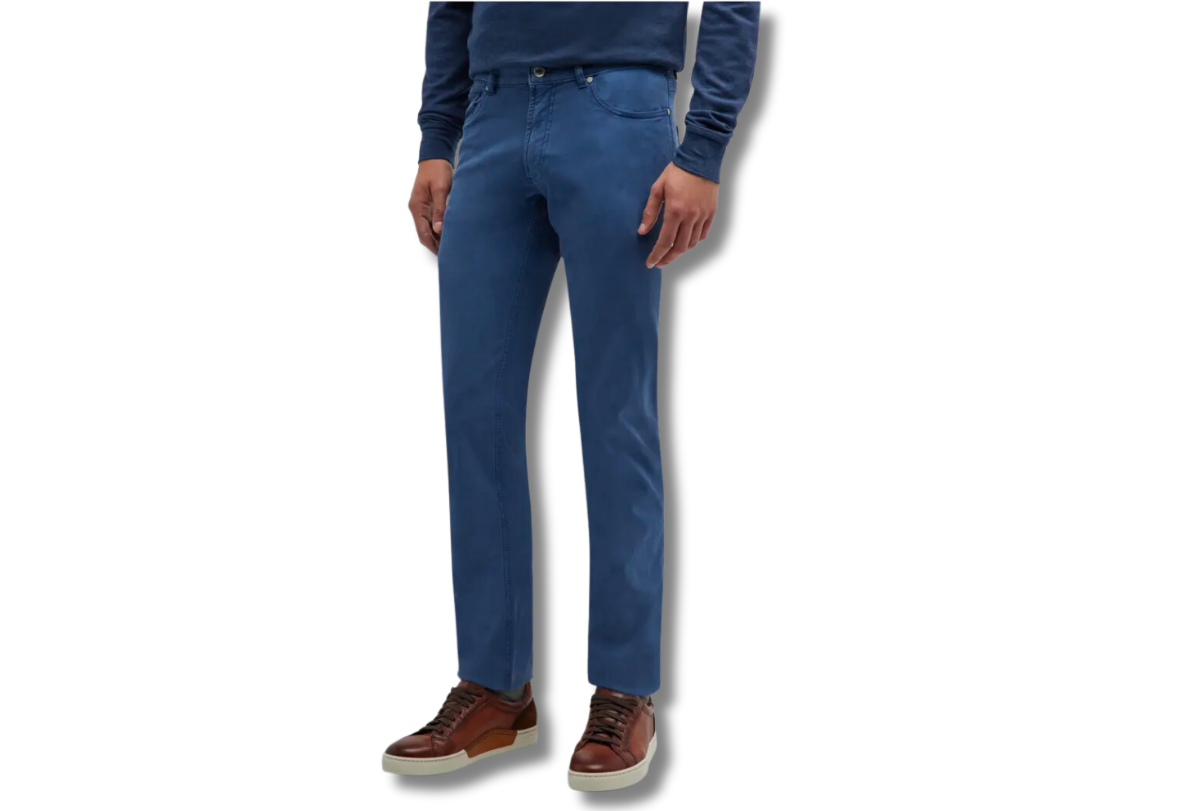 Here at SG HQ, we think every guy should add a pair of 5-pocket twill pants to his wardrobe rotation. Why? Well, for a lot of the same reasons we suggest opting for chinos every now and then. Twill pants dress up a guy's outfit without having to do any more work than pulling on jeans.
And the kicker is that they're (generally) cut the same as your favorite pair of denim. Meaning? If you close your eyes, you might even forget you're not wearing jeans when you have them on.
That's why Style Girlfriend includes 5-pocket twill pants in our list of Men's Wardrobe Essentials.
If you're new to this jeans-adjacent pant, read on. You'll find all your questions below.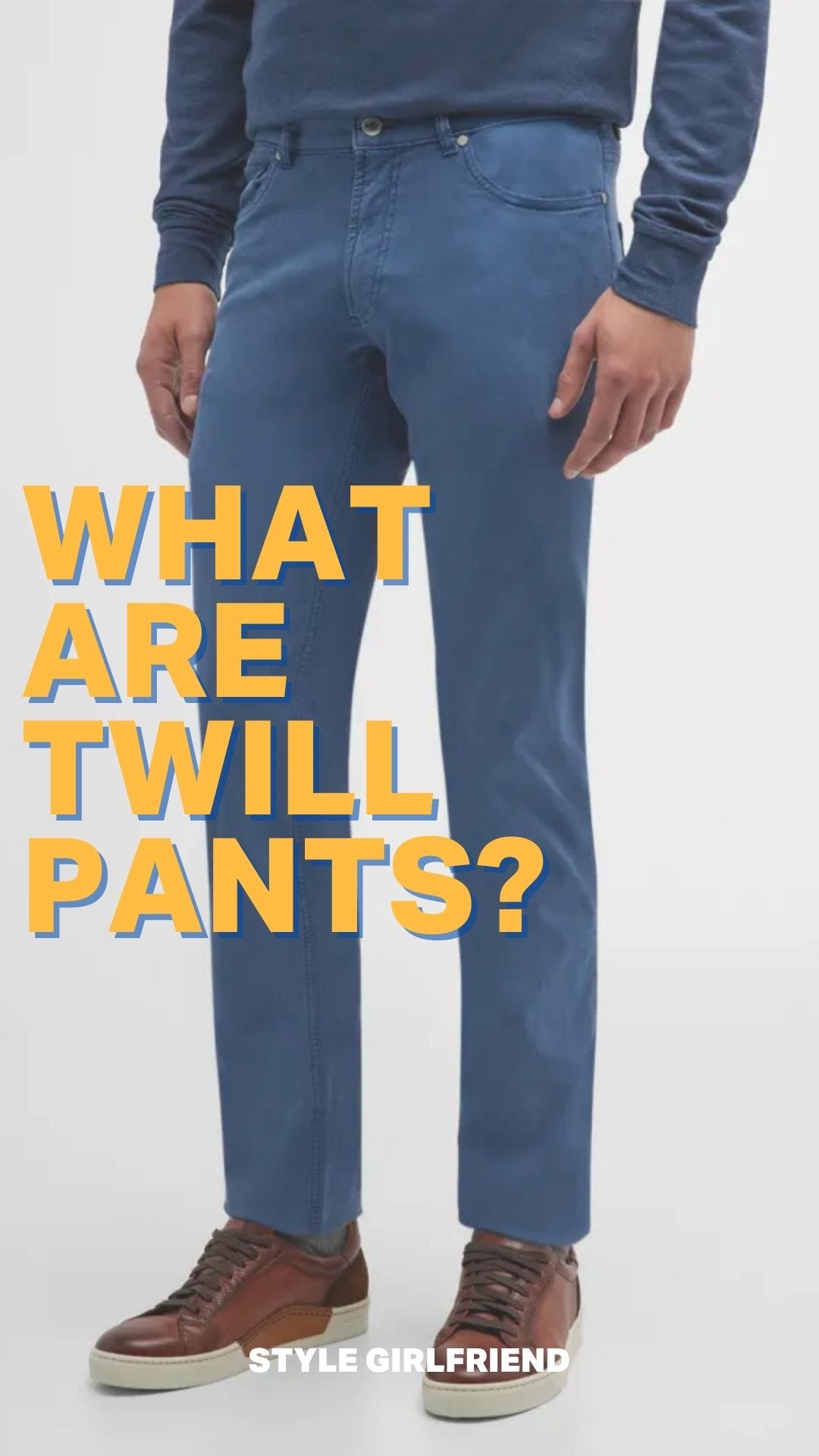 When you turn to Google to satiate your curiosity, an almost existential number of follow-on questions bubbles up: What is the difference between cotton and twill pants? What is the meaning of twill pants? (such a philosophical question!!) What's the difference between twill pants and jeans? What is a twill pants? (yes, really) What is difference between twill and denim? Is cotton twill the same as denim? What is the difference between twill and cotton?
And while Team SG is here to fill you in on all of the above, I'm warning you now that the answers won't be all that satisfactory. But here goes…
What are twill pants?
Twill refers to the diagonal pattern in which cloth is often woven. According to Our Everyday Life, "a fabric is twilled when two or more vertical threads—the warp threads—cross over two or more horizontal weft threads at a time. The result is a textile featuring a distinctively slanted pattern with a ribbed texture (known as wales)."
Twill pants, then, are pants made from this woven type of fabric, which is a durable material that won't wrinkle easily.
What is the difference between twill pants and jeans?
No less an authority than TheFabricOfOurLives.com (aka Big Cotton™) has this to say when it comes to the twill vs denim question:
"Twill refers to a wide range of fabrics with the same weave pattern. Basically, all denim is twill, but not all twill is denim!"
Denim, then, is a specific kind of cotton twill fabric. Chinos, too, are typically constructed from a cotton or cotton-blend twill. So, denim jeans and chino pants are technically twill pants. But those aren't the twill pants we're talking about here.
So…that's not actually super helpful, is it!
Okay, let's try again.
What's actually the difference between jeans, chinos, and 5-pocket twill pants?
Even though they're all cut from the same cloth (as it were), there are distinct differences that make them easy to tell apart.
What do twill pants look like?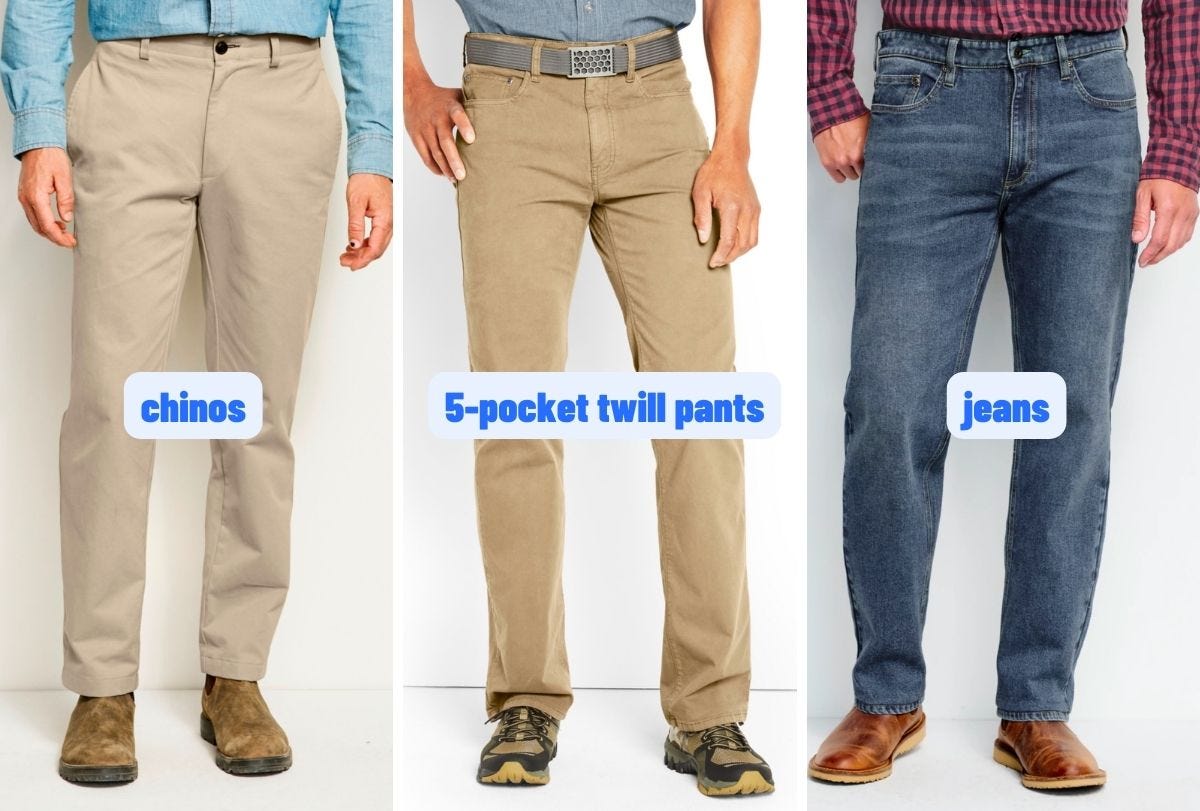 On the left is a pair of chinos. In the middle is a pair of 5-pocket twill pants. And on the right? A pair of jeans (duh).
So, you can see that the twill pants and jeans are cut similarly—with J-shaped pockets and a button fly. The chinos, on the other hand, feature more formal side slash pockets, a flat front, and a button tab at the waist. Both can sport either a zip or button fly (check out a surprisingly intense debate between the two methods here).
What you perhaps can't see and will just have to take my word for, is that the twill pants fabric is a bit rougher, and feels more like denim. The chino pants fabric, on the other hand, feels smoother and more soft than either the twill or denim.
It's a lot, I know. Look, don't worry. Becoming a pants expert is not what is expected of you here.
Ultimately, you can think of 5-pocket twill pants as a type of jeans that come in different colors.
How 5-pocket twill pants should fit
Because 5-pocket pants are so similar to jeans, the same rules apply for fit. They ought to skim your legs, not suction to them skin tight. You want them to sit on your waist without a belt's help.
Nothing against a belt as a fashion statement, of course, but if you need a belt, it's time to go down a size.
So, how tight is too tight?
Consider this tip from The Essential Man for ensuring a good fit:
Stand relaxed and pinch the fabric around your thigh horizontally between your thumb and forefinger. You want to pinch around a finger tip worth (.5"-1") of fabric. Any less, it's too tight. Anymore, it's a bit too baggy.
Use this same "pinch test" on your calves the same way you did on your thighs.
How to wear 5-pocket twill pants
Wear 5-pocket pants the same way you'd wear jeans.
Here's a couple looks we like: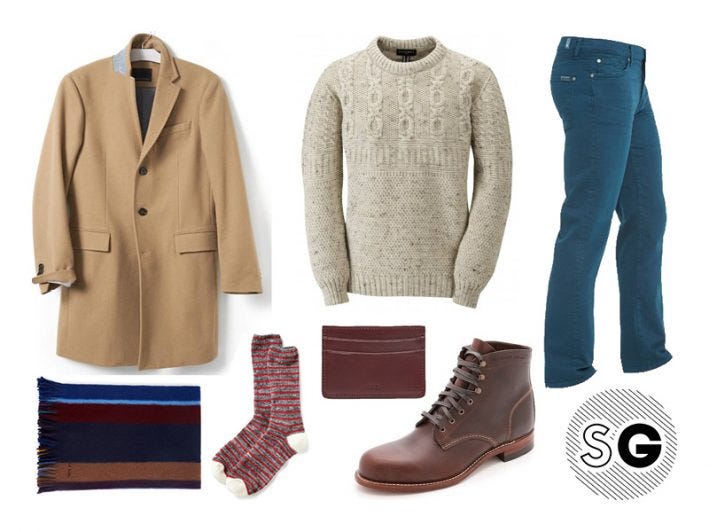 SG Says: Don't be afraid to go bold with the color of your twill pants. Just be sure to keep the rest of your pieces more muted, like this oatmeal-colored sweater and tan topcoat.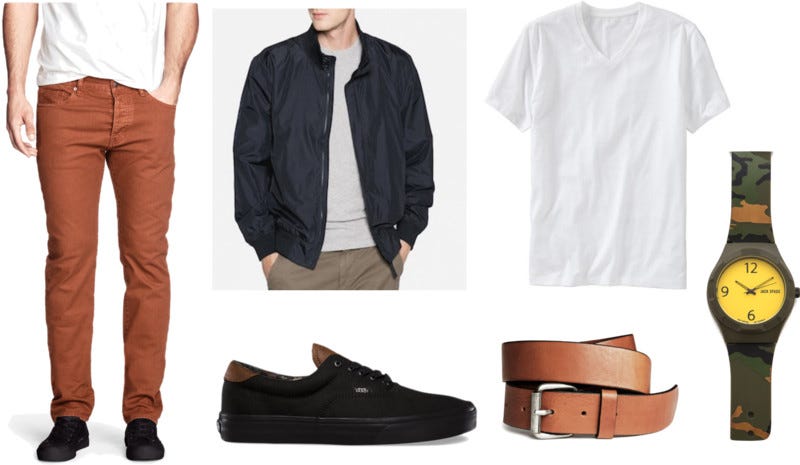 SG Says: With a bomber jacket and camo-tinged timepiece, these twill pants are ready to go meet your buddies at the bar, or your s.o. for date night at the movies.
What are twill pants colors to buy
Feeling shy? You can certainly opt for neutral colors like blue, grey, and black. Use them as a base and build more colorful items into your outfit (pssst, here's a helpful guide on how to do just that).
What about if you already have your neutral bases covered with your stockpile of jeans and chinos? Then 5-pocket twill pants become a great opportunity to inject some color into your bottoms drawer. Shades like eggplant, mustard, and army green are all great places to start.
Shop the best 5-pocket twill pants for guys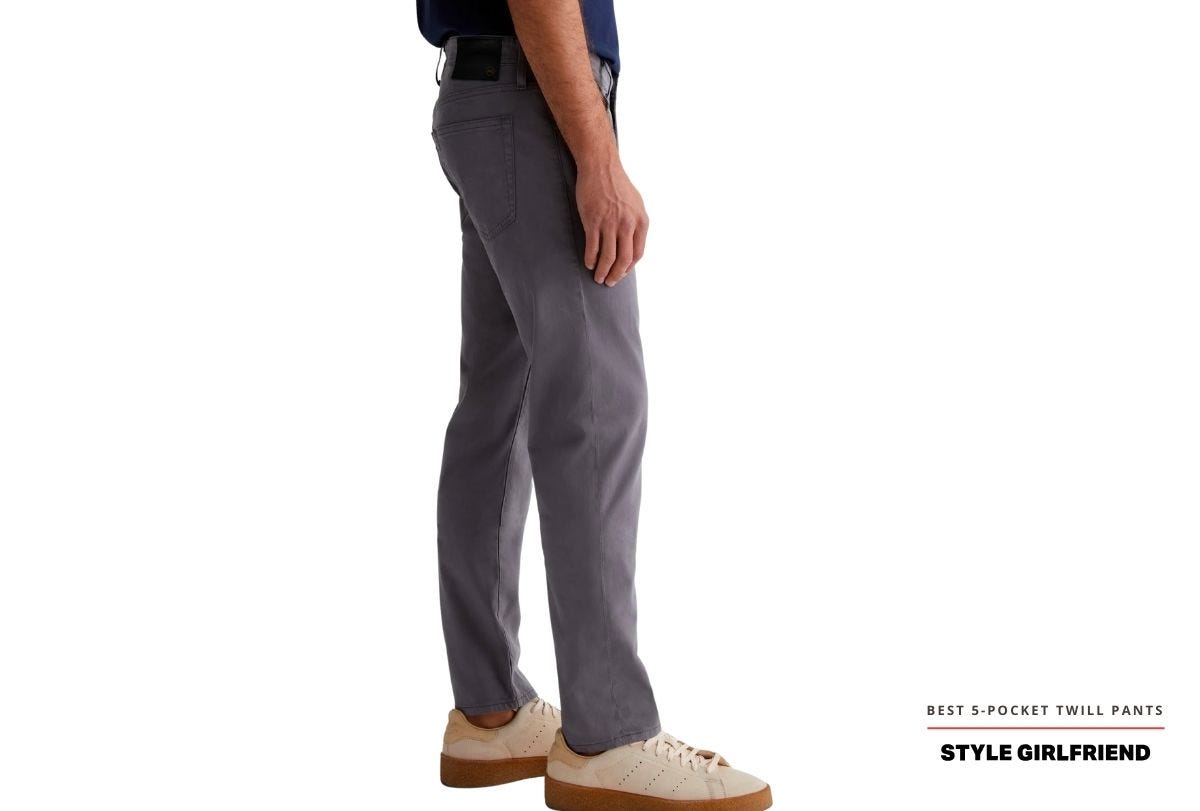 SG Says: Team SG's favorite pair of 5-pocket twill pants are made by AG Jeans. Yes, a denim company
They've managed to combine the best parts of your favorite jeans and your trusty chinos, in one truly perfect pair of pants.
Made from soft, stretchy Italian cotton-blend twill, and tailored with a slim fit, these pants are casual yet elevated, comfy yet polished, and ready for just about anything. Our team loves how the leg tapers ever-so-slightly downward from the knee (aka, the opposite of bootcut).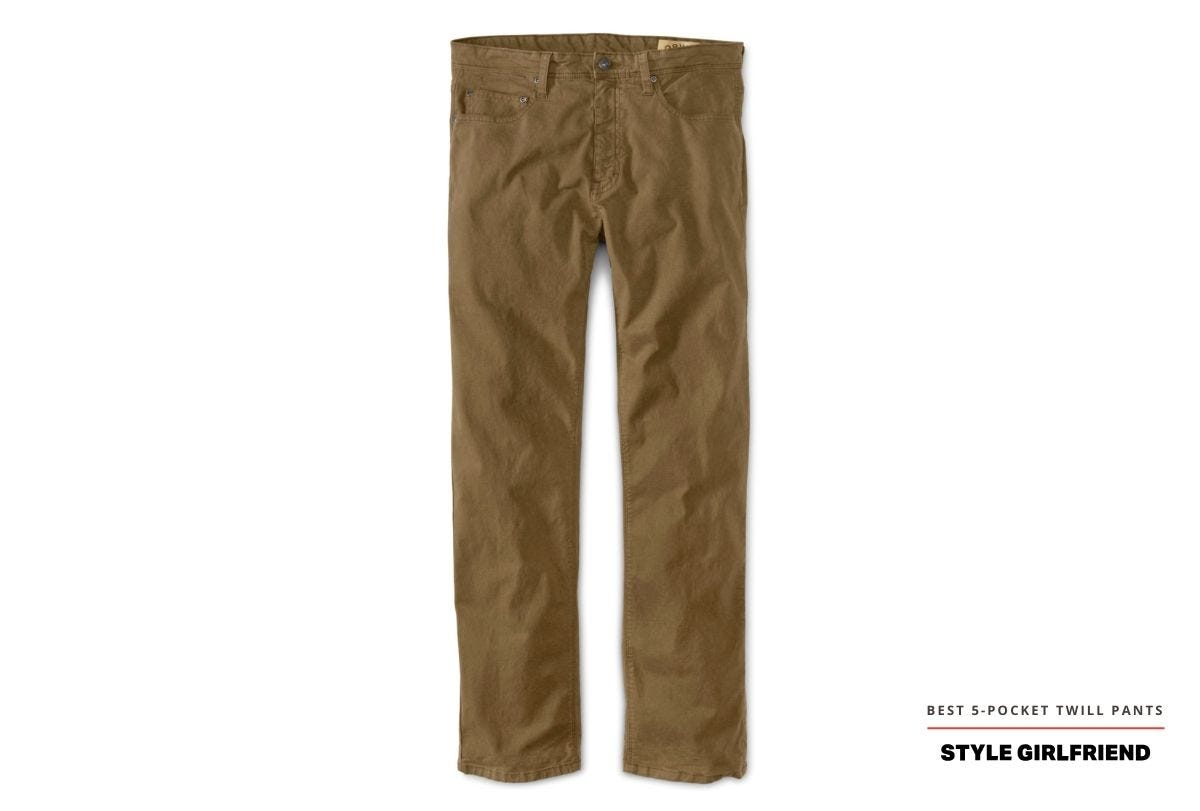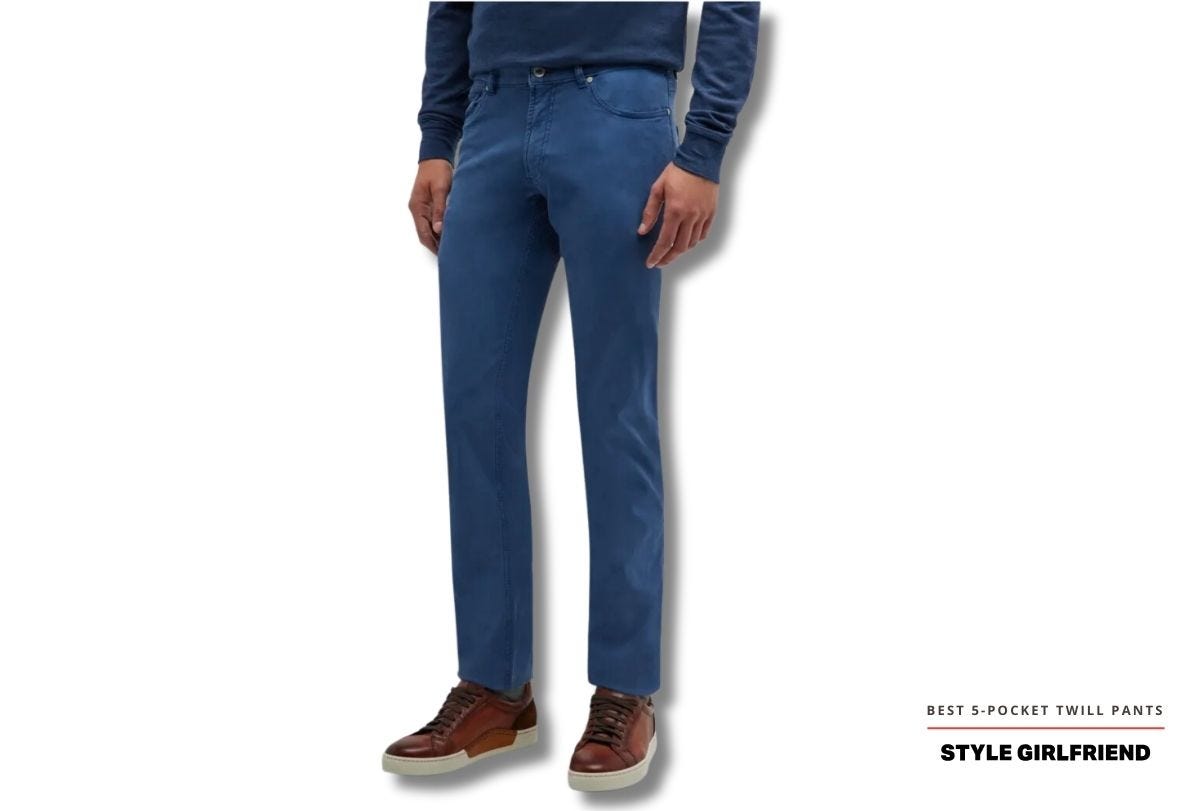 SG Says: These are designated as a "straight fit," so would be great for a guy with athletic legs. They'll offer a little extra room to move, while still looking tailored.

The twill pants vs. jeans debate
Hopefully by now you're ready to swap out jeans for a pair of twill pants once or twice a week.
Because by now (again, hopefully) you understand that twill pants are just as easy to wear as jeans because they're just like jeans, but…no, really, they're literally just like jeans. You're really not pushing that far out of your comfort zone by mixing things up.
The tl;dr: will pants are a great casual men's style option.
As are corduroy pants. And chinos.
I hope you feel the same!
***
Still feeling overwhelmed? SG can help
If you're ready to upgrade your style but dread the thought of shopping for new clothes…consider having Team SG shop for you! We're obviously biased, but clients tell us we're really great!
Let us rescue you from shopping fatigue and sartorial apathy. We can promise the kind of personal attention and care that will make you feel like the best version of the awesome guy you already are! Ready to seriously improve your closet and your confidence? Give us a shout.