How to Wear Corduroy in More Ways This Winter
Zhush zhush your way to great style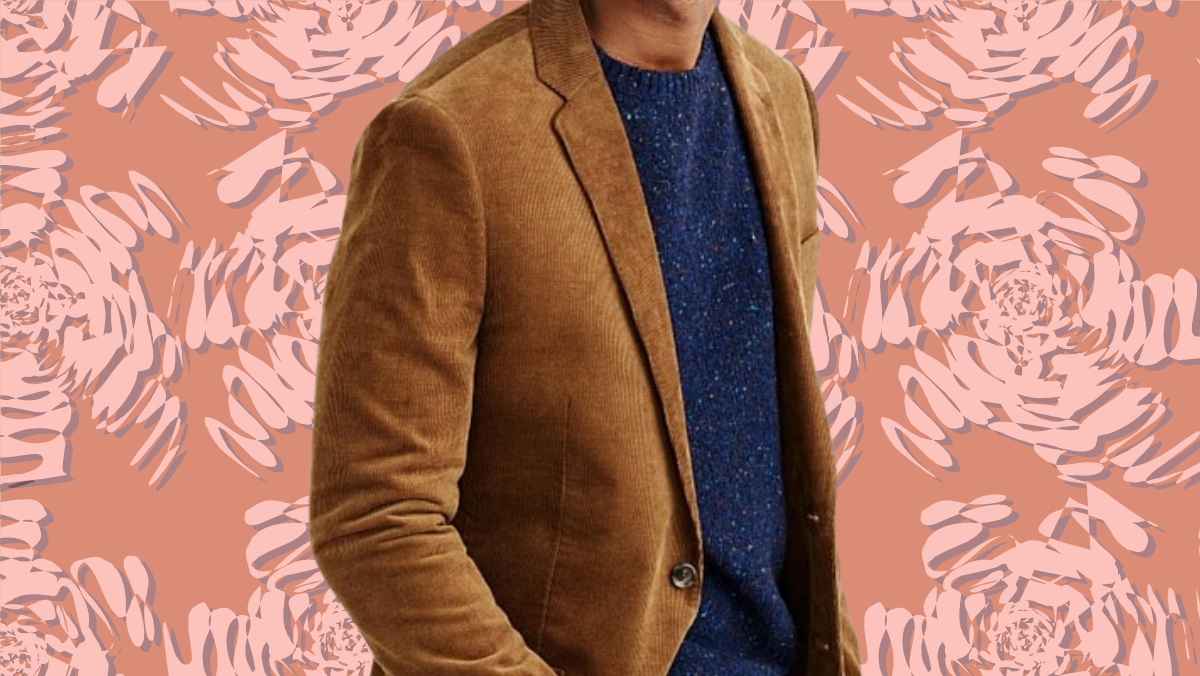 Trying to figure out how to wear corduroy in the cold weather months can feel confusing. I get it! Is it too cozy for work? Am I going to make that zhush-zhush-zhush sound all day? I'm here to tell you; don't fret! Discovering all the ways to wear a corduroy blazer, corduroy trousers, and more will turbo boost your fall and winter wardrobe.
Let's get this out of the way now:
Is corduroy in style?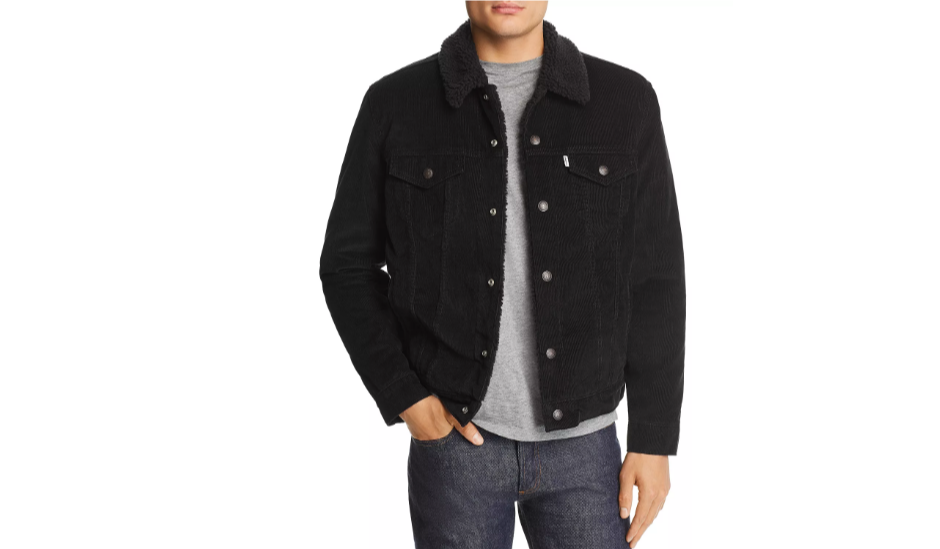 Yes! Corduroy will never go out of style.
Apart from its warmth, the great thing about corduroy is that it looks good in so many different kinds of wardrobes. Just think. It's at home in the closets of school teachers, beatniks, and even children's book characters – what other cold weather material is such a style mainstay?
And really, what's not to love about this fabric? It's durable, soft to the touch, and super easy to wipe off any spills from lunch because of its tight weave.
What is corduroy?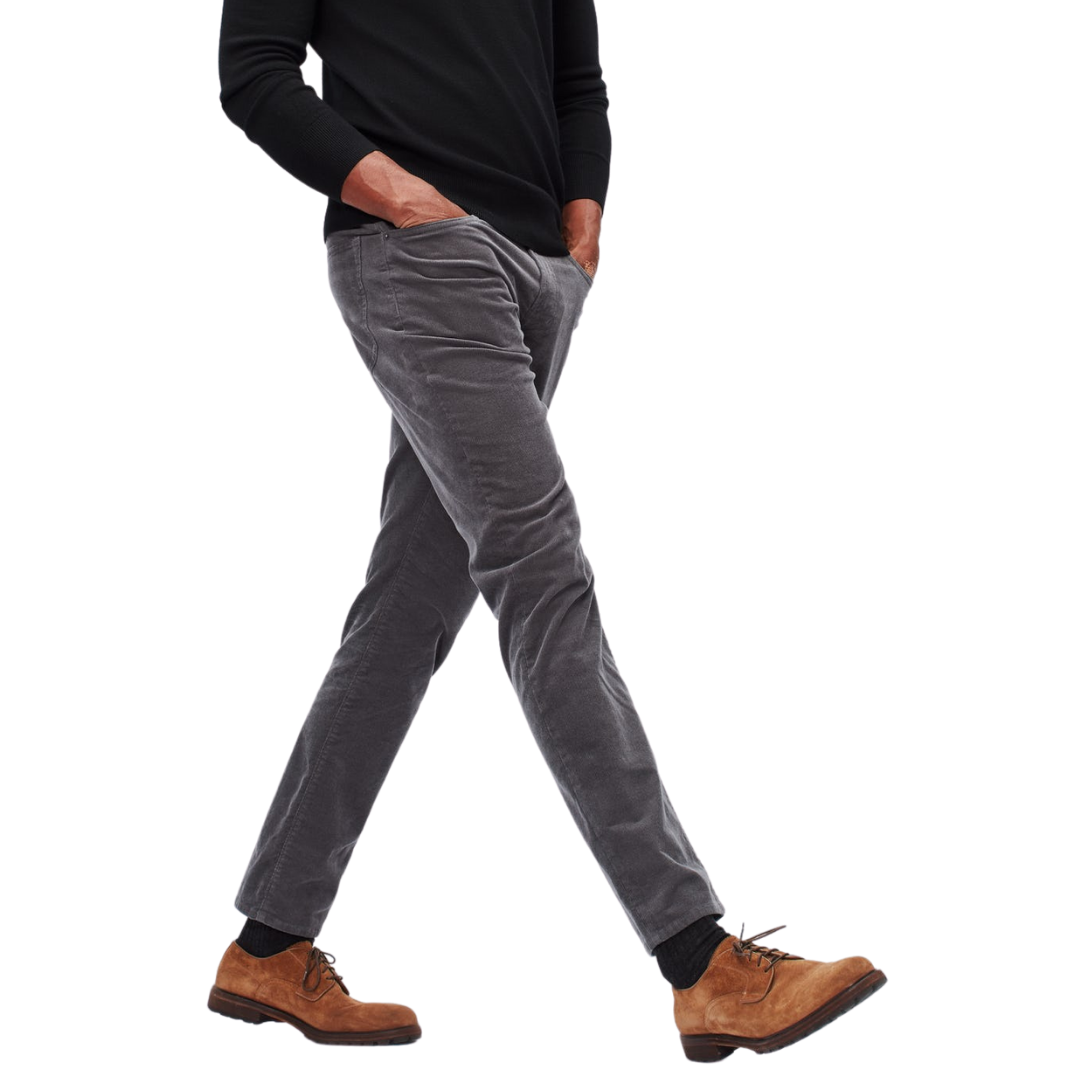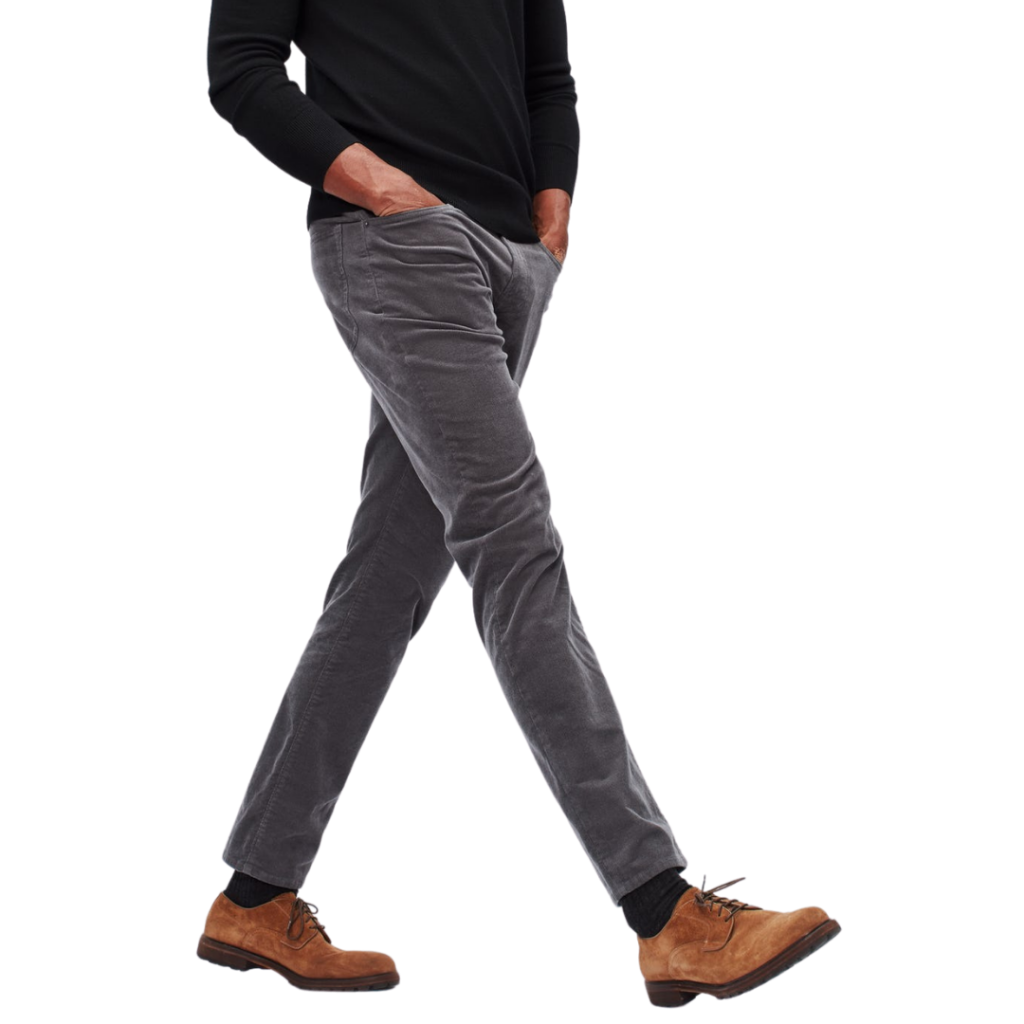 What can we say about corduroy that it doesn't already say about itself?
…Sorry. Corduroy joke.
But truly, corduroy is the loudest and proudest textile in the non-jeans family. Its refusal to stay silent, whether you're walking into a room wearing pants made of the material, or simply adjusting in your seat donned in a sport coat made from the stuff, corduroy will unapologetically announce its presence.
As a lover of loud jangly necklaces, I'm all for for stocking your closet with pieces that makes you feel a little like a one-man band.
Moreover, I like that cords are comfortable, durable, and versatile..that last one being dependent on the texture of the material itself.
Should you be taking some kind of test on this later: corduroy's vertical ribs are called wales (from the Anglo-Saxon walu, which means "to mark with stripes").
The more ribs per inch, the louder the noise gets when it all rubs together.
What kind of texture you go for will affect the formality of what you're wearing – wales packed more tightly together will look good in a suit, and appear almost like velvet, whereas wales that are more loosely grouped will give off that more traditional, "English duke at his weekend country estate" vibe.
Here are all the ways you'll find in this article on how to wear corduroy:
Phew! Let's begin, shall we?!
How to wear a corduroy blazer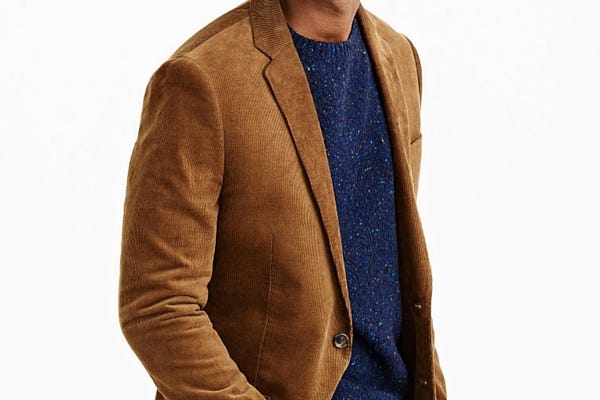 Channeling your inner college professor has never been so stylish (or cozy).
Ensuring a corduroy blazer looks modern is as easy as locating your favorite chinos and adding a pop of color through a sweater or cardigan.
Thin-ribbed corduroy is ideal for nearly any professional setting, whether you're running around campus or presenting at the office, especially in the cold days of fall and winter.
If you're worried about looking too dated, keep your corduroy blazer to a slim fit and natural shoulder for a current take on a classic style. Ready for this style challenge? We'll go ahead and calculate your grade now: A+.

SG Says: Doesn't this look like an outfit for a spy masquerading as a college professor? I think it's the boot. And the Archer-esque turtleneck. Keep your secret identity under wraps, and by "under wraps" I obviously mean under this corduroy blazer.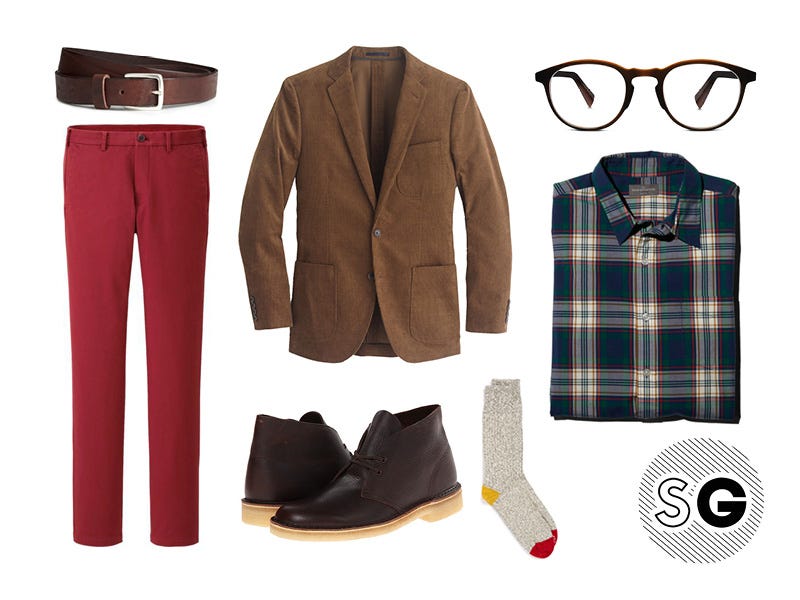 SG Says: Use one of the secondary colors in a plaid shirt to find the right color of chinos. Then, keep the rest of the outfit neutral.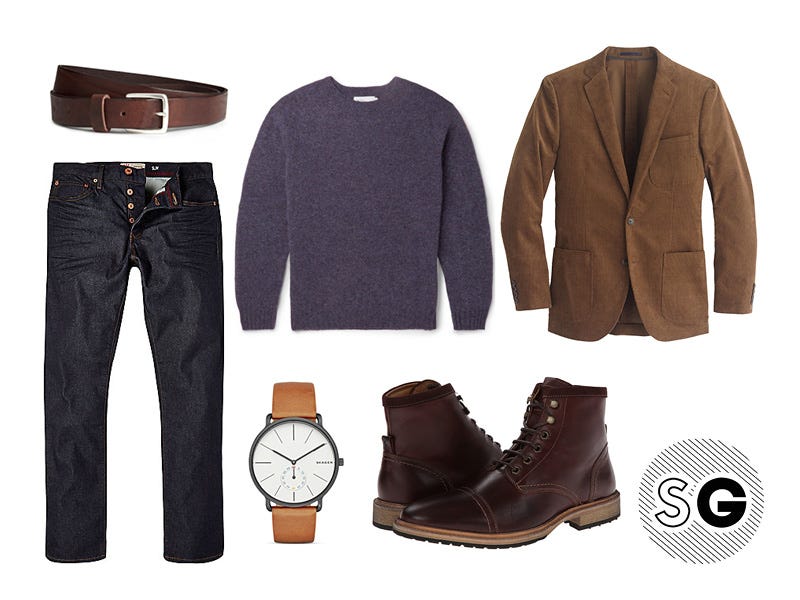 SG Says: You can carry pastels through fall and into winter when they're on thicker fabrics, like this sweater that looks cozy af.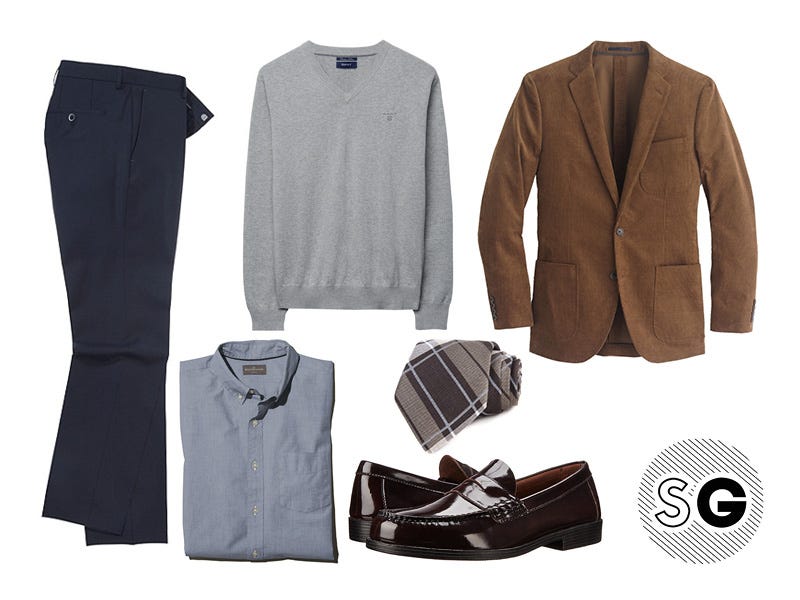 SG Says: Channel your prep school days with all the classics separates in their go-t0 colors. Ooh, don't forget to add a bit of shine and pattern with accessories.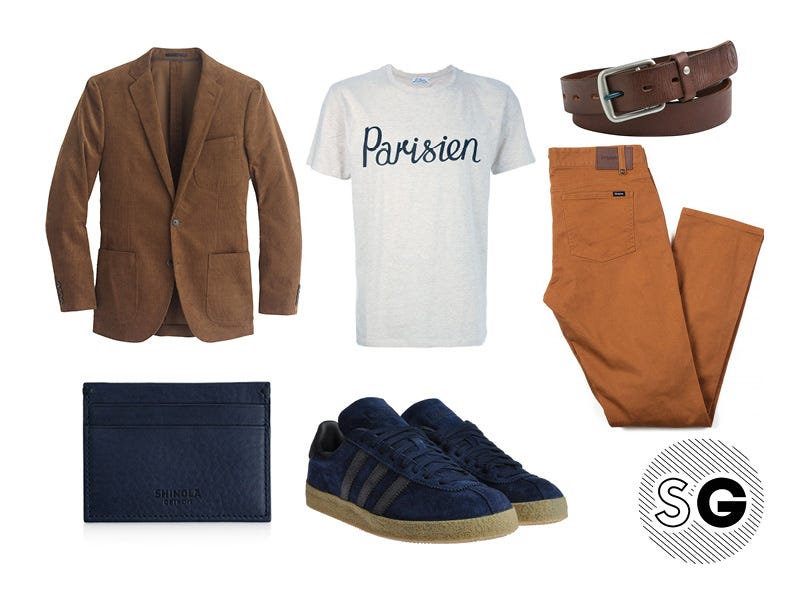 SG Says: Want to dress your corduroy blazer down? No problem. Opt for a white tee with a bit of graphic detail, and choose complementary colors for the rest of the outfit.

Okay, a few last tips on styling a corduroy blazer:
Avoid too thick of a corduroy when wearing corduroy to the office or more dressy events – a super-thick ribbing in your corduroy blazer generally makes the overall look feel more casual.
Don't be afraid to mix and match textures when wearing a corduroy blazer by pairing yours with a woven belt, chunky sweater, or knit tie.
You can dress your corduroy blazer down by wearing it over a fine-gauge hoodie or lightweight henley.
The most common issue with a well-loved corduroy blazer is showing wear in the elbows. The fix? Grab a retro-style jacket with elbow patches or have some sewn in to get the look and preserve your jacket. Here's a DIY!
> Step up your style with more ways to wear a breton shirt, statement bomber and Chelsea boots
How to wear corduroy pants
Like sweaters for your legs, corduroy pants are indeed a cold weather wardrobe essential.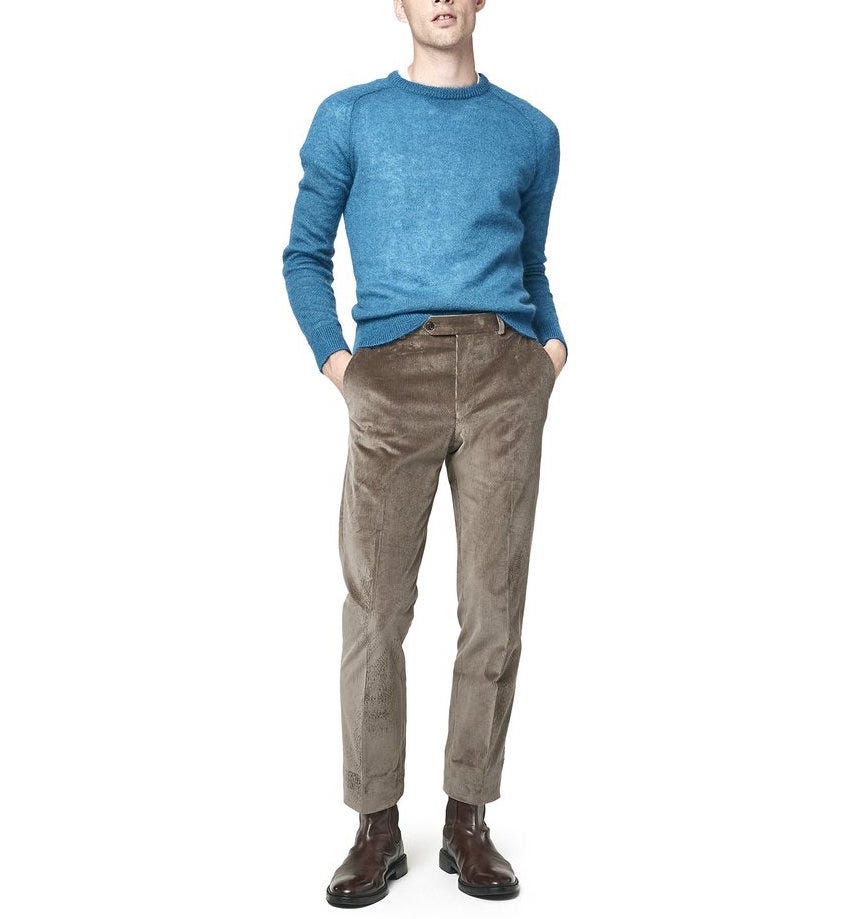 SG Says: Everyone at SG HQ loves a good pair of corduroy trousers, like those from Todd Snyder above, for guys. They fit and feel like a modern pair of dress pants, or even just a really nice pair of chinos.
Wear yours with a crewneck sweater and chelsea boots or a nice lace-up boot for a comfortable-yet-elegant office or date outfit. But when it comes to the best shoes to wear with corduroy pants you have so many options, like sneakers and boots.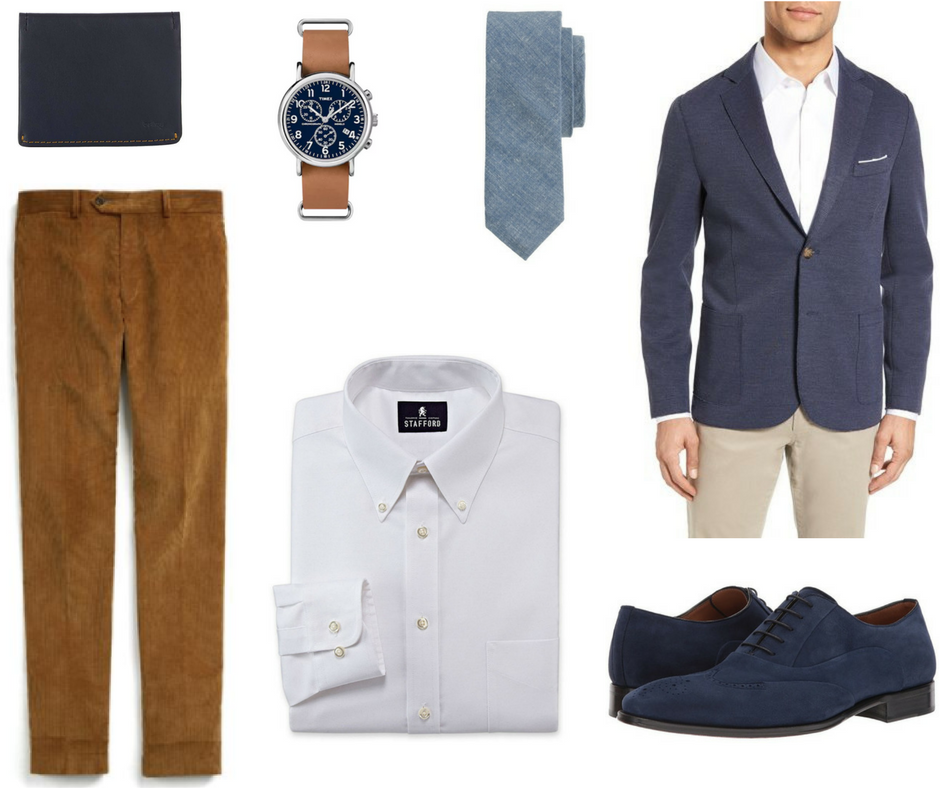 SG Says: Another corduroy trousers outfit, perfect for the office. Can't go wrong with a patch pocket unconstructed sport coat if you're looking to dress up corduroy pants.
at like the one above (here's one we like that's similar from Bonobos).
How to wear a corduroy shirt
A corduroy shirt, whether a thick work shirt or a full on shirt jacket (or "shacket") is a great way to layer once the temperature starts dropping. In early fall, wear it as your outerwear. In the winter, wear it under your actual outerwear.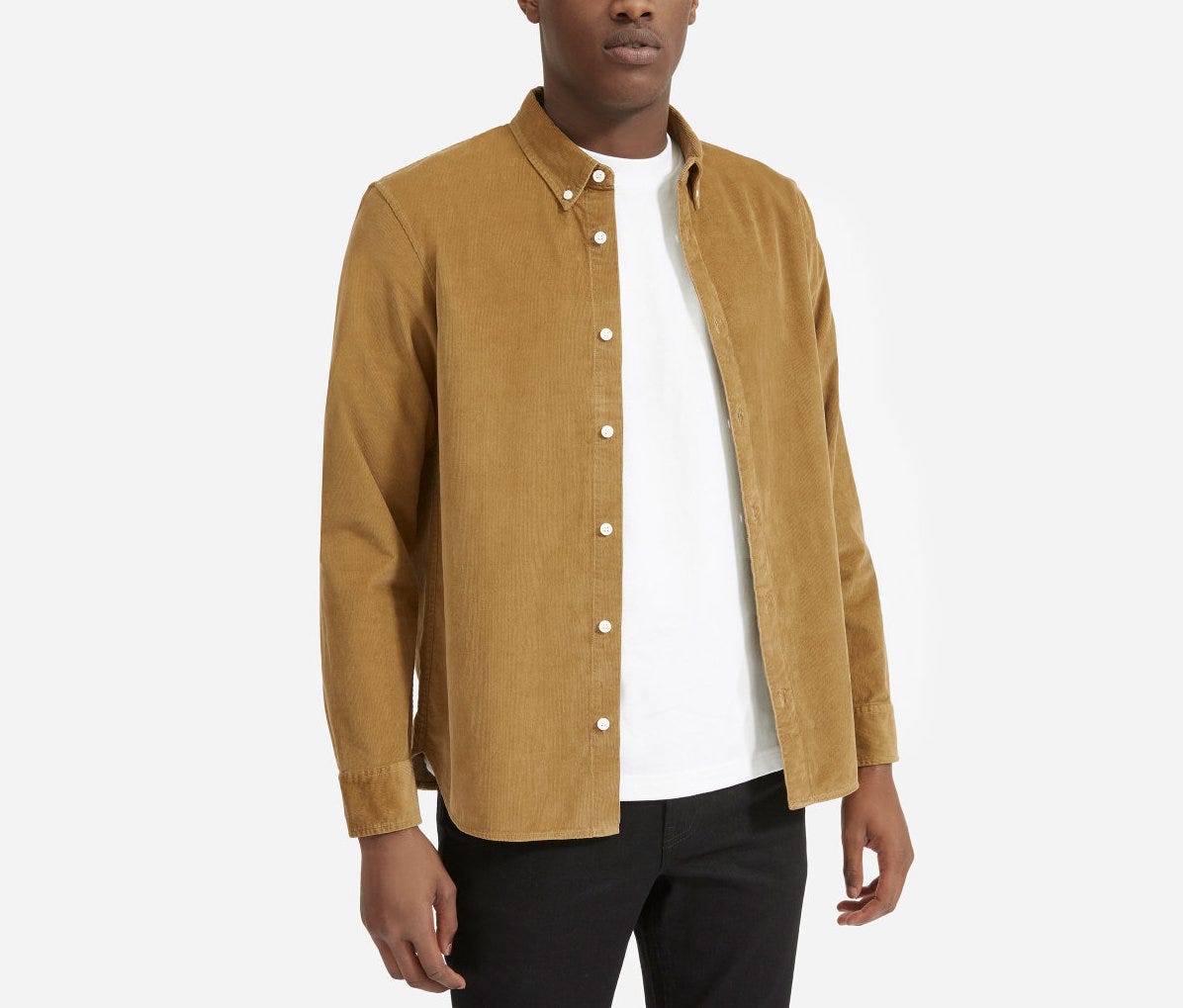 SG Says: Because why should your legs have all the fun? Outfit your torso in a corduroy shirt like this Everlane number above (which has unfortunately sold out!).
What to wear with casual corduroy pants
You can't go wrong with a 5-pocket pair of corduroy pants this fall and winter. In a classic khaki hue, you'll think you're just wearing regular ol' chinos, which is kind of the point. Some guys think cords are too "out there" for their personal style, but a pair that fits and feels like jeans will have you thinking otherwise.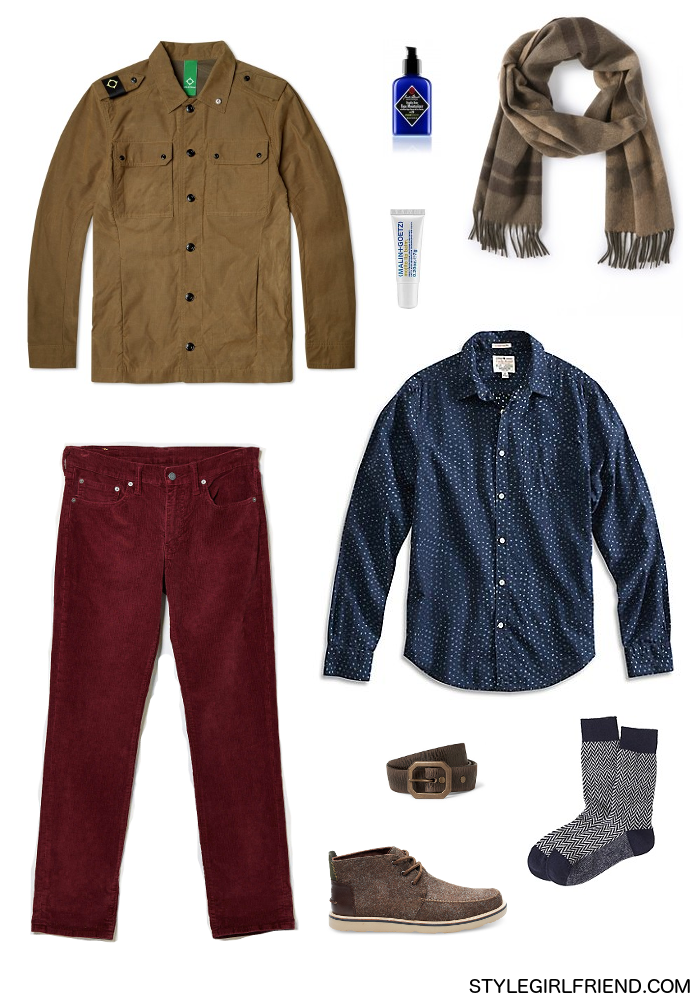 SG Says: You don't have to count out other bright colors or textures with the rest of your look when wearing bolder-colored corduroy pants – in fact, piling on more visually interesting pieces is encouraged.
Try wearing your cords with a chambray shirt and textured chukka boots for a look that's eye-catching, but still casual.
Wear corduroy pants like jeans!
SG Says: Here's what you need to know about 5-pocket pants; you'll feel like you're wearing jeans, even if you're actually dressed up a bit more. Say, in twill, or the corduroy above (both from J.Crew).
This is your entry-level corduroy pant situation. Very hard to mess up, I promise.
Dress them down with sneakers and a sport shirt, or add a little flair with boots and a sweater.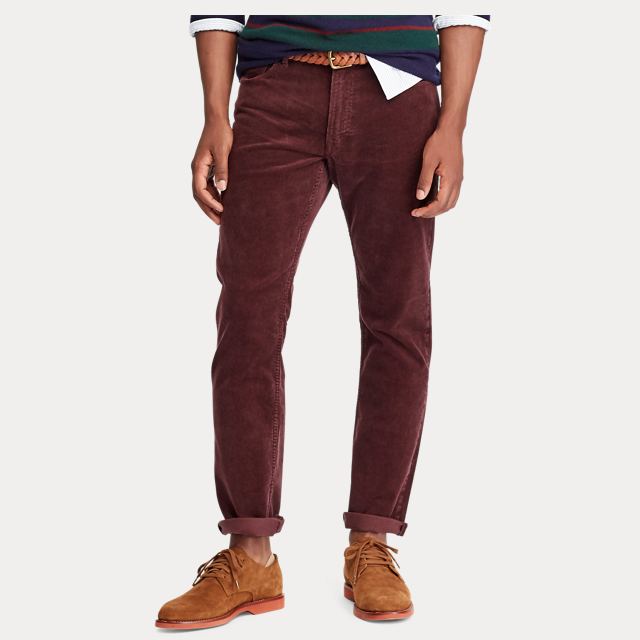 Wear colorful corduroy!
SG Says: Like I said, you can pretend your corduroy pants are just…regular pants by scooping up a pair in a standard hue like khaki or grey.
But. BUT! You could also branch out with a pair in a rich jewel tone that is just so fall I can't even stand it.
Like what, exactly? Well, you could go with a burgundy like this Polo Ralph Lauren pair. Greens are great.
So are cords in the lighter brown (some might say mustard) hue that seems to be popping up everywhere this season (you can find my favorite sweaters in the color here).
The takeaway?
If you've already got one pair of cords in a more traditional color, a new pair in a warm hue could be the perfect complement for your fall and winter wardrobe.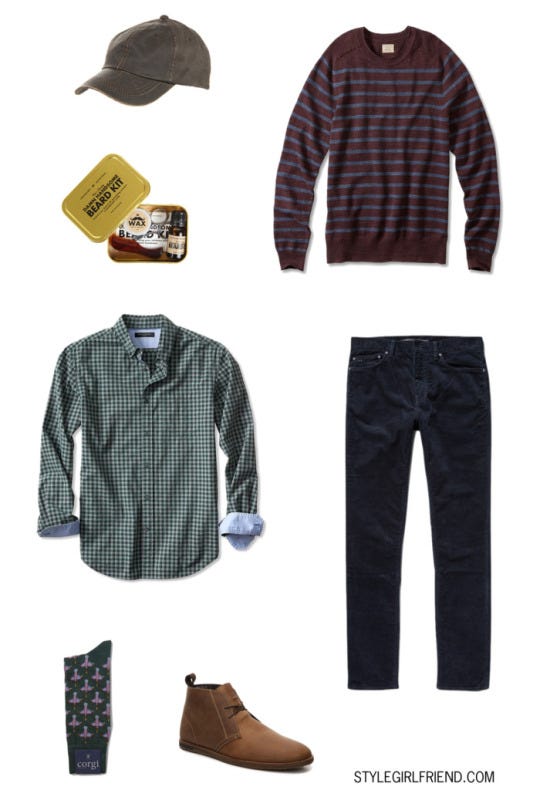 SG Says: Since you're starting your outfit with an iconic corduroy pant, capitalize on texture with leather details like a vintage baseball cap and leather chukka boots.
Don't shy away from patterns in this look – instead, go the gingham route and layer a burgundy striped sweater to add even more visual depth.
How to wear a corduroy jacket
SG Says: Are corduroy jackets in style? That gets a resounding duh. What to wear with a corduroy jacket? The key to this look: Simplicity. Jeans. A solid-colored tee. And a corduroy trucker jacket. Or a corduroy sport coat with jeans.
Hard to f*ck it up, which is a good thing.
> See more ways to wear your favorites, like a turtleneck sweater, denim jacket, and lace-up boots
How to wear a corduroy suit
SG Says: Now, I admit this is an advanced style move. If you've already covered your suiting basics (namely, a charcoal and a navy suit), and you actually enjoy wearing suits, why not have some fun?
A corduroy suit, whether you go for a festive red or green, or a more vibe-y brown, you'll definitely stand out in a crowd.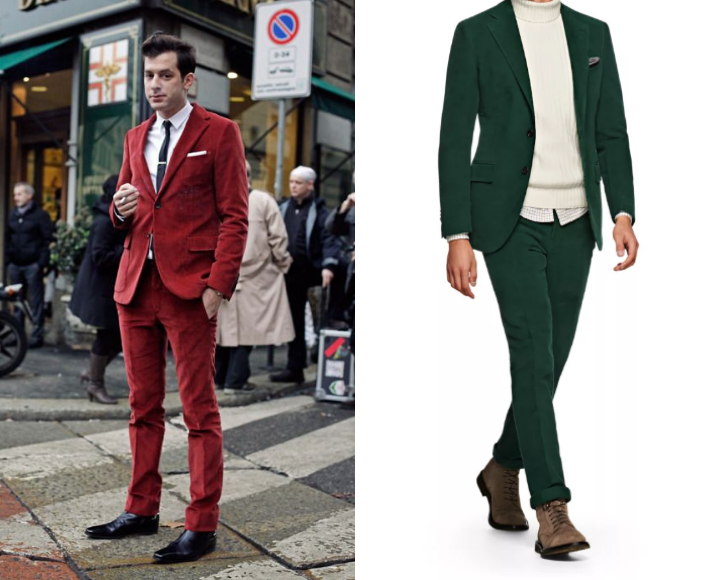 What to wear with a corduroy hat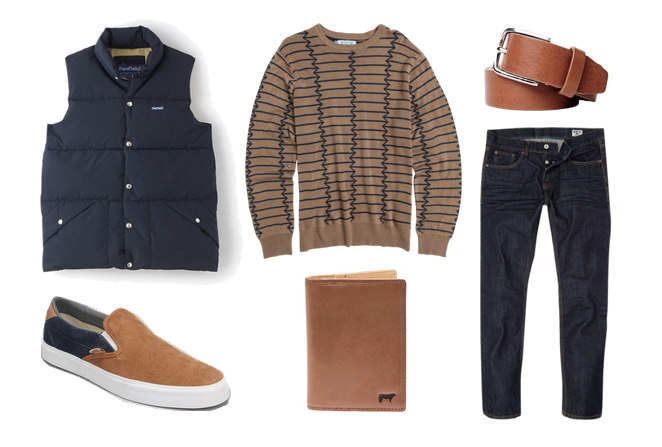 SG Says: Don't expect to wear them everyday, but a cool dad hat in corduroy will make for a fun dose of somethin' special in any casual outfit.
Since baseball hats are generally advertising your sports allegiance, a corduroy hat will signify that you are wearing this hat for FASHUN, and will elevate whatever else you're wearing.
Think: outfits for a Saturday afternoon spent with your lady, or at the bar with your buds.
Best colors for corduroy
Don't limit yourself!
Corduroy presents a great opportunity to add more brightness to the grey days of winter, so don't shy away from brighter colors in your corduroy clothes.
If there ever were a material made just for winter it would be corduroy, so don't be afraid to mix it up with your color rotation.
For instance, a plush pair of corduroy pants in earth tones like grey or taupe would look awesome on you. So would a shirt jacket in a bolder color like mustard or burgundy. Either way, you'll look equally cozy and classic.
When to stop wearing corduroy
When it gets too warm outside!
Seriously, you can wear cords as soon as the leaves start changing color in the fall, and only (reluctantly!) tuck 'em away when the last snow has melted and flowers are starting to sprout in the spring.
The whole in-between time?
Prime corduroy season.
How to wear more corduroy

If you're ready to jump on board the corduroy wagon but dread the thought of shopping for new clothes…consider letting Team SG shop for you! Honk honk, it's the best!
Let us rescue you from shopping fatigue and sartorial apathy. We can promise the kind of personal attention and care that will make you feel like the best version of the awesome guy you already are! If you're ready for a daily lewk that'll change your life, give us a shout.
Follow Style Girlfriend on Instagram, Twitter, and Facebook for outfit inspiration and styling tips.

Like a phoenix rising from the ashes, Gabi Meyers went from Team SG's first-ever intern to a trusted fashion editor and stylist. She currently lives in Chicago with a very cute dog.