How to Wear a Men's Turtleneck: 10 Outfit Ideas for Guys
A classic, cozy men's style staple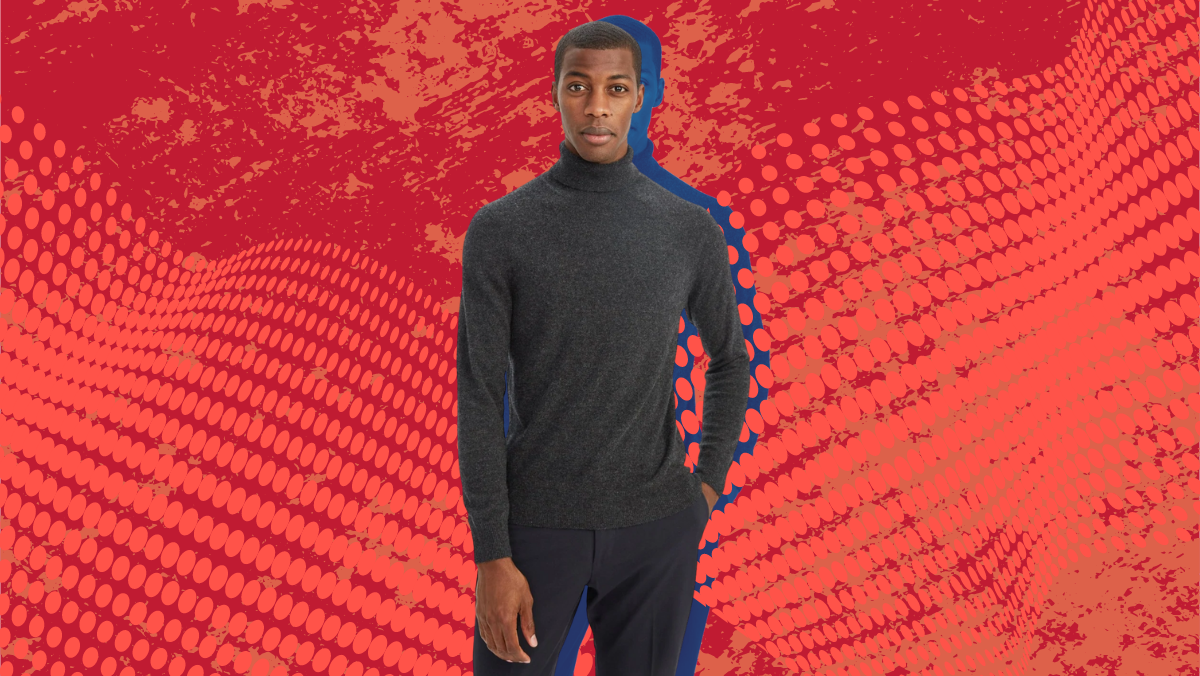 This is it, guys. I can feel it. This is the year it finally feels totally normal for guys to wear turtlenecks.
I'm done convincing you that you'll look like Daniel Craig in James Bond by sporting this cold weather style staple. I mean, you will, but you'll also look like, y'know, you…just in a turtleneck.
That's because the style truly does look good on all different kinds of guys.
What's more, the turtleneck feels equally at home when dressed up with a suit or worn more casually with jeans or chinos.
Here's what you'll find in this turtleneck guide:
So, what kind of turtleneck should you buy?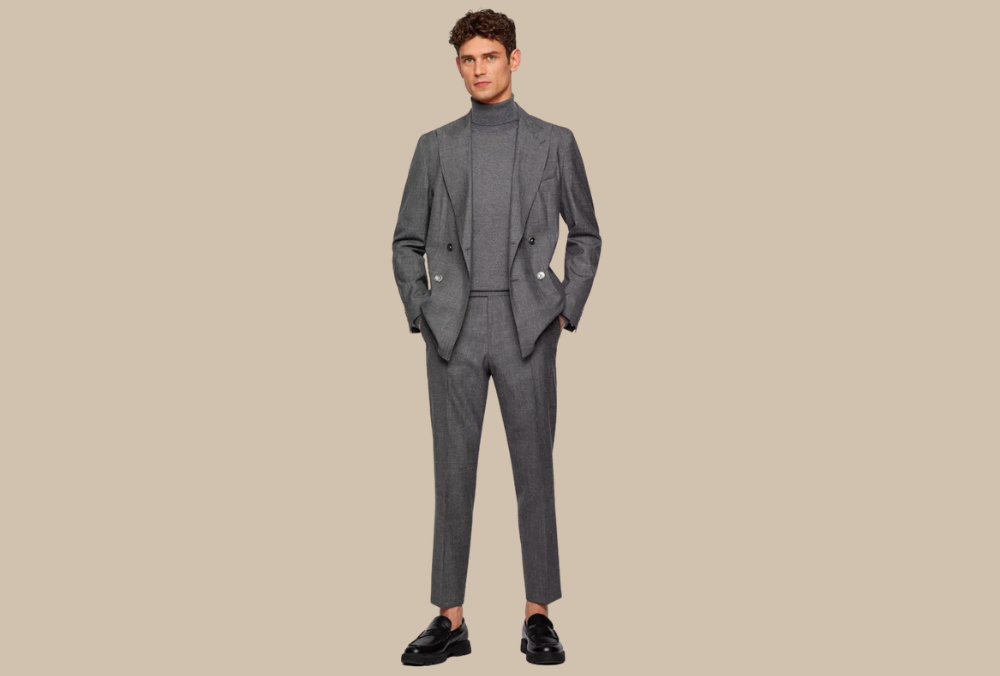 At SG HQ, we're never not going to push cashmere on you.
It's luxe! It's cozy! And it's honestly not tha-a-a-a-t much more expensive than other knits, especially when it comes to a statement piece you'll have in your closet forever (ideally).
There's some great brands like Quince, Naadam, and Naked Cashmere that leverage a DTC (direct-to-consumer) model in order to sell an otherwise more expensive product like cashmere at a more affordable price.
Take that, middle men!
You can also find surprisingly good-for-the-price cashmere at retailers like Uniqlo and the in-house brand at Nordstrom.
However.
If you want something less expensive, and slightly more streamlined? Go with merino wool, or a cotton cashmere blend.
Ready to go full lumberjack? Look for 100% wool.
Just be prepared to layer a thin, long-sleeve tee underneath because you might get itchy.
Below, five men's navy turtleneck outfit ideas:
MONDAY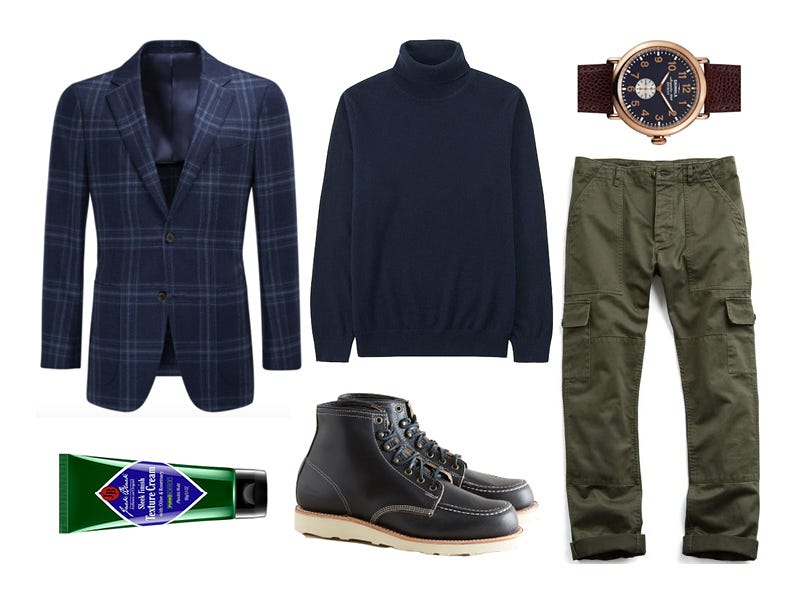 boots: 1892 by Thorogood | watch: Shinola | hair cream: Jack Black
SG Says: Cargo pants and lace-up boots….These are a few of my favorite th-i-i-i-ings!
RELATED: See why chinos are a wardrobe essential
Don't be afraid to toughen up your turtleneck outfit with sturdy-yet-sophisticated pieces.
TUESDAY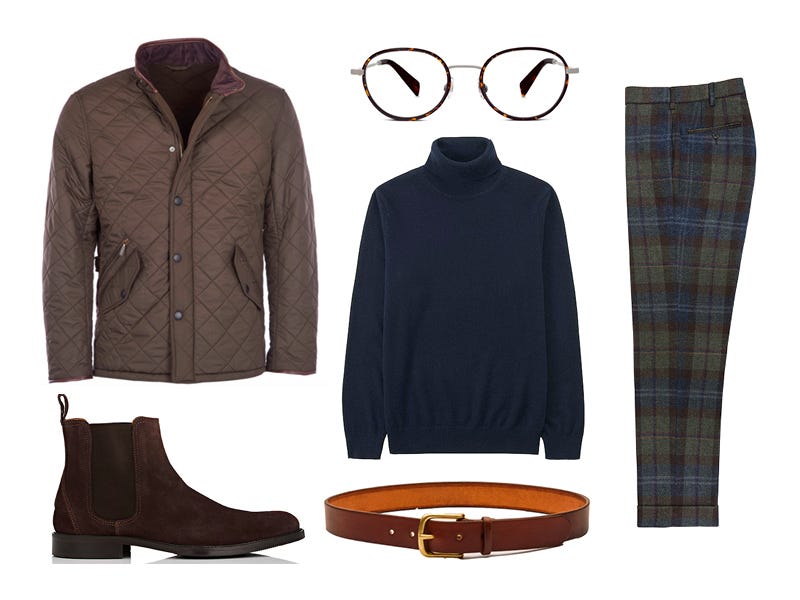 jacket: Barbour | belt: Maximum Henry | glasses: Warby Parker
SG Says: We've been digging into the nitty-gritty recently of what exactly you guys are clicking on from what we recommend, and it turns out that quilted jackets like the Barbour number above are a huge hit with the Style Girlfriend audience.
Good news! This type of English country outerwear looks perfectly at home over a cashmere turtleneck.
WEDNESDAY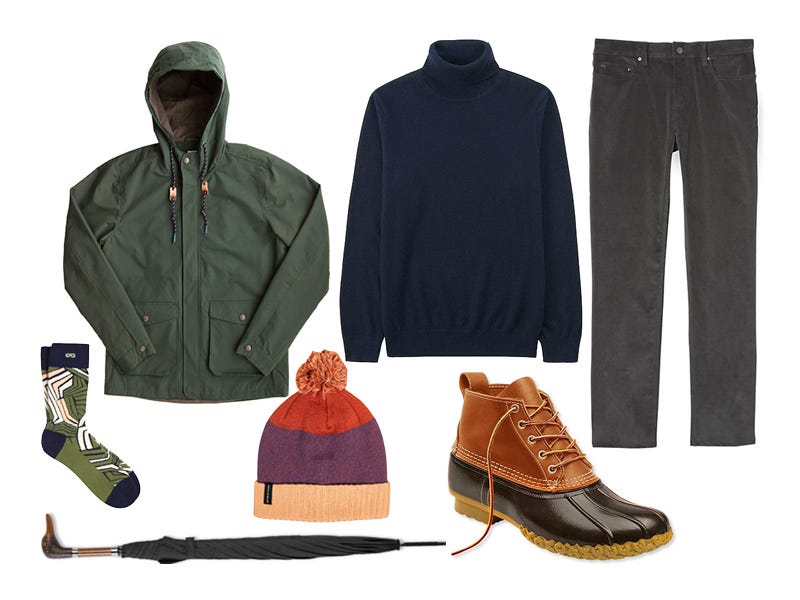 parka: Columbia | pants: Vince | boots: L.L. Bean

SG Says: Opt for a turtleneck instead of a scarf to keep warm in the next big storm.
THURSDAY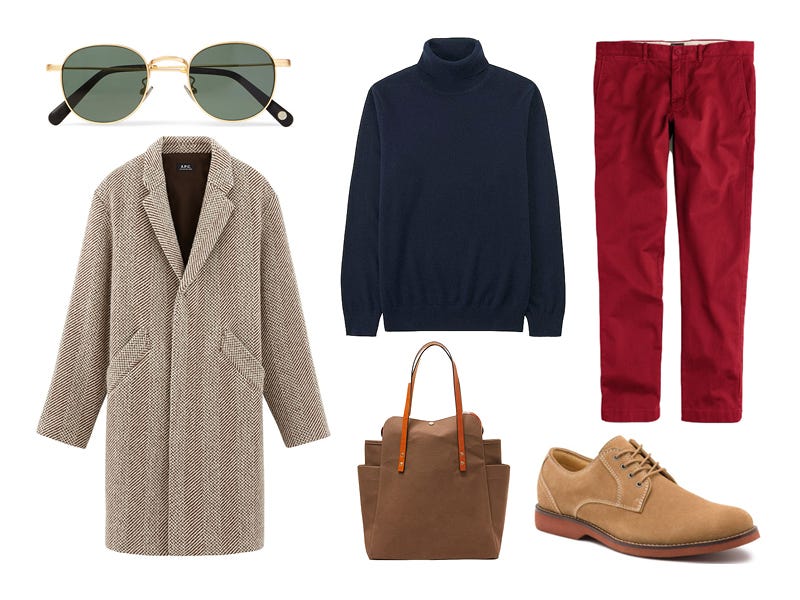 chinos: J.Crew | shoes: G.H. Bass
SG Says: A textured topcoat looks great over this sophisticated, streamlined sweater.
RELATED: Check out office-worthy bags
This color combo works because the navy balances out the brighter red of the pants, while the rest of the pieces blend into the background in a subtle way.
FRIDAY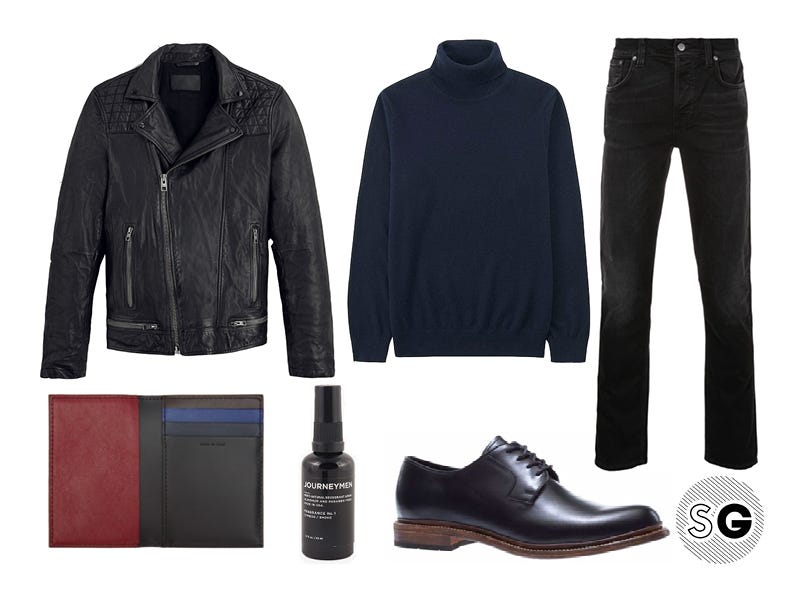 leather jacket: Allsaints | jeans: Nudie Jeans
SG Says: Add some edge to your turtleneck for date night with a leather jacket and head-to-toe black.
RELATED: Check out the best winter coats
And let this look put the question of "Can I wear blue and black together?" to rest. Because the answer is definitively, YES.
***
Check out men's grey turtleneck outfit ideas:
There's only one thing better than one neutral turtleneck in your closet.
And that's two neutral-colored turtlenecks in your closet.
To the office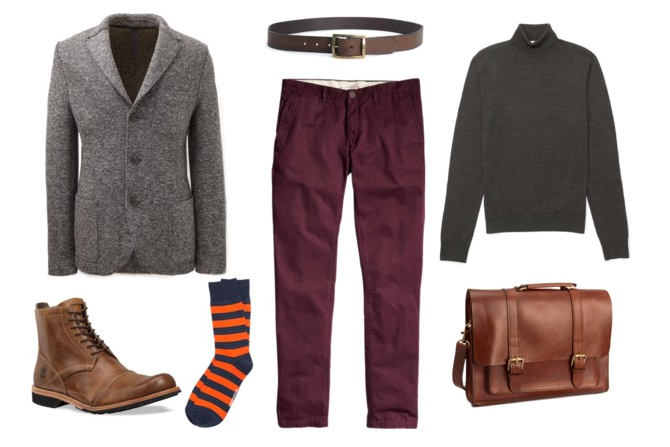 SG Says: Love to throw in some colorful pants options for you guys, and these wine-colored chinos are no exception.
Surrounded by an otherwise neutral outfit, this look is totally office-appropriate.
To a fancy dinner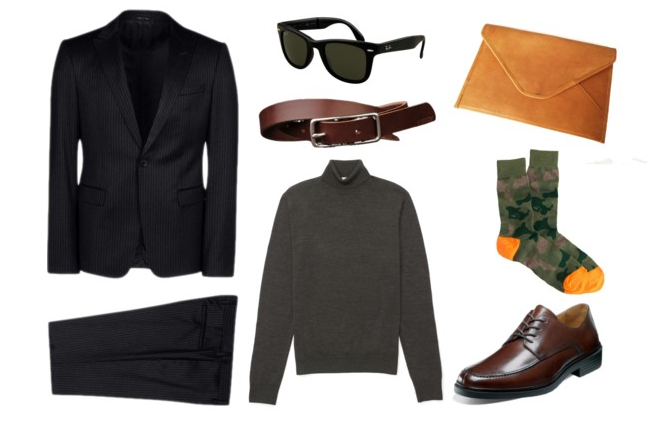 SG Says: Go for a monochromatic vibe with a dark-colored suit with a similarly hued turtleneck.
On the weekend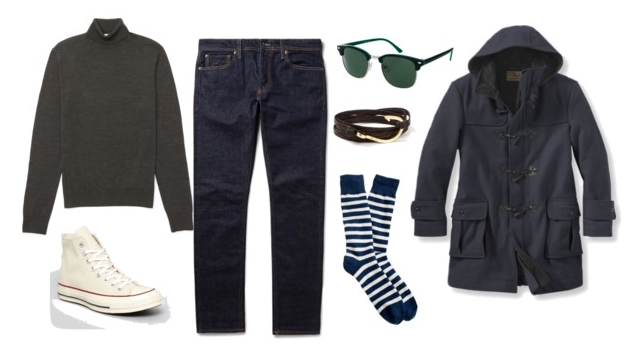 SG Says: With Chucks and jeans, a turtleneck looks ready for wherever you're headed when off-duty.
Sure, you could go with a more standard jacket, but the toggle coat gets extra credit for its offbeat, quirky vibe.
To class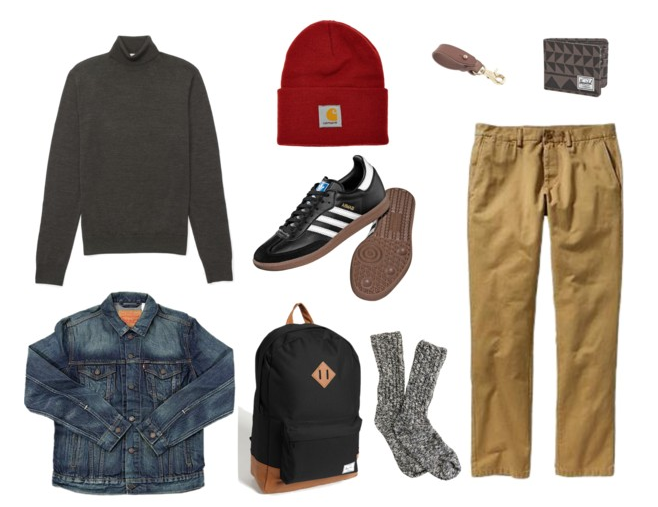 SG Says: Yes, you can pull off a turtleneck when you're in school without looking like a stuffy art history student.
Just up the casual vibes with a denim jacket and throwback sneakers.
Shop the best turtlenecks for guys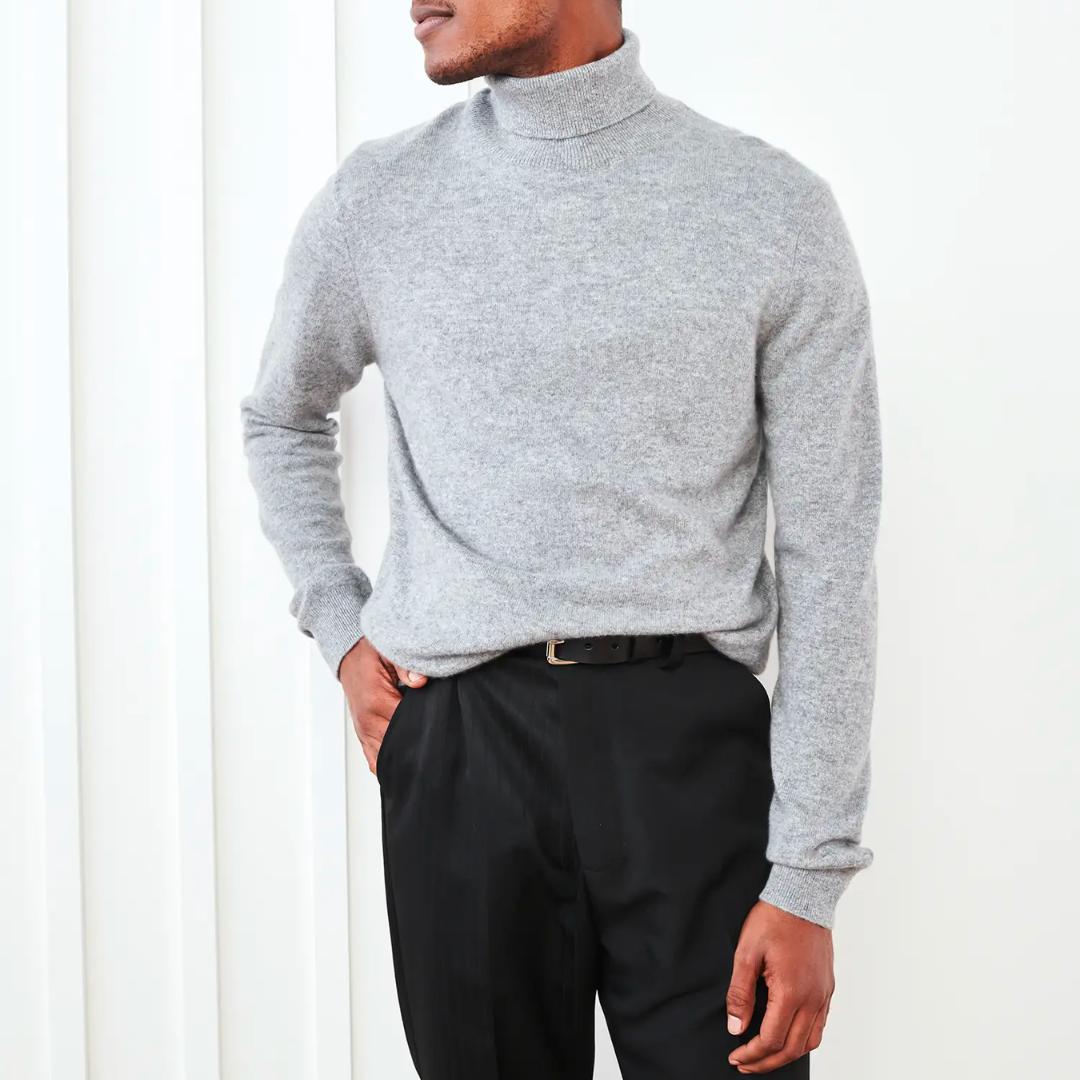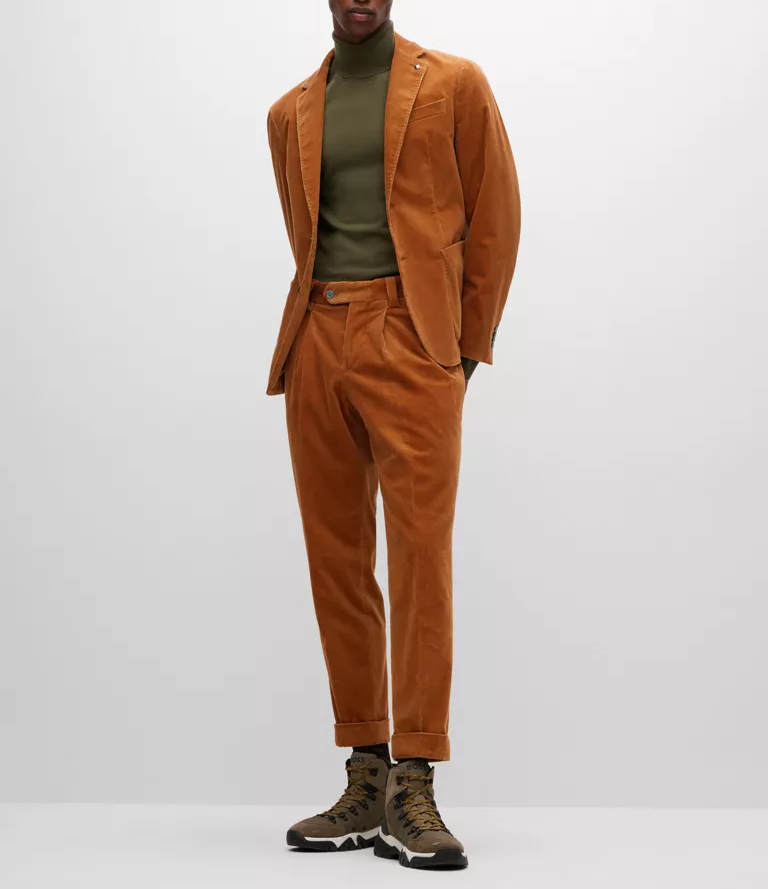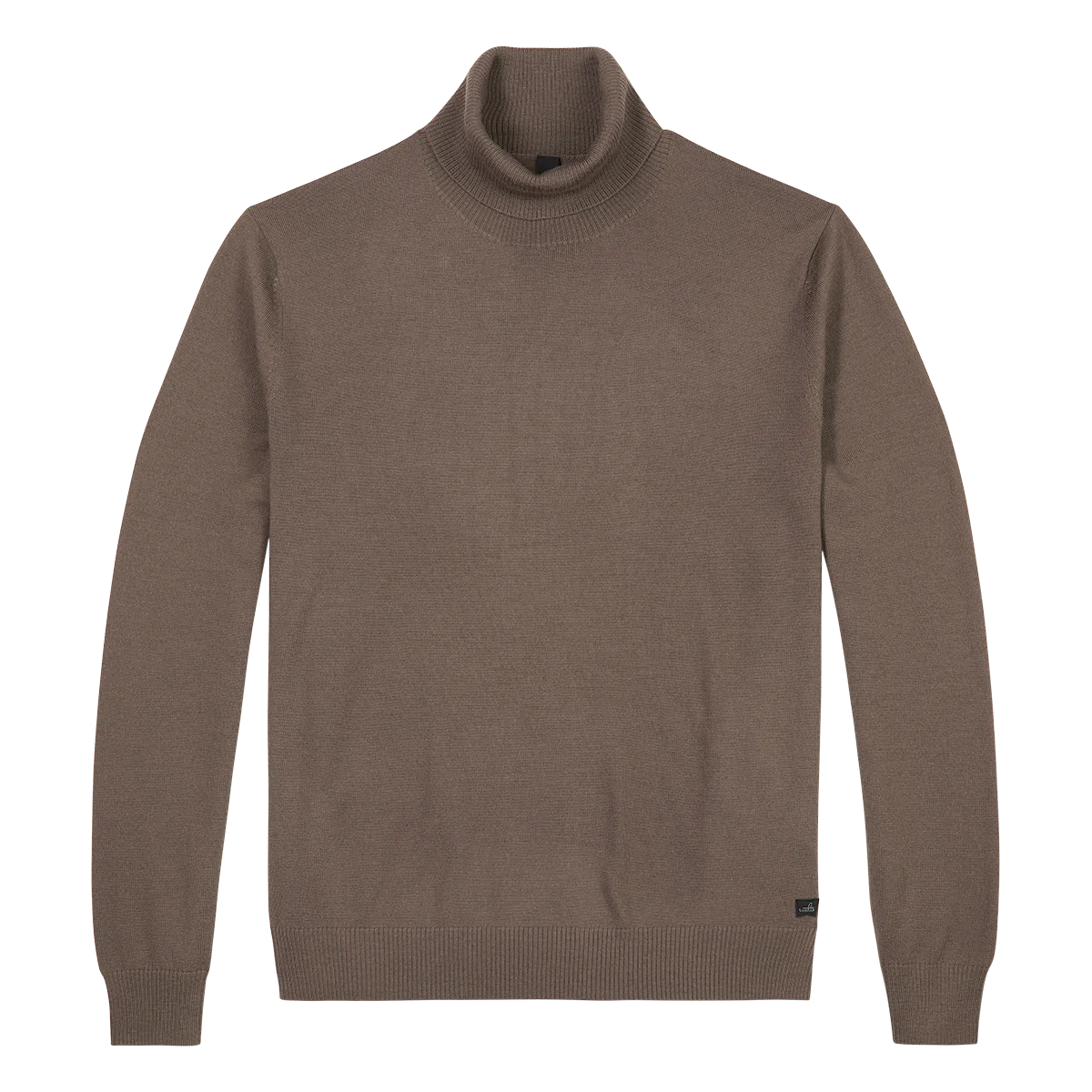 ---
Ready to upgrade your cold weather wardrobe?
SG can help!
Ready to freshen up your style but dread the thought of shopping for new clothes, AND figuring out how to wear them with what you already own?
We're obviously biased, but clients tell us it's really great!

Let us rescue you from shopping fatigue and sartorial apathy.
We can promise the kind of personal attention and care that will make you feel like the best version of the awesome guy you already are! Ready to seriously improve your closet and your confidence? Give us a shout.
***
Want more classy outfit style? Check out how to wear a turtleneck with a suit

Like a phoenix rising from the ashes, Gabi Meyers went from Team SG's first-ever intern to a trusted fashion editor and stylist. She currently lives in Chicago with a very cute dog.