How to Wear a Turtleneck with a Suit
It's time to try this bold style move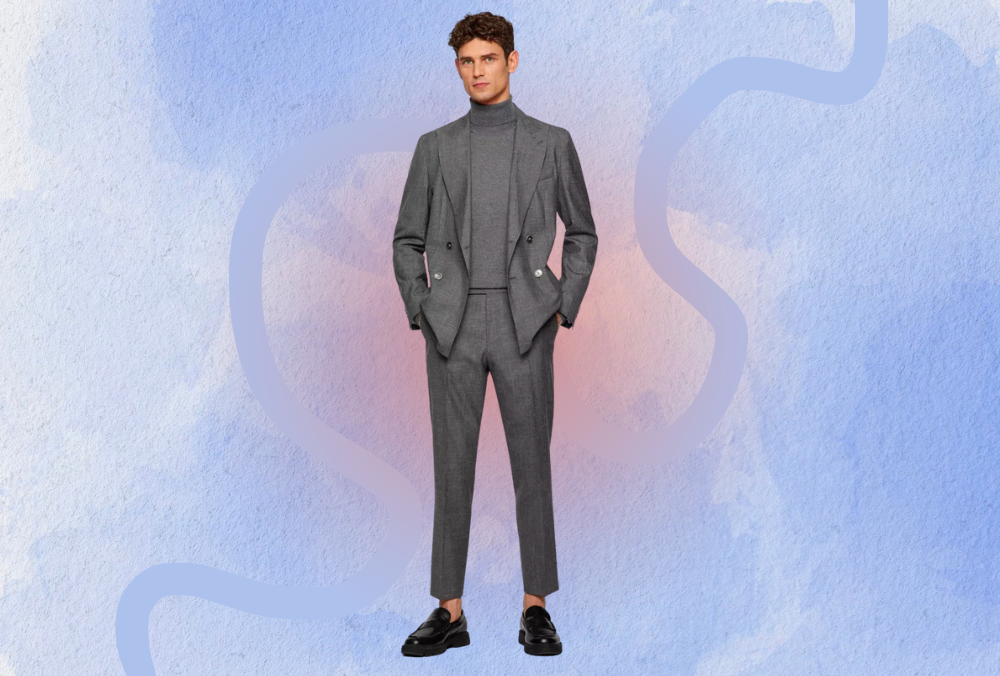 Over the weekend, I went to a party here in New York and saw no less than four guys wearing turtlenecks! Granted, the theme was Après Ski but still! I took it as vindication that 1) they were all Style Girlfriend readers (though I didn't ask), and 2) our team has finally convinced the men of the world that it's time to wear turtlenecks.
Because we've already covered how to wear a turtleneck with more outfits in your winter wardrobe. But when you're thinking about what to wear with a turtleneck or how to style a turtleneck, what about the epitome of menswear elegance?
That's right, we're talking about how to wear a turtleneck with a suit.
Not convinced this is for you? Worried it's a look reserved for only actors or athletes gracing the winter issue of GQ? Or that turtlenecks are no longer in style?
Let me soothe your fears. Yes, turtlenecks are still in style. No, you don't have to be a celebrity to wear one.
In fact, it's so f*cking easy to look great wearing a turtleneck with a suit. Even better? You don't have to wear a tie and dress shirt.
Onboard yet?!
Below, what you'll find in this guide on how to style a turtleneck with a suit or sport coat:
Here's what you need to know about wearing a turtleneck with a suit:
The thinner the knit is, the easier it will be to add as a sleek layer with a blazer, a leather jacket, or a wool topcoat.
Stick to dark colors like black, blue, gray, or burgundy, which will suit fall and winter looks. Something like a black turtleneck with a black suit will be a pretty bold look, but a navy suit with a slightly lighter blue turtleneck will look both timeless and stylish.
The one (and subjectively only) pitfall of a turtleneck is the task of actually putting it on, so remember to style your hair after you've put on your sweater.
Take it to the next level of refinement by opting for a double breasted jacket. Don't worry – we'll show you how to do that below! Mind you, if you're dressing up this style it's important that the neck is folded evenly and falls flat.
Below, a week's worth of dressed-up turtleneck outfits for men:
Monday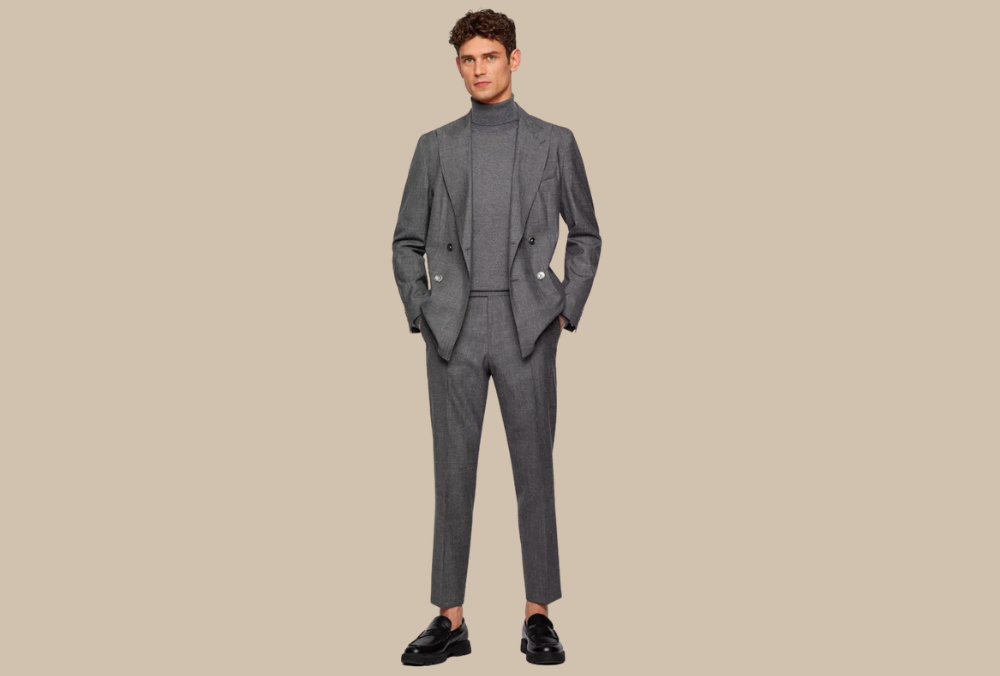 Wear a turtleneck and suit in similar colors
SG Says: This great look (from last season Hugo Boss, sorry!) shows the power of a monochromatic turtleneck and suit combo. The black loafers pair really nicely with the overall charcoal look.
The overall effect is subtly sophisticated without feeling even a little bit boring.
Tuesday
Wear a turtleneck with a double-breasted suit
SG Says: Leave it to David Beckham to swerve into a more fashion forward turtleneck and suit pairing.
Here, he's got on a double-breasted suit and a turtleneck in a rich holiday party-friendly burnished orange hue.
And that's really it!
As Esquire's Jonathan Evans puts it, "No pocket square. No tie (obviously). No extraneous accessories of any kind, actually. Because the sweater and suit are all you need to make a statement."
While something like a three piece suit might be a little much with a turtleneck, this is a great way to wear a turtleneck and suit combo in a more formal setting, like to a wedding.
Wednesday
Wear a turtleneck in an earth tone with a blue suit
SG Says: Taking things up a notch, Donald Glover wears a turtleneck in a hue similar to Beckham's, but pairs his with a brighter blue suit.
RELATED: Want to know how to match colors like a pro? Check out our color primer
Navy and brown look great together, as they're both earthy, rich tones that fit right in with the fall weather.
Thursday
Wear a grey turtleneck with a charcoal suit
SG Says: Diego from Dandy in the Bronx shows another monochromatic option when it comes to turtleneck and suit combos.
In this case, shades of grey make for a look that's all business with a dash of personality (just check out those two-tone dub monks and snazzy lapel pin).
Friday
Wear a turtleneck with a patterned sport coat
SG Says: In this sophisticated outfit from Brian of HeSpokeStyle, the suit gets swapped for a sport coat and trousers in contrasting patterns.
Anchored by a camel-colored turtleneck, the whole look feels cohesive, not busy.
// Shop #SGapproved turtlenecks //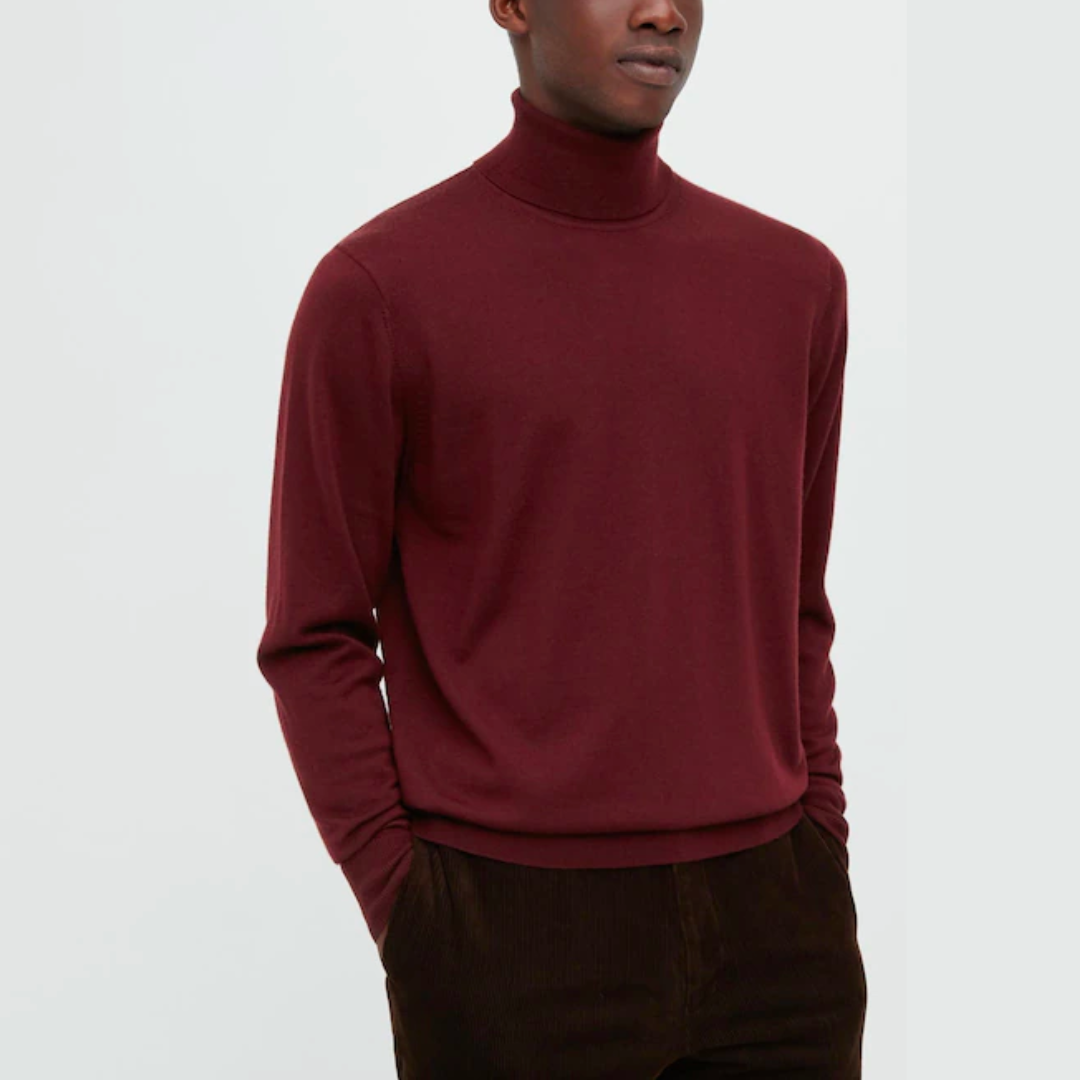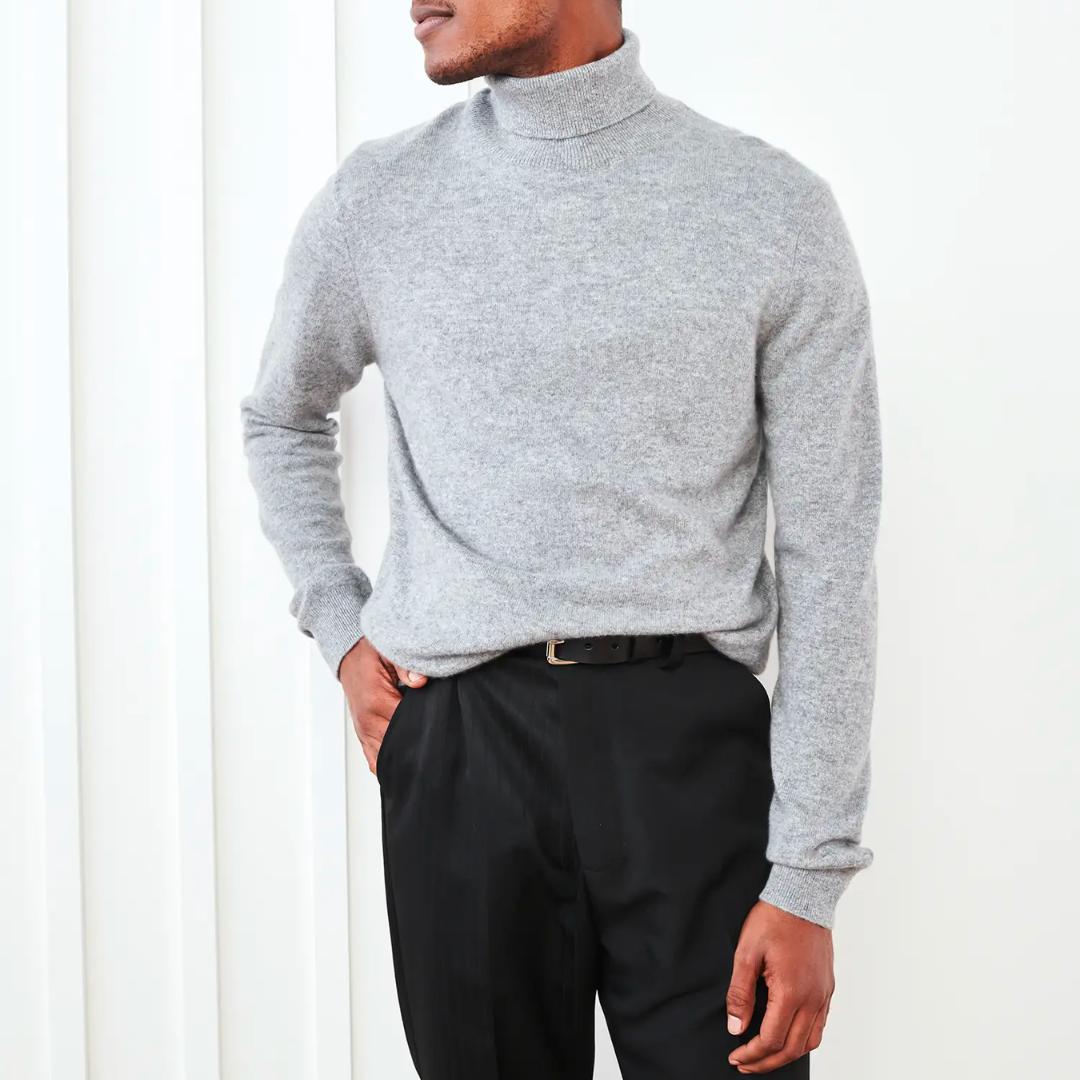 ***
Too much to find, too little time?
Want more help selecting your perfect turtleneck?
The team at Style Girlfriend is ready to boost your confidence by building a personalized style plan just for you.