How to Wear Chelsea Boots: 10 Men's Outfits
Off-duty rock star vibes, right this way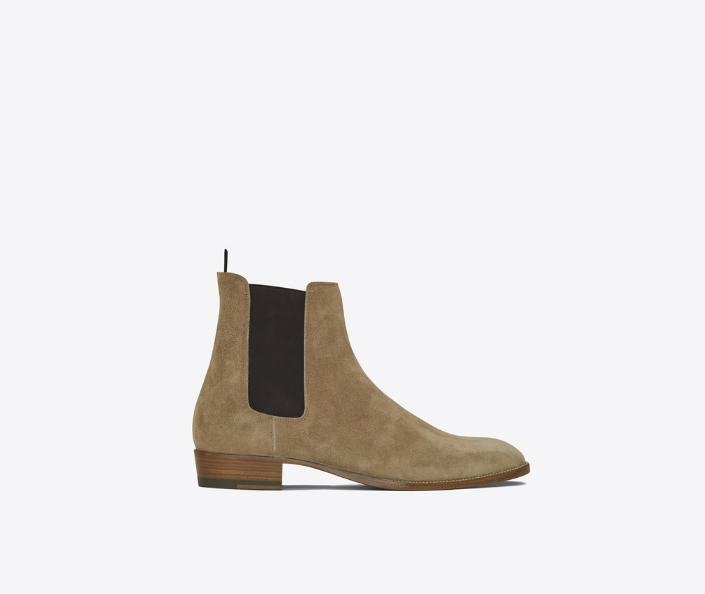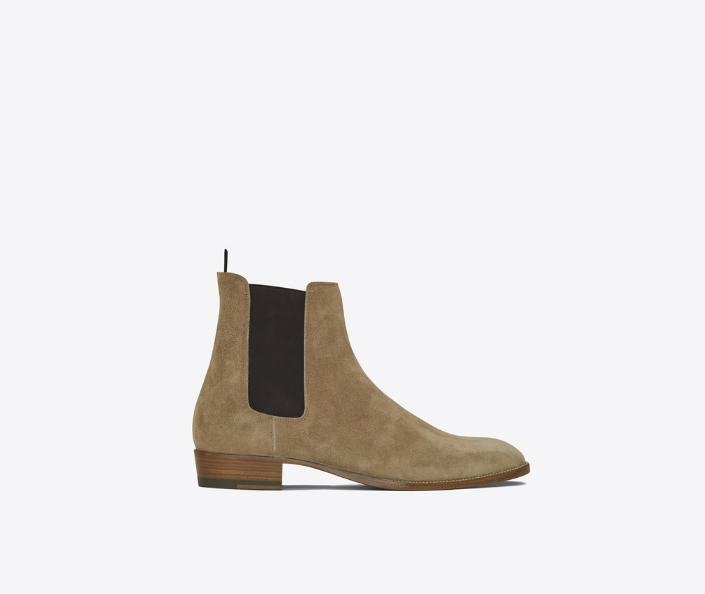 The Beatles wore them, so did the boys of 1D, and low-key fashion icon Scott Disick loves 'em. So we just can't not see Chelsea boots staying in style…well, pretty much forever.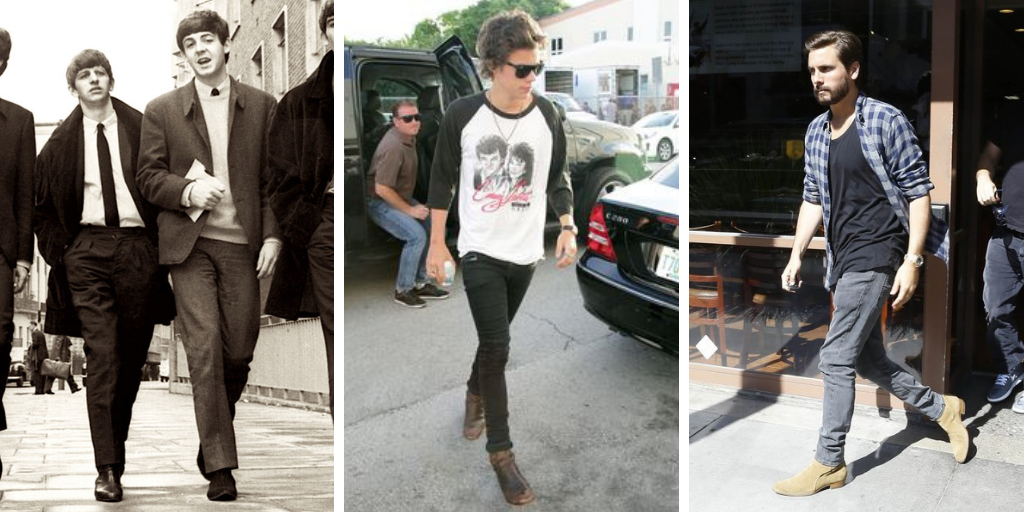 Their minimal silhouette transcends trendiness, and the lack of laces makes for easy entry.
The history of Chelsea boots
The Chelsea boot's original design traces back to the 1850's. Conceived by Queen Elizabeth's shoemaker, he named them "J. Sparkes-Hall's Patent Elastic Ankle Boots" after himself.
As designed, the shoe was intended to be an alternative to lace-up riding boots, which were almost impossible to remove without help. It wasn't until the 1960's that these boots became the shoe de rigueur amongst the mods, and earned the Chelsea moniker, thanks to all the swingin' celebs wearing them at hip King's Road in Chelsea, London.
The Chelsea boot's simple design lends itself to all situations—slip into a tan, suede pair for weekend errands, or slide into a black leather pair for your next formal occasion.
Because we love you, we're showing you how to wear leather Chelsea boots and suede Chelsea boots in five ways, each!
Below, some SG approved tips on what to wear with Chelsea boots.
Here's what you'll find:
A leather Chelsea boot can easily be dressed up or dressed down. Think you can't wear a boot with no laces with a suit? Tell that to John, Paul, George, and Ringo. Wondering when to wear Chelsea boot? The answer is every day of the week. Here's a look for each of them:
MONDAY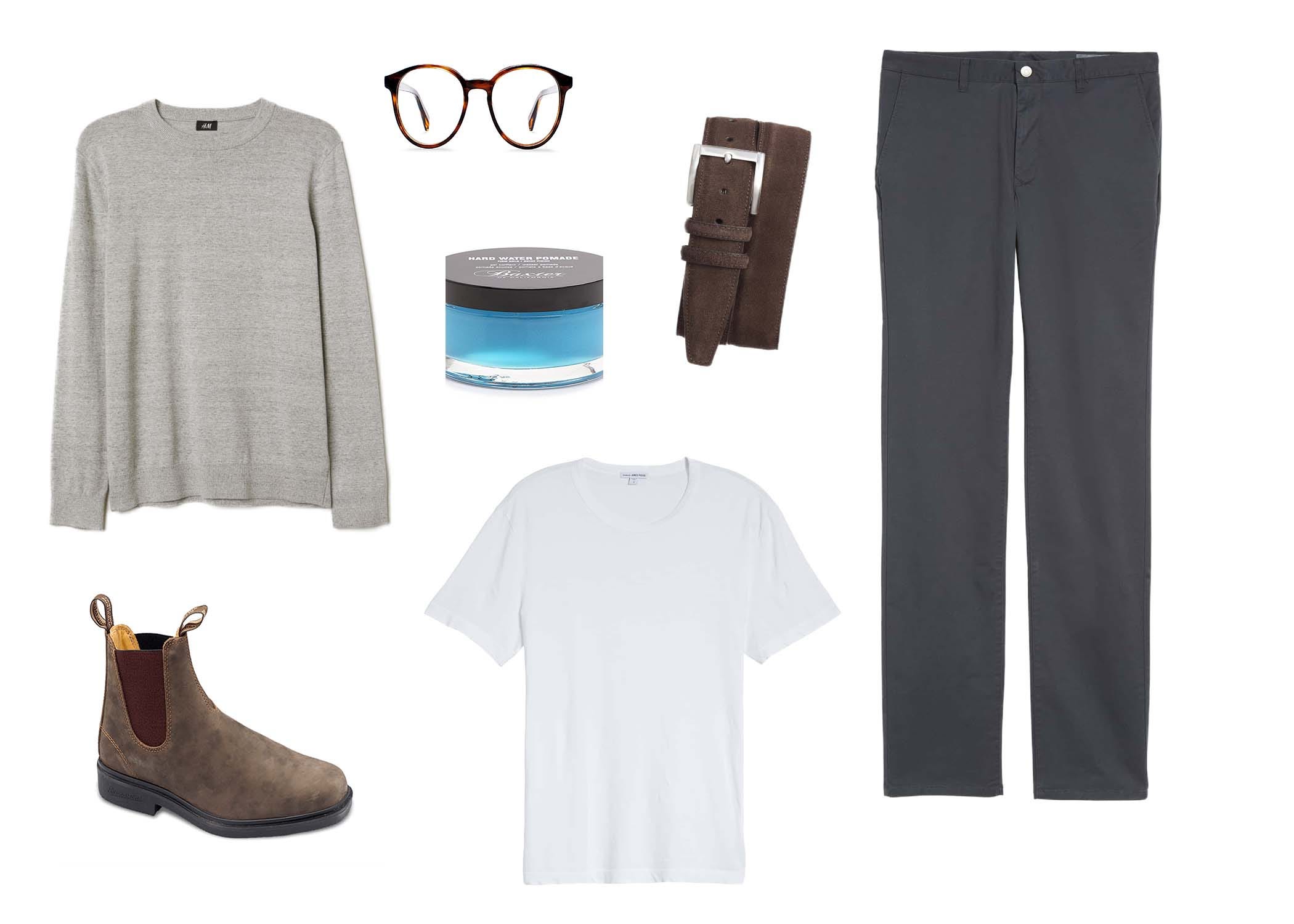 t-shirt: James Perse  | pomade: Baxter of California | chinos: Bonobos
How to style Chelsea boots…with chinos
Wear it well: Keep it casual with a white tee and still-looking-dressed up chinos.
TUESDAY
jeans: Paige  | cologne: Le Labo
How to wear Chelsea boots with jeans
Wear it well: A look like this is almost deceivingly simple. A bomber jacket, t-shirt, and jeans. Easy, right? Yeah, that's the point.
WEDNESDAY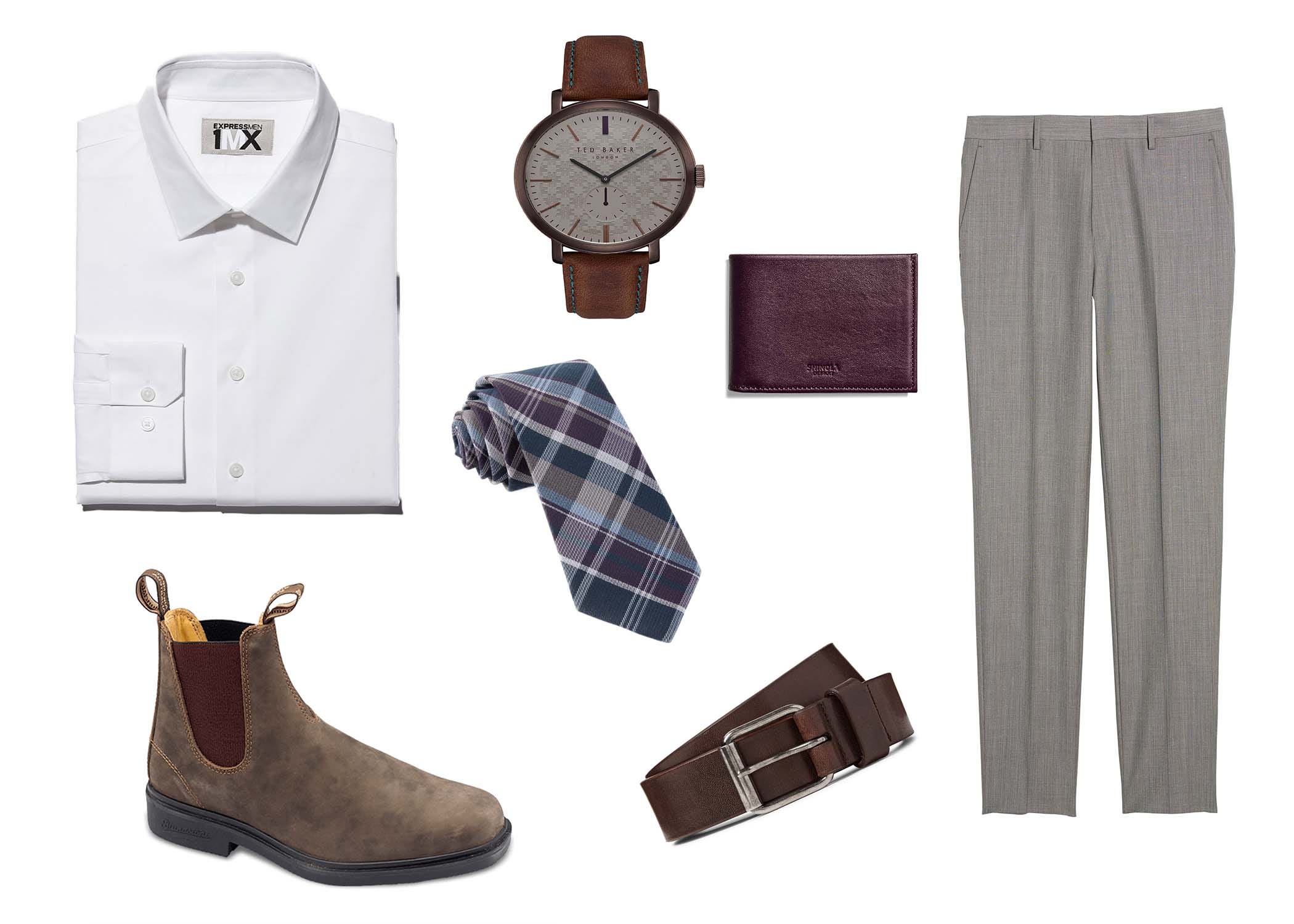 shirt: Express | tie: The Tie Bar | watch: Ted Baker
… or with trousers
Wear it well: This is how to bring Chelsea boots into the office. You could also just as easily pair a black leather boot with coordinating accessories for the same overall vibe.
THURSDAY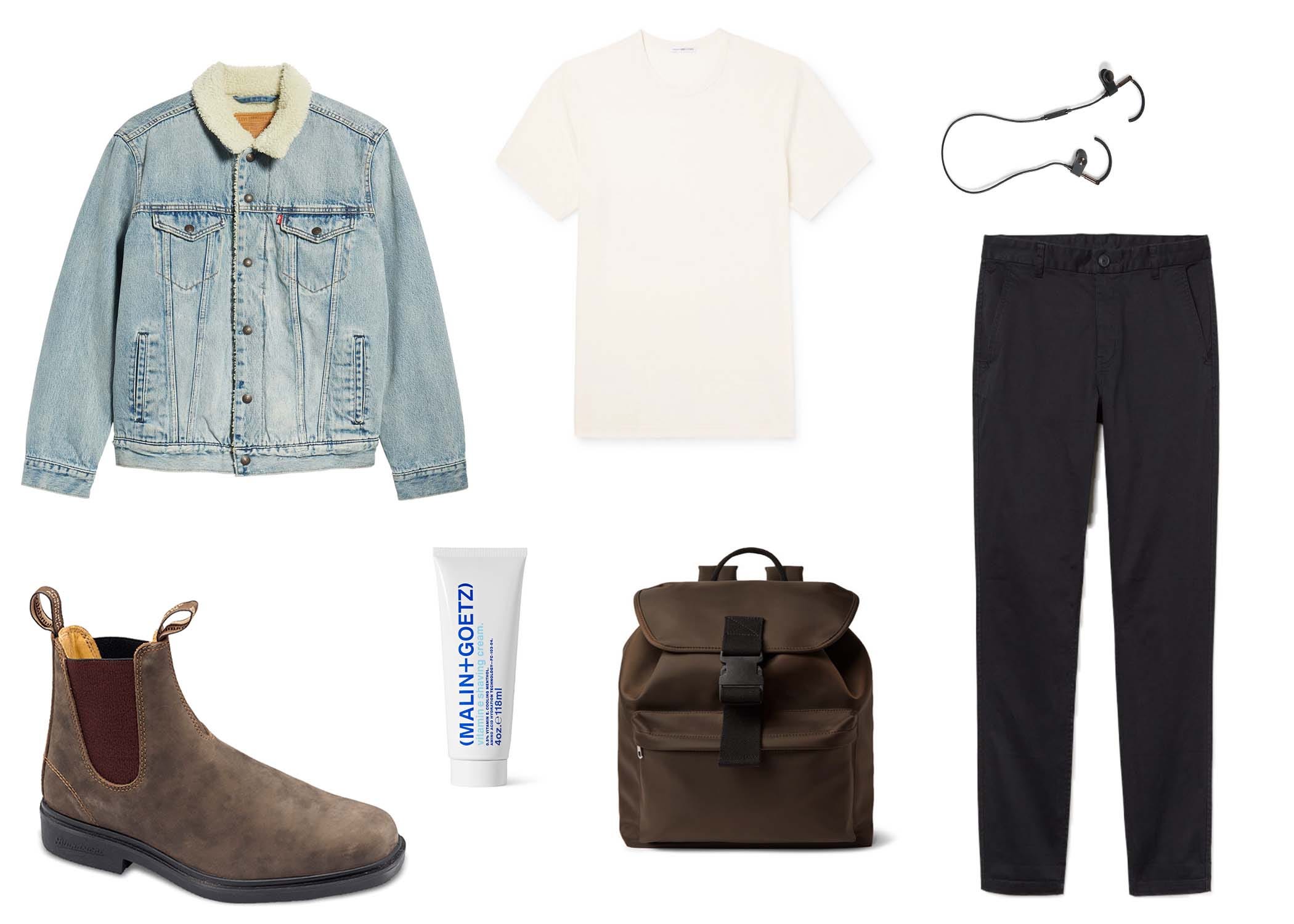 jacket: Levi's | chinos: Old Navy
…with a casual jacket
Wear it well: Worn with laid-back chinos and a classic-cool sherpa-lined denim jacket, you've got your off-duty uniform covered for the foreseeable future.
FRIDAY
bag: Herschel | shirt: Brooks Brothers (similar)
…with sweatpants (or jogger pants)
Wear it well: That's right. We're not giving up on a striped shirt for guys. We know it seems outside your fashion comfort zone, but you'll look great! C'est la vie!
***
Don't forget; leather Chelsea boots are not your only option!
A light colored suede Chelsea boot can add timeless style to any outfit.
It makes me actually feel sweaty to see people rocking black leather lace up boots in temperatures over 75ºF.
Imagining the struggle of pulling them on, the slipping socks, and, yes, also the heat of sun on leather. Especially because leather boots are usually a bit heavier, and really designed for colder conditions.
Enter the suede Chelsea boot. You might be thinking, But didn't you just basically say boots are for winter? or other seasonally-discriminatory thoughts. However! Chelsea oots can truly be worn all year round – as long as you have a few pairs to cover your feet for various weather conditions.
Look, is suede fit for April showers? No. That's what duck boots are for!

How to wear Chelsea boots in suede five ways
Suede Chelsea boots are a classic casual staple in any guy's wardrobe. Look for short-pile suede, which is (you guessed it) shorter, and a sign of good quality. Longer-pile suede tends to get scuffed up, and well, dinge-y way too quickly.
According to the folks at Fashionbeans, the toe shape is important, too. "The curved shape – which is created using heat and pressure on the front of the boot – is key.
Any chunky seams or lining creases can rub with wear, so always try them on to check for a smooth finish inside." If you're wondering if you can wear Chelsea boots in the summer, the answer is yes, but pay attention to color. Here are some looks to rock with tan or light brown Chelsea boots.
Monday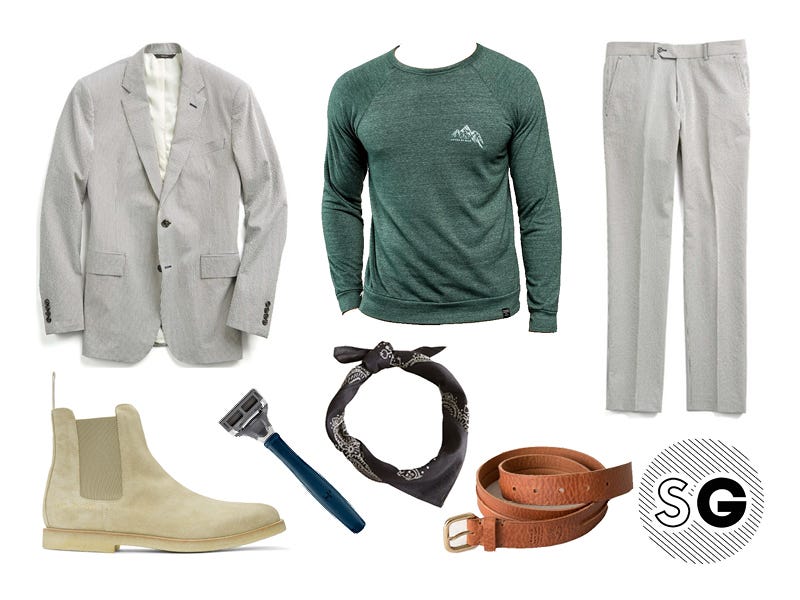 boots: Shoe The Bear | bandana: Gap
Wear Chelsea boots with a casual suit
Wear it well: Can you wear Chelsea boots with a suit? Of course. Pair your suede Chelsea boots with a casual suiting look for equal parts sophistication and fun.
Tuesday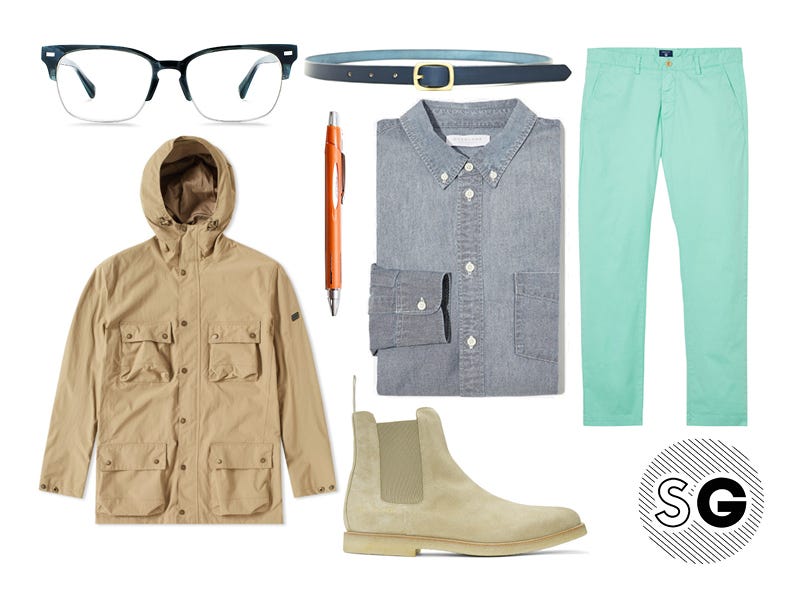 jacket: Fjallraven | belt: LandsEnd
…with a chambray shirt
Wear it well: A soft colored suede Chelsea boot calms down loud chinos for work.
Wednesday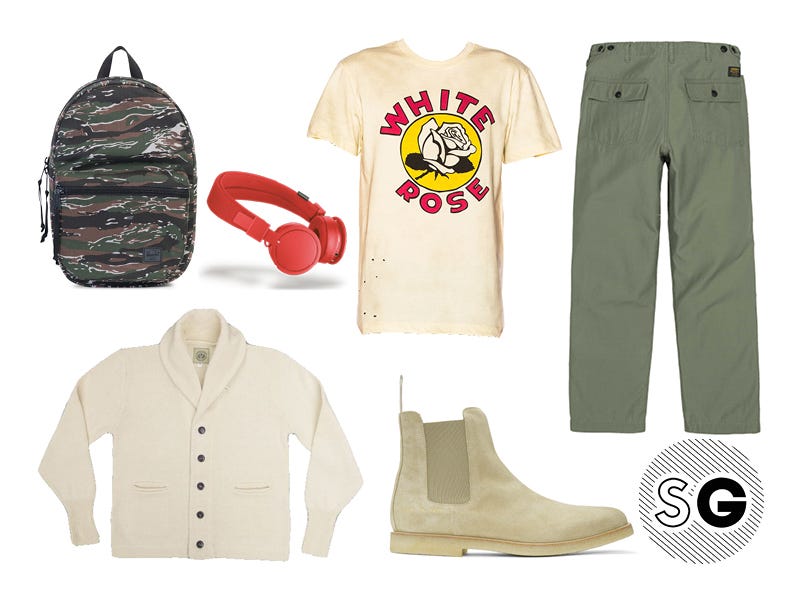 backpack: RVCA | cardigan: Grayers
…with a graphic tee
Wear it well: Roll up the hem of your pants past your ankle to show off your Chelsea boots – and to balance out the slightly wider leg.
Thursday
fragrance: Replica "Jazz Club" | watch: Nixon
…with a cool-guy leather jacket
Wear it well: A cool leather jacket can take your suede Chelsea boots out for after work drinks.
Friday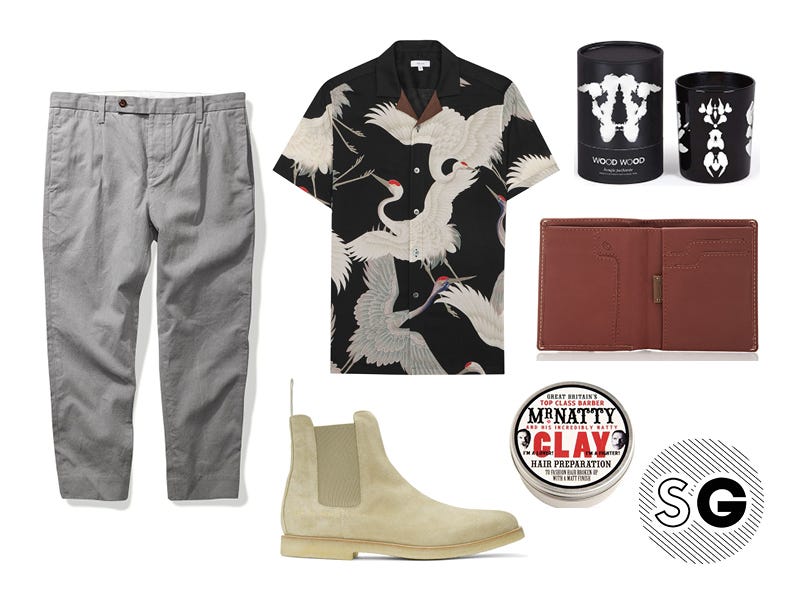 chinos: American Eagle (similar) | shirt: Scotch & Soda (similar)
…with a camp collar shirt
Wear it well: Chelsea boots and a camp collar shirt offer effortless-looking style.
Best color for Chelsea boots
When it comes to Chelsea boot colors, The Idle Man points out that "Chocolate brown, sand and black…Chelsea boots are among some of the most popular in classic flat and heeled designs."
That's true for both suede and leather. It really comes down to preference, and well, budget, which colors and materials you decide to invest in for your footwear.
The best brands for Chelsea boots
There's plenty of great brands who make this stylish shoe, and at plenty of price points, too.
If you can afford it, spring for a pair that feels ju-u-u-u-u-st a little out of your price range, because you'll have them forever and they'll never go out of style.
// Shop #SGApproved Leather Chelsea Boots //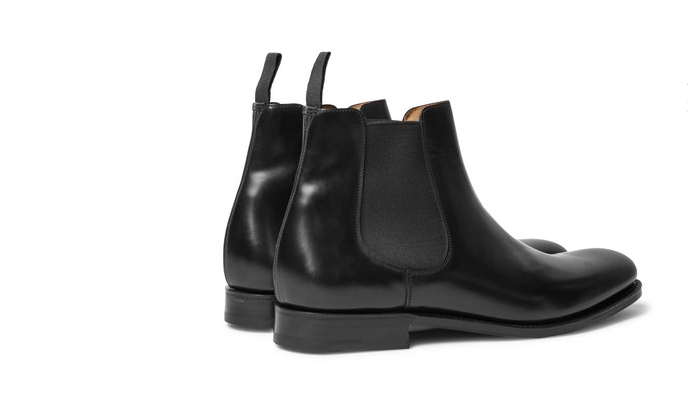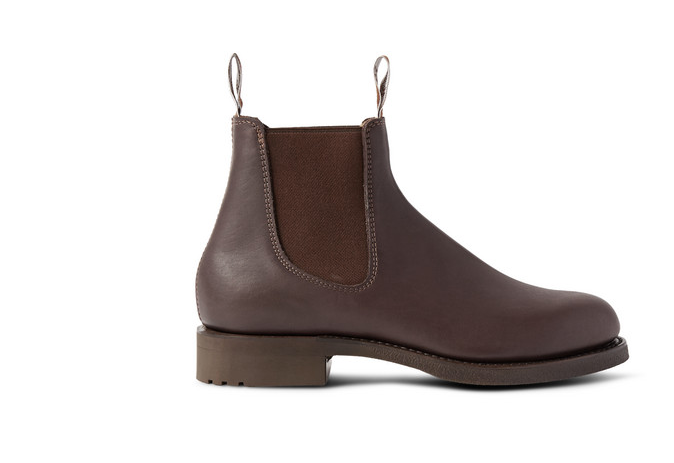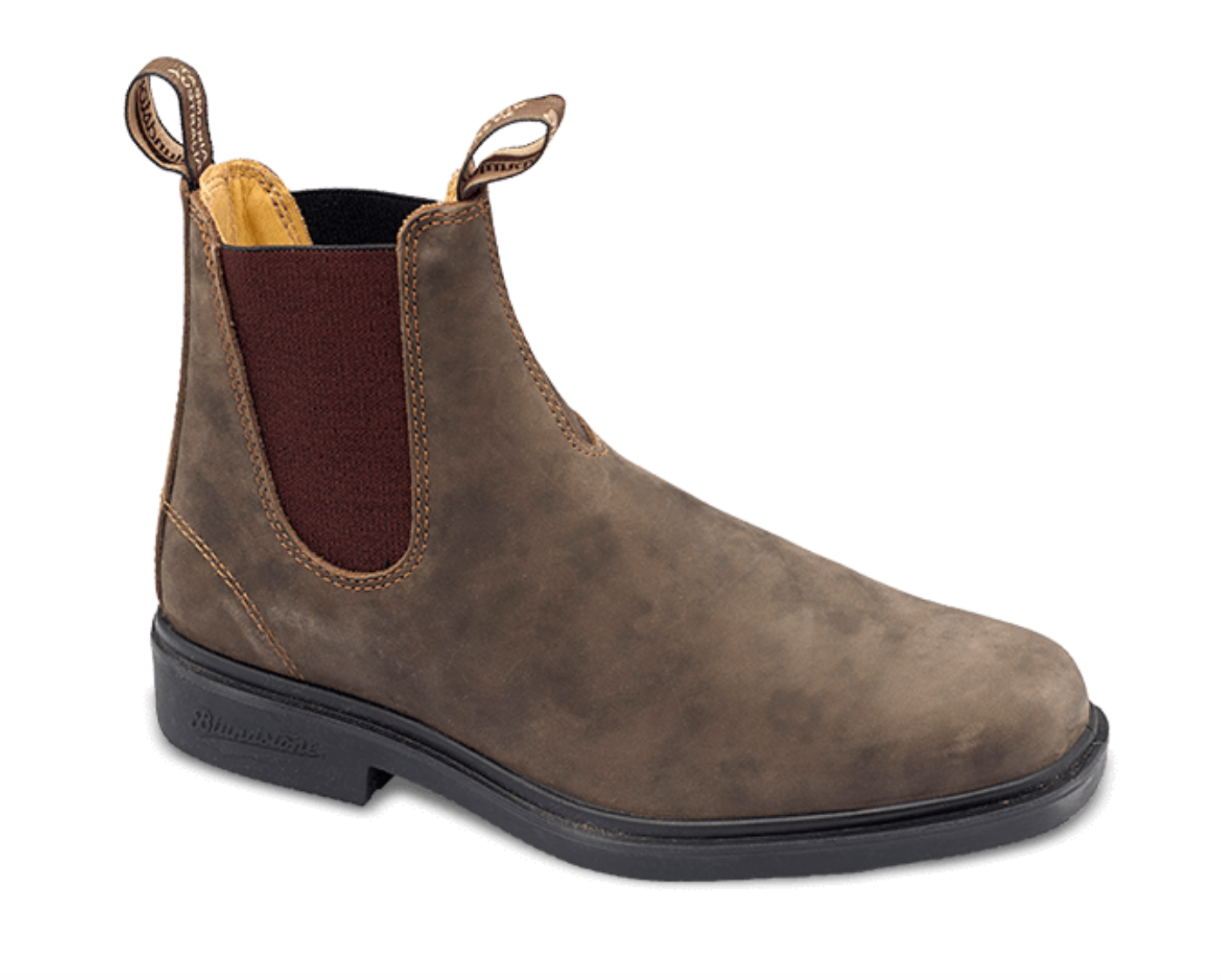 $ – Blundstone, $170
// Shop #SGApproved Suede Chelsea Boots //
$$$ – Saint Laurent "Wyatt" Chelsea boot, $1250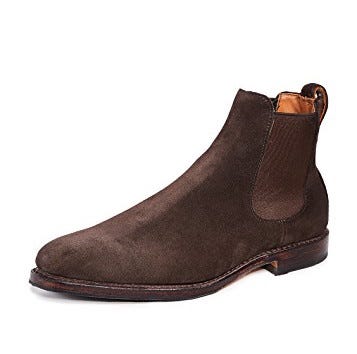 $$ – Allen Edmonds, $495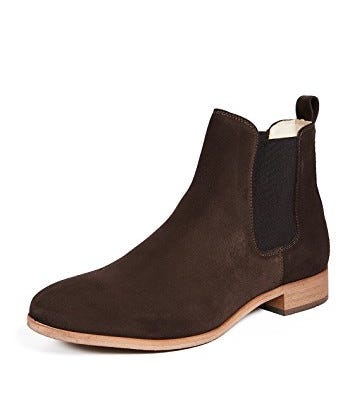 $ – Shoe the Bear "Dev" suede Chelsea boots, $160
***
Building your perfect footwear collection? SG can help!

Want more help selecting your perfect Chelsea boots? The team at Style Girlfriend is ready to build your personalized shopping plan.

***

Like a phoenix rising from the ashes, Gabi Meyers went from Team SG's first-ever intern to a trusted fashion editor and stylist. She currently lives in Chicago with a very cute dog.