How to Dress Like Scott Disick
Rich guy style unlocked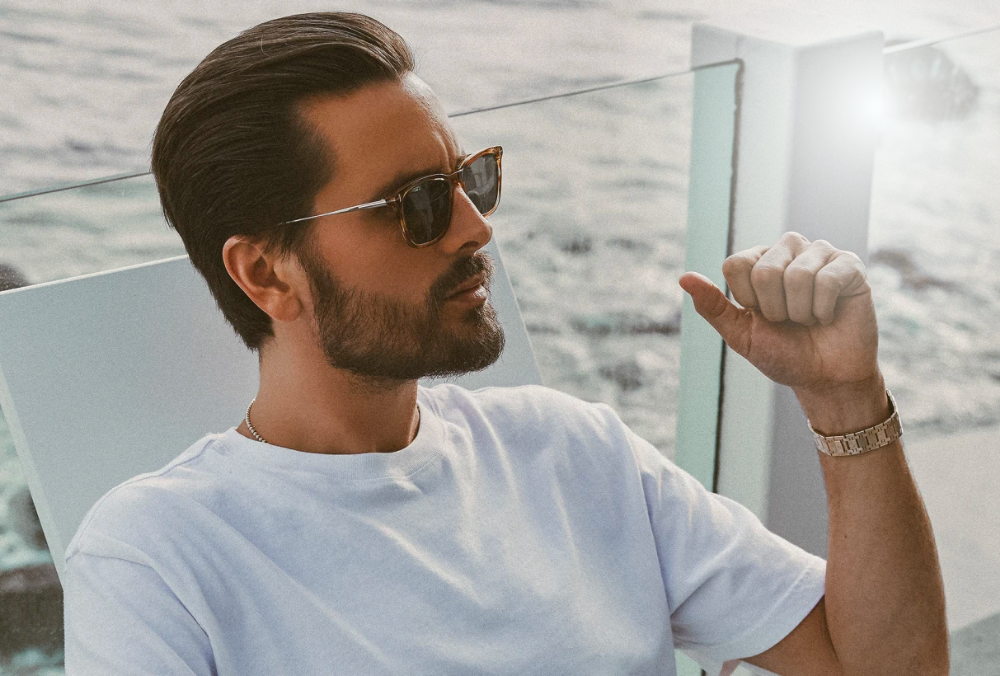 Disclaimer: In no way is the following an endorsement of the Kardashian empire, but…
I like Scott Disick's style.
There, I said it! Scott Disick is one of those men who simply owns his personal style. Even if the "character" he plays on TV (or ahem, streaming platforms) isn't someone you'd choose for your circle of friends, you have to respect the man's wardrobe.
What I like most about Disick – former partner to Kourtney, obvious soulmate to Khloe – on The Kardashians is that he serves as the audience's sane (most of the time) surrogate, saying what all of us watching are thinking.
Namely, that everything they do is completely bat sh*t crazy. He's also good looking, charismatic (at least on Instagram), and actually pretty funny.
But the reason he gets a spotlight here on SG today? He's always dressed to shine, on-camera or otherwise.
Disick rocks that "rich guy who skates by on his charm" style that's easy to write off but takes some skill to put together.
That's right, I said skill. You can be the richest guy in the world and have terrible style. I'll refrain from namechecking examples here, but I'm sure you're picturing at least a few guys that fit that description right now.
Really, the only accessory I don't care for of Disick's the rotating too-young girlfriend on his arm. Otherwise, this reality star gets the seal of approval from Team SG.
Below, the staple styles to steal from Scott Disick:
Effortless athleisure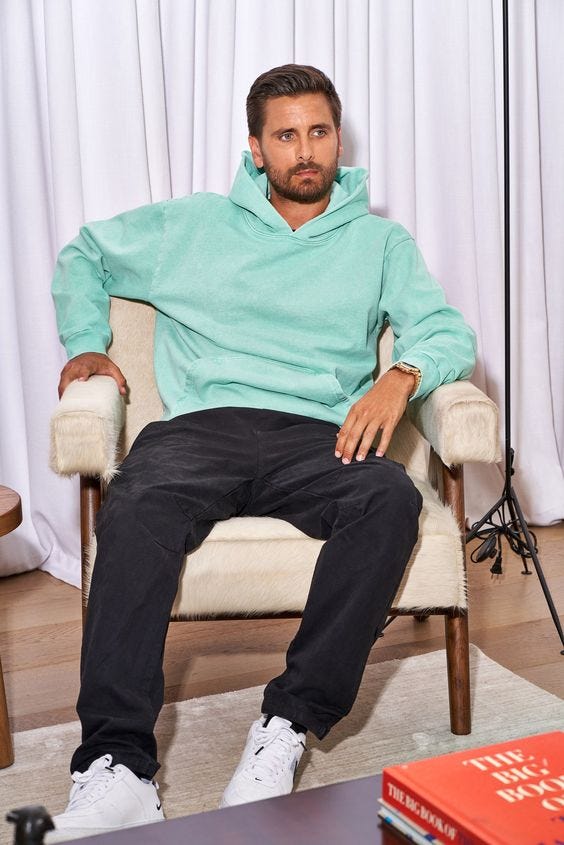 Namely, the perfect sweatshirt.
While Disick has his own line of casual wear, I can't in good conscience suggest you wear anything that reads "Talentless" across the chest.
Instead, look to high-end athleisure brands like John Elliott to get the Disick loungewear look.
Here are a few styles to get you started:
Everyday accessories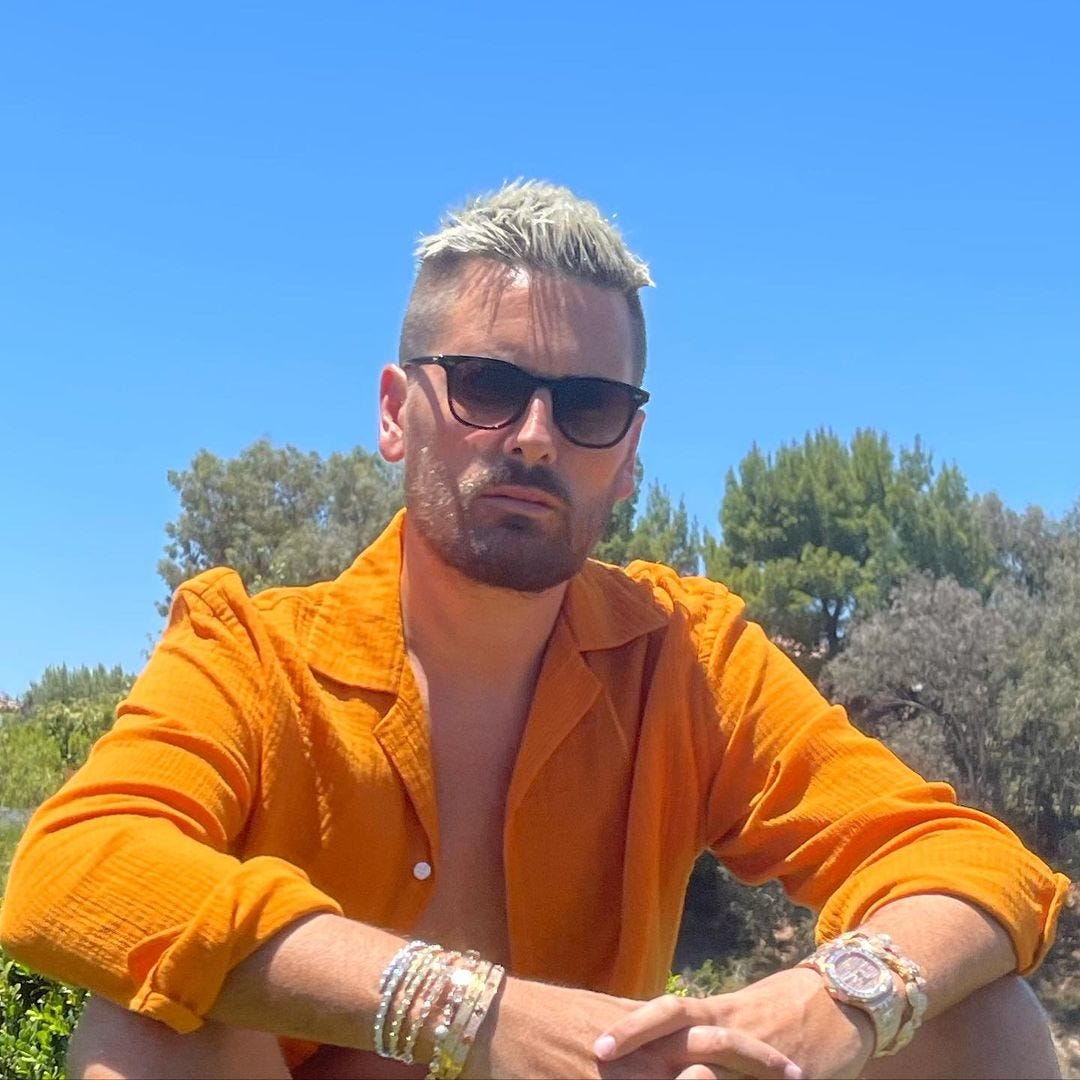 Clearly Disick doesn't subscribe to Coco Chanel's advice to "Take one accessory off before you leave the house."
How to pull off an elevated accessory game in your own, non-Kardashian life? Try adding one piece of everyday jewelry to your look.
You might be surprised by how natural a new accessory feels on your wrist or around your neck.
Shop men's accessories:
A perfectly-fitted suit
Even if he's mostly in casual wear these days, Lord Disick has a pretty tight suit game.
He knows just how to lend a suit a more casual vibe (no tie, swap the dress shoes for loafers), and can also can dial things up for the red carpet.
Impeccable grooming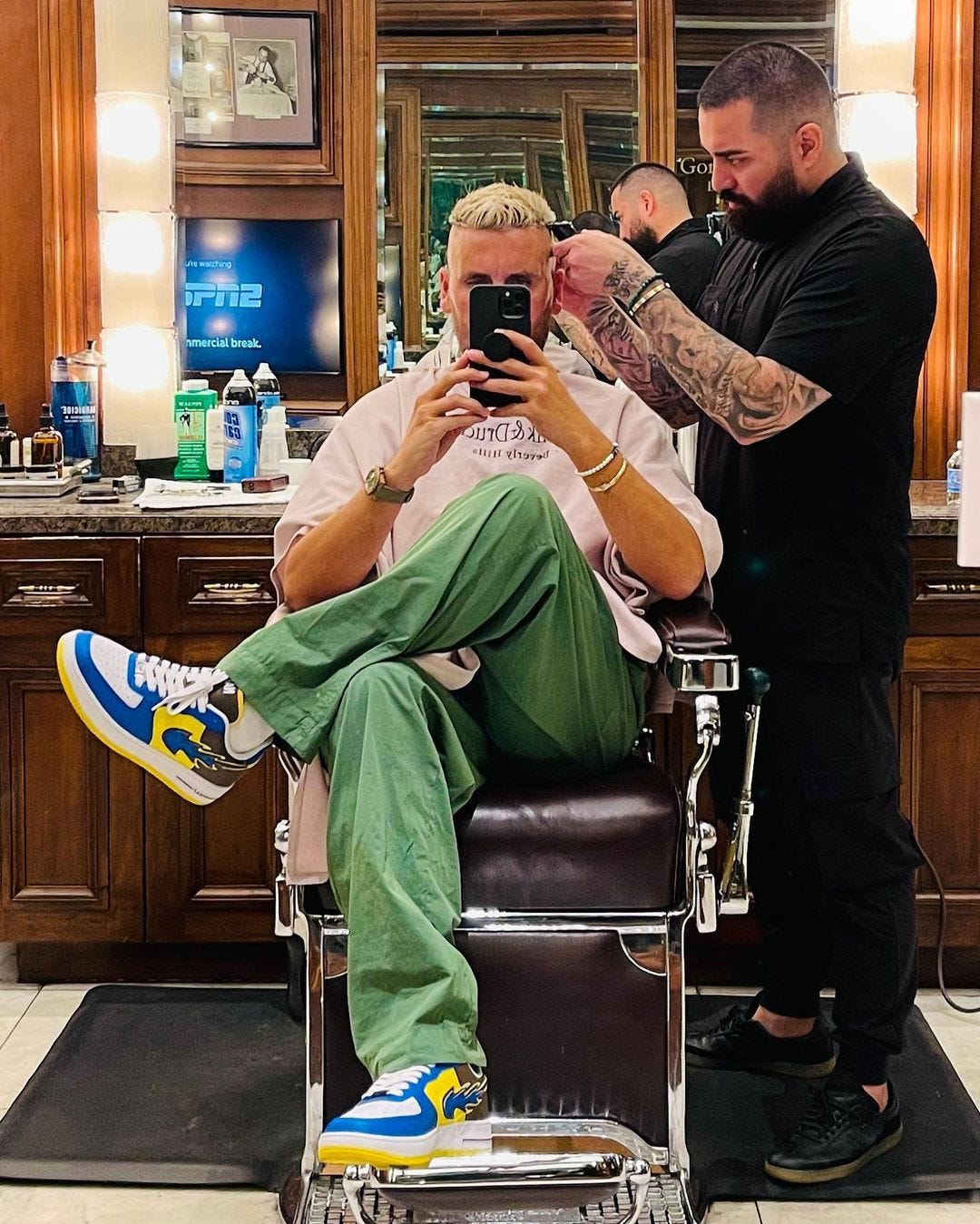 Much like his reality TV co-stars, Disick does not leave the house if he's not in full glam.
For him, that means hair styled with plenty of product, or even a colorful dye job.
I love that he's willing to take fashion risks, and even if they don't always look great (the pink hair might be a cry for help?), he nevertheless does it with confidence.
Shop men's grooming picks:
Strong shoe game
A guy who rocks the chosen footwear of Floridian grandpas as easily as a designer sneaker is doing something right with his style.
Disick knows that shoes are a great place to start when you want to set your style apart from your peers.
Put as much thought into your shoes as you do the rest of your outfit. They can take your outfit from eh to interesting!
The bottom line?
Even if you're totally opposed to the reality empire built by the Kardashians, it's okay to take some style inspo from Scott Disick.
From his sweatsuits to his accessory game, the father of three is committed to dressing his best for the camera…and for our style inspo boards.

Like a phoenix rising from the ashes, Gabi Meyers went from Team SG's first-ever intern to a trusted fashion editor and stylist. She currently lives in Chicago with a very cute dog.