Why Every Guy Needs a Charcoal Suit, and How to Wear One
A must-have in every man's closet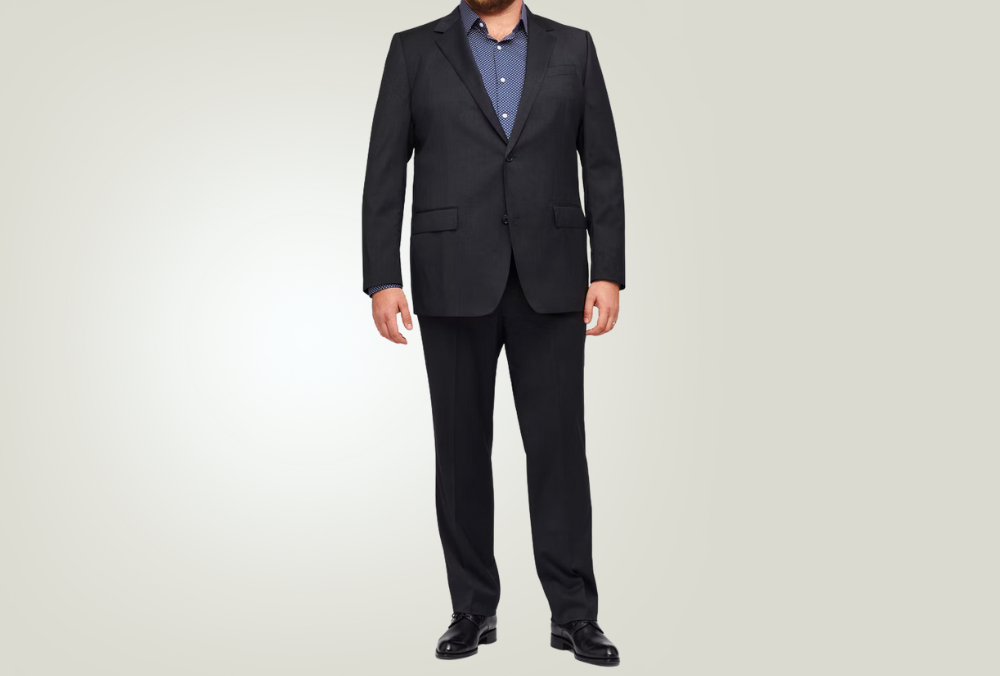 Check out every installment of SG's series on wardrobe essentials. Up today? The timeless charcoal suit.
There are a few style essentials every guy needs. A perfectly broken-in denim jacket, forever stylish lace-up brown boots, and of course, a suit that fits just right. 
A well-tailored suit brings out the best in every guy. Yes, even if you only get to bust it out once or twice a year. Today, we're talking about the charcoal suit, and why it's a men's wardrobe essential.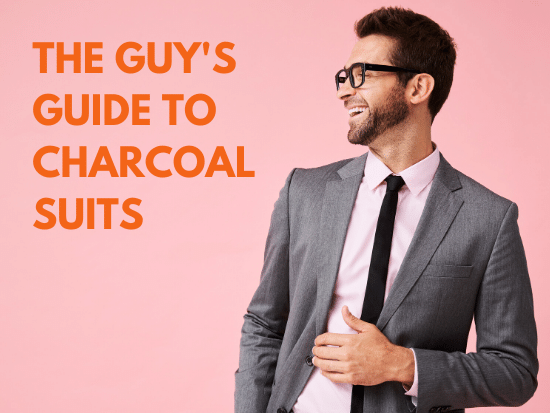 Why every guy needs a charcoal suit
It's a good idea to have a suit that's clean and fits you hanging in your closet for wardrobe emergencies. We like to say, you never know when you're going to be invited to a wedding or get hauled to court.
Moreover, it's best to purchase a suit even before you need one. This way you're not scrambling, and won't be forced to buy something you don't really like or that doesn't fit you well (even after tailoring).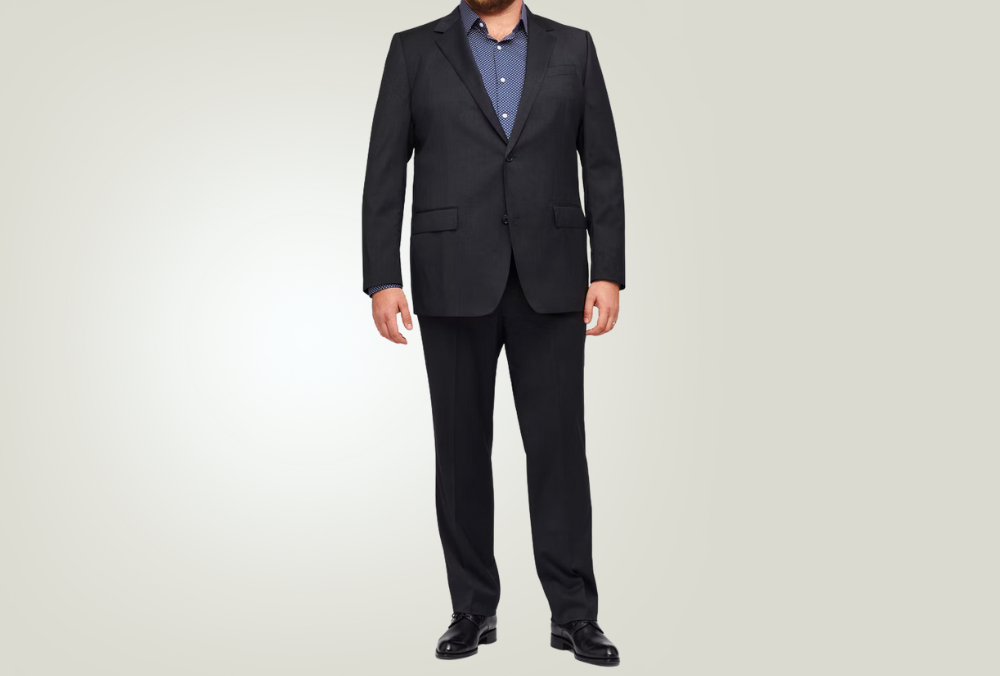 If you're buying your first suit, we recommend choosing navy or charcoal.
It's really a matter of preference, though there is something very "adult" about charcoal that team SG likes as a first suit pick.
From job interviews to getting grilled by your girlfriend's parents at dinner (and every wedding and funeral in between), a great charcoal wool suit is a must-have item in every man's closet.
How to wear a charcoal suit
Paired with a crisp white dress shirt, navy tie, pocket square, and black shoes a charcoal wool suit is a key ingredient in a swoon-worthy wardrobe.
Of course, you can also dress it down with a turtleneck or even a t-shirt if you're feeling daring (more on that below).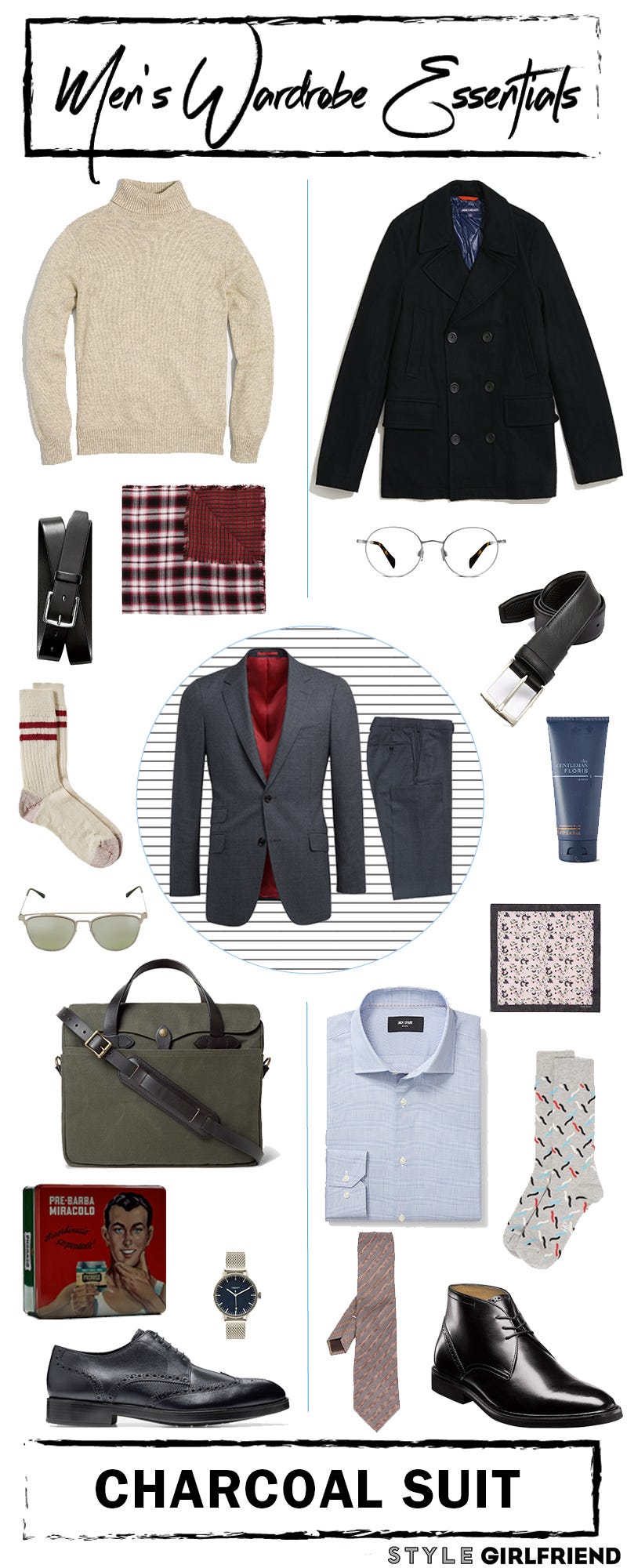 How a charcoal suit should fit
With all men's clothing, the devil is in the details. Look for a suit with a notch lapel and a two button front. A very soft shoulder with very little padding makes for a more versatile jacket that dresses down just as well as dresses up.
Remember, a little bit a tailoring goes a very long way. When searching for your perfect suit off the rack, check the shoulders first. The fit of the shoulders is paramount.
Most everything else can be tailored, but the shoulders should work when you slip it on.
Look for a shoulder that flows naturally into the sleeve without puckering or pulling.
For a suit that works as well with t-shirts and sneakers as it does with crisp shirts and dress shoes, make sure the jacket arms are tailored close, particularly from the elbow down, and the pants are cut a bit on the shorter side.
Pants should fit securely at the waist without a belt (though you can certainly still wear one) and with a tailored leg opening.
Don't over tailor the legs of a suit pant, though. The last thing you want is to be constantly pulling down your pant legs because they keep getting caught on your calves.
What color is "charcoal" exactly, anyway?
When shopping for an all-purpose suit, some guys default to a black suit thinking it's most useful, but that's a style misstep. While a black suit can be a useful third or fourth suit in your closet, a charcoal suit gives you versatility.
This is important when building your wardrobe from the ground up. Why? A black suit only looks good with black shoes, black belts, and can make searching for the right shirt and tie combination much harder.
Charcoal, however, has a softness that pairs well with black as well as brown leathers and also looks great with any shirt/tie combination you throw at it.
Black suits are also very harsh, giving off vibes that really are only appropriate for funerals and evening attire. Charcoal is dark enough to convey the importance of an event, but can be lightened up to be daytime appropriate.
Some brands break out charcoal by "dark charcoal" and "light charcoal," which you can eyeball. Which is best for you? That's up to you, and really just a personal preference.
What material should your charcoal suit be
You can wear your wool charcoal suit year round, but you have to look for the right kind of wool, as not all wools are created equal.
Look for a suit made from a wool "fresco." Wool fresco is a wool with tightly twisted yarns that allow them to have an open weave pattern, making the material more durable as well as more breathable.
To the touch, some wool frescos are going to see a bit courser than other types of suiting fabrics – this is what you want. This allows the fabric to allow breathe and more easily wick moisture away. A wool fresco suit will last much longer than very soft, silk wool suits and is less susceptible to crotch blowouts in the pants. The coarser texture also makes it easier to break the suit up into separates.
Charcoal suit combinations
Okay, so all this information is great and all, but by this point, you're probably thinking, "Okay, okay just show me ways to wear the damn thing already!"
We hear you.
Below, check out five outfits featuring a charcoal suit:
Monday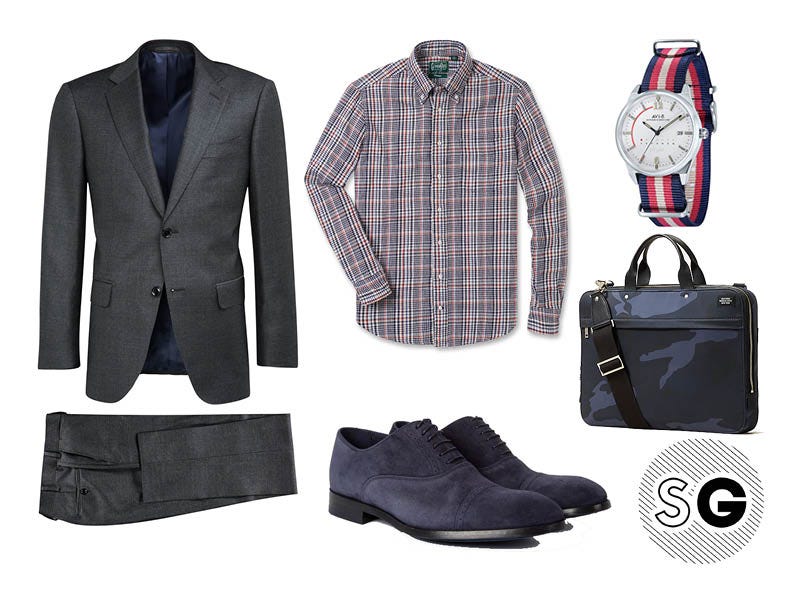 Wear it well: Spice up your work suit with a variety of patterns and textures.
Tuesday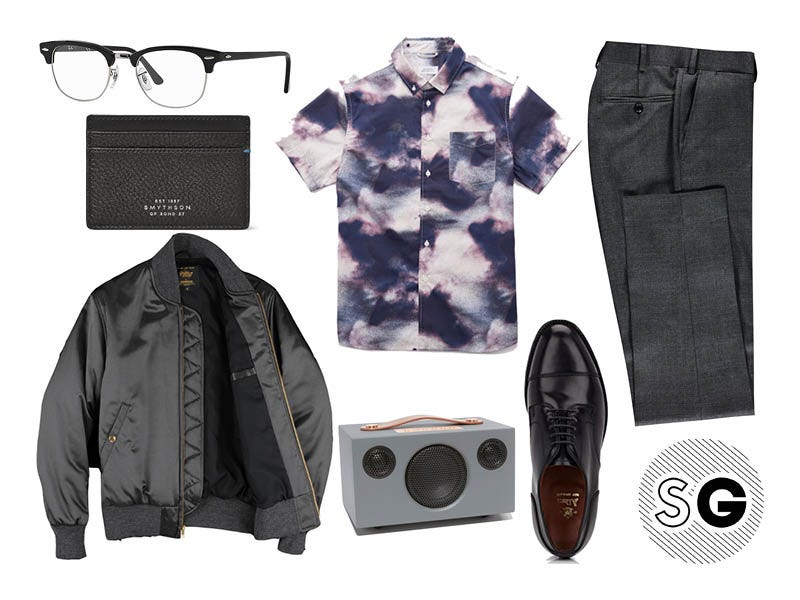 Wear it well: Swap out the suit coat for a tonal bomber. Paired with your trousers, the whole look still seems serious, just in a different way.
Wednesday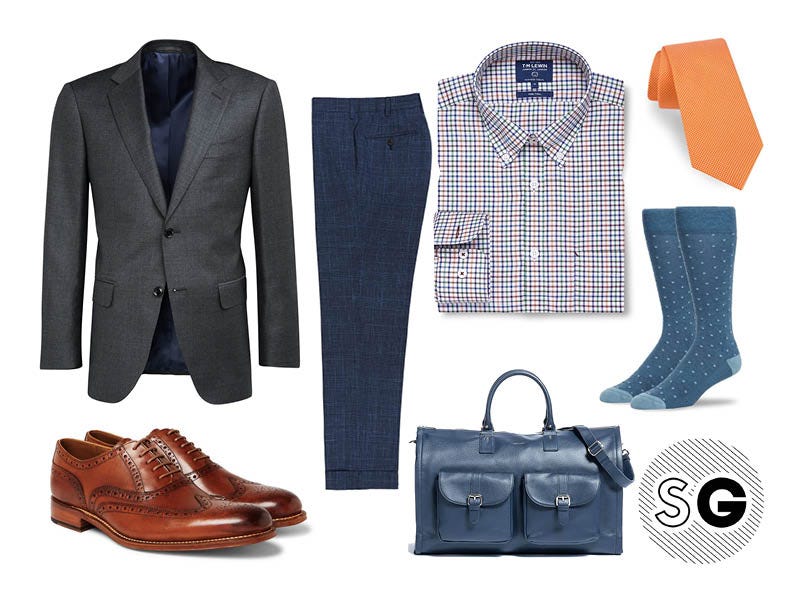 Wear it well: Break up your suit on your next business trip with some textured trousers.
Thursday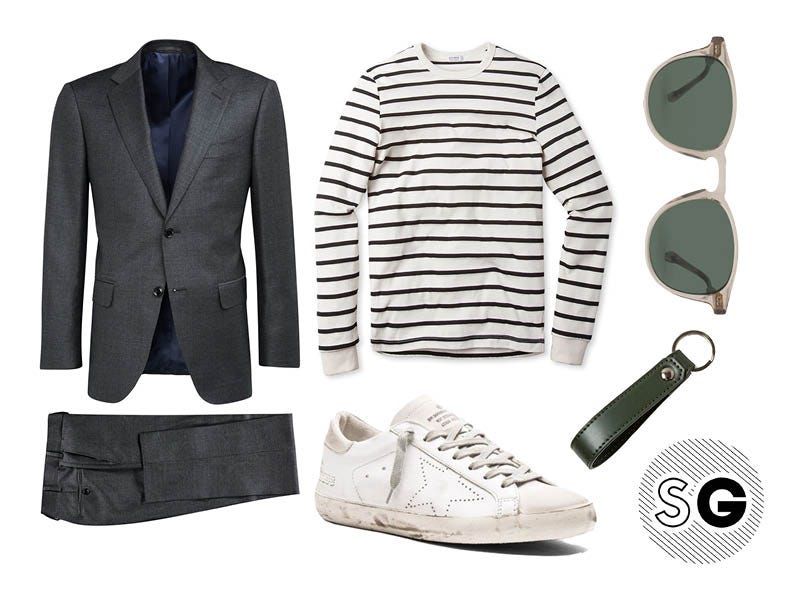 Wear it well: Take your suit to the street in a striped tee, shades and sneaks.
Friday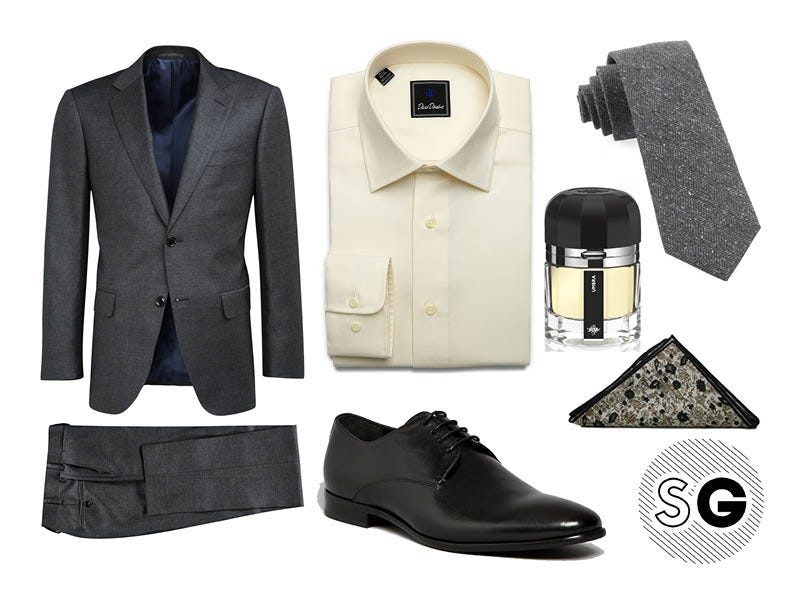 Wear it well: A pastel shirt in light yellow and floral pocket square feel festive without being too groomsman-y.