Buying Your First Suit: What You Need to Know
For all your real world firsts, make an impression that lasts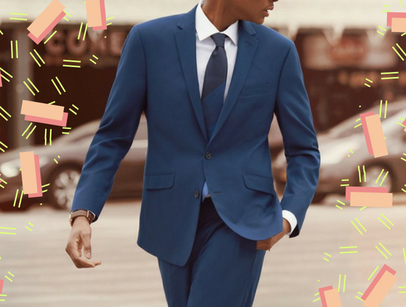 Buying your first suit is one of those rites of passage into adulthood that seems to stick in your mind forever.
I remember my first suit…like it was, well, let's just say yesterday. Navy with thin blue and grey pinstripes, I wore it with a button-up shirt to a job fair in New York as a senior in college trolling for gainful employment. Tailored to hit right above the ankle, the pants just barely grazed a pair of kitten heels that were the highest height in which I could still walk comfortably.
Okay, I understand that last bit's not as relatable for guys…sue me for trying to paint you a picture here!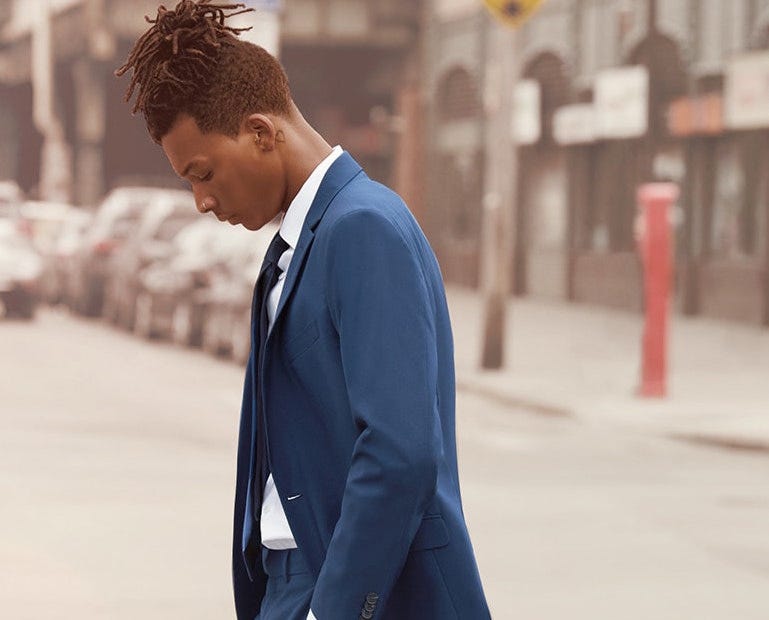 Bottom line? I felt like a million bucks, and was glad I'd taken the time to find a professional lewk that felt modern and suited to my silhouette.
If you're buying your first suit soon, look no further. We've got you. The transition from college to the "real world" can be jarring. You have to get up before noon, like, a lot. You have to start paying for things. And you definitely can't wear track pants and a baseball cap every day.  Your wardrobe will undergo an overhaul for the next couple years (at least), but first and foremost? You need a suit. Even if you're not planning for a career in a traditionally conservative work environment, you'll want one for your job interviews. Where do you start? Right here, of course.
Whether you graduate in May, are applying for fall internships with a resume prominently displaying your ice cream scooper skills, or simply waited as long as you could before biting the bullet in adulthood, there's no better time to suit up.
Here's what to look for when buying your first suit:
What color should your first suit be?
The color of your first suit is very important. Khaled Rihawi, a senior at Penn State in University Park, PA, said he didn't know much when shopping for his first suit, he "just knew it had to be dark." Right on. We've covered this elsewhere, but it definitely bears repeating…For your first suit, go for one in navy or charcoal.
A suit in either color looks professional, but not overly formal, and you'll find a suit in one of these shades easy to wear with plenty of different shirts, ties, and shoes. Walking into an interview in a black suit suggests a  level of formality you're probably not looking to get across (unless you're applying for a job as a waiter, maybe? or a funeral home worker..), while lighter colored suits can look too casual. And unless you live somewhere that's warm year-round, a lighter-colored suit just isn't all that versatile.
The great thing about a suit in navy or grey is that you can wear it over and over (and over and over and over), making that suit a solid investment..over time, anyway.
Plan on this suit becoming a staple in your closet, as you pull it out for work to weddings to dates.
The style to look for when buying your first suit
When buying your first suit, keep it conservative. On top, a two button jacket with a notch lapel is considered the professional standard, and looks good on most guys. Make sure the lapel isn't rolled too high and that a reasonable amount of shirt and tie are showing at both the neck and cuffs.
For your pants, see how comfortable you feel in a flat-front pair, as opposed to pleats. They may seem more constricting at first, seeing as you're really not used to wearing dress pants, but trust us. You'll look and feel more confident once you get out into the "real world" and see that most young(ish), well-dressed guy are rocking flat front pants – not pleats.
How your first suit should fit
The key to feeling confident in your very first suit? Fit.
A lot of guys hitting the suit store on their inaugural visit opt for a size that's actually too big. And hey, we get it! It's a total bummer to go from being able to wear sweats to class on the daily, to rocking a suit and tie. But here's the hitch…that doesn't mean you should buy a suit that feels like you're wearing sweatpants.
Instead, the overall fit of your first suit should skim closer to your body. The jacket ought to feel comfortable yet snug.
Please don't do that thing where you bear hug an invisible person just so you can go, "See? It's too tight."
I promise, you will not be doing much bear hugging in a suit, so you don't need to be able to perform that move in utter comfort.
On the bottom, you'll want just the slightest break in your pants (see what that looks like here). Material from extra-long, billowy pants pooled around your ankles is not a good look. If you have long legs, you can opt for cuffs, though here at SG HQ we tend to see a suit with no cuffs as more modern.
***
Got all that? Let's go over it one more time, and include some thoughts on accessories, too.
Below, the six components of a fully suited-up look: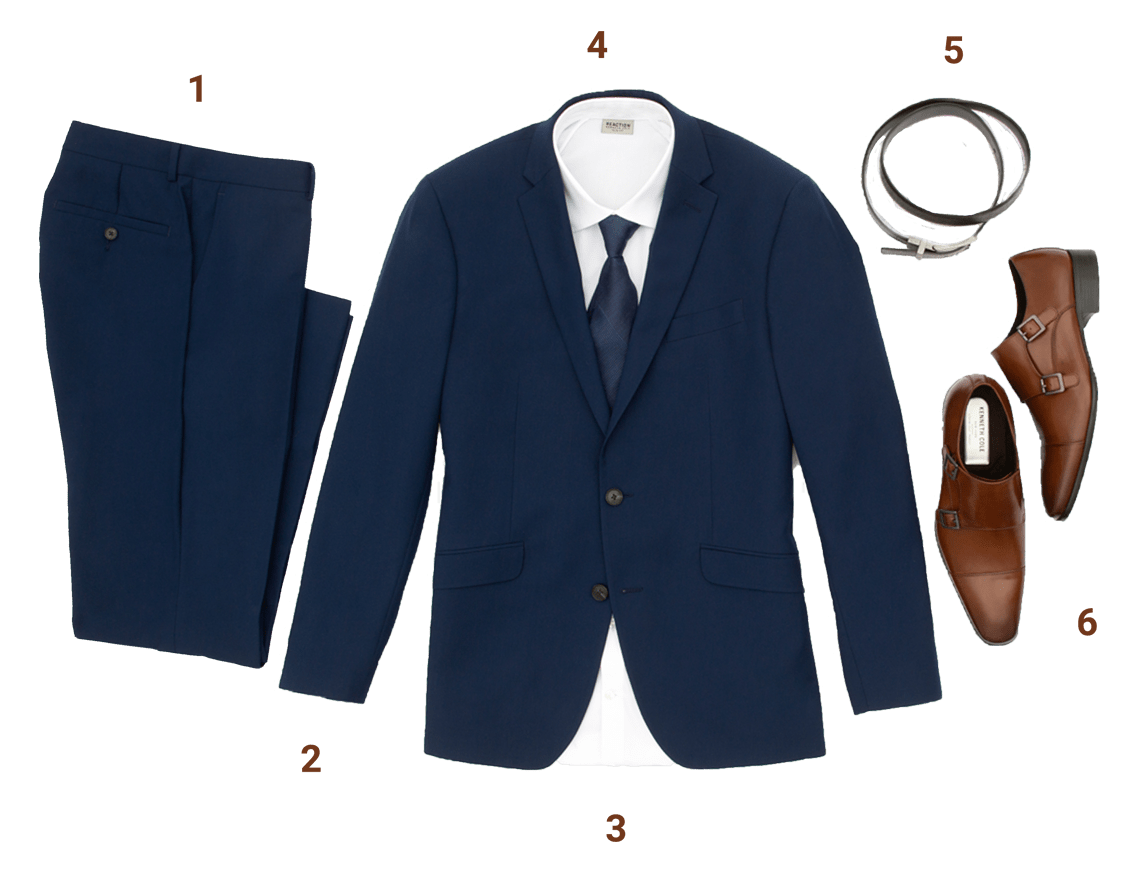 Where to shop when buying your first suit
Don't be afraid to try on a lot of suits in a lot of sizes (including regular, long and short) to see which fits you the best. Even if your dad, or the salesman, or whomever you've gone shopping with says the first thing fits. Actually, especially if that happens. They probably just want to stop shopping and go get some lunch.
Sam Shih, owner of custom suiting company 9tailors says, "The biggest mistake guys make when buying a suit is not trying on a lot of different brands."
For example, J. Crew might fit you better than Brooks Brothers but you wouldn't know this if you didn't try both. And look for brands that sell suiting as separates. You'll be able to get a different size in the jacket than in the pants if that's what you need.
But don't think an off the rack suit will fit you like a glove. You'll most likely need to take it to a tailor for small adjustments. These little tweaks make a huge difference in how you look – and therefore, feel – in the suit. Don't neglect this step.
A suit like this will cover you for so many occasions as an adult, from first interviews to friends' weddings. We bet you'll be surprised by how often you find yourself pulling it on.