If you've landed here on Style Girlfriend, chances are you're interested in learning how to dress well. Or learning how to dress better. That's awesome! And also, whew, what a big topic! We're going to break it down step by step, so the task (journey, let's call it) doesn't feel too overwhelming.
How to dress well, in 10 easy steps:
Discover your personal style
Clean out your closet so you know what you have and what you need
Start with your foundation (aka, socks and underwear!)
Make sure you've got the men's wardrobe essentials you need
Round out your footwear collection
Nail the details: Glasses, Accessories, Tattoos, and Flair
Learn how to wear more colors and patterns
Discover how to dress well at different ages
Grooming lessons
Feel confident in your style
Ready? Let's go!
1. How to Discover Your Personal Style
For better or for worse, there is no magical formula to "dressing well." As Peter Nguyen over at The Essential Man puts it, "Nobody is born in a perfectly tailored 3-piece suit, or with some magical intuition on how to dress well." Instead, dressing well is "a skill that can be developed through practice."
While there are a few maxims to follow (things like tailoring and fit are good tips for every guy), it's ultimately up to you to decide what dressing well means to YOU.
That means, it's time to discover your personal style. Follow these three steps to get started:
Consider your style icons

Who do you look to for wardrobe inspiration? Maybe there's an athlete whose press conference style you think looks cool. Or an actor who shows up to red carpet premieres dressed the way you'd like to look. In the same way that house shopping helps you figure out what you like and what you don't when it comes to architecture and amenities, observing others' personal style can help cement your own.

Experiment

You'll never know how you feel about a trend, color, whatever until you wear it. Yes, it can feel scary to get outside your comfort zone, but that's where growth happens!

Use compliments as feedback

This isn't to say you should only wear what other people like if you don't like wearing it. But if you're wearing something that you think looks cool, though maybe you're a little unsure about…if you get positive feedback, use that as fuel for your fashion journey fire.
Remember…
You're always going to think you look more "out there" when trying something new than you really do. While you're worrying, Whoah, am I just fooling myself? Do I look like Zoolander? Is this too much? Who do I think I am, anyway? other people are most likely thinking, Hmm, Tom looks nice today. Did he get a haircut?

Meaning, as you learn how to dress well, don't slow yourself down with concerns or insecurities. You're going to wear some things you don't like or don't look your best in on your way to figuring out what you do!
> Learn more about discovering your style
2. How to Clean Out Your Closet
Now that you have a better idea of your own personal style, it's time to rid your closet of anything that doesn't make you feel like a million bucks.
Here's how we suggest going about a good ol' fashioned closet purge:
Clean out your closet twice a year.
For those of us living in locales with actual seasons, that's easy – just do it every time it gets warm, and every time it gets cold.
To thoroughly clean out your closet and examine your current wardrobe, start by taking everything out and putting it on your bed. Yes, everything. It's the only way you can get a truly comprehensive view of what you're working with.
On your bed, make four piles – "Tailor," "Give Away," "You Can't Make Me" and "Keep." Here's the break down on what goes in each pile:
Tailor
Anything that is still good but you haven't been wearing because it's missing a button, or you never got the pants hemmed, etc etc. This is also where you'd put items that simply need to be dry cleaned or washed. Don't put anything back into your closet until it's ready to wear again.
Get rid of
This one can be hard. This pile is for stuff that's past its prime. From t-shirts with yellow pit stains to suits that simply aren't stylish anymore. Some items can go to charity, while others are destined to become rags sitting under your sink.
You can't make me
Okay, this pile is for items of sentimental value—old frat tees, Halloween costumes from years past—that you're not wearing anytime soon (or ever again!) but can't bring yourself to toss. This stuff goes into storage in the basement, the attic, or the hall closet. Just get it out of your closet or drawers. Reserve those spaces for clothes you can wear every day.
Keep
Yes, you get to keep clothes in this process, too! Sometimes things get so buried you forget you have them, or maybe when everything's out on your bed, you suddenly notice two pieces that could look good together. This is why you pull out everything, so you can really see what you're working with.
After this process, you'll have a much better sense of what you have, and also of the holes in your wardrobe. What's missing? What needs replacing? Now you'll know.
> Get the #SGapproved guide to purging your closet
3. Start with wardrobe foundation pieces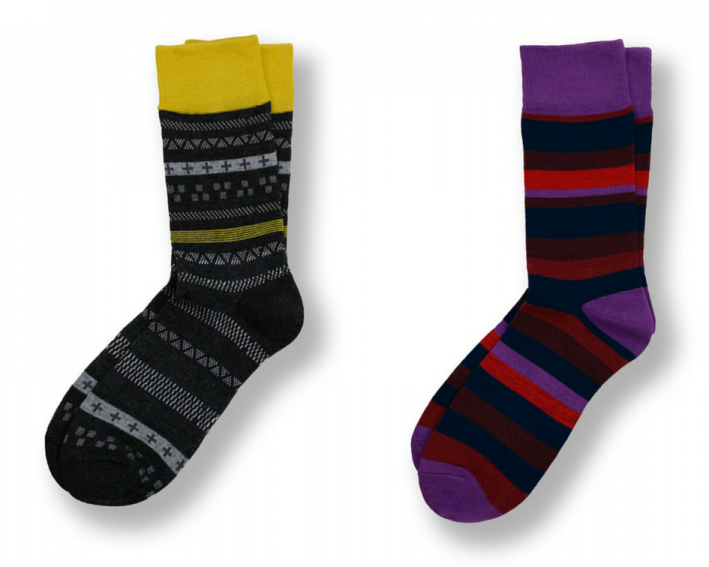 You may have heard that women look at your watch or your shoes or for a black Amex in your wallet when they first meet you. Untrue. They notice how comfortable and confident you appear! And the secret weapon to confidence in your appearance literally begins at the beginning.
Meaning? Your socks and underwear! And an undershirt if you wear one. It's scientifically proven that you feel like 347% more like a boss when you've got fresh underwear that's not saggy or bunching in weird places, and socks where your toe's not poking through a hole. Oh, and undershirt's without yellow pit stains.
Thankfully, there's been advances in undergarment technology (yes, really) such that these items are both more affordable and more durable than ever before. Brands like Tommy John and Mack Weldon have really great men's underwear and undershirts, while sock companies like Bombas, Stance, and Pair of Thieves make it easier than ever for your feet to look…dare we say…stylish.
So before you do anything else, take a look at that freshly cleaned out socks and underwear drawer and decide if it's time to go shopping.
// Shop #SGapproved foundation pieces //
> Discover 5 things you don't know about men's underwear
4. What are men's wardrobe essentials?
The whole point of personal style is that it's personal to you. That's why no two guys' closets ought to look alike. However, there are some items that pretty much every man needs:
Suit: As Buzzfeed correctly points out, if you're in the market for just one suit, make it charcoal or navy.
Dark jeans: TK
Polo: TK
Now, there's a good chance you have a lot of this in your wardrobe already! Maybe some items that went in your "Tailoring" pile when you cleaned out your closet. It's great to "shop" from what you already own. Otherwise, slowly start to build your foundation. Leave the shopping montages set to pop songs to the movies. It's best to build slow, so you don't bust your budget, or buy too much all at once and burn out.
Links: TK
5. Men's Footwear
Again, your exact needs will vary, but here's a rundown of the shoes most men need in their closet:
White sneakers
Dress shoes
Boots
TKLinks: https://stylegirlfriend.com/the-ultimate-guide-to-mens-dress-shoes/
6. Glasses, Accessories, Tattoos, and Flair
As Men's Health has pointed out, "Look at a guy with enviable style and you'll notice what sets him apart often comes down to the accessories."
Once you get more comfortable with expressing yourself through your style, you'll see that there's all kinds of ways to show off what makes you you. That includes the type of glasses you wear. With more affordable options like Warby Parker and TK, you're not limited to just what's at the optometrist's showroom.
As the folks at Fashion Beans note, "Choose it because you love it…[your watch] should feel comfortable and be right in terms of size and depth relative to your wrist as well – 40mm is considered the 'Goldilocks' size."
You can also experiment with accessories like pocket squares, jewelry, and lapel pins.
Even body art reflects on your personal style.
Link:
7. How to Dress Well Wearing More Color
Now that you know how you like to dress, your closet is in good order, and you have the basics down, it's time to start adding in more visual interest. That could mean layering more pieces. It coul mean wearing more color.
A few tips to keep in mind:
Start small
Even a small dose of color will instantly elevate your outfit to something more interesting.
Pick one color, then adjust the intensity
A little reluctant about mixing and matching colors? Try one hue, like blue, and wear different pieces in colors along the spectrum. Navy pants, for instance, with a blue sweater.
Let the color wheel be your guide
The key to wearing two complementary colors (meaning, colors opposite each other on the wheel) and without looking like a clown is to make one of them a darker shade. Take green and red, for example. If you want to wear green pants and a red shirt (and it's not Christmas, and you're not going to a holiday theme party), simply wear olive or forest green chinos to mute that color so the red can really shine.
> Check out the Style Girlfriend guide to wearing more colors and patterns
8. Dressing well at different ages
Of course, dressing well can mean different things at different ages. As you grow older, presumably your job changes, what's expected professionally of you changes, your income increases (hopefully, anyway!) and, duh, your tastes change. If you dressed at 40 exactly the same as you did at 20, we might have some questions.
Check out our guides to dressing well at different decades:
Learn the secrets to dressing well in your 20s:

As you grow up, so does your style! Check out how to transition your wardrobe when you reach your 30s:

In your 40s, you can find your groove and dress for your body type and budget:

In your 50s (and beyond!), it's time to get comfortable and dress for the man you've become. Style Girlfriend can help you build the wardrobe that will get you there:

9. Be Well-Groomed
Of course, your appearance doesn't end at your clothes. Keeping your hair well-groomed and skin in good shape shows you are intentional in every aspect of your personal style.
Don't be afraid of the wave of offerings at the drugstore or your barber. Here's all you need for a simple routine:
Face wash: TK
Moisturizer with SPF: TK
A signature scent: Yes, you can change it by the season, but there's something really fortifying about choosing a signature scent and wearing it (nearly) every day.
> Check out men's dopp kit essentials
And don't be afraid to take action when it comes to your grooming habits. If you're starting to notice or worry about hair loss, start a regimen to address it. If you're experiencing significant hair loss, go bald with pride! And if your skin is giving you issues that make you feel self-conscious, go see a dermatologist. It's not vain to care about your appearance, which brings us to our last step in how to dress well…
> Check out our tips on how to shave your head for the first time
10. Be confident
Now that you've got the clothes, you've got the accessories, you've got the grooming game on point…it's time to embrace your new personal style and feel confident about your wardrobe!
If there's anything about a new wardrobe that doesn't make you feel like a million bucks, circle back to the first step and gauge how to make sure your style works for you, and not the other way around.
And of course, this isn't a one-time project. Your personal style will continue to evolve. Your tastes will shift and change, just like you budget and body will! Be ready to roll with the punches and know that when you look good, you feel good. And when you feel good, you project more confidence and take on your day (and life, really) with more intention and purpose.
Meaning? Learning how to dress well isn't silly or trivial – and it's certainly not an "un-manly" endeavor (whatever that even means); it's a way to level up your life. That seems worth the effort to us.
Thanks for reading! If you found these tips on how to dress well useful, subscribe to our newsletter!