How to Find Your Personal Style
7 STEPS TO FIND YOUR WARDROBE SWEET SPOT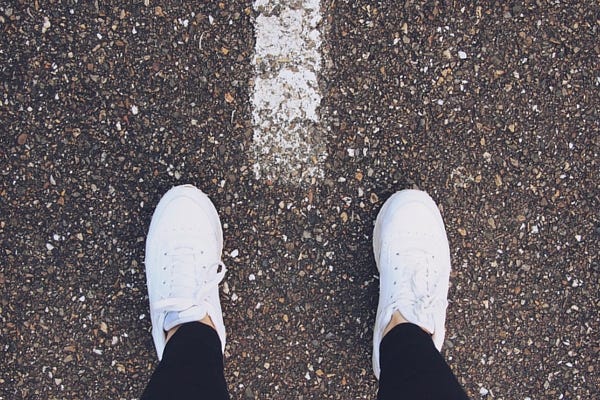 Imagine this: You're shopping with your girlfriend when she beelines towards a specific shirt, hoists it up, and exclaims, "This is SO you." That, my friend, is exemplary of the personal style you're already forming – whether you've already nailed a name to it or not. While style is always evolving, discovering the look that resonates with you will cut down your shopping time, make it easier to find pieces that seamlessly fit into your existing wardrobe, and serve as a shortcut to looking and feeling your best every time you get dressed. I'm talking finger guns in the mirror, million bucks best (even if you're just hurrying to make your brunch reservation).
Not sure how to start finding your personal style? Follow these 7 steps to harness your best wardrobe yet…
How to find your personal style in 7 steps:

1. Look to Style Icons
Since an ideal look will likely be an amalgamation of multiple influences, seeing the breadth of looks you love in one place will narrow down a general theme to gravitate towards. You may idolize Steve McQueen, but without denying the modern day outerwear mastery of Jeff Goldblum. You can be both – and even more.
---
Discover Team SG's favorite stye icons
---
The move: Jumpstart your taste test by corralling your favorite style icons and fashion influencers on Pinterest, Google (ground breaking, I know), and Instagram. Begin with a cursory search of the icons or menswear bloggers you know that you already dig, then branch out using hashtags and discovering other people's Pinterest boards to form your own mood board.* Chances are you'll start collecting a few repeat images – and these will create your style blueprint.
*Mood board: collection of images that serves as creative inspiration.
2. Note Your Favorites
You know the circuit of outfits you rotate between when expecting that said look might get some air time? These don't have your swankiest, and should've be your trendiest. They're the staple the jacket and jeans you reach for on first dates or even the statement tie and pocket square combination that makes you feel like Barney Stinson in a Tuesday status meeting.
The move: If you could only keep 5 outfits out of your closet, what would they be? What are you wearing in those Instagram photos you can't wait to post? Take note. These wardrobe MVPs are smack dab in the center of your wheelhouse, which means they serve as the template to alter and amplify as your style evolves.
3. Know Thyself
At one point, I only wanted to emulate the Olsen twins' style. Photos of celebs donning that boho hippy chic style used to be splashed across my Pinterest boards, but – and this is a big one – it just does not work for my body type or lifestyle (friends would say it probably doesn't match my personality either, so here we are). It took a little more objectivity to realistically pinpoint what styles fit my frame best and what makes sense to wear in my specific day-to-day environments.
The move: Use that (subjective) objectivity to consider your physical environment, social environment, and physical attributes that all play a role in forming your unique wardrobe needs. If classic silhouettes in lightweight, sporty fabrics fit your warm-weather business casual life best, you may be hard pressed to claim 'skater streetwear' as your aesthetic (though let's be honest, even the Biebs has trouble with that one). Sure, you may be able to weave in hints of that vibe into your wardrobe – and we'll get to that below – but it won't be the crux of your style.
4. Perfect Your Signature Pieces
Think of a signature piece as the detail that immediately comes to mind when people think of you and what you wear. James Dean had a white tee, McQueen wore his Persols, and Kanye has concocted an entirely new style. It doesn't have to be elaborate or even an item of clothing; it can be as simple as the way you roll your sleeves or tailor your pants. All that matters is that it's uniquely, comfortably yours. 
The move: Using those favorites you noted above, what are the hardest workers? Do you reach for the same tapered trousers or white sneaker when you want to strut your stuff? Once you self-recap your style, look towards an outside opinion. Ask a your friends/mom/significant other what they see when they imagine your style. You might not realize that you gravitate towards a certain cut of clothing until your best friend can describe your go-to outfit from memory.
5. Experiment
Let's circle back to that "skater streetwear" meets business casual intersection. It may not be realistic – or flattering – to make a 180 twist into a completely new style, though you don't have to discount a look you'd love to try. Here at Style Girlfriend, we're all about nudging past a comfort zone to expand style horizons – and resulting confidence. So go for it, you preppy skater, you. 
The move: Locate those outliers in the back of your closet and the style icon images that don't quite fit in with the rest. Say hello to your experimental foundation. Start slow, incorporating those pieces into your core looks then branch out with bolder or trendier looks – just don't break the bank on a style you're only testing out.
6. Capitalize on Compliments
This one is arguably the easiest and most obvious (and fun!) step you'll take. If you're not quite clear on what looks best on you, look no further than what people comment on when you wear certain pieces or full outfits. Do you get a wink and a nod every time you wear your most tapered suit? What about that suede bomber that reels in a slew of compliments? People will tell you exactly what they like, it's up to you to soak that information in.
The move: Consider those compliments, then find their commonalities. See if you can combine those pieces in new, interesting ways or tailor more of your clothes in the most flattering fit.
7. Find your sweet spot
Whew, we've made it. If we were going through these steps on a detective's wall with our images and clothing items pinned up, this would be the final string that connects the full web of discovery. So let's close this case, shall we? Take a step back to describe what your style icons, favorite looks, and most complimented pieces have in common. This is your underlying style definition. Since you're so much more than just one look, it's important to keep your experimental side in mind too. Try to name what style your trendier and outlying pieces showcase to round out your unique personal style. Better yet, here's an example equation:
Classic preppy (your core closet) + rocker chic (the jacket you've been eyeing and saved images of Robert Plant) = Refined rocker.  
TELL ME:
WHAT ARE YOUR STYLE ICONS AND SIGNATURE PIECES?
Follow Style Girlfriend on Pinterest to see our favorite stylish guys and wardrobe must-haves.