2017 Most Stylish Man: Jeff Goldblum
All Hail The Fly(est Guy), Jeff Goldblum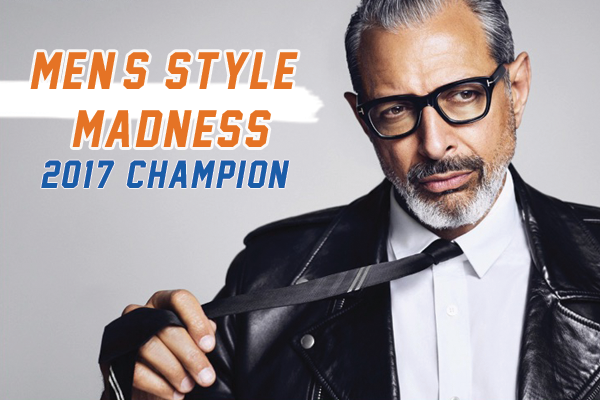 And the 2017 Most Stylish Man is…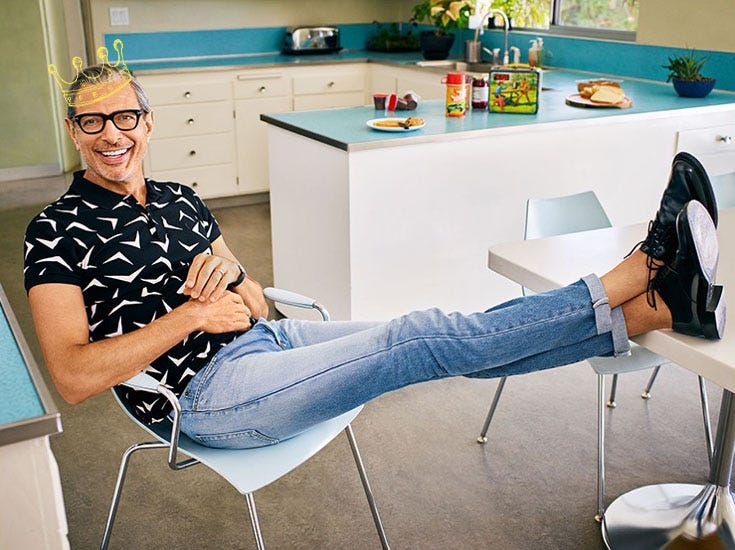 Gabi's Team SG's Gabi Meyers on Jeff Goldblum style and the actor's SG Madness win:
Congratulations to Jeff Goldblum! I don't mean to brag, but we definitely have my tireless tweeting to thank for this last-minute victory. That said, Goldblum is absolutely deserving of Most Stylish Man of 2017.
Like most of our competitors, Goldblum knows that fit is one of the most important parts of looking great – he only wears slim fit clothing, which is not only cool and unexpected given his age, but offers the most flattering look for his long and thin frame.
What really separates Goldblum from the pack, though, is his signature style. On any given day, you can expect the Jurassic World actor to be rocking a) a black leather jacket b) a brimmed hat, be that a fedora or pork pie c) loafers d) a playful polo e) slim light wash jeans or khakis f) thick-rimmed glasses, or even, all of the above.
While the pieces he wears are wardrobe basics that we all own, what really makes Goldblum's rendition a winning look is the way he puts it all together. While most might think a leather moto jacket looks best with equally edgy styles, Goldblum doesn't. The dad with another on the way throws traditional thinking to the wind and pairs his with slim khakis that expose his white tube socks and brown penny loafers – and it works!
Not only does it work, but it feels in sync with the rest of his style, and yet doesn't fall into a style category that we can give a name, other than "Jeff Goldblum." These unexpected quirks in his day to day outfits are what makes him – in my book and yours – the most stylish man of 2017.
The sexy sexagenarian's simple and consistent grooming routine also helps keep his edgier style on track. A slicked back, classic 'do and 5 o'clock shadow are not only low maintenance, but they look good on just about every guy. To master his sleek, side parted hair, a little Axe Smooth Look hair pomade should be all you need – aside from a comb. Depending on the speed with which your facial hair grows, a good shave – always with a shave cream, preferably with added moisturize like Dove Men+Care Sensitive Plus shave cream – either the morning of or three days before your event should land you in the facial hair sweet spot in which our victor resides. It will probably take you a few tries to pin down the exact hour of your 5 o'clock shadow, but remember that Goldblum is 64 and has had plenty of time to discover what works for him.
Shop Goldblum's Signature Pieces
Some of our biggest (subjective) upsets:
Idris Elba: The guy definitely has style. The fact that we almost didn't include him and that he made it all the way – and nearly won had it not been for my tweet hyping Goldblum – means that he will be my guy to go all he way next year, as long as he steps out enough for the rest of 2017.
Ryan Gosling: Someone said he was getting the Leo DiCaprio treatment in the comments and that pretty much sums it up.
Chance the Rapper: His style is so different and so defined! Definitely expected this newcomer to go farther. Maybe you guys just need a 5 days, 5 ways on overalls to get on board? Let us know…

Like a phoenix rising from the ashes, Gabi Meyers went from Team SG's first-ever intern to a trusted fashion editor and stylist. She currently lives in Chicago with a very cute dog.